Words: Toni Walbridge Photos: Misti Walbridge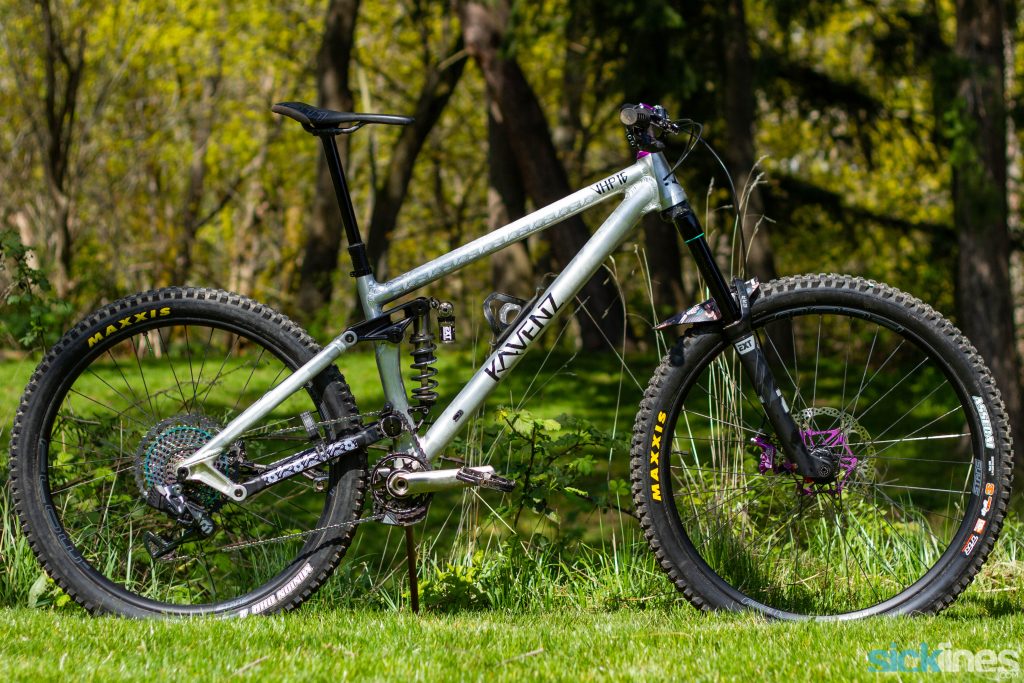 Intro and Design
High pivot bikes incorporating idler pulleys have become hugely popular over the past couple seasons. Variations of the design are available from major and smaller bike brands alike, each with their own unique spin. Kavenz, an offshoot of 77designs, is a small manufacturer out of Germany and entered the fray in 2021 with their first frame, the VHP16. Founder Giacomo Großehagenbrock took a novel approach to building awareness of his vision of the perfect high-pivot design through extensive documentation of the development lifecycle in a series of short videos on their YouTube channel. Giacomo takes us through the journey from concept to prototype to production in a level of detail rarely afforded to those outside the industry. As we'll dig into later in the article, there are a number of design elements that make the VHP16 a very compelling option.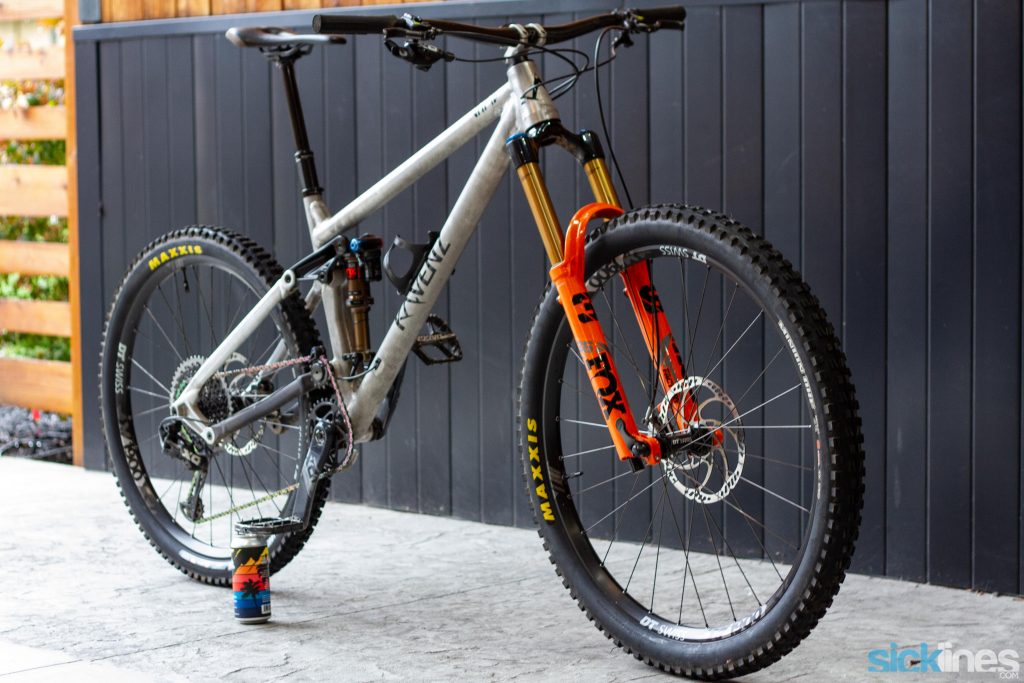 The Kavenz take on the high pivot design begins with a frame constructed of 7020 alloy resulting in a carbon-competitive weight of 3.28 kg in size medium. The suspension layout is a Horst-link configuration with a high main pivot and idler pulley. Rear travel is 160 mm and recommended fork travel is 160 to 180 mm. In a nod toward simplicity and easy maintenance, all bearings are S6902 Max. Rear axle width is standard boost 148 however the supplied rear brake adapter is for 203 mm rotors. It is possible to run smaller than 203 mm rotor but you're limited to 185 mm, as there are clearance issues with 180's. All cables route internally and the BB spec is the fan-favorite 73 mm threaded. A full sized water bottle easily fits within the front triangle provided you use a side-loader cage. Both of the builds in this review opted for raw finish which are truly raw with no clear coat or other finishing work except for black anodized chainstays. An extensive selection of powder coat and anodizing options are available for those that are interested in adding a little more flare to their build.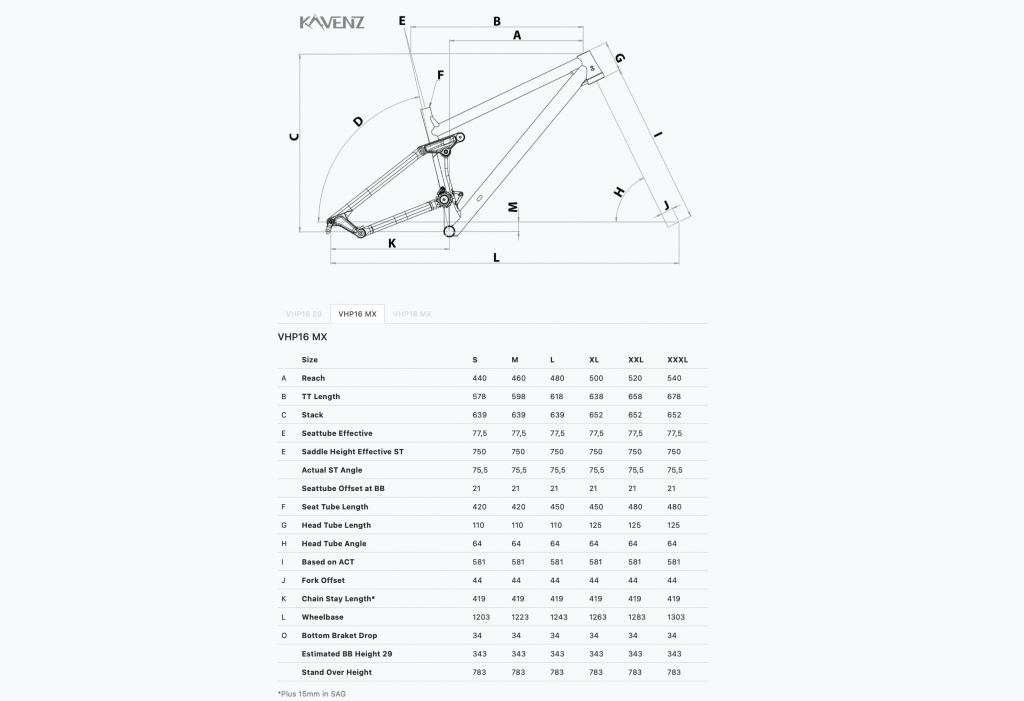 The VHP16 is available in both full 29'er and MX (mullet) configurations. There are six base sizes from which reach, seat tube, and head tube can be customized for 36 possible configurations. I started my review on a stock size large (480 reach, 450 seat tube, 110 head tube) set up mullet and later I built up a custom bike from scratch in nearly the same configuration except I opted for a 420 seat tube. Kavenz has chosen to stick with just one chainstay option across all sizes which measures at 419 mm at rest on the MX build or 429 mm on the 29'er build. The small difference in chainstay length between 28 and MX is a byproduct of the shock mount unique to each configuration in order to correct BB drop. Head angle is fixed at 64º based on a fork with a 581 mm a-to-c measurement. Because the frame employs a zs44/zs56 head tube, head angle customization is possible with angled headsets. The VHP16 gets away with a slightly relaxed 77.5º seat tube angle thanks to its very high anti-squat values. Overall, stock geometry is right in line with current trends with a nod towards balanced handling vs something like a Norco Range which is 36 mm longer in the equivalent size.
Kinematics nerd fest
For those of you who love graphs and raw data… This stuff is interesting but keep in mind that there are limitations to how much you can derive from these charts. Otherwise there would be no need to actually ride the bike for the test, right? Still, the Kavenz VHP16 project is much to do with optimizing these values. If you're interested in seeing the rest of the data, you can find it here.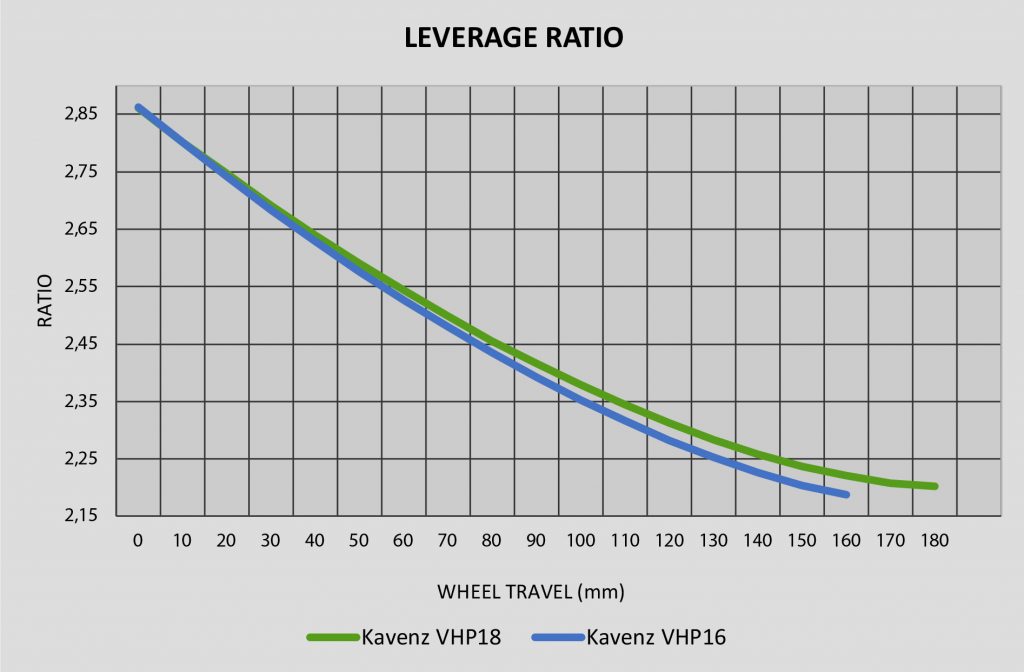 Kavenz have achieved a consistent shape to their leverage ratio curve, resulting in 29.9% progression for plenty of bottom-out control without an abrupt change at the end of the stroke. This suggests the entirety of the 160 mm travel will be accessible under most conditions and that both coil and air shocks will work well (top right). Anti-squat values are high, consistent with a well optimized idler, indicating that the VHP16 will pedal efficiently. In fact, it should be a rocket under power.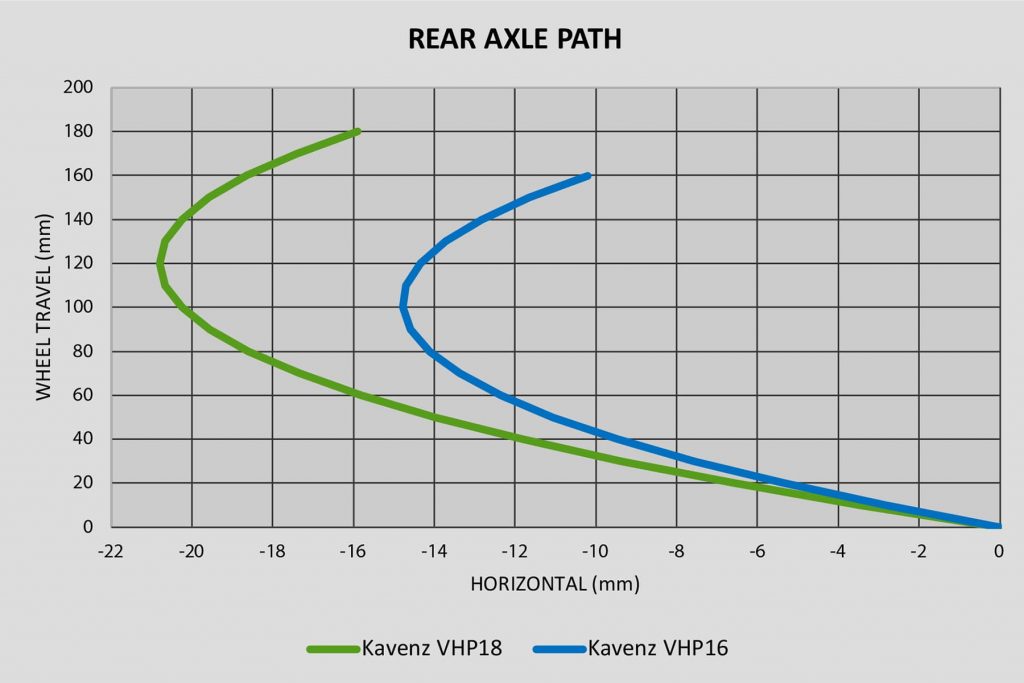 When it comes to high pivot point bikes, there is a balance to be struck between rear axle path and the anti-rise values you're after. In the case of the VHP16, Kavenz wanted to keep inputs as neutral as possible as so much enduro racing is done on blind courses. This is why when you look at the axle path (top right), it's not a radical as it could be. This helps maintain balanced anti-rise (top left) and a consistent demeanor under braking.
The Build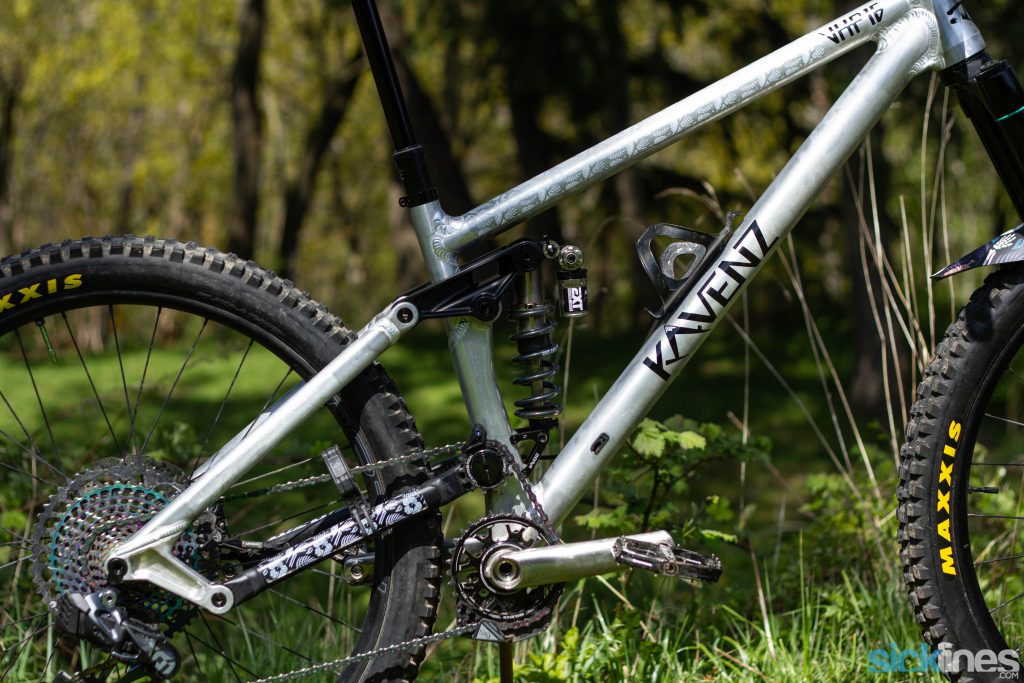 Kavenz does not yet ship complete builds for the VHP16. The frame includes the rear axle, rear brake adapter, and a seat-post clamp. They are also able to supply a couple rear shock options, and a fork with the frame. Under their sister brand, 77designs they can supply you with a few odds and ends but you'll be on your own for other major components. After spending a few months on a bike Kavenz had assembled for the media tour, I decided to build one from scratch. Since parts can still be tough to come by, I raided my existing parts bin for most of the build. I had an EXT Storia V3 on hand which I sent over to Suspension Syndicate to be reconfigured and tuned for the VHP16. While not exactly cheap to do, it's refreshing to be able to easily re-purpose a rear shock from frame to frame. Since I had an opportunity to build the VHP16 up from scratch, I've had first hand experience with the entire assembly process and am left impressed. Even the internal brake routing was a breeze despite no tube-in-tube technology. All hardware is easy to access and I had the bare frame built and ready to ride in just a few hours with nary a bloody knuckle.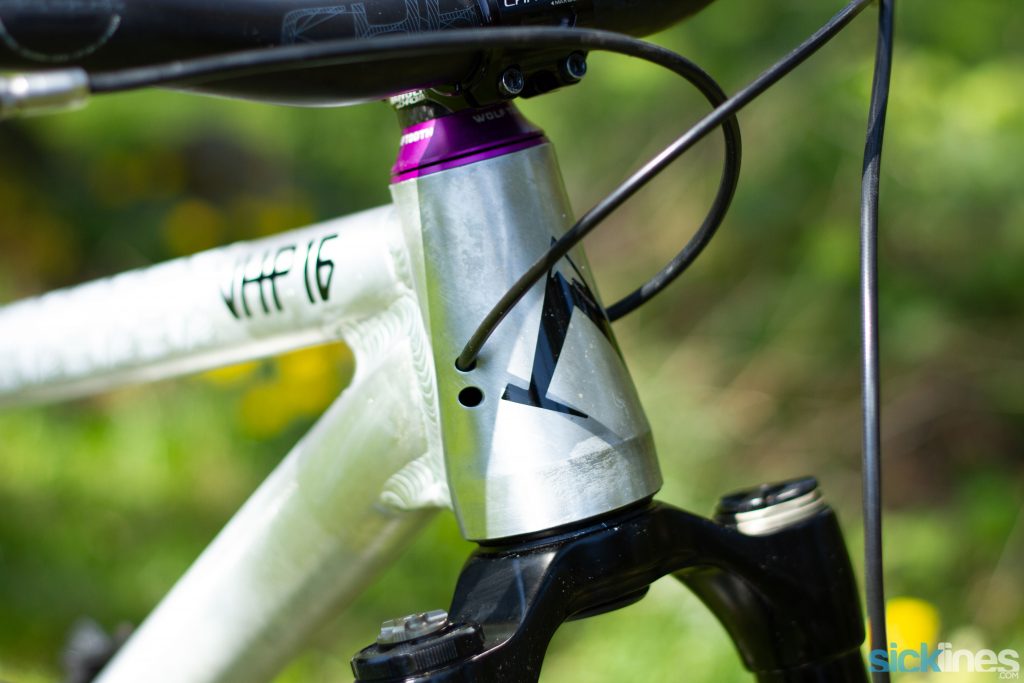 The VHP16 head tube is standard fare holding a zs44/zs56 headset which I've sourced from Wolf Tooth components. There are 4 holes in the head tube to facilitate cable routing. I found the edges of these holes to be a touch sharp and care should be taken when feeding cables through. Fortunately, their placement avoids any noticeable interference with the fork steerer. I'm running an Axis wireless drivetrain, thus only 2 of the 4 ports are used. While you're taking it all in, how about those welds on the head tube gusset? So clean!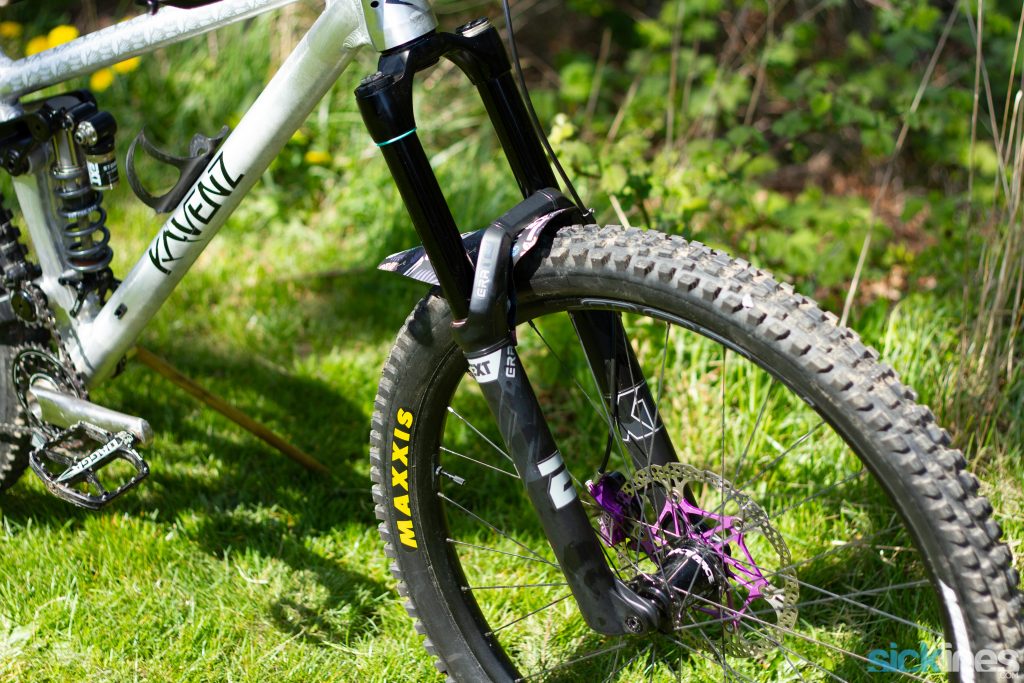 The original test bike that Kavenz sent over was set up with a Fox 36 at 170 mm. The 36 is fine for trail riding but it never really felt like it kept up the rear suspension. A 38 would have been a more suitable option. I opted for an EXT Era set to 170 mm which I had on hand from a previous build. The Era is as good as it gets in a single crown with the best mid-stroke support and the best small bump compliance in class. I've just taken delivery of an Era V2 which promises to take things to another level – stay tuned for a separate review and comparison. Rounding out the front end, a 2.5 Assegai in EXO+ Maxx Grip mounted to a 29″ Stan's Flow MK4 laced 3-cross to a Race Face Vault hub with Sapim CX-Ray spokes and brass nips by yours truly. Out back there's a matching wheel but in 27.5″ since this is a mullet setup. I bring this all to a stop as fast as traction will allow with Hope V4 brakes squeezing a 223 mm rotor up front and a 203 mm rotor in the rear.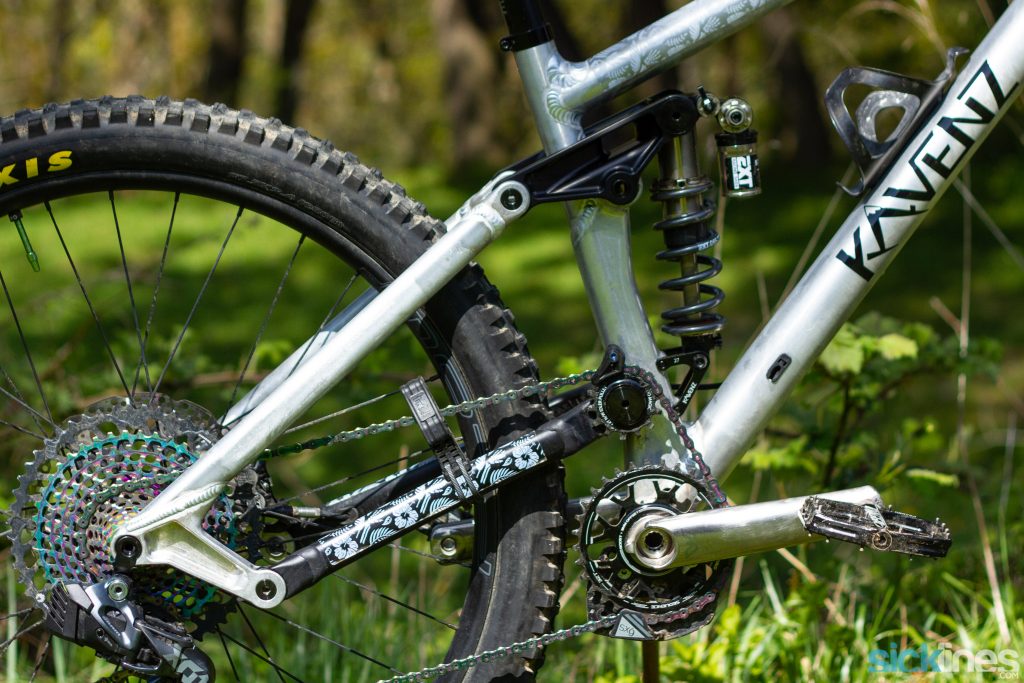 If you've followed any of my recent custom builds, the Cane Creek ee-wings, and Chromag Dagga pedals will come as no surprise. Both the ee-wings and Daggas brush off impacts and look great doing it year after year. I'm running a 32t chainring and SRAM's 10-52 cassette which suits our steep climbs and allows me to get by with a single 118 link SRAM XX1 chain in. To keep that chain quiet and in place I'm running a single STFU guide mounted to the chainstay and an MRP SXG bash/guide in addition to the idler guide that Kavenz supplies with the frame. This combo renders the VHP16 one of the quietest bikes I've ridden. It's worth noting that it's critical that the chain line between the idler and front chainring be perfect to avoid excessive wear, drag, and noise.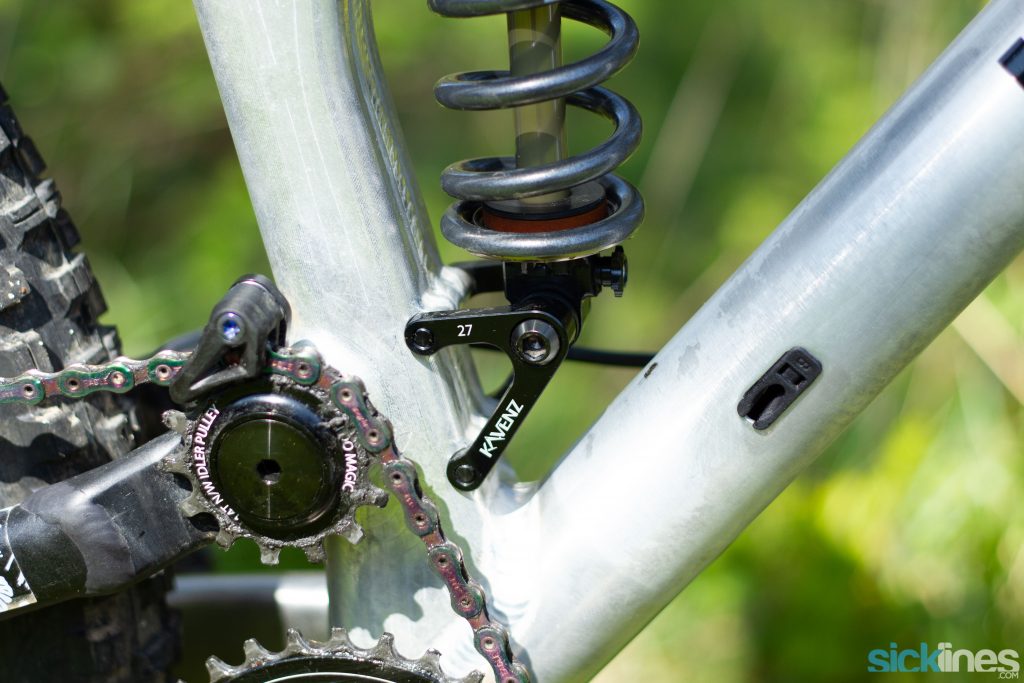 As mentioned previously, the lower shock mount (pictured on left) is all that separates the 29'er version from the MX version of the VHP16. During the test, I rode both configurations and can attest that swapping is a matter of 3 bolts and a couple minutes. You'll spend as much time swapping out your rear wheel as reconfiguring the frame. In the image above on the right you can see the routing for the rear brake line. Cable routing from the front triangle into the chainstay is one area that I see a lot of new manufacturers struggling and Kavenz did a great job here.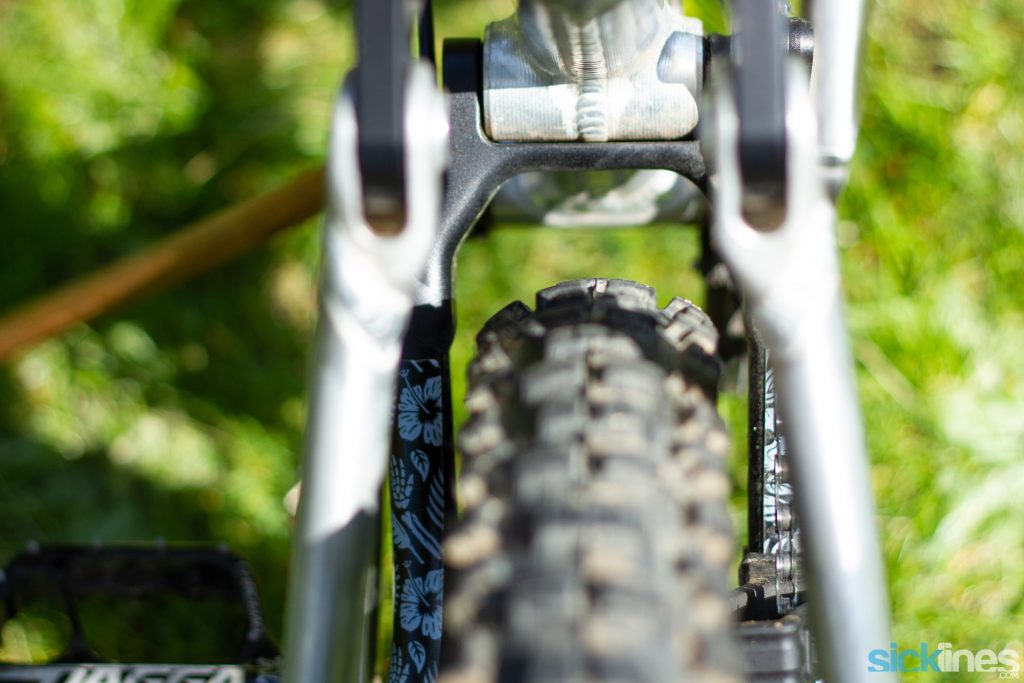 Despite impressively compact chainstays, there's plenty of room for mud clearance when running a 27.5″ wheel out back. I failed to grab a similar shot with a 29″ wheel but the clearance was still more than acceptable even when I accidentally mounted a 2.6.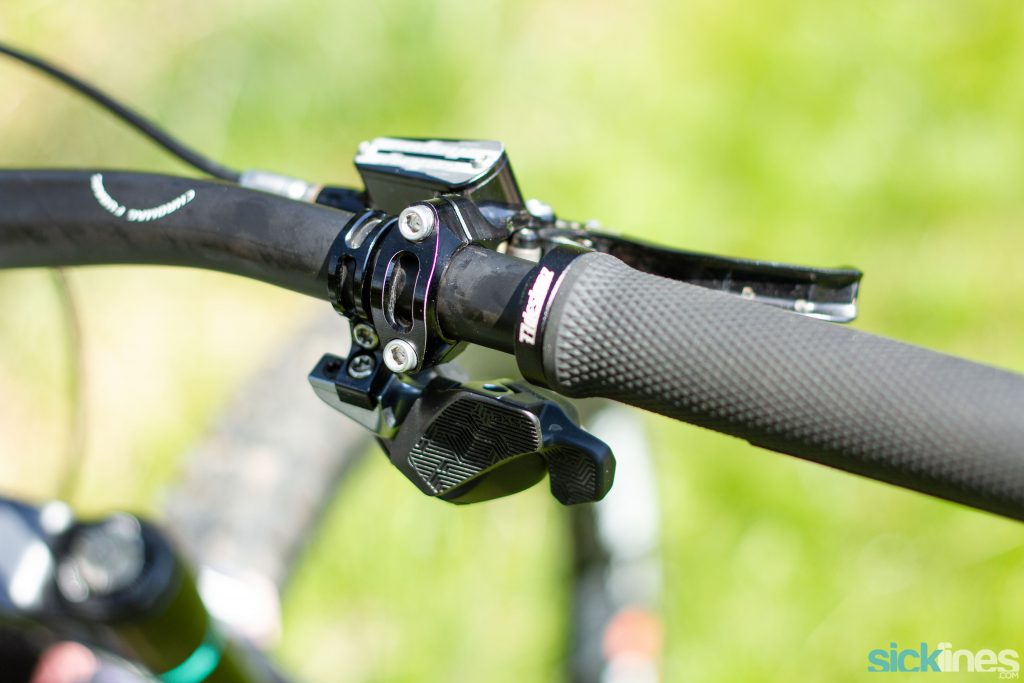 This was my first long-term review incorporating AXS shifting. I'd ridden it casually a few times prior but never consistently or at a pace nearing my limit. Consistent with my first impressions, adapting while riding at a relaxed pace was easy. As the pace quickened, I found the shifter pretty tricky to position for a natural feel and I also struggled with unintentional shifts. After a few months, the paddles now feel intuitive but it did take me a while to adapt. Shifting performance from the derailleur is a little better than a conventional setup but not dramatically. I've run a battery for up to about 5 rides and haven't seen the low battery indicator yet. Overall, it's a novel setup that I don't have any real problems with it except that it's considerably more expensive than a cabled setup for marginal performance benefit. Rounding out the cockpit, I'm running Chromag Cutlass bars at 785 mm, a Ranger V2 stem at 31mm, and 77designs grips.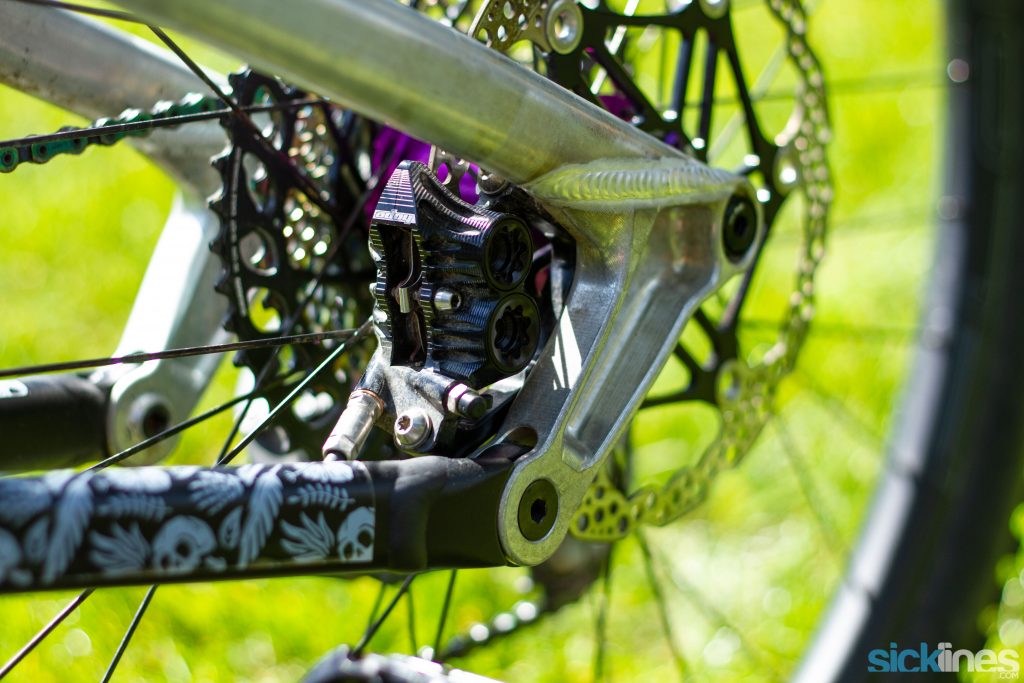 Another interesting feature of the VHP16 is that the rear brake caliper is mounted inside the chainstay / seat stay junction. A special adapter for 203 mm rotors is supplied with the frame and that diameter is your only option. The original test bike from Kavenz was setup with Magura MT7's which perfectly mated with this design. The Hope V4 caliper gave me a little trouble as the brake line rubbed against the entry port in the chainstay and failed. I raised this issue with Kavenz and they quickly identified a solution and manufactured an updated chainstay. It's rare that I ride any bike and don't find some weird issue. It's outstanding that Kavenz is able to move quickly to address and resolve problems. I want to clearly note that Kavenz documents which brake calipers are known to have issues with cable routing in their FAQ which I chose to ignore. Keep an eye on the site for updates as the new chainstay is tested.
Riding the VHP16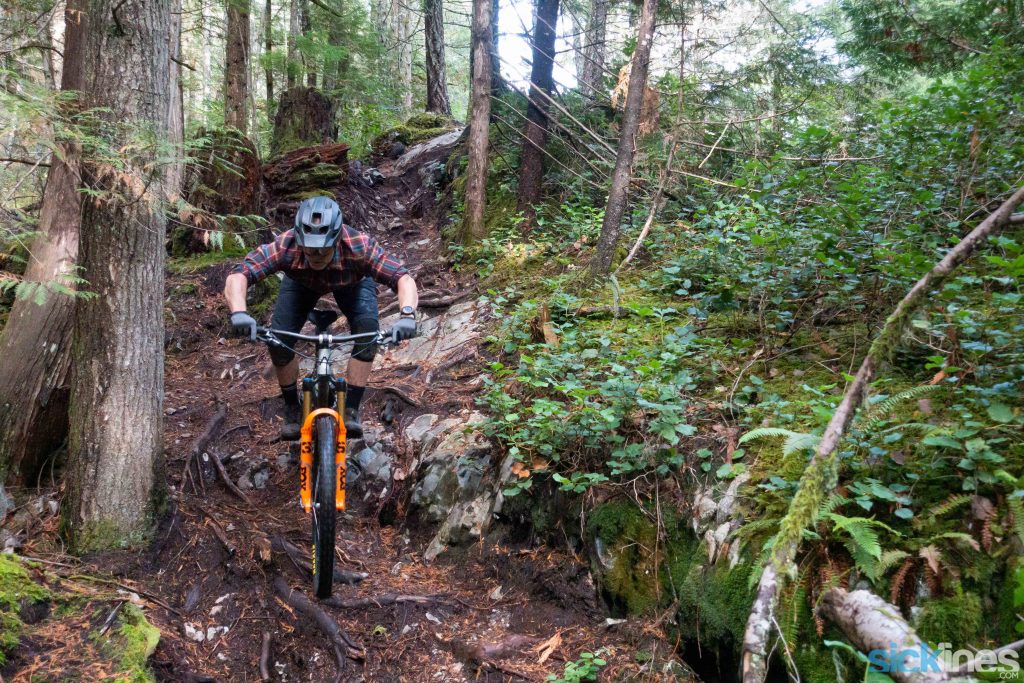 With nearly 25 years of riding under my belt and well over a decade of bike reviews, I'm generally able to quickly adapt to any new bike I swing a leg over. There was something different with the Kavenz. Before I had really sorted out the controls or dialed in suspension settings I found the VHP16 hugely confidence inspiring. My first weekend consisted of wet roots and slick slabs in Squamish and I couldn't get over how immediately comfortable I felt on nearly every line I encountered. The stability afforded by that magic axle path, massive amounts of traction, and the maneuverability of the 27.5″ wheel just clicked. I spent a lot of my time on new trails and trails I'd seldom ridden. Being on unfamiliar terrain highlighted just how well the bike was working, particularly in regard to traction, as I was rarely taking the best line on the first time through.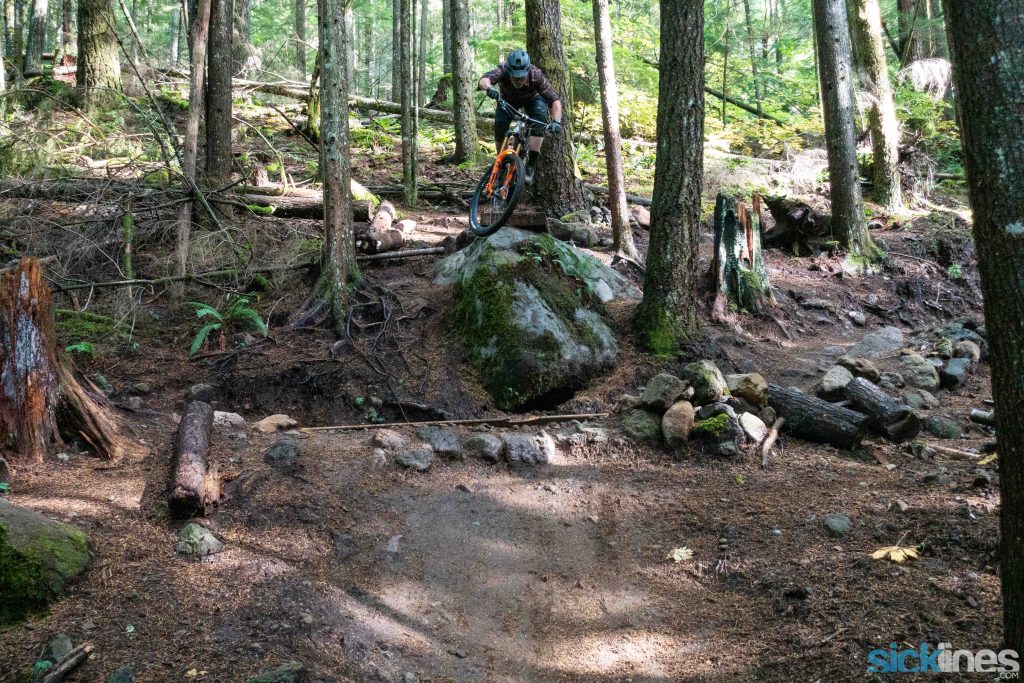 Over on Pamplemousse, one of Squamish's mellower black trails consisting mainly of lower angle descending, with a couple tricky corners, mellow roller doubles, and one medium-spicy gap I was equally surprised at how fun the VHP16 can be on tamer terrain. At this stage of the test I was still on the original loaner bike with a DPX2 shock. The air shock really livens up the rear end relative to a coil and creates an almost poppy feel, especially with the rebound cranked wide-open. This combo turned out to be a lot of fun for bouncing down flow trails and boosting little airs. To be clear, there are better choices if you prefer to focus on jumping and jibbing but the VHP16 is more fun than you would expect under these conditions.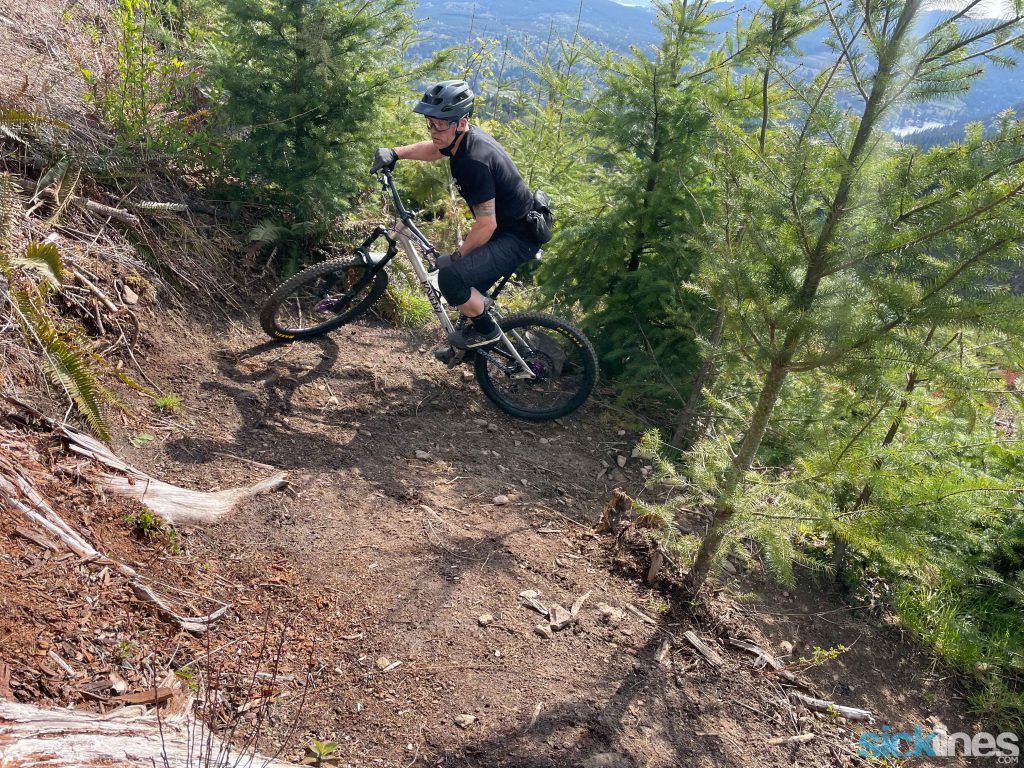 The VHP16 is almost as good at gaining elevation as it is at shedding it. Kavenz achieves high anti-squat values with their suspension design. In addition to direct power transfer, this enables them to run a slightly slacker seat angle. This means less pressure on your hands during low angle and rolling climbing and a little more room in the cockpit while seated. There are a few climbs around my area that are notoriously steep and I did find myself occasionally reaching for the climb switch to keep my weight as forward as possible. But, it's only on the most extreme steep trails and fire roads that the lever ever crosses my mind. Over the past 9 months and tens of thousands of vertical I've never hesitated to grab the VHP16 or found myself regretting it half way through the day.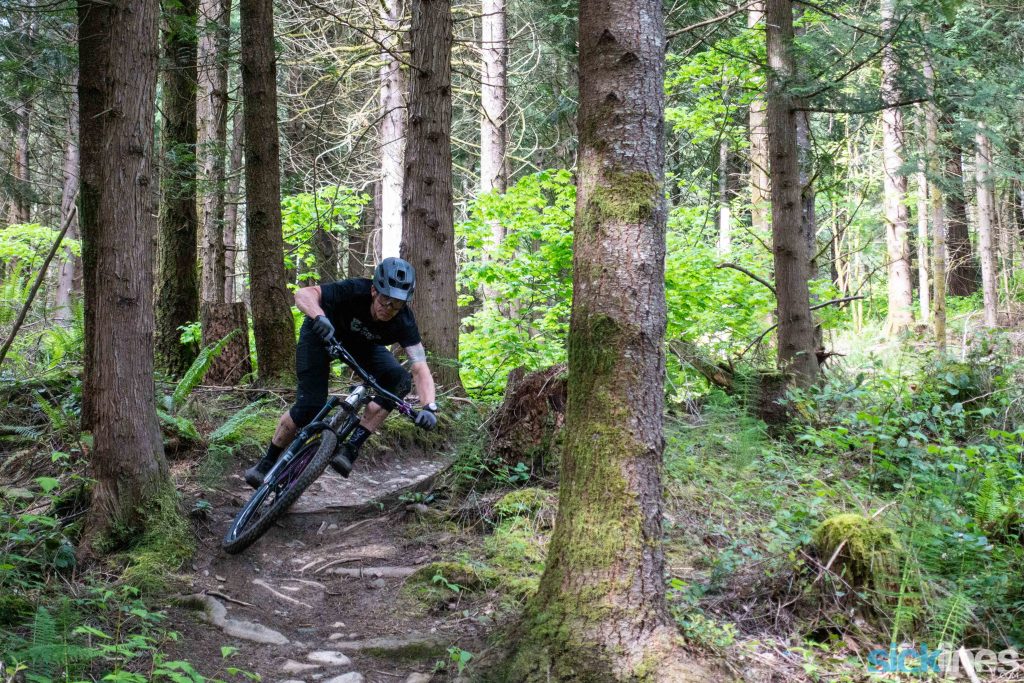 Kavenz claims "We make you faster". Great marketing, difficult to quantify. A rearward axle path does wonders for high speed stability but being faster overall is arguably more about cornering. This is where the VHP16 in MX trim shines. I credit the 27.5″ rear wheel for making quick direction changes feel effortless despite the sprawling 1270mm wheelbase. Once rolled over, its 34 mm BB drop has the rider locked in. Then comes the magic. As the rear suspension compresses through the turn apex, the chainstays grow, keeping the wheelbase closer to a consistent length. I find that I am able to carve smooth arcs and keep the front tire tracking with minimal need for conscious weight shifting. I can confidently say that the mixed wheel VHP16 has elevated my cornering game.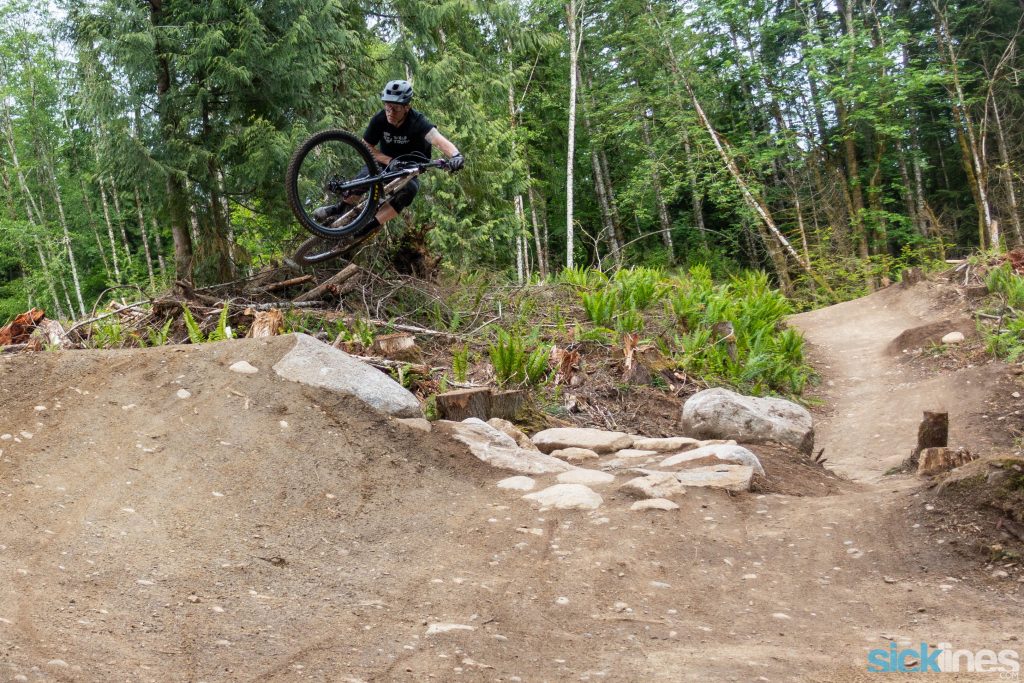 I touched lightly on jumping, jibbing, and goofing about earlier but I wanted to revisit this aspect of riding with a little more color. While Kavenz has focused on the needs of the aspiring racer, the VHP16 is a surprisingly fun play bike in the right context. It's not a "jib" bike nor is it the best bet for pure flow trails or steeper dirt jumps but it makes a hell of a park bike. The rearward axle path does rob some pop but it also affords a little extra insurance when coming up short on a gap jump. With Bellingham being a town jam packed with jump trails, it's hard to justify any bike that doesn't do a half decent job at popping and roosting. I wouldn't pick the VHP16 as a dedicated play bike but as rig that is ready for high-level enduro racing or bike park riding that can also be loads of fun on tamer tracks, it's hard to find much fault in its performance.
Shock Selection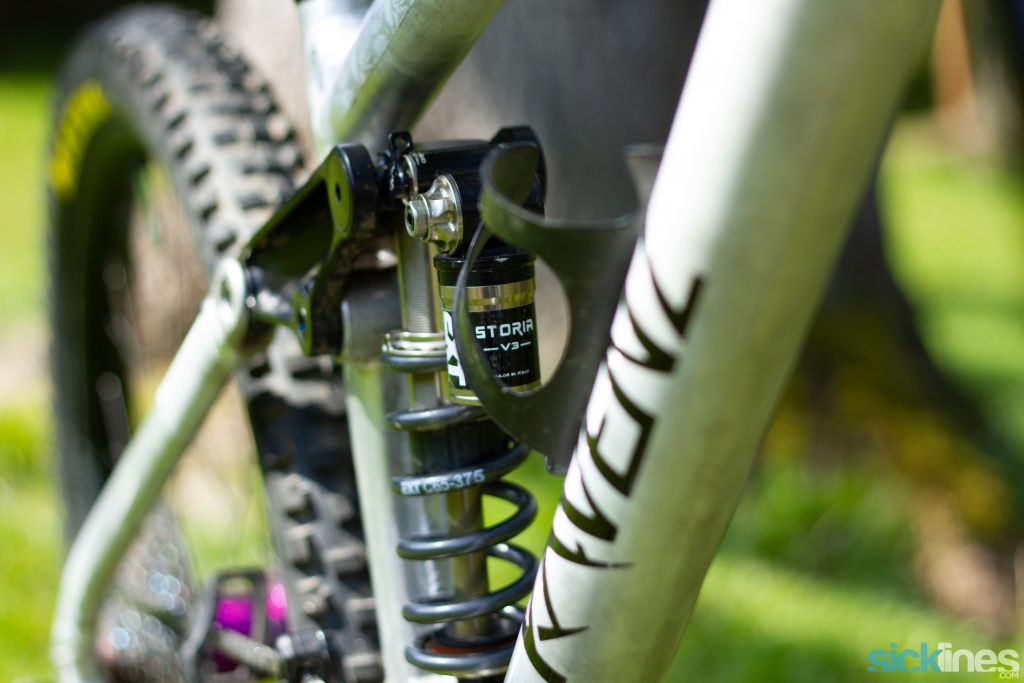 Choosing the right shock setup goes a long way towards optimizing any bike for the terrain you intend to ride. The VHP16 has fast and technical enduro tracks baked into its DNA but that doesn't mean that with the right setup it can't be fun on jump trails. I'm a huge fan of EXT's Storia V3 but it does result in a very planted, almost stuck to the ground feel. The Storia is perfect for racing. Moving up in spring rate 25 lbs over recommended does help the Storia feel a little more lively but if you're looking to boost jumps, go for an air shock. I was able to test two different air shocks, the Fox DPX2 and the Fox Float X2. The DPX2 was on the original test bike and provided tons of pop and surprisingly impressive traction but lacked enough mid-stroke support for higher speeds. I like the DPX2 on machine built flow trails but suffered from far too many pedal strikes on rougher terrain, even when running as little as 28% sag. Where the Storia was a bit stuck to the ground and the DPX2 unable to keep up with a spirited pace, the Float X2 delivered the best balance of both styles. With a wide range of adjustability, great small bump sensitivity, and tons of pop, the Float X2 is my personal favorite for a daily driver shock. When I head up to Whistler, I take a couple extra minutes to swap in the Storia for max traction.
Full 29 or Mullet?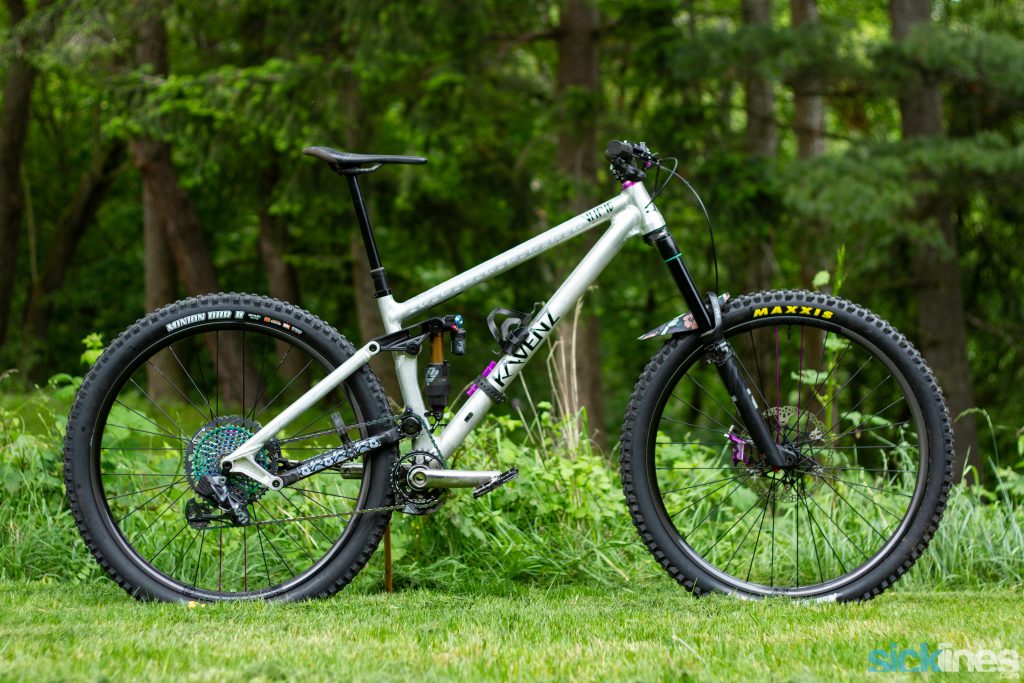 The other topic I want to briefly touch on is full 29'er vs Mullet. Going into the review I'll admit a bias towards full 29 based on prior experience. I was concerned about giving up traction, and that the rear wheel might feel like it was hanging up on square edges with the Mullet setup. I set up both rear wheels with Maxxis DHRII tires in Maxx Terra compound to keep variables to a minimum. I did not do any timed testing but I have some solid observations. The full 29'er setup does have better rollover and tends to maintain momentum climbing rooty and rocky terrain. If you're tired and mashing the pedals, there's a little more forgiveness with regard to climbing traction and avoiding spinning out. Full 29 is slower to get up to speed but once you're moving, it maintains it slightly better. The down side is that the bike as a whole feels bigger and sluggish in direction changes and acceleration. Once leaned into a corner, the traction of full 29 is impressive but only after you overcome a significant delay in initial turn-in. Riding blind corners, it's easy to mis-judge the apex. I found the mullet setup far more forgiving at last minute direction changes without loosing momentum. My original bias had me convinced that mullet would be a pure novelty and now I stand corrected. I found the Mullet setup less fatiguing and more fun to ride while improving cornering which I would rate as my weakest skill.
The final word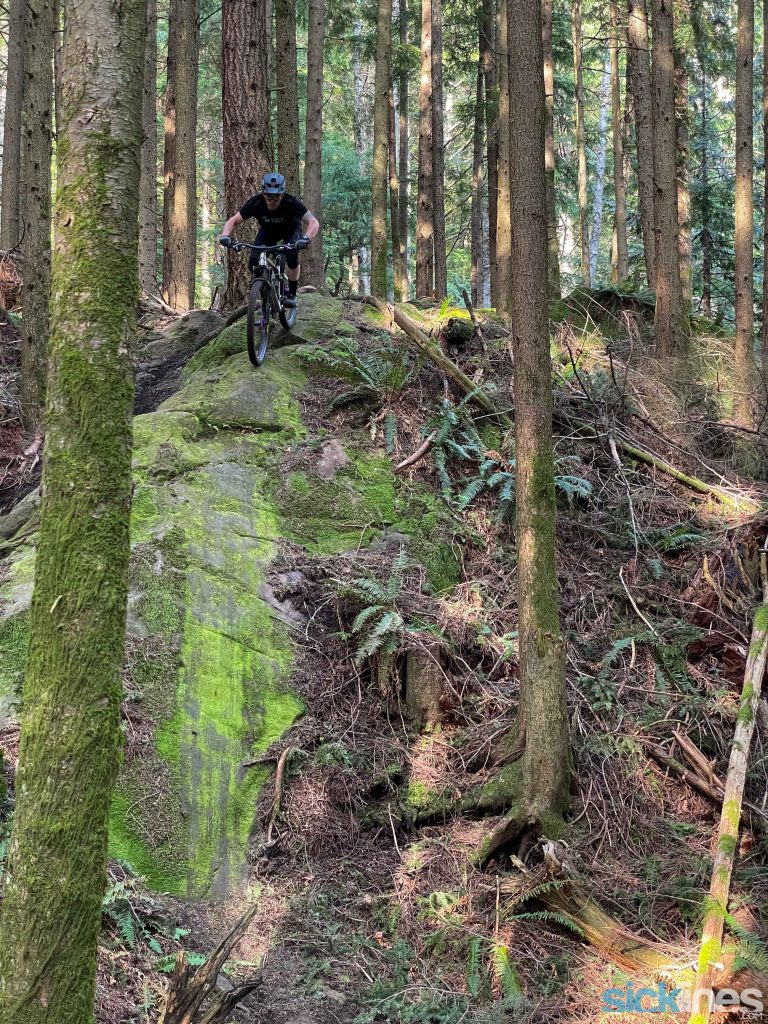 Kavenz has put together a strong contender in the high pivot enduro market. From an engineering standpoint it's a hit. Simple alloy tubes, easy to service, highly customizable, impressively light weight. Building a race ready bike with real tires in the 31-35 lb range is totally doable. My only real qualms are the limited support for brake calipers (should improve with the new chainstay design) and noted sharp edges where the cables enter the head tube. I could imagine the tallest of riders appreciating a head tube option taller than 125 mm but that's also a small issue. Overshadowing any of these minor points, the VHP16 simply delivers on outstanding traction and cornering composure. The VHP16 has proven exceedingly simple to assemble and service. Bearings remain quiet and smooth despite enduring one of the wettest springs in memory. At the time this article was published, frames are actually available within a few weeks at €2645.00. Plan on adding to that your choice of shocks ranging from €600 to €695. There are a lot of high pivot options out there on the market right now. Considering performance, cost and customization options, I think the VHP16 should be on your short list.
Specifications