RockyMounts Launches The GuideRail Platform Hitch Rack, Available Now
A 2-Bike platform rack with a focus on user experience and security
Grand Junction, Colorado – RockyMounts, a leading manufacturer of bicycle rack systems, has expanded their lineup to compete with the premium racks on the market. The GuideRail is a dual load arm style rack and, although not a new concept or design, RockyMounts has chosen to focus on user experience with the design and address many of the pain points that they saw in their research and development. Features like the dual action release lever for the load arms, Brass washers at all pivot points, and a pull handle position that is easy for the user to reach; all add up to a package that looks clean and functions without missing a beat.
We took a look at the GuideRail at Sea Otter this year so check out that post for more detailed photos and more.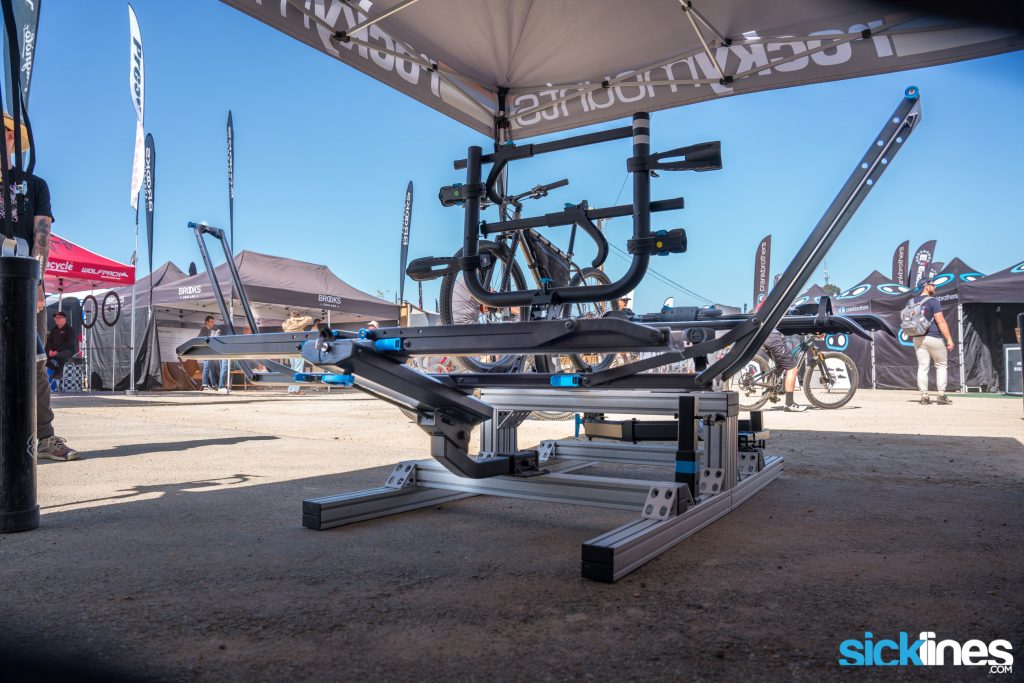 GuideRail Features:
•Carries 2 bikes, up to 60 lbs per tray (120 lbs total). 2" version is expandable to 3 bikes up to 45 lbs per tray, with Add-On
•Bike can be loaded asymmetrically to eliminate handlebar interference
•No contact with frame or fork, secures bicycle by contact with tires only
•Carries 19mm road tires up to 3.0" wide mountain bike tires, and diameters from 20" to 29" •Compatible with bicycle wheelbases from 36" to 55"
•Folds flat against the vehicle, and tilts down 30 degrees to allow for hatch access
•Available for 1.25" and 2" Class II or higher hitch receivers
•Utilizes RockyMounts premium 3-axis anti wobble system
•Included 10mm square link chain provides best in class security
•Rack weight 49 lbs (shipping weight 61 lbs)
•MSRP $849.95 USD
"We had no intention of reinventing the wheel with the GuideRaill; We just wanted to build a solid performing rack that addressed the concerns and frustrations we were hearing throughout the industry." said RockyMounts owner, Bobby Noyes. "By listening to our customers, we chose to target the problems with other designs in the category and keep the rest of it simple. Functionality and Security were the main goals. We believe the GuideRail embodies these ideals with style to spare."
The Security solution for the GuideRail is the best in the entire hitch rack category. By utilizing a 10mm square link steel chain and integrating the locking mechanism into the spine, RockyMounts has created a system that is simple to use and a heavy deterrent to would-be bike thieves. The nylon covered chain simply lassos around around and through the frames and clicks into the lock slot on the spine. From there a push lock takes care of securing the chain to the rack itself. With no exposed parts beyond the chain, thieves are met with an intimidating task of cutting through the chain in order to steal the bikes.
Utilizing the dual load arm design completely eliminates frame and fork contact, allows for asymmetric loading of bikes to avoid handlebar interference, and it creates a simple aesthetic that virtually blends in with most vehicles. The GuideRail reduces plastic parts to a minimum and maintains the same capacity and reliability that all RockyMounts racks are known for. As with all RockyMounts products, the GuideRail is backed by RockyMounts Limited Lifetime Warranty, so you can carry your bikes to any adventure without worrying about your rack.
RockyMounts GuideRail 2" is available immediately.
GuideRail 1.25", GuideRail Add-On, and AfterParty to follow in the early fall 2022 More information can be found at RockyMounts.com