Words: Toni Walbridge
Photos: Misti Walbridge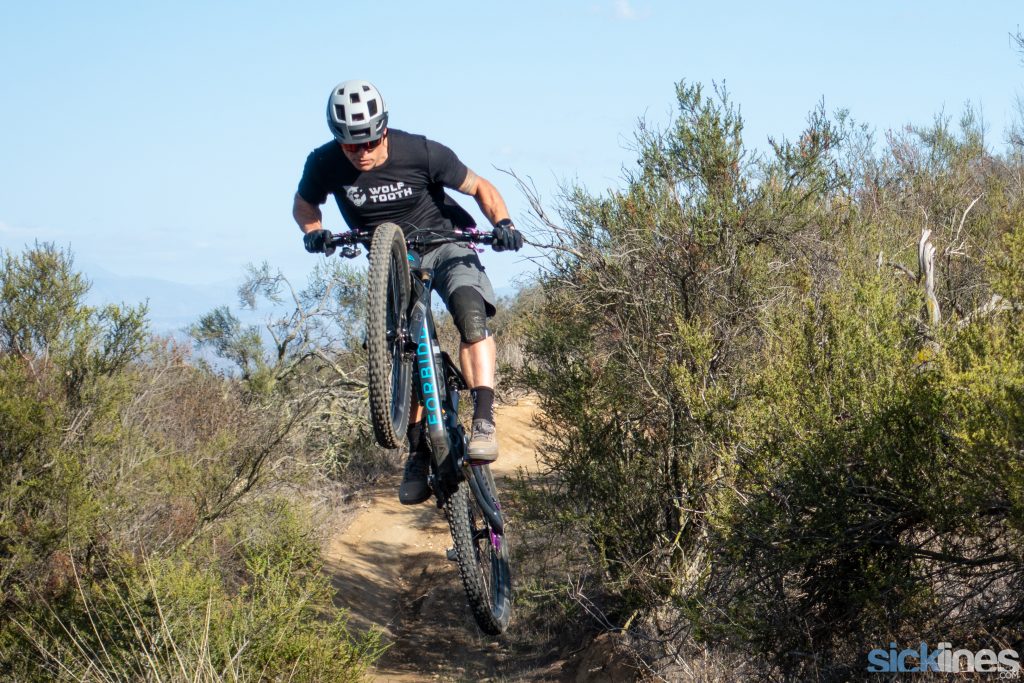 I don't often review bikes that have been on the scene for several years but after a summer on the Druid, I can't not. The Druid was Forbidden's first model when they launched their brand way back in 2019. I had a keen interest in giving it a try ever since I first laid eyes on one but it just never lined up until recently. Considering its age, I assumed this would just be a personal bike, maybe something to use for component reviews. As I got time on the Druid, I realized that I needed to write about it. The high-pivot hype is real and it endows the Druid with range like no other trail bike I've ridden. The idea of an efficient and capable machine to bring a little spice to mellower trails has always resonated with me. Most leave me frustrated when I do wander into black diamond terrain and I wind up lamenting the decision not to just ride my enduro bike. The alchemists at Forbidden have conjured an all-around trail bike that shreds black diamond terrain like no 130 mm should. Consider this review in a slightly different light – pure, organic stoke. I paid for this bike with my own money and never intended to write about it but I can't not.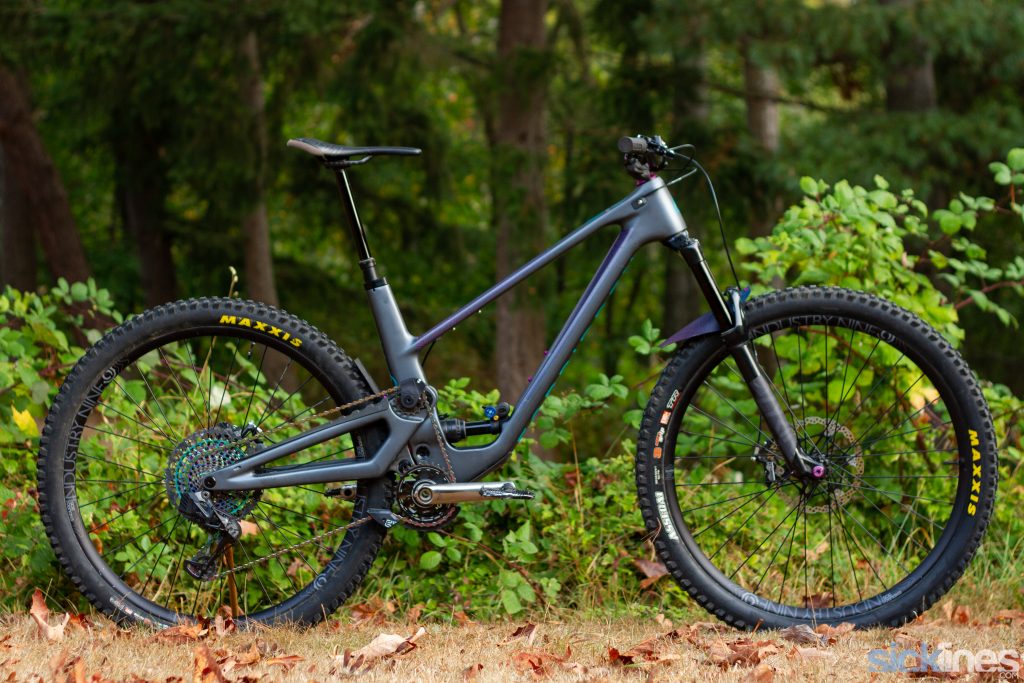 The Druid is a rare beast in that it combines a mere 130 mm travel with a high pivot and idler. High pivot designs have become a common sight these days but are typically seen on enduro and downhill machines. Their inherent rearward axle path adds stability and take the sting out of square edge bumps but at a cost of complexity and drag. In downhill and enduro, where descending speed is priority, high pivots make sense. On trail bikes, where efficiency is a much bigger factor, we've seen very few bikes employing this design.
Downhill DNA means the rest of the frame has to be up to the task to handle some serious abuse. My size large frame, without shock, came it at a robust 6.4 lbs and 7.6 lbs with the Ohlins TTX2 Air fitted. The Druid ticks all the boxes in modern frame design. It can be run full 29 as tested or mullet although switching between would require me to purchase Forbidden's geometry correcting Ziggy Link. The Druid is also bestowed with size specific chainstays, a 44/56 tapered head tube, boost 148 rear axle spacing, a threaded BB, internal cable routing, pm 180 rear brake mount, integrated chainstay protection, and even a mud guard with moto foam. There's also a removable cover under the BB area to access a large cavity primarily to route the dropper post cable. There's also plenty of space to store a tube or other seldom used emergency supplies. And yes, a full sized water bottle fits inside the main triangle.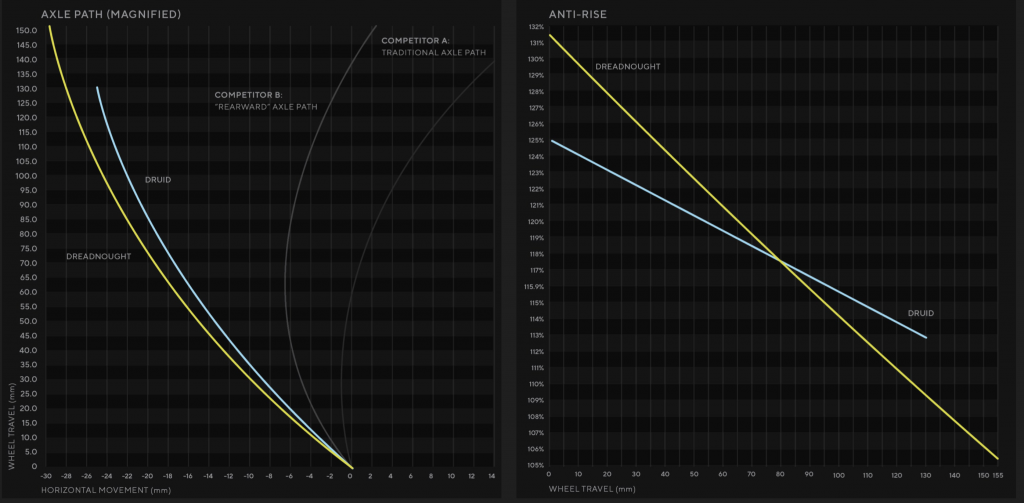 In the figure on the top right, note the Druid's axle path is fully rearward. This is in contrast to some high-pivot designs where the axle path is initially rearward and then transitions to vertical. This means the rear center grows significantly as you push into travel. Chainstay length at rest on my size large measures 433 mm. That number might look short at first but at static sag they grow by 10 mm and under dynamic sag they stretch out to roughly 449 mm. What this means is that as you push the Druid harder and harder, the wheelbase grows and the bike feels more stable. This is a key factor in the Druid's ability to handle trails normally reserved for bikes with much more travel. On the top left we can see that there's quite a bit of anti-rise which describes the tendency for the rear-end to squat under braking. This is a byproduct of the high, single pivot design. On steeper tracks where you're braking hard, this has the effect of making the rear of the bike feel low and stable while the front end stays tall and ready to take big hits. Tradeoff? The rear end is not moving freely while braking compromising traction.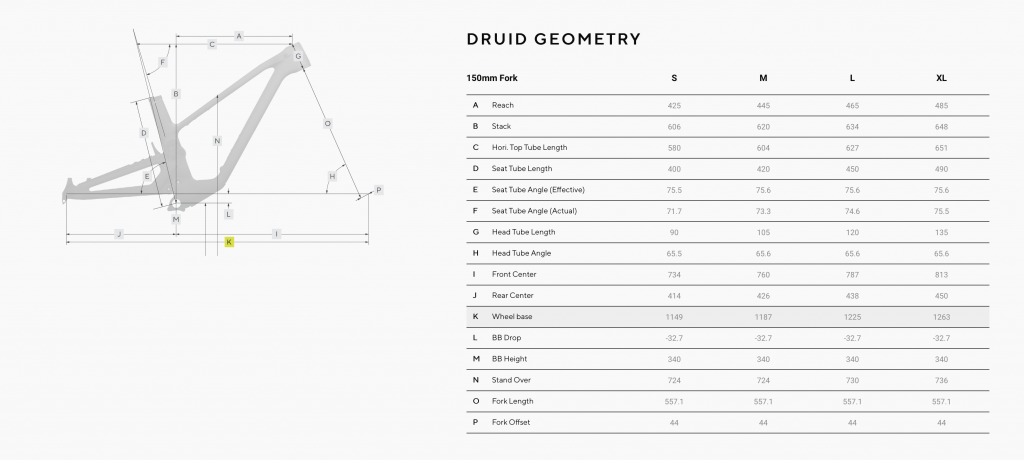 In 2019, the Druid's geo was right on point with a 75.6º seat angle, a 65.6º head angle. The size-specific chainstays and reaches were also right on trend. Since then we've seen bikes grow longer and longer. My large Druid with its 465 mm reach now corresponds to a typical size medium. Forbidden had the foresight to spec fairly short seat tubes, allowing shorter riders to size-up on reach while retaining the ability to run longer dropper posts. At just over 5'8″ tall, I am able to run a 190 mm dropper post on a size large frame to get the reach and wheelbase I prefer. With that, the only thing really lacking in the size run is a proper modern XL size with a reach in the 500 mm range. If you're anywhere between an XS and LG by current standards the existing size run has you covered. The other number that I think is worth talking about is the head angle. We're at a point where we have a number of short travel options on the market with head angles slacker than the Druid. As much as I do enjoy slacker head angles for the terrain we have in the PNW, the stock angle contributes to incredible front wheel grip that sort of defines the Druid. If you do want to go a little slacker, Forbidden allows for a 160 mm fork which will relax the head angle by a half degree. Beyond that, you also have the option of running an angled headset and while not covered fully in this article, I did play around with a -1º Wolf Tooth GeoShift headset with good results.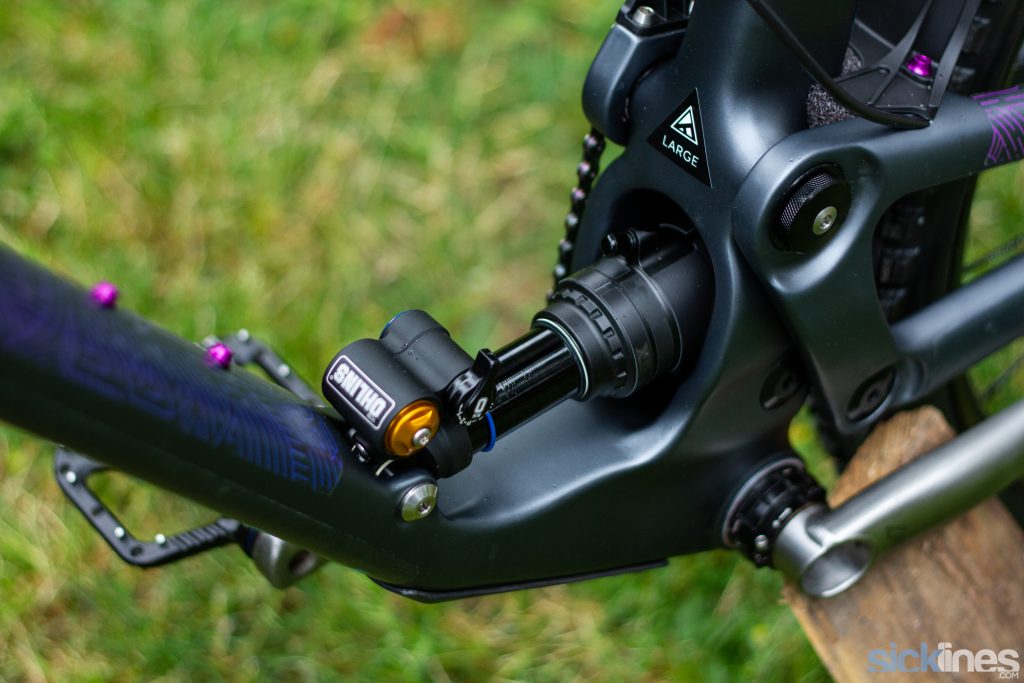 I mulled over my shock choices with the folks at Forbidden and landed on the Ohlins TTX2 Air to best match my style of riding. The TTX2 Air is a twin tube damper designed for aggressive trail and enduro riding in mind. Compared to something like a Fox X2, there are fewer external adjustments although Forbidden offers 2 different base tunes to cover a wide range of riders. I tend to prefer lightly damped suspension and chose the lighter tune for my 175 lbs and have been very happy. All adjustments on the shock are easy to access including the 3-position high speed compression lever in the event you want to firm things up for a fire road climb. The shock and linkage tuck elegantly into a tunnel where the linkage is mostly contained and well protected from mud and debris. When it's time to pull the shock or service the linkage it's all very straight forward with few fiddly bits. A couple Allen keys and a few minutes time and everything disassembles for easy servicing. Forbidden has detailed video and photo documentation posted to their Tech site to take all the guess work out the process.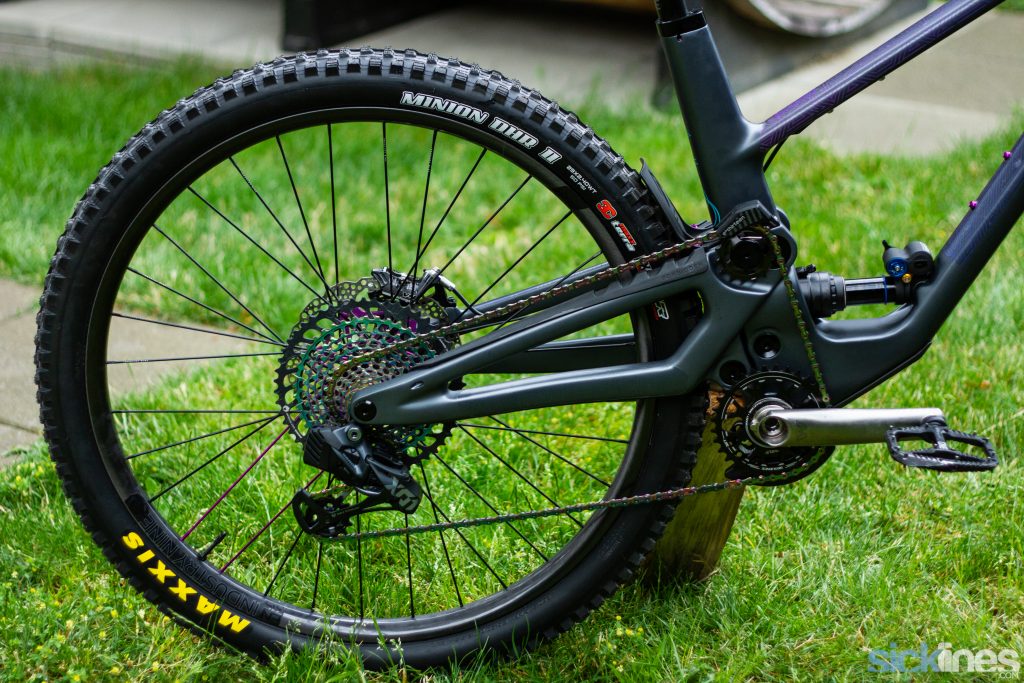 The Druid requires a lot of chain. On the size small, a 126 link chain will suffice whereas the larger sizes require a full chain plus a few extra links. Sharp eyes will notice I'm running the stock upper guide but no lower chain guide in this shot. I tried this setup to see if I could get away with a little less drag but didn't take long to figure out why Forbidden specs a custom E-Thirteen lower guide as stock. I not only lost my chain without it, sprinting on rough trail caused the chain to bounce and skip on the front chainring. I want to make it clear that this is not the fault of Forbidden and entirely my own failed experiment. Once I installed the E-Thirteen guide, all of my chain woes were instantly resolved. I've now done some really big days with the guide and found the actual drag to be more in my head than any real hinderance. If you're not convinced, Cascade Components has come up with a guide solution that follows the natural path of the chain to prevent it from jumping without adding any additional drag.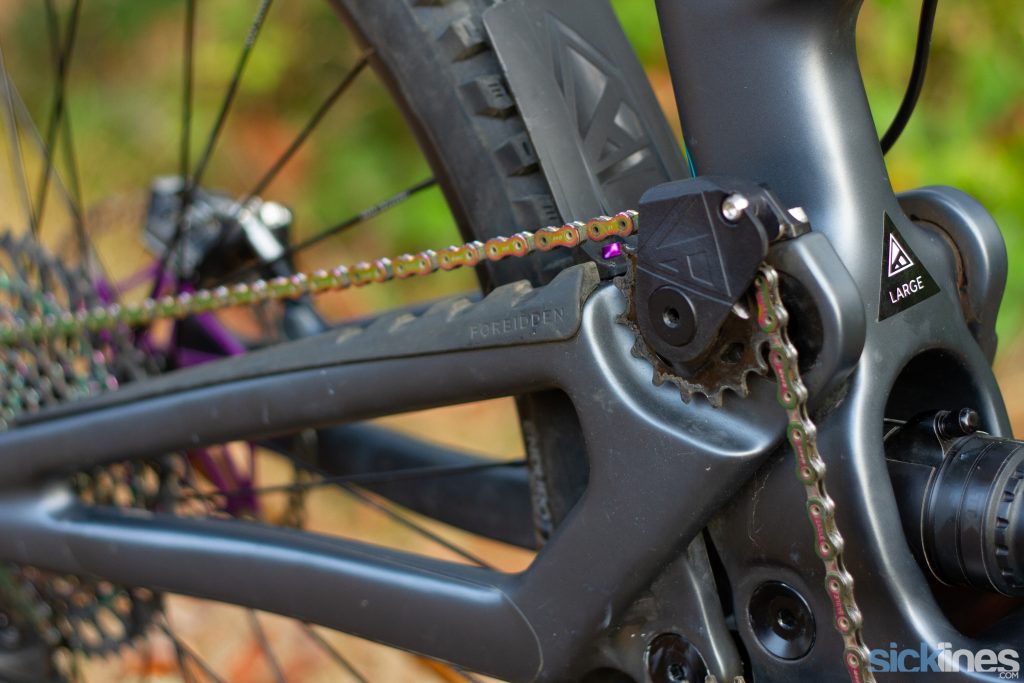 Above right, Forbidden worked with E-Thirteen to create a custom chain guide for the 16 tooth idler pulley. The design provides a fair amount of guidance from the rear but the chain is relatively unmanaged on the front side. This solution worked for me 99% of the time. And then there was that one time my chain popped off… Since I was using the Druid to prepare to race Trans-Madeira, I grabbed their race guide (pictured top, left) which completely encases the chain on the pulley. You give up the tool-free access to the chain with this setup but it 100% guarantees (in my testing) that the chain will not come off. I don't think that most non-racers need the race guide but I appreciate that Forbidden is committed to solutions for those of us that want to push it at 10/10ths pace. Durability of the lightweight alloy pulley has been pretty good with mine looking less than 1/2 worn after a few months of riding. For those of you that put down big mileage there is a stainless steel version that North Shore Billet produces that should last much longer.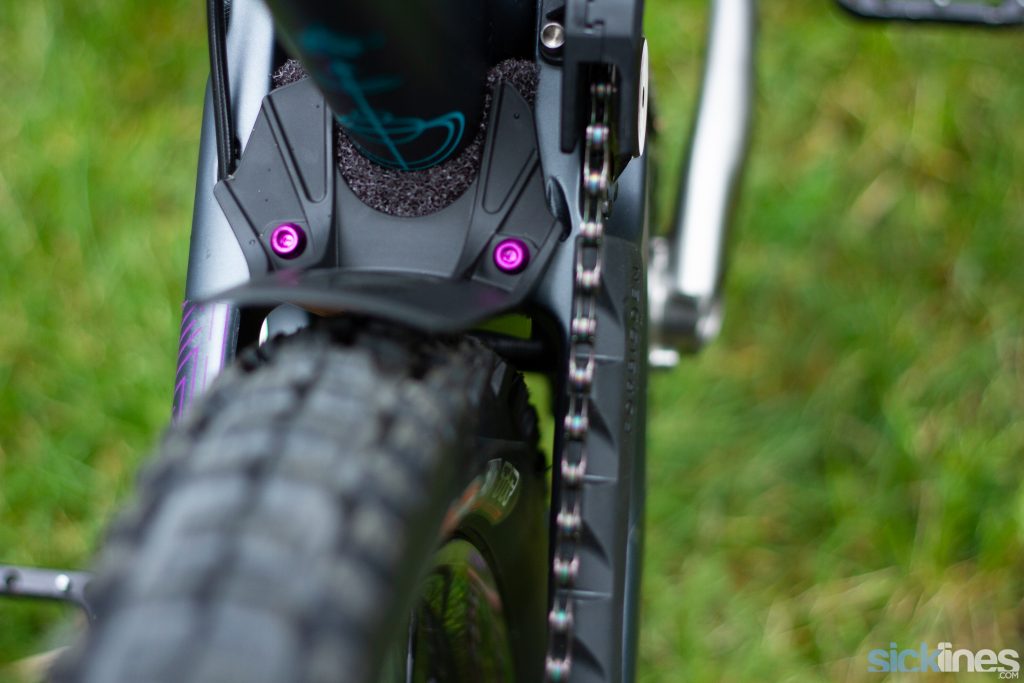 Early owners had trouble with small rocks and other trail debris getting caught between the seat-stay bridge and seat tube mast. No one likes the sound of rocks grinding into carbon. Forbidden responded with an updated rear fender which is both taller and employs Moto-foam to keep that area clear. This update ships with all newer frames and is available for free to anyone with an earlier frame. That's support done right.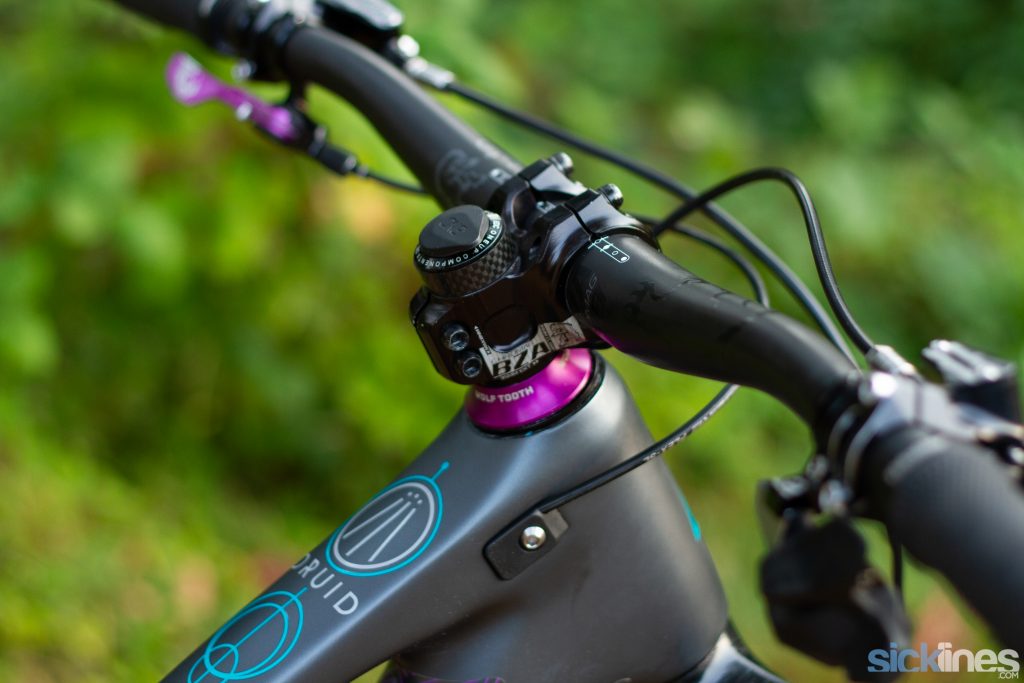 Cable routing on the Druid is all internal. Since I build my frame up from scratch, I was able to experience first-hand what it takes to route the lines. The rear brake and shifter cables run through the top tube and down to the the seat stays. The dropper post runs through the down tube and then up into the seat tube. I ran an AXS wireless drivetrain so nothing to do there. The brake and dropper were quick and and easy to route with no special tools or tricks required. The ports at each end of the top tube grab the line tightly and Forbidden recommends that you place it under a little tension to prevent cable rattle. My lines were apparently assholes and refused to stop rattling. I added some Jagwire housing dampening foam over each and that set them straight. It's all sorted now but I'd like to see Forbidden include anti-rattle foam with the frame and advise that it be installed from the start.
The Build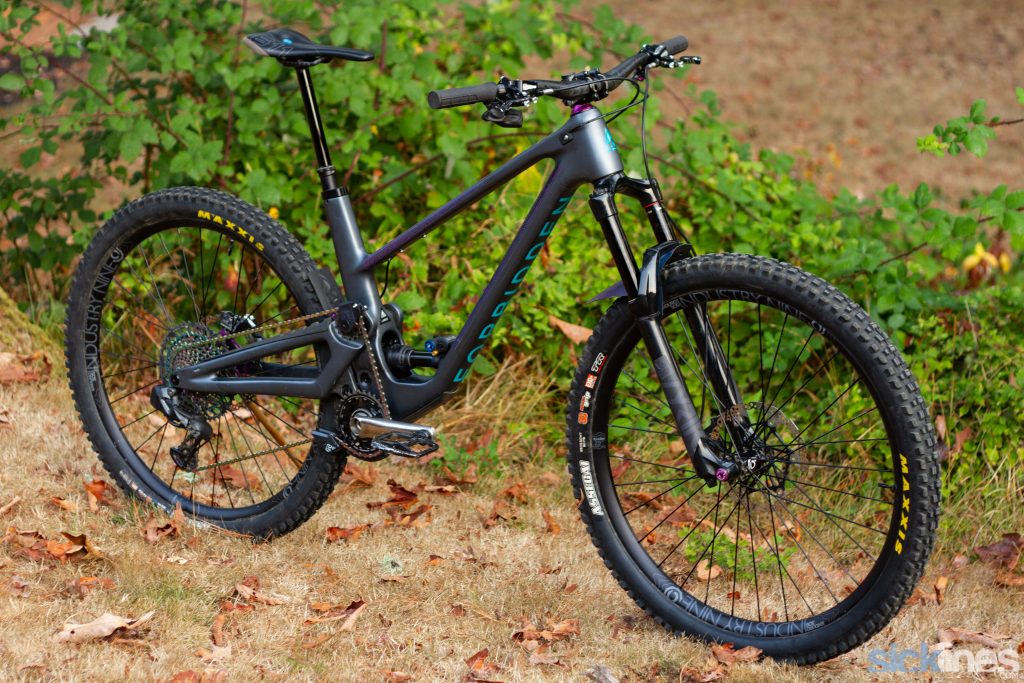 I picked up the Druid as just a frame and shock so my build is quite different from any of the stock offerings and was made up from parts I had on-hand. Up front, the Lyric Ultimate has been a favorite of mine. I set it up at the recommended 150 mm of travel but struggled to find a balance between traction and support. After a bit of fiddling with volume spacers, air pressure and damper settings to no avail, I swapped in an EXT Era V2. The Era V2 gave me traction off the top and the bottom-out resistance to really send it where I had to choose one or the other with the Lyrik. I ran 2 different sets of Industry Nine wheels depending on the style of riding I was up to. A set of stiff and light carbon Enduro 315's got the nod when acceleration was paramount. For more enduro style rides I ran a set of alloy Enduro 305 wheels. I ran double 2.5 Assegais on the alloy setup but opted for a faster rolling DHRII at the rear of my carbon hoops. As mentioned earlier, I ran AXS wireless shifting combined with a set of titanium Cane Creek eeWings 170 mm cranks and a 32t Chromag Sequence chainring. My cockpit consisted of a 210 mm OneUP dropper post shimmed down to 190mm and an SQ Lab 611 saddle. I tested several bar/stem combos, ultimately settling on an Industry Nine A35 stem at 40mm and Chromag BZA bars in 25 mm rise and 765 width. For stoppers, I started out with Hope Tech3 V4's but switched to the new Tech4 V4's half way through the test. The Hope V4's deserve a review of their own, look for that coming up soon.
Ride Report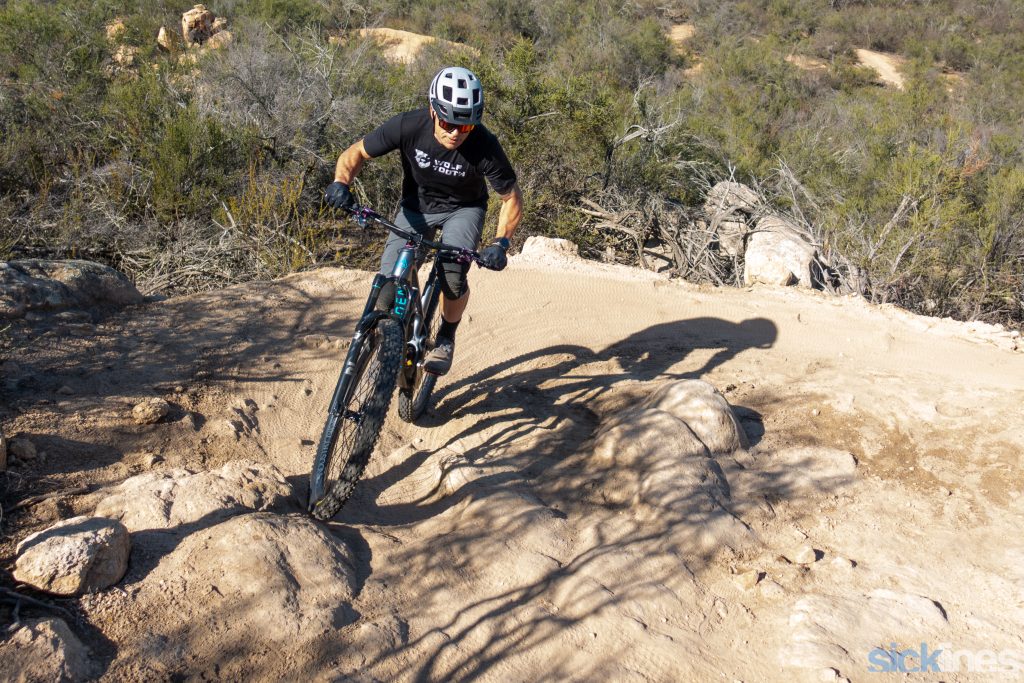 The Druid climbs like a proper, efficient trail bike. Over the past several months of riding, I probably fielded more questions about this aspect than any other save for the high-pivot its self. Yes, there is a little drag from the pulley and lower guide but in any context other than XC racing, it's a non-issue. The seat angle is spot-on. I can relax and climb for hours with no complaints. Traction is outstanding, making quick work of slippery, technical climbs. Thanks to the Druid's not-so-low BB height, pedaling through rough terrain is no problem, even on flat pedals. Over the course of this test I logged a number of rides in excess of 4000 vertical feet, some with 2 hours or more of continuous climbing without anything negative to report. There is no unwanted suspension motion to speak of and I found myself reaching for the shock lockout exclusively for the steepest fire road climbs. The limiting factor in your climbing experience will be the weight of your build and rolling resistance of the tires you choose.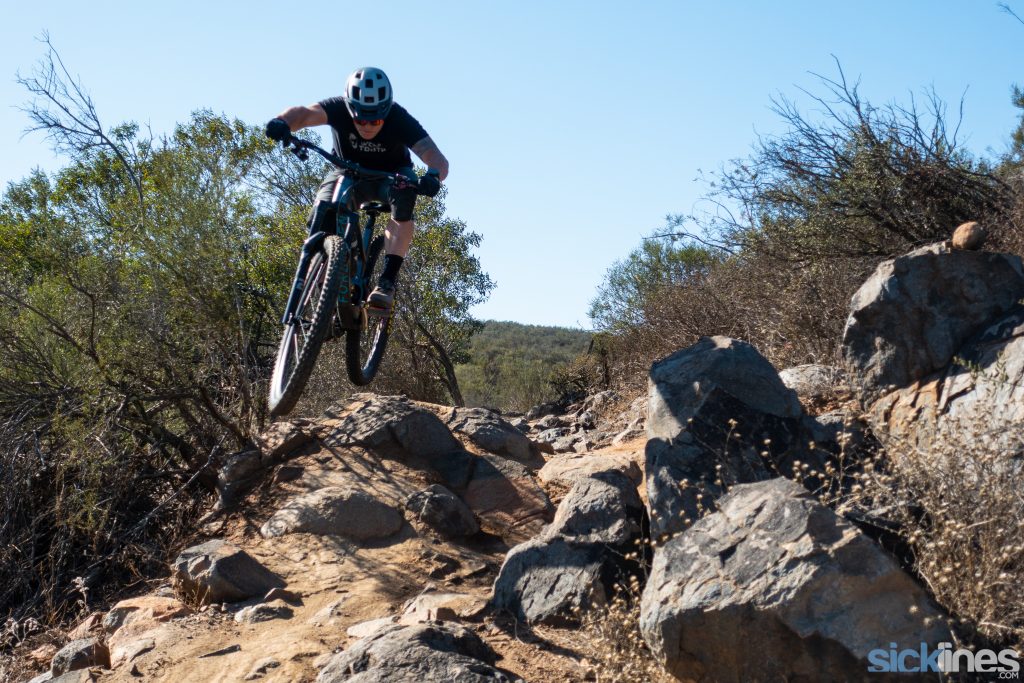 Sometimes a light and efficient trail bikes can sound like a good idea. Maybe to liven up a less technical trail or make a big climb a little less hateful. They tend to feel great as you pedal away from the car park and straight uphill with improbable speed and efficiency. I'll often be struck with immediate and overwhelming excitement at the ease and rate of elevation gain. In my head all sorts of hyperbole will begin to form -"Pedals like a hardtail" or "Accelerates like a cross-country racer". A short while later, once pointed down, the gushing is replaced by a decidedly less favorable internal monologue – "Sketch machine", "Descends like a hardtail". Trail bikes can be a Faustian bargain for the downhiller-at-heart. The Druid is not that. Head up, elbows out, hips and knees soft. GO. Get up to speed. Stay loose. Throw in some pedal strokes, faster. Hands off the fucking brakes. A pile of rocks is just ahead, jump straight into them. Survive. Impossible root gap around the next corner. Grease it. There's a magic speed threshold deep in dynamic sag, up against an active and supportive mid-stroke where the Druid shape shifts into a descending demon. The Druid is so damn good because it gains elevation like a trail bike but descends better than any trail bike has a right to. The Druid is so damn good because it doesn't ask you to compromise on the best part of the ride just to get to the top a little easier.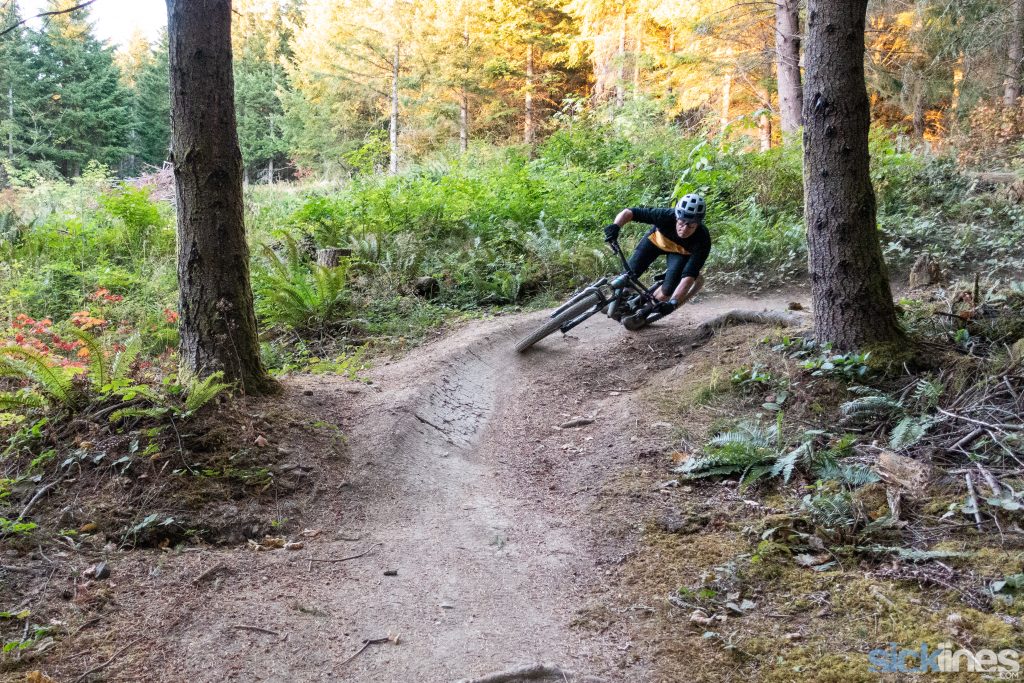 From the very first ride I can be quoted as exclaiming aloud "holy shit does this bike have front wheel traction!". A quote that I would repeat many more times. There's one thing that the Druid does better than any other bike in recent memory and that is deliver confidence in corners. Dive into a turn, body position neutral and revel in the feeling of a front-end that is seemingly immune to under-steer. My testing occurred from July through November in one of the dustiest PNW summers in ages followed by a month in the always dusty trails of Southern California. I have put the Druid's front tire on lines that should have had me face down in the dirt. It never happened. I posted my best times ever on almost every one of my home-town turn tracks. Some of the speed I found aboard the Druid was courtesy of the not-too-low 32 mm BB drop. Even on flat pedals and 170 mm cranks, I found I could sneak in strokes in places I'd never get away with on lower bikes. The Druid shined brightest on trails mixed with fast descending and short punchy climbs. On more than one proper technical trail, the Druid was faster than my 160 mm enduro race bike. I was giving up a little on the most technical segments but more than making up for it in the pump and pedal sections.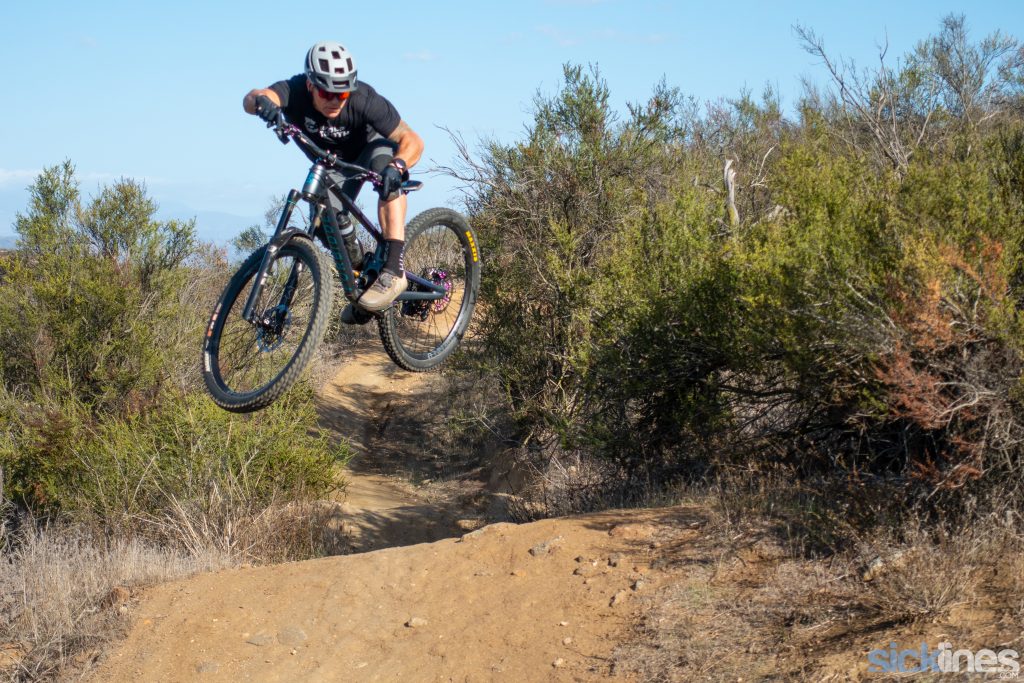 The Druid can hang in tough terrain, we've established that much. What about just riding for fun? After all, is that not the hallmark of a well sorted trail bike? Sure, it's cool that it will hold up to the occasional bike park day but a truly great trail bike has to be fun to ride at home. Let's get the bad out of the way first. There's no two ways about it, all that stability means the Druid is a little more stuck to the ground. Comes with the territory. Can it manual, bonk, and jib? Sure, but you'll work harder than on some other bikes. Silver lining – all that stability enables you to generate speed in really tricky terrain which opens up a world of possibilities. That jump out of the blind corner that haunts you, that you just can't seem to get the speed for? No problem. That triple you always double and pump the last one? See you on the back side. It's a different kind of playful. Long weird gaps, funky jumps out of sandy corners, no-traction rock rolls. The Druid is that bike that you can pedal all day and go for all the fun hits you'd normally reserve for your long-travel enduro bike.
Final Thoughts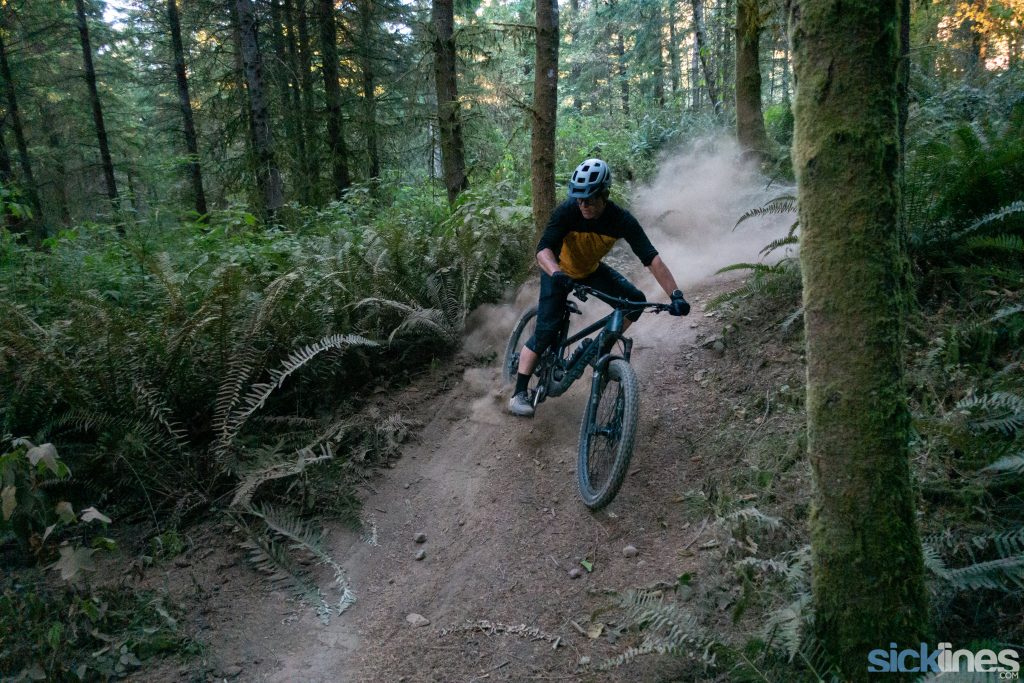 From a performance and reliability standpoint, the Druid has few shortcomings. I've already said a lot about how well the high pivot suspension and overall design philosophy performs. There are few rivals in this segment. With regard to reliability, I developed a little creaking in my linkage after a couple months of riding in moon dust. That was resolved in maybe 30 minutes of easy wrenching to pull, clean, grease, and re-assemble the linkage. Shifting performance can be tricky with high pivots but I had zero issues getting AXS shifting crisply. On the rare occasion that I let my drivetrain get really dirty I think I detected a little extra drag on the pulley. Whether it was all in my head or not, a little extra drivetrain care is probably a smart move. Beyond that, whether the Druid is right for you really comes down to what type of rider you are. For those of you who live for the climbs or rarely attack technical descents, the Druid might be overkill. For those of us who climb for the downhill the Druid is an incredible option. I would say that in particular, those of you who push the limits on what's possible on short-travel bikes will be stoked. Perhaps one of my favorite rides of the summer on the Druid took me up over 4000′ vertical into the high alpine and then down a route that included legit Whistler double-black diamond trails. The Druid was in it's element everywhere. More enjoyable on the climb than long travel bikes, yet no need to back off when things got heavy. That's what makes the Druid such an incredible ride and what makes it the gravity oriented rider's perfect trail bike.