Ride Concepts
Ride Concepts had a few new shoes on display in their Sea Otter booth like the Tallac flat pedal shoe and the Tallac Clip shoe. A BOA closure system is available on a few models including the men's Tallac Clip BOA® and women's Flume Clip BOA.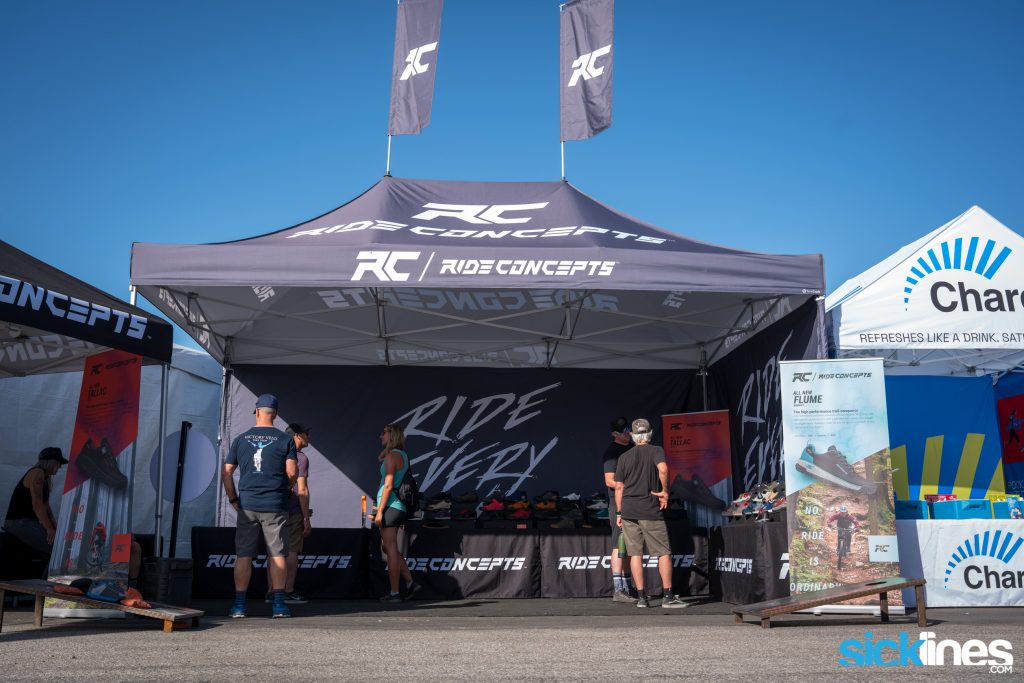 Our exclusive hexagon pattern outsoles feature deep lugs, allowing for penetration of pedal pins in order to obtain optimal grip in any condition. The outsoles for our clip shoes feature 40mm wide cleat windows for compatibility with all mountain clip pedals, and a long line of forward and aft adjustability with index markings for precise cleat placement.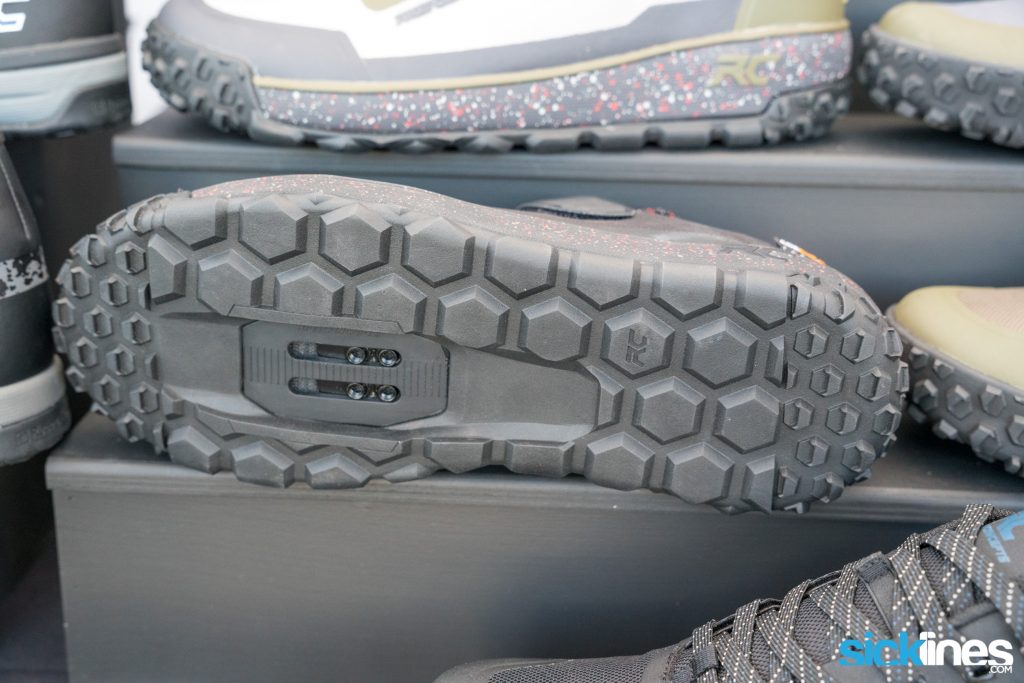 Ride Concepts also collaborated with Rubber Kinetics to develop dynamic surface technology (DST), a series of proprietary rubber compounds specific to their needs. The rubber grip is malleable to help aid in traction for hiking off the bike as well.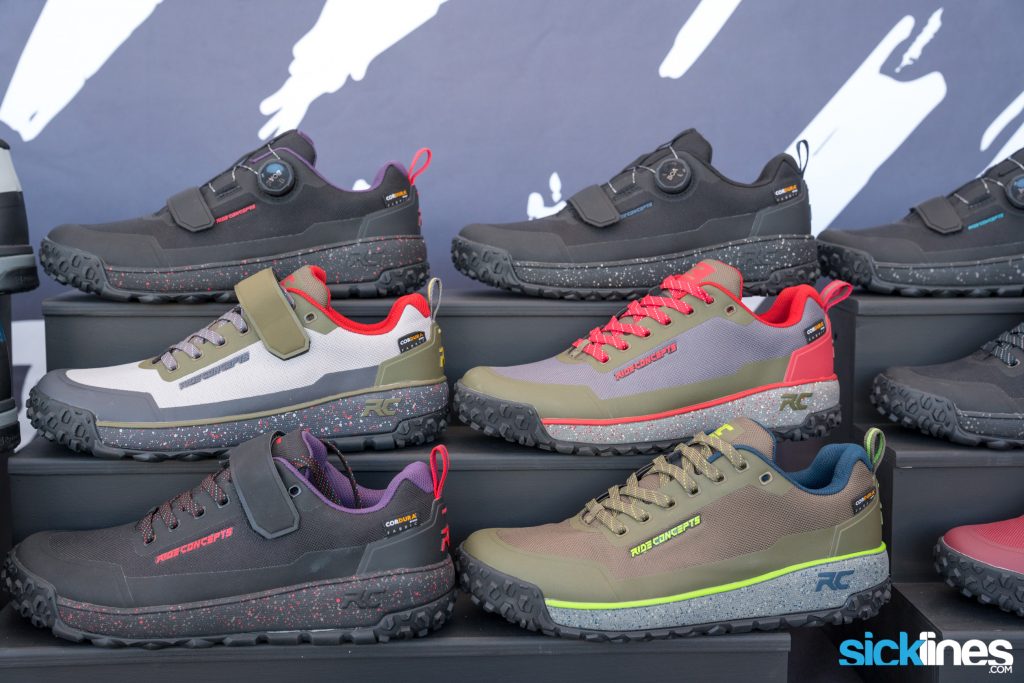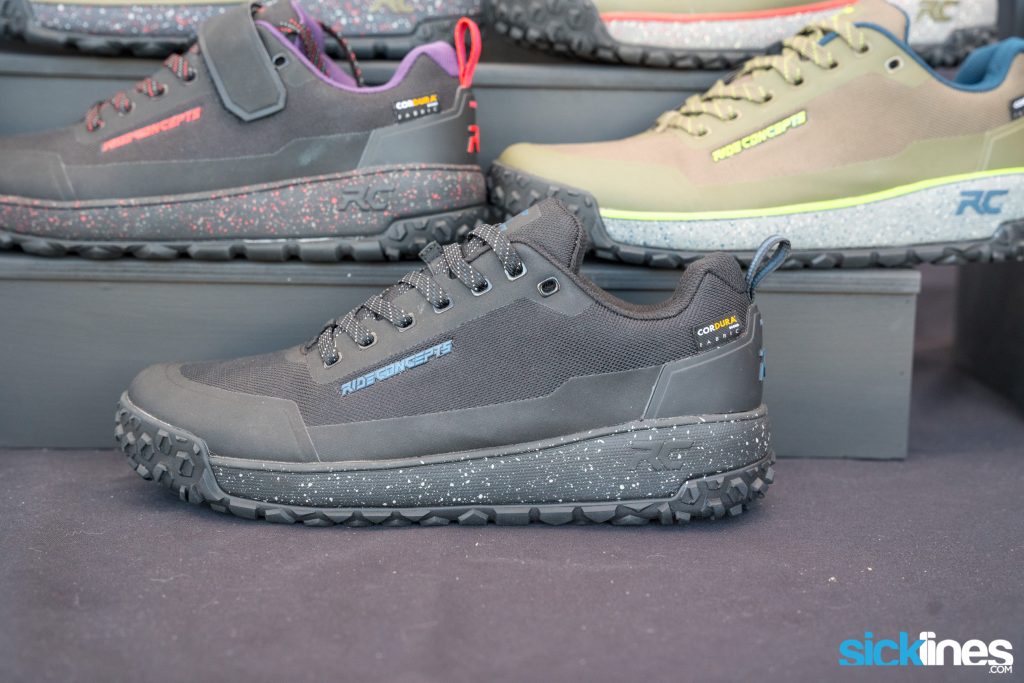 Ride Concepts had their new Tallac flat pedal shoe for attendees to check out. This shoe features a CorduraX fabric on the Tallac (men's) and Flume (women's) series to help reduce weight, increase breathability, while allowing the shoe to be more durable and easily cleaned. The Tallac Clip version is also available.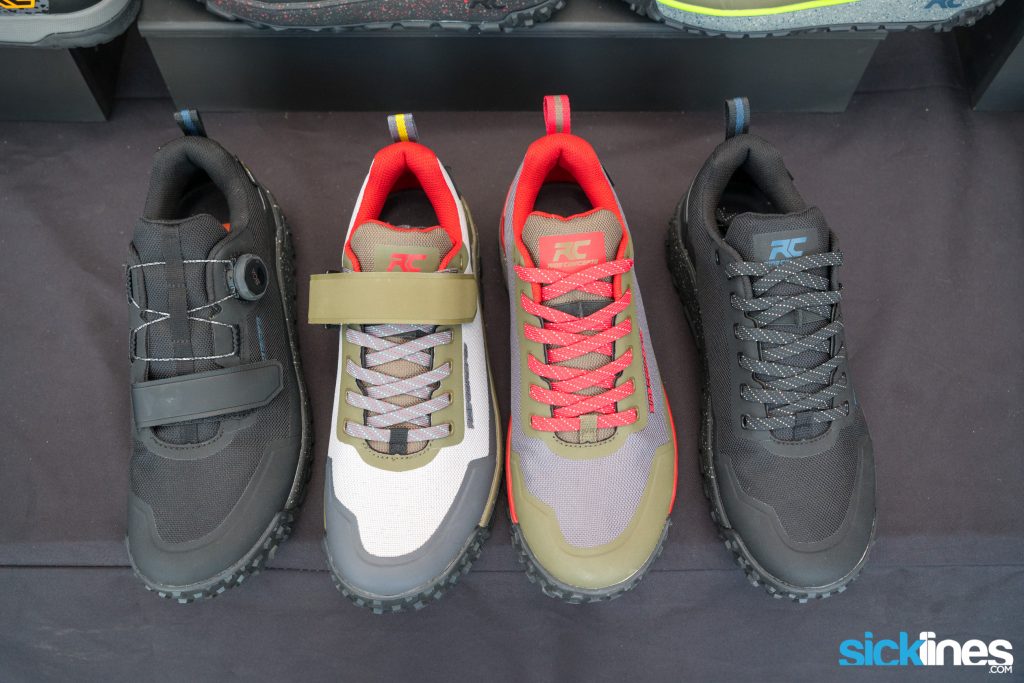 A number of the Ride Concepts shoes like the Hellion Elite, Tallac, Flume, Traverse, and Vice also come with D3O inserts in the shoe insole to help reduce impact and feedback.
The Hellion clip in Khaki/Black color features their Clip Grip, a Microfiber synthetic upper for abrasion and weather resistance, and an anti-bacterial mesh lining.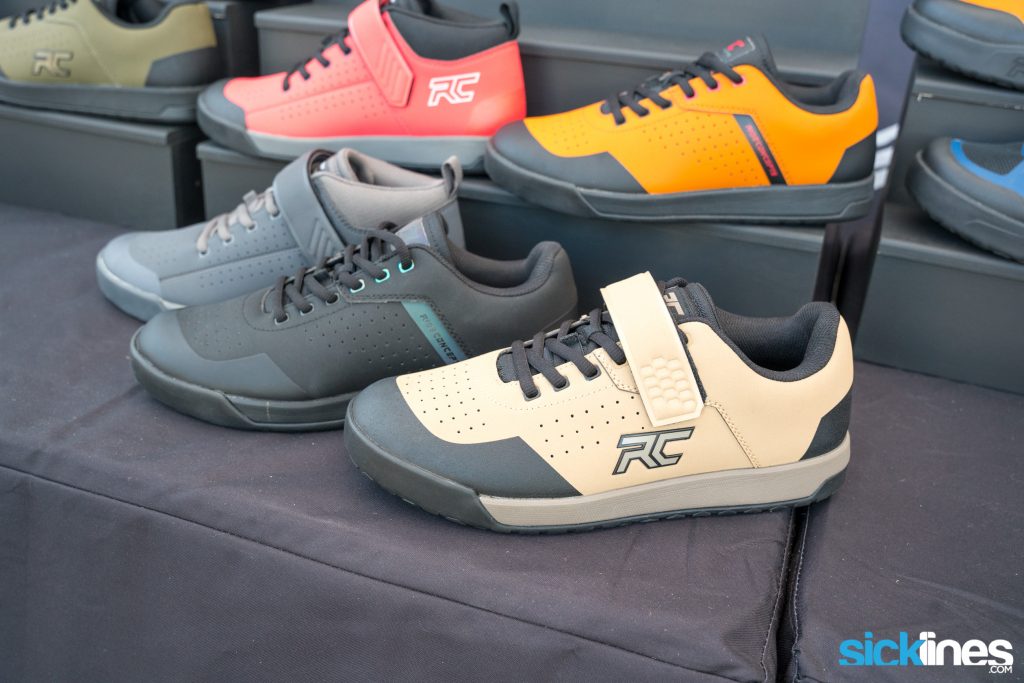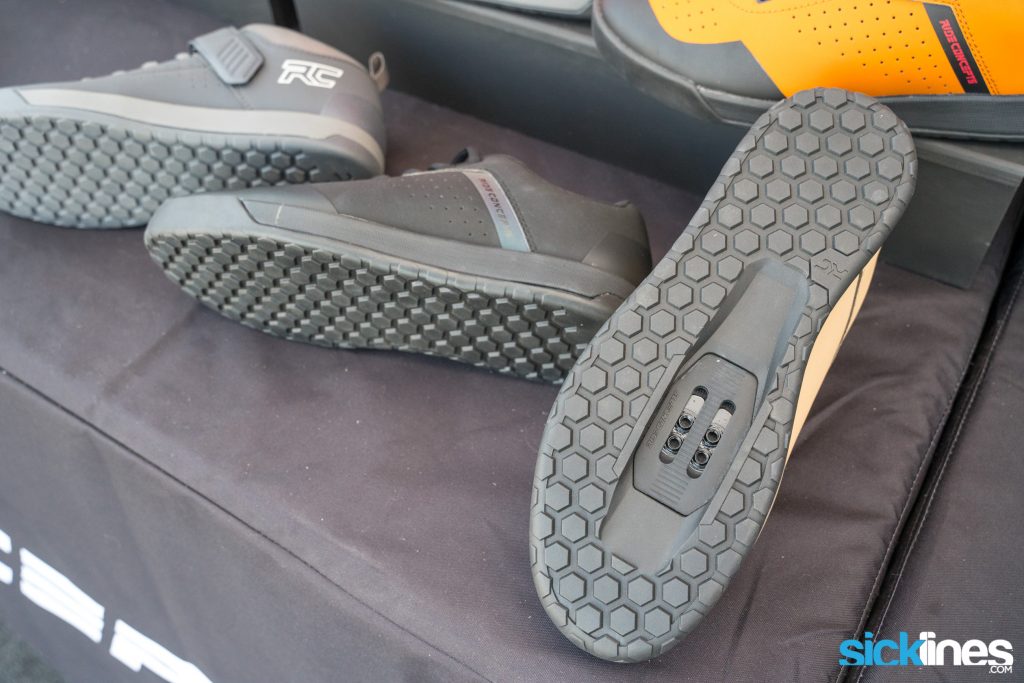 The women have a lot of models in Ride Concepts has a wide range of shoes for the women as well like the Hellion Elite (Black/Gold & White/Aqua) below and Livewire models (Tahoe Blue / Dune / Black). The Hellion Elite also features the MAX GRIP rubber sole along with the D30 High Impact insole like the Tallac.
Bell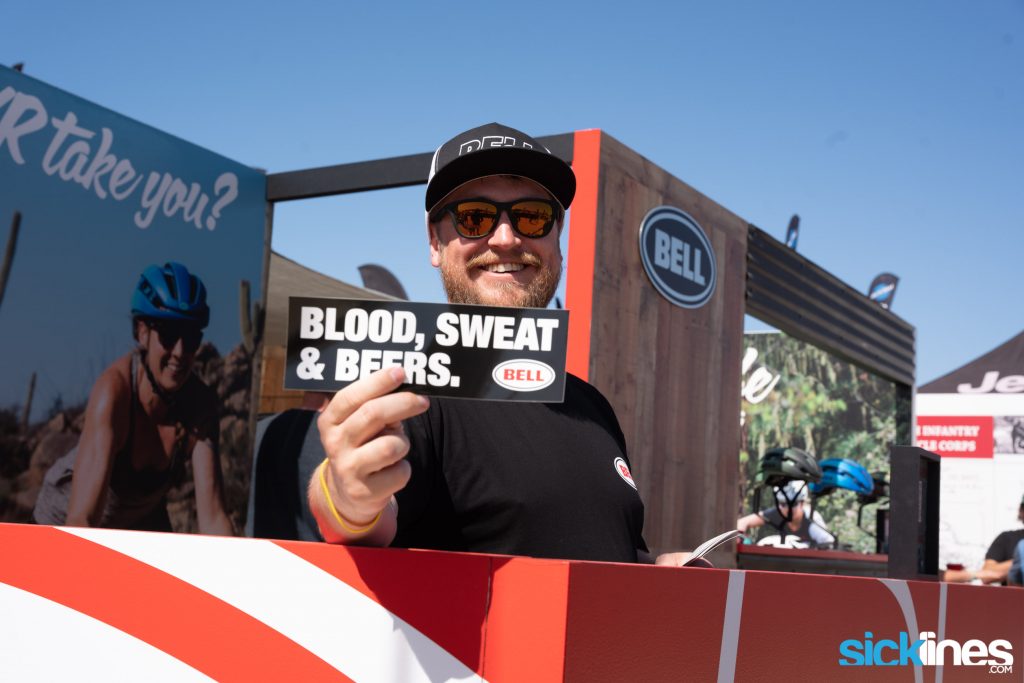 Bell just launched their new Spherical XR helmet that works with a wide range of cases from gravel, mtb, road, and commuting.
"XR opens the door for riders to have one helmet that does it all," said SJ Owen, marketing director for Bell Helmets. "Gravel bike riders now have go-anywhere protection that they can use for a variety of different cycling disciplines. The fit, features and safety technology of the XR deliver top-class performance, no matter what you ride."
If you are in the market for kid helmets, Bell had two new helmets called the Spark 2 MIPS and Nomad 2 MIPS on display that feature MIPS technology and they are CPSC and CE EN1078 certified.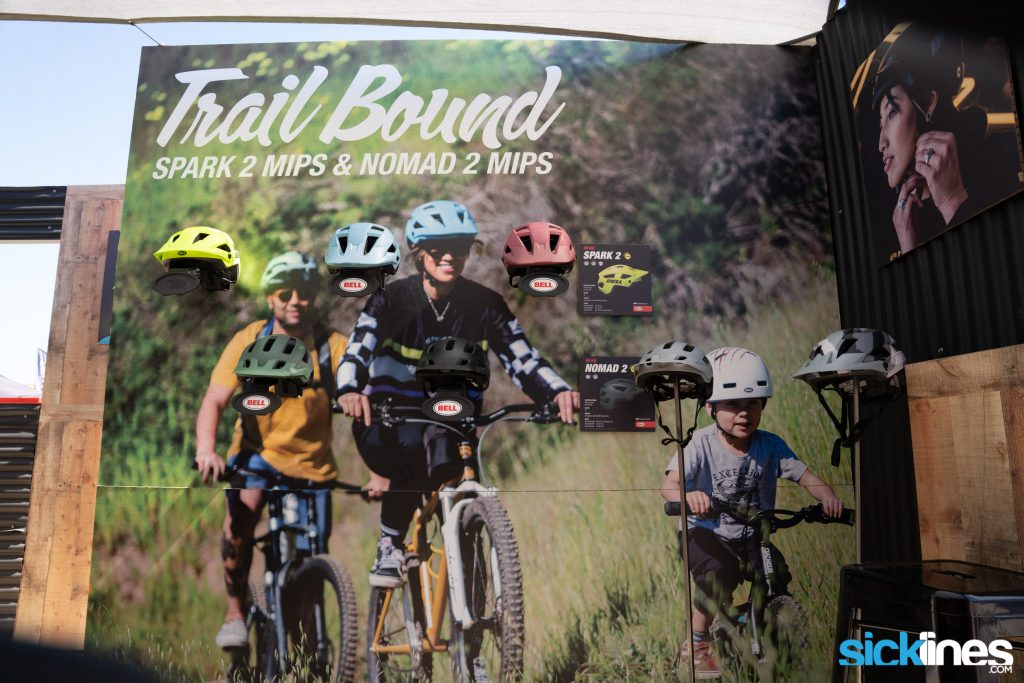 The last helmet Bell was showcasing in their booth was the 4Forty Air MIPS helmet that retails for $75-100.
FOX
FOX has recently released a few new products like the 32 Taper-Cast gravel fork and recently updated 2023 model year FOX 36 on display. Lastly they added in some custom FOX bikes and vehicles for some mouth watering eye candy.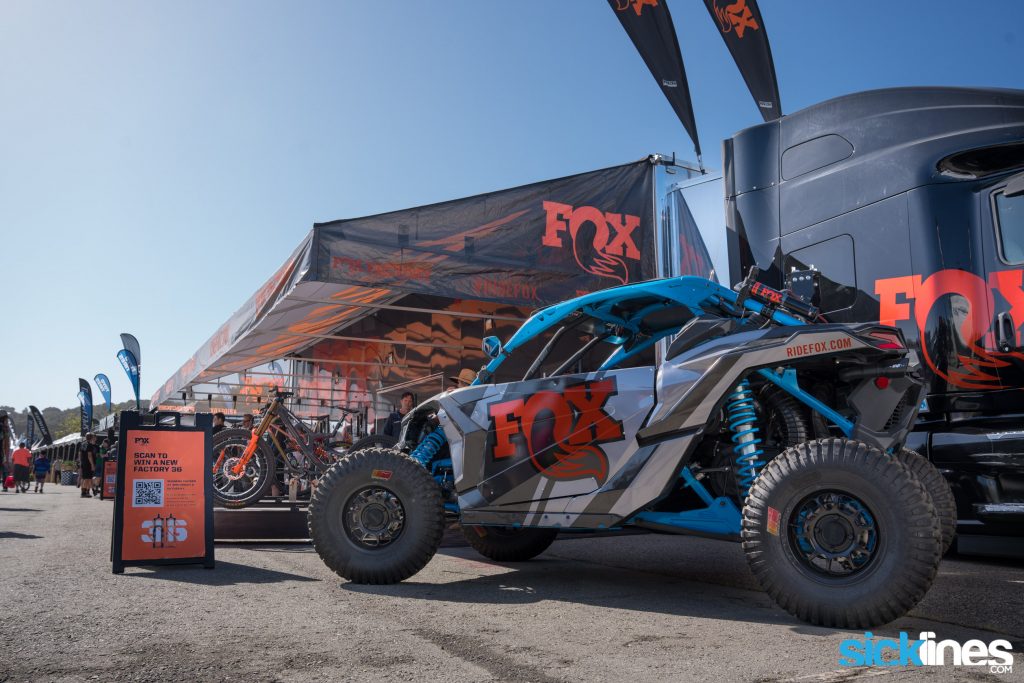 FOX had a lot of high end bikes featuring their products like the Orbea Rise eMTB on display with their new FOX 36 fork.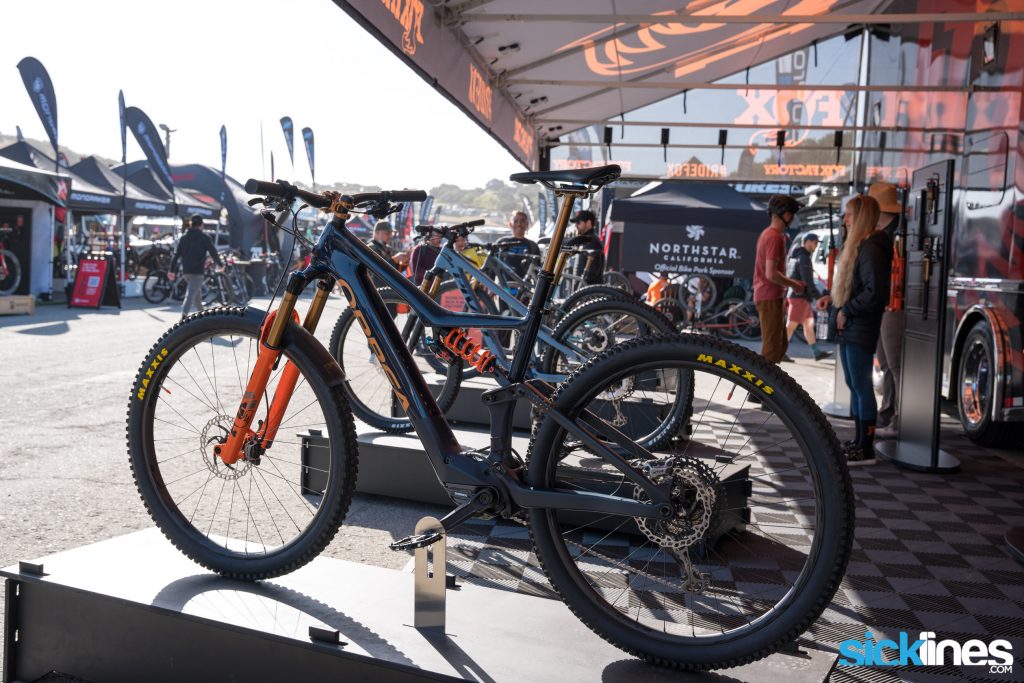 The FOX 36 has received some updates for 2023 model year including a crown update to their popular fork. You can read the details here on all of the changes.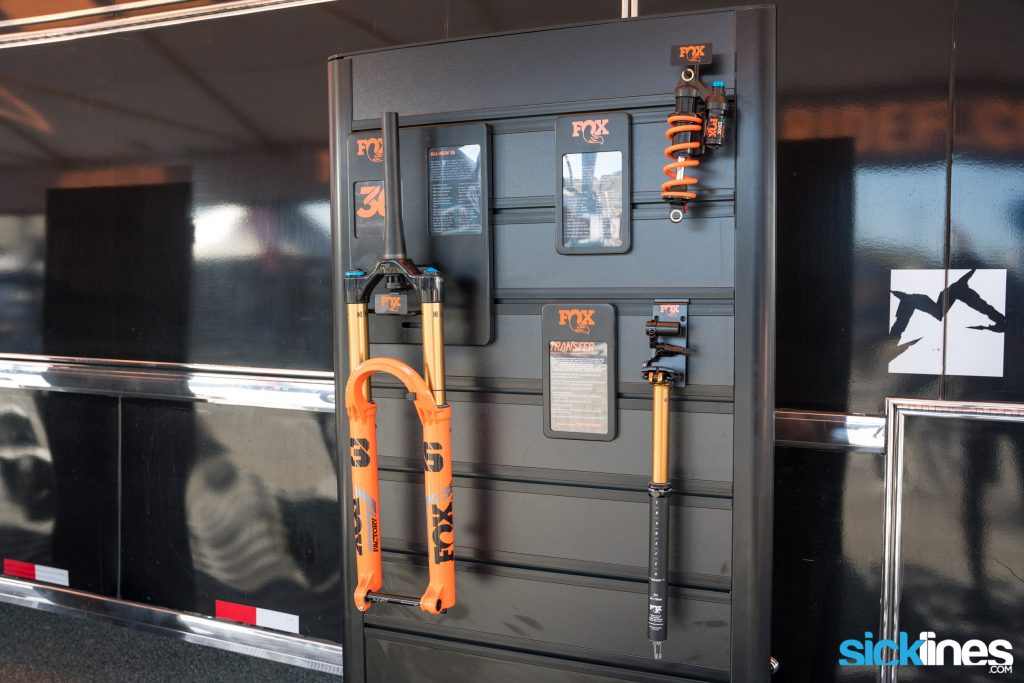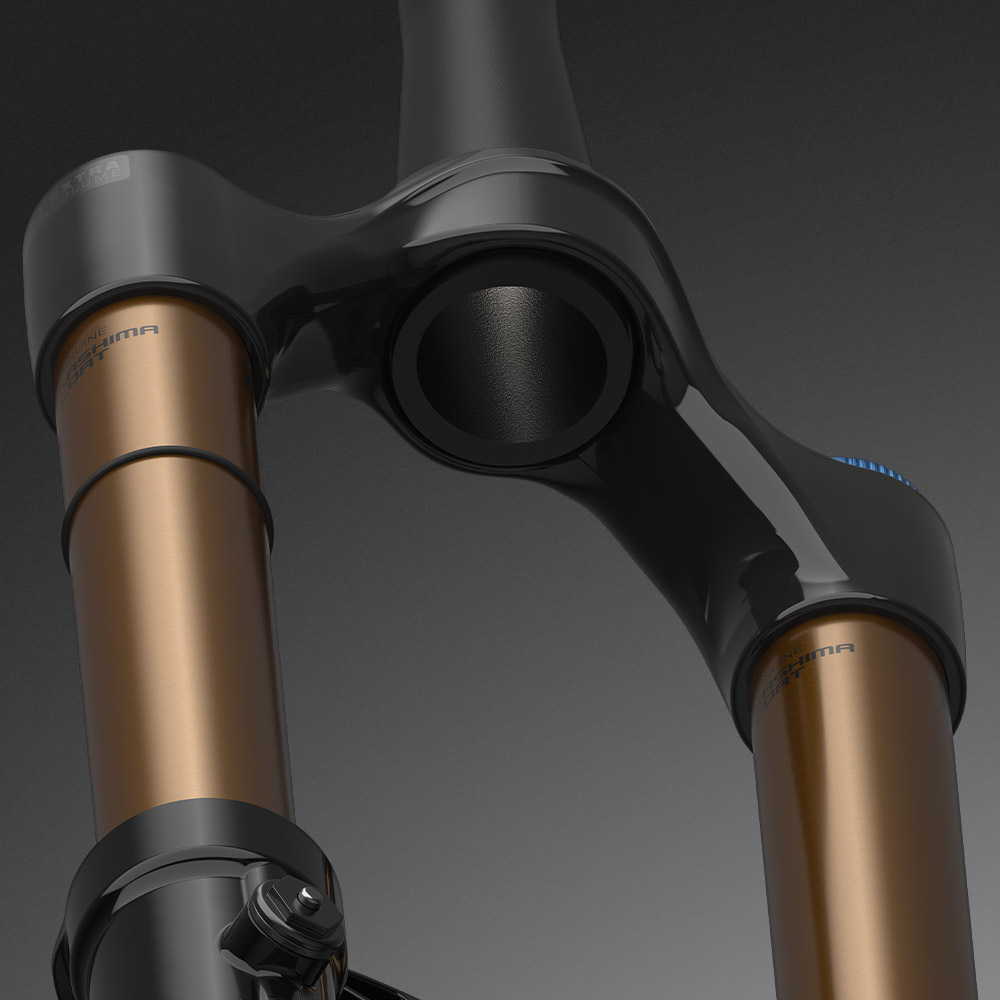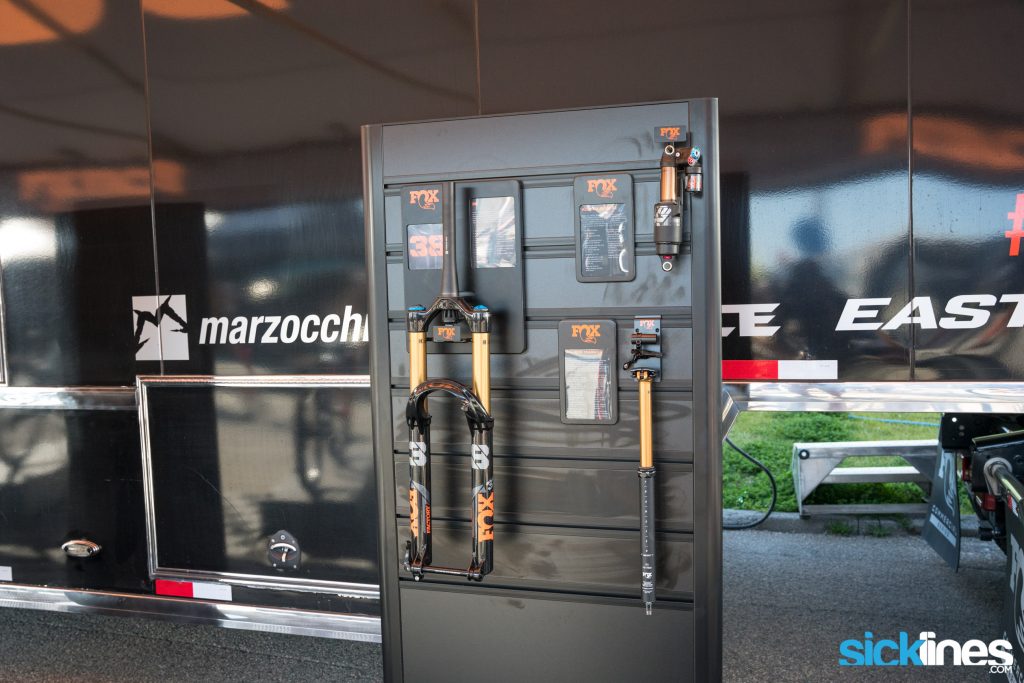 Read more about the 2023 FOX 36 here.
Greg Minnaar's Santa Cruz V10 was on display featuring their FOX 40 and DHX2 shock.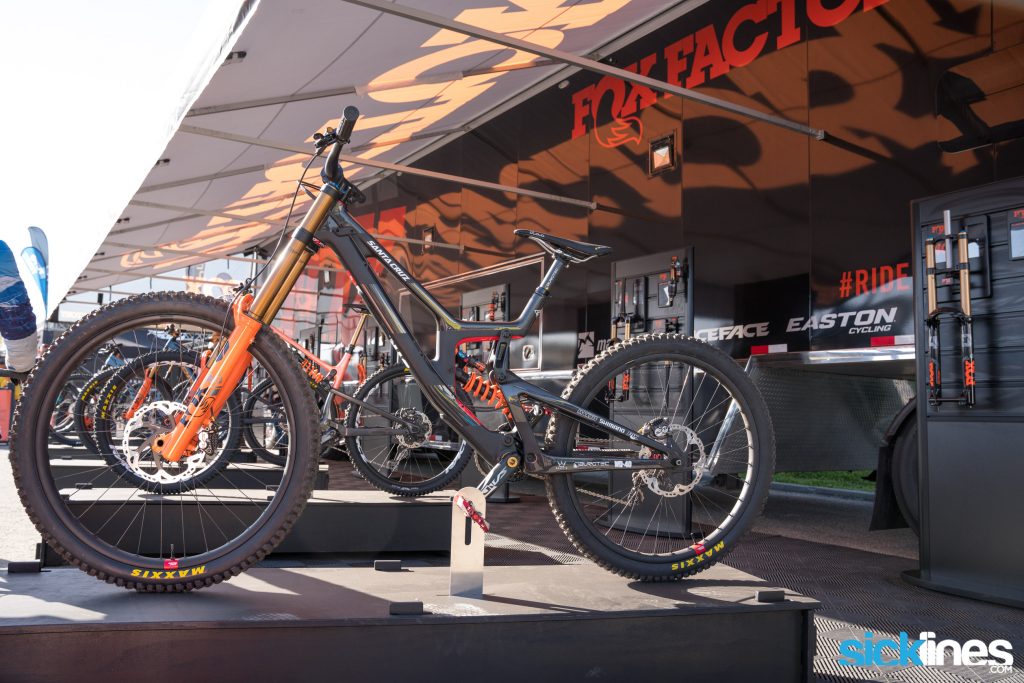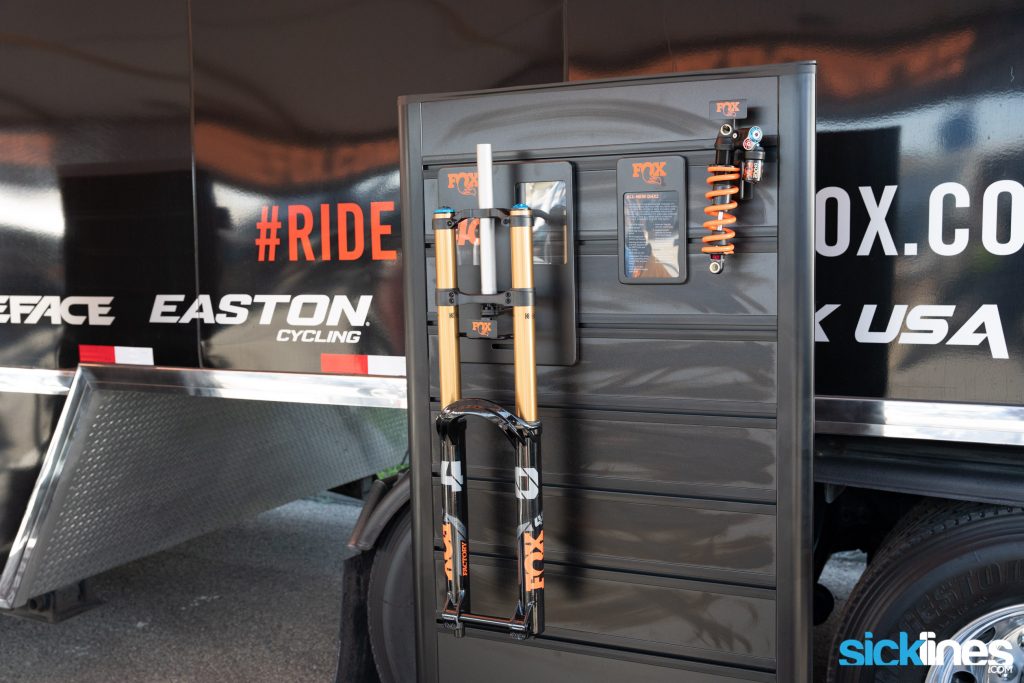 Shimano Pro Tools
Shimano had a few of their PRO tools on display. We chatted with one of the mechanics and asked what his favorites were and have highlighted a few below.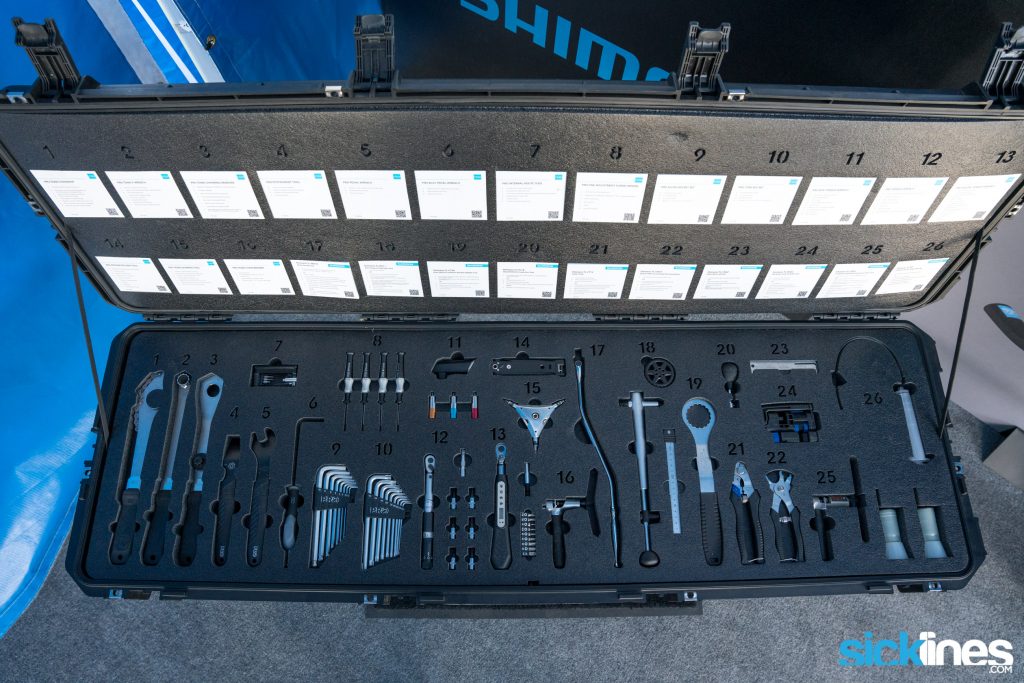 The first one highlighted below is their Quick-Link connecting and removing pliers (TL-CN10) in one tool. If you're looking to install and remove a chain that uses a quick-link these work quite well.
PRO also has a compact internal routing tool in a small multi-tool style carrier. The various barbs, wires, and magnetic tips allow you to route cables on bikes internally while keeping all the tools handy.
The last item to highlight is their Pro Integrated mini tool. It has 13 functions built in and can house a quicklink, 1/4 drive bits, 1/4 drive ratchet, tire levers, chain tool, t25/30, and 2-6mm hex.
Note: As an Amazon & JensonUSA Associate we earn from qualifying purchases. Some of the links embedded in this article will guide you to Amazon or JensonUSA on items for which we may receive a commission on your purchase. Any proceeds help us deliver the daily content you love.