FOR IMMEDIATE RELEASE
Fox US Open of Mountain Biking Wraps up Return to Killington, Celebrates Winners
Nearly 600 Athletes Competed for the $80,000 Prize Purse
September 20, 2022 (KILLINGTON, VT) – Sunday marked the end of the 2022 Fox US Open of Mountain Biking event at Killington Resort. Making its return to Killington for the first time since 2018, nearly 600 athletes joined the family-friendly mountain bike festival Sept 15-18. Sunday concluded with the Open Class Downhill race where Dakotah Norton (USA) and Nina Hoffmann (DEU) took the top step of the podium, each taking home the $15,000 cash prize. The fan favorite Red Bull Best Whip, presented by YT Industries, took place on a perfect late summer Vermont evening as the massive crowd watched Eddie Reynolds and Brooke Anderson take first place in the men's and women's categories among invited athletes. With the largest ever Fox US Open cash purse of $80,000 on the line, athletes came to win and put on an epic show for the 7,000 spectators at Killington during the event.
Dakotah Norton and Nina Hoffmann celebrate the largest Fox US Open payout to date with their Open Class Downhill wins, each taking home the $15,000 cash prize. Photo: Jack Rice
Open Downhill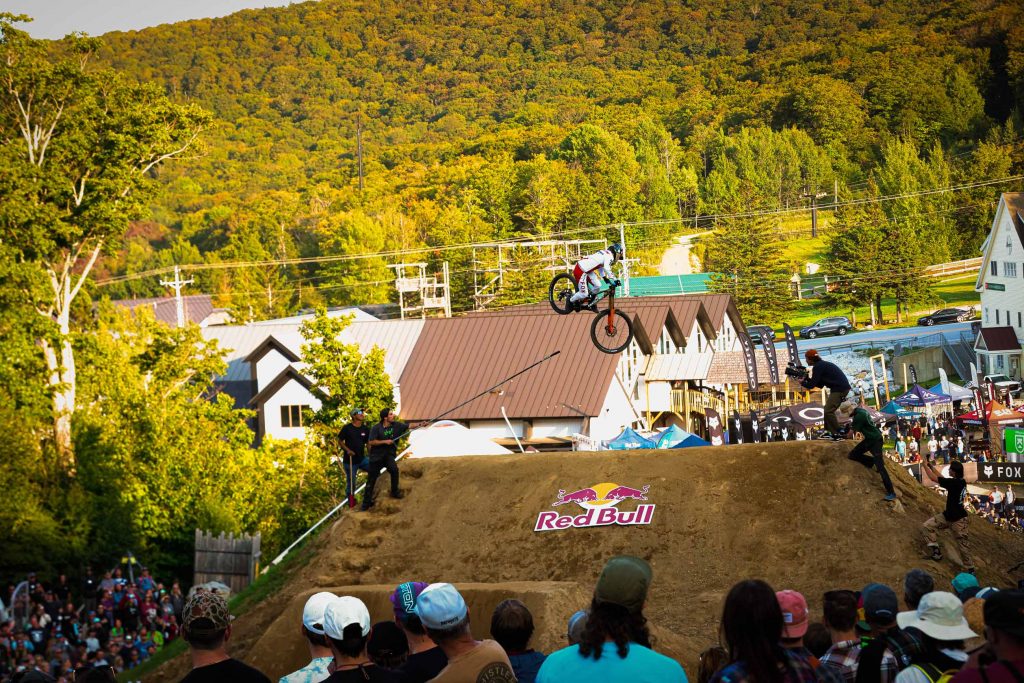 Left to right: Dakotah Norton and Nina Hoffmann on track during the Open Class Downhill race on Sunday. Photo: Jack Rice
Dakotah Norton and Nina Hoffmann took home the top prize of $15,000 competing in the Men's and Women's Open Class Downhill, respectively. The Open Class Downhill continues to offer a unique opportunity for up-and-coming athletes to test their skills against some of the fastest professional racers in the world. The Women's Open Class top prize was taken in force by first-time Fox US Open champion and German athlete Nina Hoffmann, unseating reigning champion and three-time USO winner Jill Kintner. The forecasted heavy rain held off until the final moments of the race, when Dakotah Norton dropped out of the start gate on a mission, laying down the fastest time of the day on the Goat Skull race course to take home $15,000 and his first Fox US Open Downhill title. History was also made by 14-year-old Aletha Ostgaard and 15-year-old Asa Vermette, who both took 3rd and became the youngest athletes to ever stand on the US Open Downhill podium.
Men
1 – Dakotah Norton
2 – Luca Shaw
3 – Asa Vermette
Women
1 – Nina Hoffmann
2 – Jill Kintner
3 – Aletha Ostgaard
The FOX US Open of Mountain Biking was the final stop in the 2022 US National Downhill series. Dakotah Norton's win at the Tennessee National, Mountain Creek Spring National, and this event will crown him the overall title to go along side his USA National win this year.
Next Gen Downhill
Young athletes tested their skills in the Next Gen race on a separate, youth-specific track with categories ranging from 5-6 years of age to 13-14. The all-new Cat 1 categories for 11-12- and 13-14-year-old age groups offered the expert youth athletes a chance to race the Goat Skull course for an increased level of difficulty.
CAT 1 11-12 Boys
1 – Ryo Boisvert
2 – Eli Bundy
3 – Theo Bedard
CAT 1 13-14 Boys
1 – Cash Shaleen
2 – Cohen Bundy
3 – Kai Burleson
Dual Slalom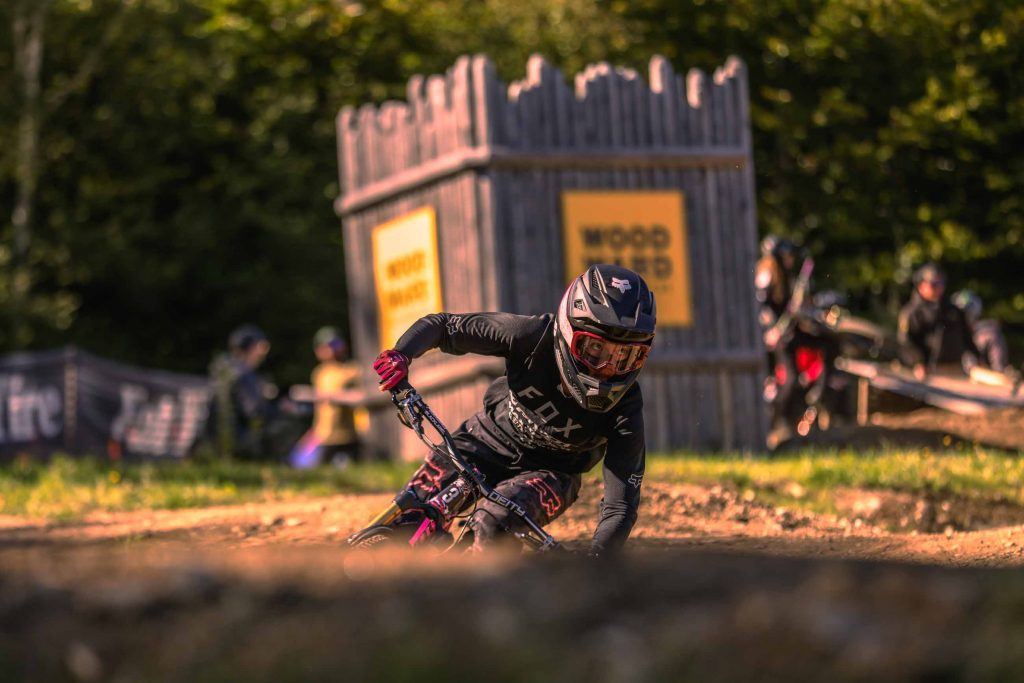 Teagan Heap powers through the berms on the upper half of the USO Dual Slalom track. Photo: Ben Wilson
Friday night all eyes were on the Dual Slalom where athletes competed head-to-head in bracket style racing on a short but exciting track. Taking home the cash prize in the Open Classes were Joey Foresta and Jill Kintner.
Men
1 – Joey Foresta
2 – Eddie Reynolds
3 – Parker Nishkian
Women
1 – Jill Kintner
2 – Jordy Scott
3 – Mazie Hayden
Enduro
The Enduro race included 5 stages of classic Killington tracks across three different peaks. Athletes were tested in skill and stamina, with Marco Osbourne and Killington local Ashley Stearns taking the top spots in the Open Classes.
Men
1 – Marco Osborne
2 – Nathan Sterckx
3 – Will Goody
Women
1 – Ashley Stearns
2 – Rachel Pageau
3 – Hannah Harrington
Adaptive Downhill
Fox US Open of Mountain Biking once again partnered with Vermont Adaptive Ski & Sports to bring the
US Open Adaptive Downhill Race to Killington Resort. The adaptive race took place on the "Rabbit Hole"
trail on Sunday and the Hand-Cycle Class was won by Kevin Bramble aboard a custom bike he built himself.
Hand-Cycle Class:
1 – Kevin Bramble
2 – Greg Durso
3 – Ryan St Lawrence
2-Wheel Class:
1 – Dennis Brady
2 – Spencer Wood
3 – Kenneth Butler
Red Bull Best Whip, Presented by YT Industries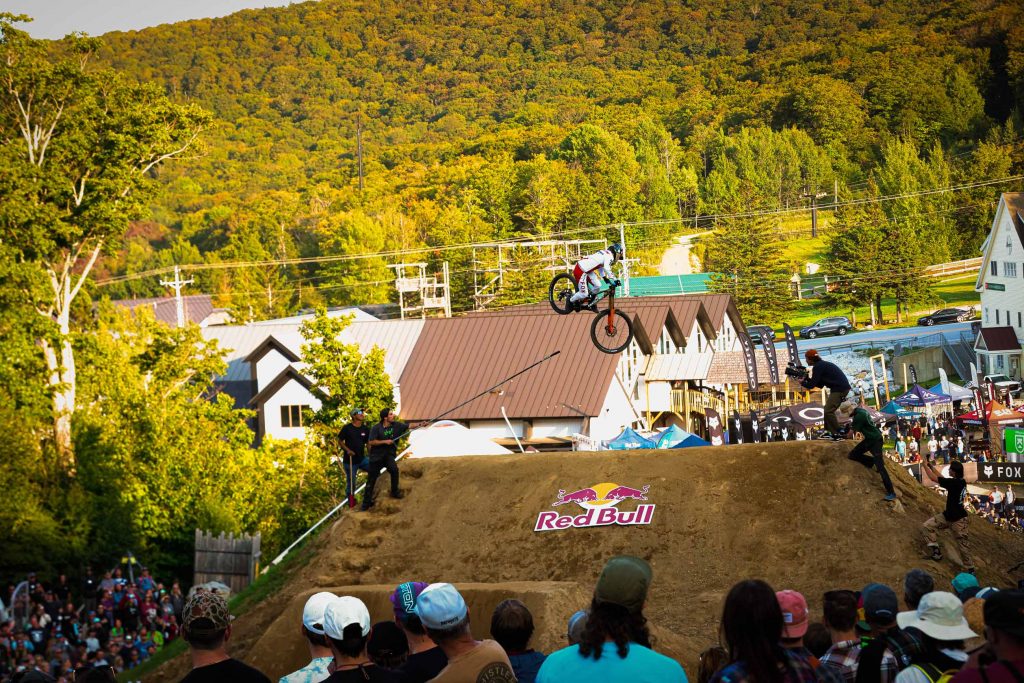 Jackson Goldstone sending it way past 90 degrees during the crowd favorite Red Bull Best Whip competition presented by YT Industries. Photo: Jack Rice
The party atmosphere continued to build, and the crowd turned up the volume for the Red Bull Best Whip competition, presented by YT industries, on Saturday evening. Athletes took to the sky to impress the crowd on a custom set of jumps built by the Powder Horn Trail Company. The hill was packed with fans and the atmosphere was electric as Eddie Reynolds and Brooke Anderson claimed ultimate bragging rights and $1,000 cash each. Walker Cottingham and Matilda Melton won the U16 Best Whip categories and took home component prize packs from Spank Industries.
After a two-year hiatus due to the pandemic and wildfires, the Fox US OPEN of Mountain Biking proudly returned with heart and soul to the Green Mountains of Vermont. Racers and spectators from across the globe came together for a weekend of good times and great racing. A special thanks to all the Fox US Open of Mountain Biking partners, including title partner Fox Racing, Red Bull, YT Industries, adidas Five Ten, Fat Tire, Vermont Department of Tourism & Marketing, Shimano, Oakley, GT Bicycles, INTENSE, Specialized Bicycle Components, SRAM, SPANK Industries, COMMENCAL USA and Killington Resort.
Follow us at:
https://www.instagram.com/usopenmtb/
https://www.facebook.com/usopenmtb/
About Killington Resort:
Killington Resort is a four-season destination sitting on 3,000 acres in the heart of Central Vermont's Green Mountains. Known as The Beast of the East, Killington boasts 92 miles of diverse snow sports terrain spread across six peaks including Pico Mountain, served by the most expansive lift network and snowmaking system in Eastern North America. After the snow melts, Killington features an 18-hole championship golf course, the family-friendly Snowshed Adventure Center, 35 miles of mountain biking trails with expansion underway with Gravity Logic, plus 15 miles of hiking trails. The seemingly infinite après, dining, and lodging options have made Killington a world-class destination for East Coast skiers and athletes for more than 60 years. Killington is part of the POWDR portfolio. Visit www.killington.com for more information and be social with #beast365
About Fox Racing:
For over 4 decades, Fox Racing has been the global leader in motocross and mountain biking gear and apparel. Fox outfits the world's best athletes and enthusiasts with products that combine innovation and style, rooted in the brand's original competitive motocross spirit. The company is based in Irvine, California, with offices, retail stores, ambassadors, and athletes around the world.