We've been spending quality time with Orbea's highly anticipated enduro weapon. Checkout out part 1 of our comprehensive review inside…

Words: Toni Walbridge
Photos: Misti Walbridge, Toni Walbridge
2018 Orbea Rallon M-LTD
Orbea's Rallon has been around for a few years now but the all new for 2018 model shares little more than a name with it's predecessor. Orbea has re-imagined, from the ground up, their version of the ultimate Enduro bike. 27.5 wheels are out and 29's are in. Aluminum is out (it's not even an option) and carbon is in. The new bike is longer than it used to be, steeper in some places and slacker in others. On paper it a appears a bit more focused on descending yet paradoxically likely to be a better climber. It also doesn't appear to have anything weird going on. No funky shock placement, wacky seat tube, or goofy looking and highly suspect "features". It's a bike that appears well thought out, purposeful, and just make sense. And that brings us to this review where I've been digging under the covers and past the marketing material to figure out if the Rallon is worth parting with your hard earned cash. Let's dig in to the details and find out why I'm grinning like an idiot below.

MyO Customization
With the introduction of the 2018 Rallon, Orbea is offering 3 trim levels including the M10 at $4999, the M-Team at $7999, and the M-LTD tested here at $8999. Each of these 3 models can be further customized via Orbea's MyO program. The MyO program lets you "have it your way" including allowing you to choose from 22 colors for the frame in matte or gloss finish, customizing logos, even adding custom text. But MyO doesn't stop at cosmetics and on my M-LTD I opted for a few component changes as well. Since the M-LTD is already the top spec, I only opted to swap a few key components. I upgraded to Code RSCs from the stock Guide RSCs for a bit more stopping power and to a Sella Italia SLR XC Flow saddle from the stock Selle Italia XR trail. The MyO program also offers customization options for cranks, wheels, dropper post, and the rear shock. All told, you can spend hours playing with color patterns and obsessing over carbon wheel and shock upgrades. After coming up with all sorts of Skittles inspired color combos I ultimately settled on a tone on tone color scheme using Orbea blue and Sky blue in gloss finish.

Sizing
Orbea was already pretty much "Full Enduro" on the outgoing Rallon. The new bike drops that "pretty much" qualifier. There's really nothing about the geometry that doesn't scream race bike. That said, at first glance on the geometry chart, everything appears in order except the new bike almost looks a little short in reach. At 5'8″, I typically ride mediums and my outgoing enduro rig was a medium with a 445 mm reach, 425 mm seat tube, and 1204 mm wheelbase. What Orbea has done with their sizing is combine the small and medium into a single size and is calling it a, wait for it… small/medium, ha! Spec'd with a 430 mm reach, 406 mm seat tube, and an 1187 mm wheel base, it's somewhat between sizes but mostly what we're calling a small these days. The size large Rallon on the other hand offers a 455 mm reach, 444 mm seat tube, and a 1217 mm wheelbase. This tracks pretty darn closely to what most people are calling a medium these days save for the slightly long seat tube. So, if you choose to look at the size run as stated, s/m, large, and XL, the numbers look a little behind the times. But, if you look at the size run as small, medium, and large the bikes are properly long with short enough seat tubes for long dropper posts. And it's really that seat tube length that's the defining factor for shorter folk getting on longer bikes. Even with a 30″ inseam, I'm still rocking a 160 mm Bike Yoke Revive and I could easily fit OneUp's new 170 mm dropper without busting out the hacksaw. Once you're off the saddle, the standover is rather generous across the sizes so that's not really a concern either. So there ya have it, the bikes are modern with all the right numbers, just ignore weird sizing labels.

Geometry and Features
When talking frame features, it's hard not to notice that stunning asymmetrical frame and offset Fox DHX2. The Rallon's lines are impeccable and it's easily one of the prettiest bikes that has rolled through my shop in a while. Orbea claims the asymmetrical design not only makes it easier to access the shock for tuning but also allowed them to clear room for a water bottle and tool bag while maintaining a low standover height. Out back we have boost 148 dropouts with Orbea's signature concentric pivot. The BB is properly a 73 mm threaded affair for all you pressfit haters and is wrapped in ISCG-O5 tabs. The headset is integrated (No angleset for you!) and the lines are all internally routed. The linkage is alloy but the rest of the frame is entirely carbon. Frame guards protect the downtube near the BB and the drive side chainstay and seatstay.

The Rallon features a flip chip at the rear shock mount which Orbea has labeled low and lower. The low setting yields a trail friendly 65.5º head angle and a climb-destroying 76º seat angle with 28 mm of BB drop while the lower setting offers up a slightly more enduro focused 65º head angle while maintaining a climb friendly 75.5º seat angle with a locked-in 35 mm of BB drop. I put about 30 minutes on the "low" setting, moved it to "lower" and never looked back. I might consider swapping it back to low for a really long day of pedaling but then again it gains elevation really well in the lower setting and descends like a demon. In case you're wondering, it takes only a minute to swap between settings as you simply remove the rear shock bolt and flip the orientation of the chips.

I rarely carry anything larger than a small fanny pack these days so I was stoked to see room for a full sized water bottle. The bottle in the cage in this shot is of the full sized 24oz variety. That fancy, super low-profile carbon Arundel Sideloader cage is certainly key to fitting a big bottle and it's a bit spendy at right around $60 USD but probably worth it. There's also plenty of room for One-Up's awesome EDC pump which doubles as a storage container for essential spares. Between the bottle, EDC pump, and EDC tool I've got everything I need for an hour or two ride without the weight of a pack or all day rides with just a few ounces on my back. Sure, storage isn't as important as geometry or suspension performance but it does have a substantial impact on how practical it feels to jam out big days in the saddle that I rate this as a very important feature.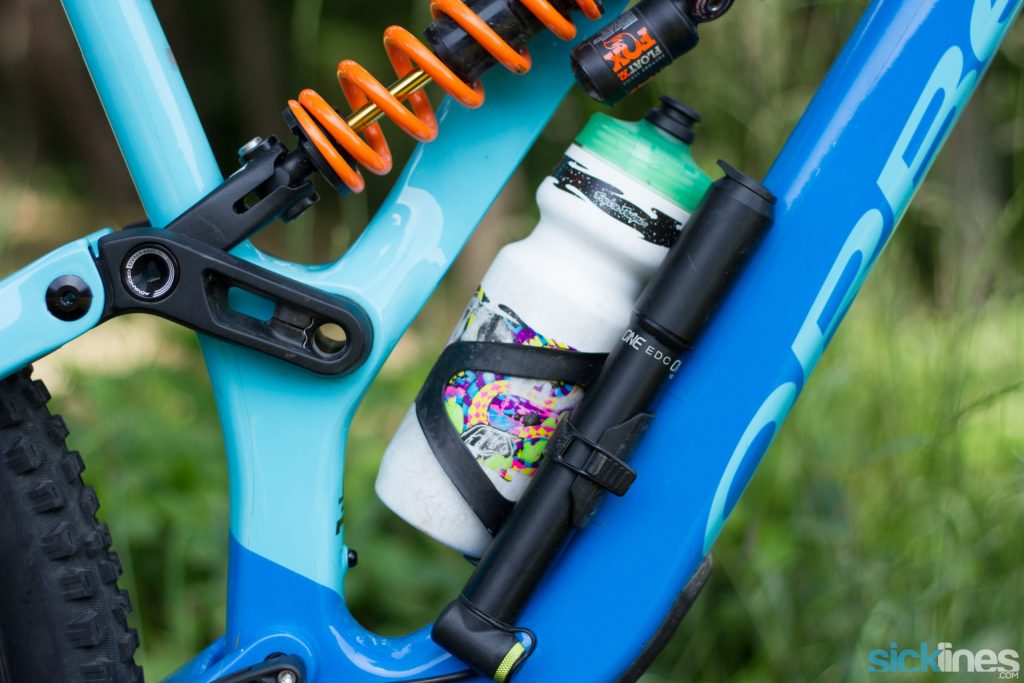 Build Spec
The M-Limited version of the Rallon is their no holds barred top-tier spec. It's made of carbon, covered in more carbon and where there's metal there's lots of gold. With the upgrades I added via MyO, my Rallon came out to an MSRP of $9048. Lets take a look at exactly what that gets you. For starters, the Rallon is equipped with a Kashima coated Fox Float 36 Factory FIT RC2 fork in 44 mm offset and set at 160 mm of travel. That 44 mm offset figure is suddenly becoming more and more popular and it's a sign of the times that we've made it this far into the article without mentioning the reduced offset. I'm gonna skip the reduced offset deep dive and try my best to boil this all down to a few key words. Compared to the 51 mm offset standard, the 44 mm offset moves the front wheel back towards the center of the steering axis by, you guessed it, 7 mm. This, in turn has the effect of both slowing down steering (which is desirable at high speeds and especially in combination with short stems that speed it up) and moving the contact patch closer to the rider improving traction particularly during cornering (preventing washouts). Yes, there's more to it, but these are the effects that I can actually feel while riding and are the ones I'd have you focus on. Final thought, the effect is subtle, don't get too wrapped up hyper analyzing fork offsets. Unless you enjoy that sort of thing, and then, by all means…

The baller build version of the Rallon also gets a full XX1 Eagle drivetrain with that signature 10-50t gold cassette and gold accents on the rear derailleur. The chain and cranks are a bit more subdued in all black but there's no hiding this is a bling machine. Is it any faster down the trail than X01 or even GX? I'd bet ya dollars to donuts it's not. But it sure is purdy.

Those XX1 cranks may be relics from the pre-Dub era (I'm sure the 2019 Rallons will be shod with those not-quite-a-new-standard Dubs) but at 170 mm length they are perfectly up to the task. Notably, I'm usually not a fan of 170's but considering the BB drop in the lower setting and having recently slid back over to riding flats almost exclusively 170's are the right call. It almost goes without saying these days but the Rallon is 1X compatible only. Orbea smartly specs a OneUp chain guide but it didn't take me long to smack the shit out of my chainring and so I promptly swapped in a OneUp Bash Guide shortly after this pic was snapped.

Tire clearance is impressive, despite reasonably short 435 mm chainstays. I swapped in a 2.5 Aggressor in place of the 2.3 that came stock. When mounted on a 30 mm rim, the 2.5 Aggressor is a fairly enormous tire dwarfing, for instance, a 2.4 DHR II and despite its prodigious dimensions, there's still plenty of mud clearance. Take note of that chainring clearance though and you'll see that something had to give. That's the stock 32t and although it looks pretty tight already, fitting a 32t oval or a 34t round is totally doable.

You can have the Rallon with either a 32 or a 50 mm stem. I opted for the former partially because I sized up to the large at 455 mm reach and 611 mm ETT. So far the position feels quite good and I'm having no issues getting weight on the front tire. I'm also running OneUp's EDC tool in the head tube. If you've been considering one, stop waffling and just buy it. Installation is a snap and the EDC tool is genuinely useful. Since I've doubled down with both EDC pump and EDC tool I can confidently knock out one-bottle rides with no concerns for a minor mechanical ruining my day. I am seriously stoked on this kit and consider it a must have.

That head tube measures in at 110mm which is just about right by modern standards and with Orbea spec'ing an integrated headset there's not much additional stack height so the front end remains respectably low. Further Orbea specs a 10 mm rise version of Race Face's Next 35 bars. Before I could get a chance to take a pic they were cast aside in favor a set of 20 mm rise Race Face SIXC bars that I had on hand. As of this shot I'm also running about 10 mm spacers under the 32 mm Race Face Turbine stem. I tend to feel that those using the Rallon as more of a long travel trail bike will appreciate the low front end and those of us embracing the "Enduralin" will be wanting to move those bars up a little higher.

The Rallon features some really clean internal routing. It's a thing of beauty. The entry and exit points are tidy, tucked away and so far rattle free. Notably, Orbea did not go the tubes within tubes route. In general, I've not found that to be a major issue, just be sure to snake a line through as you remove the exiting line. In fact, I wound up swapping out the stock Race Face Turbine drama for a 160 mm Bike Yoke Revive and didn't run into a lick of trouble.

Initial impressions of the Codes are extremely positive. Lever feel is almost identical to Guides which is to say they modulate beautifully but they ramp up to quite a bit more overall stopping power. Orbea spec'd a 200 mm rotor up front for maximum stopping power and you're gonna need it. At the rear they went with a 180 mm rotor for a super clean, adapter free setup. Typically, I go 200's at both ends on a 29'er with big rubber meant to descend as fast as the Rallon but I'm giving stock setup a try for a while.

Orbea specs a 150 mm Race Face Turbine dropper which I've ridden a bit with mixed results. On this bike I swapped in a 160 mm Bike Yoke Revive and picked up an extra 10 mm of drop and piece of mind that the chances of a failure are rather remote. I had also upgraded to the Selle Italia SLR XC Flow saddle but considering that my Rallon arrived right at summer where I was already putting down big mileage daily, I decided to stick with one of my go-to saddles, the Fizik Tundra M1. To be fair, neither the stock saddle nor the dropper gave me any trouble, I just decided to go with known quantities and limit the potential for issues since I knew I'd be on the road for a few weeks with limited access to spares.

The Rallon features a really nice molded chainstay protector that wraps fully around the side and bottom. It's pretty and thoughtful but doesn't quite cut it for sound deadening. Notably in the higher gears (smaller cogs) there is only a few mm gap between the chain and chainstay so the chain slap is pretty intense. I wound up adding a strip of mastic tape over the factory guard and that really helped chill out the noise to a manageable level.

Rounding out the build are a sweet set of DT Swiss XMC-1200 Spline 30c TLR wheels. Whew, that's quite a name! DT Swiss is just not a name that's been on my radar for carbon hoops. Sure their 240 hubs are standard fare on plenty of high-end carbon wheel builds, Enve commonly specs them. But this is my first time putting down miles on their rims. At 30 mm wide, they're right on spec for 2.5″ tires and at a 1560g for the set (rim tape but no valve stems), they are impressively light. My first impressions are really promising – solid engagement, the acceleration you'd expect from such a light wheel set, and a very nice flex pattern. Orbea also smartly spec'd a Maxxis 2.5 WT DHF up front. Out back they went with a Maxxis 2.3 Aggressor. The Aggressor is a great tire but the 2.3 mounted to a 30 mm rim leaves a bit too much sidewall exposed so I swapped it for a 2.5 straight away.

First Impressions
From a features and component selection perspective, there's little to want for. I've picked up a few paint chips that suggest a little more care and quality in the finish could be in order. There's a fair amount of protection on the frame but I think a longer down tube protector could help with rock chips. Most of the parts that I swapped were pure personal preference except the 10 mm rise bars seemed completely out of place unless you plan on riding the Rallon as a long-legged XC bike. Restated, I didn't find much of anything to complain about. Right now I'm out jamming out XC miles, punishing enduro courses, and bike park laps. It's a tough job, but somebody's gotta do it. Keep an eye out in the coming weeks for the ride report, this is looking to be a hell of a bike.