The Build:
The idea we had in mind when building our TransAM was a bike that could be ridden most anywhere. We didn't want it to be too heavily XC, nor too DH oriented. The TransAM offers a pretty blank canvas that can leave a uneducated rider scratching their head with all the build possibilities Transition left for them to pick out.
(click to enlarge)
The frame is disc only and accepts disc brakes up to 8″. The TransAM is designed around a 140mm fork (518mm axle to crown) but can also take a 160mm such as the FOX 36 for those looking to take the TransAM to another level. Tire clearance also is ample on the TransAM allowing the user to outfit the bike with a wide volume tire easily. Following with the simplicity theme, they also have small horizontal dropouts in the frame to let the user run the TransAM as a single speed, or as a geared bike with the included adapters. The adapters on our TransAM were easy to install but the small screws that affixed them to the frame proved mostly unnecessary and redundant. Removing the rear wheel required removing the adapters as well which meant fully removing the quick release as well. The adapters do widen the dropouts a little bit so be sure your quick release is long enough in the rear.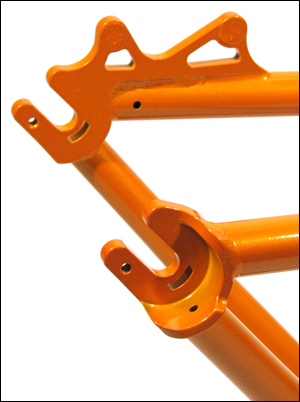 ready for single speed (click to enlarge)
set up for gears (click to enlarge)
While our frame doesn't have ISCG tabs, Transition shortly after began including ISCG tabs in later runs. The ISCG tabs allow a user to install a chainguide or Hammerschmidt system onto the frame easily which helps make the current TransAM even more versatile.
We chose to build the TransAM up mainly with a 1×9 setup, a 140mm fork, 70mm stem, and fairly wide tires that can tackle uphill as well as some downhill.
Bottom Bracket: Truvativ
Brake Levers: Avid Elixir CR
Cassette: 11-32t rear XTR cassette m970
Chain: Shimano XTR
Chainring: e.13 34T Guidering
Chainguide: MRP 1.X
Crankset: Truvativ Stylo
Fork: FOX Racing Shox TALAS 140 RLC 15mm QR
Frame: Transition TransAM
Grips: Gravity Lock-On
Handlebar: Transition T-Bar 30
Pedals: Shimano XTR M970
Rear Derailleur: Shimano XTR 970
Saddle: Fizik Gobi XM
Seat Post: Thomson Elite
Shifter: Shimano SLX
Stem:Point ONE Racing Split Second 70mm
Tires: Schwalbe Nobby Nic UST
Wheelset: Shimano XT M770
Transition included a wide selection of decals out of the box to let the user customize their ride with the included decal kit. Rufus Design made us some smaller Transition decals for our frame since we wanted a more subtle Transition logo than the ones that were included.
original included stickers are much larger ( click to enlarge)
For the fork we chose a 15mm FOX Talas 140mm RLC. The fork offered a good amount of adjustability that we felt the TransAM could benefit from as the Talas fork can easily be adjusted to various terrain. The fork uses an air spring, and can be adjusted by the flip of a switch to 100mm, 120mm, or 140mm of travel. The 15mm axle was easy to use and offered a little bit of additional stiffness as well as security compared to a quick release wheel. While we typically left the fork in 140mm mode, the Talas option to be able to adjust it down in travel isn't a bad idea. The fork offered a good ride that didn't blow through the travel too easily but still ate the small bumps up well. In the last part of its travel, the fork was harder to push through and could be a bit easier. In our opinion it could be a bit more linear in the ending stroke as it ramped up progressively at the end of its travel. A FOX Talas 36 or similar could also be used if more big hit ability was wanted. With that additional travel comes an additional weight penalty but does open the TransAM up for more descending capability that some riders are after.
Transition makes the T-Bar 30″ (760mm) handlebars and we bolted a set up to our TransAM. We ended up lobbing about 2 inches off the bars by the end of our testing. Trying out a wider bar is something worth trying on a new bike as it can help control the bike in the rough, as well as offer some leverage that single speeders thrive on. Starting wider is nice as it allows you to cut the cockpit down to make it more comfortable on the bike.
For the grips we opted to use some 140mm Gravity lock on grips. They're a bit wider than normal grips which is nice for bigger hands.
The TransAM uses an integrated 1 1/8 headset. An FSA integrated headset was used and was easy to drop into the frame. Some might question the use of these integrated headsets in a mountain bike over a conventional 1 1/8 headset but so far it has proven to be a non-issue.
We bolted up a Point One 70mm 0º stem to the fork to control the bike. A 50mm stem could've been used for a bit more nimble feel or a 90mm stem to make it a more of a climbing machine. The 70mm stem offered a nice in between stage giving the bike some XC climbing ability as well as quick enough steering that didn't lengthen the cockpit too much or hinder it too much when the trail pointed downward.
For the saddle, we bolted up a Fizik Gobi XM seat to a Thomson Elite seatpost. Both have worked great and were easy to get positioned for fun. The Gobi saddle is comfortable and offered a good amount of give to it but also had some firmness to it which was great for longer rides. The Thomson Elite seatpost is a staple in most of our builds for good reason. It is beautifully machined and works just as well.
For drivetrain duties we set up a 1 x 9 setup to run on the TransAM. Our gear setup was mostly a 34t e13 front chainring, and a 11-32t rear XTR cassette m970. To keep the chain on the drivetrain we used a MRP 1X that worked quite well and has not dropped the chain yet. Setup was easy and lightweight. The TransAM can also be set up to run as a single speed as well.
We chose to use an SLX shifter and it hasn't disappointed. The SLX shifter seems to be exactly the same as the XT shifter from what we've seen so far and it has performed just as well for us. We used a Shimano XTR Shadow rear derailleur for this build as well and it provided some crisp shifting. The Shadow derailleur offers some advantages over conventional Shimano derailluers in that it offers a lower profile design, no chainstay contact during use, direct cable routing, and a stronger return spring. XTR M970 clipless pedals were also used and they've held up quite well on a few bikes already. They can take some punishment to say the least and provide good reliable releasing in most every situation.
To handle braking, we used some Avid Elixir CR brakes. 7″ front and 6″ rear. Formula makes adapters that let you convert centerlock hubs to accept a standard 6 bolt rotor that we ended up using. The brakes worked well for the most part and offered good modulation and power. The rear started leaking fluid out of the red adjustment knob which SRAM warrantied quickly. Bleeding the Elixir CR's takes a bit of patience to get all the air out out of the lever in our experience compared to other brakes.
For the wheels, we opted to use some of the new XT wheels (15mm front, QR rear). The rims are tubeless compatible and they've taken a good beating and are still ticking. They're pretty lightweight and spin up to speed easily but still are strong enough for every day use. We've used these on a few bikes and they're still true and rolling smoothly.
We've also used them tubelessly in this build with some tubeless Schwalbe Nobby Nic 2.25″ tires. The tires offered decent grip in most scenarios. The tires offered a good volume that put them in what most would call the all mountain category. In the wet, the tires offered decent grip but shined more in slightly damp to dry conditions. Two scoops of Stan's No Tubes was added to help give them some flat protection which worked well until a rock gouged the center of the tread enough that the tire couldn't seal the hole up.