written by: J.V. Nixon
Introduction: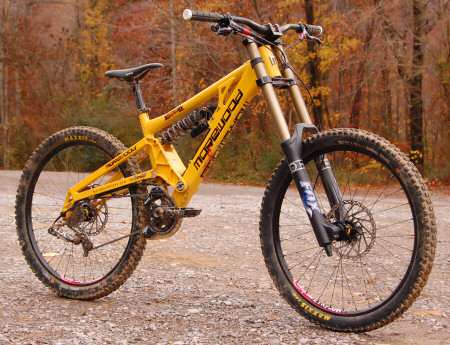 2008 Morewood Izimu (click to enlarge)
MSRP: $2490 (Frame w/ Fox DHX 5.0) or $1950 Frame Only
Morewood Bikes have been building downhill bikes for some time now. A small scale factory building handmade bikes out of South Africa, Patrick Morewood (3 time South African DH Champion) and company strive to bring you a piece of each of them in every bike they make. Every modification done in production isn't without cause.
Morewood's philosophy of less is more applies to every bike they make. Less parts, less pivots, less maintenance, less weight, and less links. With partner Richard Carter, Morewood was born and the idea of creating some of the best downhill bikes began.
The Izimu (Zulu translation is "cannibal") is a bike cut from Morewood. It is a solid single pivot bike that is built to last and perform at the highest level. By making the Izimu a rugged and resilient bike it has become a dependable bike for all types of riders. Turn the Izimu down hill and it's clear that the bike is a refined and very capable downhill machine no matter how many pivots it has. See more of what we thought about the Izimu inside as we break it down.