Introduction:
written by: J.V. Nixon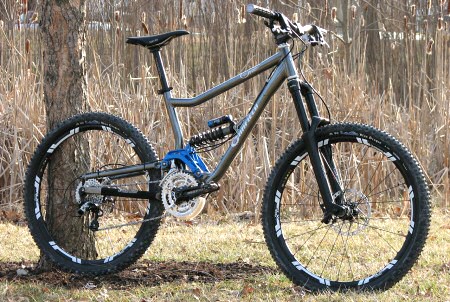 (click to enlarge)
Cost: $2175 frameset with FOX DHX 5
The Canfield Brothers have been hard at work creating a bevy of new bikes and we got a chance to check out one of their latest models, The One. We've never reviewed any of their bikes on our site but did a small bike build with a Canfield Balance about a year ago. The Canfield Brothers are very passionate about their bikes and it shows in their latest bike creations. They love to talk about their products and are very excited about their new lineup of bikes, as they feel they've created some killer rides. It's hard to disagree once you've ridden some of their new offerings.
In this miniature review we'll be taking a look at one of their new bikes this year called, The One. It's not in our normal review format since this bike we received was a prototype and not in its final production format. We still thought we could give you a pretty informative insight into the bike and the build we put together, as the production version only has a few differences and tweaks.
Their goals with the One (and the Sauce) were to create a suspension frame that was capable of pedaling uphill, going downhill, and a suspension design that pedaled efficiently in all of the chainrings. The One has two travel settings, an 8″ and a 7″ mode. On paper this may sound a bit daunting for a bike that is meant to go up and down, however, the proof is in the ride that we'll be discussing in the subsequent pages.
[Canfield Brother One Gallery]