Words – Toni Walbridge
Images – Toni Walbridge, Adam Riser

Part 1 : Build and Initial Ride Impressions
MSRP: 3350.00 : Through Fanatik Bike
Kevin Walsh is a guy who most would say doesn't know when to quit. Evil bikes went through some very unfortunate hard times a few years back with their aluminum Revolt downhill bike and I suppose most sane people would have just walked away. One look at the Undead though and I, for one, am sure glad he didn't. Not content to simply resolve the issues of the past, Evil chose to continue moving forward and therefore a materials change from aluminum to carbon became key to their resurrection. The resulting Undead is a full carbon downhill race frame. By full carbon I mean front triangle, and the complete rear triangle including the chain stays and dropouts. Alloy has been reserved for shock linkage, pivots, and BB inserts only. Building a full carbon frame for DH abuse is no doubt a daunting task for any manufacturer let alone the smaller players in the market. Everything about this frame tells me Evil has done a lot of homework and put forth one hell of an effort on their first pass. They tested the Undead underneath some of the world's fastest riders and part of that process includes breaking things to get to an ideal design. In terms of suspension design, the Undead is built around Dave Weagle's Delta Link suspension system as the Revolt was but with a new simplified linkage aimed at greater reliability.
All of the key elements in terms of a large main pivot, 150 rear axle, ISCG-05 tabs and the like are present. Evil has also provided a high degree of adjustability through a combination of adjustable headset cups and linkage "chips". There is a significant focus on simplicity and protecting the beautiful carbon skin. Integrated fork bumpers prevent head tube damage in a crash and also serve to keep cables routed neatly. The bottom of the down tube is wrapped in plastic protection both up high to prevent damage from shuttle pads and down low to thwart off damaging rock spray. The drive side of the rear triangle features a heavy duty chain stay wrap and a metal cover to protect against damage from chain suck. On the non-drive side, metal guards protect against rotor damage and on the inside of the triangle a very nicely integrated plastic fender keeps the Fox RC4 shock clear of flying debris.
Why did I choose the Undead? It's always tricky choosing a new DH sled especially when you consider the substantial cash outlay required to own any of the top choices. It can be near impossible to demo a limited production frame like the Undead. I'll readily admit that the Undead's sleek looking carbon skin was a factor in getting my attention initially but it takes more than a pretty face. So, like usual, I had to rely heavily on scrutinizing available documented design and geometry specifications to try to make an informed decision. At 203 mm of travel out of a 9.5 x 3″ shock I suspected the Undead would have a fairly lively feel. I tend to gravitate towards 8-8.5″ travel bikes over the 9″ + options for maximum bike park fun so that was one check box marked. Next, I noticed that the Undead has four different geometry settings between the angled headset and linkage chips, and the middle two settings are right in line with how I like to ride. I tend to find that on highly adjustable bikes, the middle setting is the most balanced with the extreme ends of adjustment being best left for very specific conditions. So for the medium frame, with a head angle in the 64º range, wheelbase around 46″, bb height in the high 13's and the ability to adjust them all, I had at least a few good reasons to give this bike a shot. But that still leaves a couple key numbers out of the equation. The main reason I own a DH bike is for lapping downhill bike parks like Whistler and goofing around on local big hits. For me, it's gotta be fast, but it's gotta be playful. The 17.2″ chain stays hinted that the Undead would be easy enough to manual and the the 15.1″ reach on the medium suggested a compact feel that I could really move around on. Finally, it's really hard to weed through all the manufacturer BS about suspension design and pedaling efficiency but the simple high single pivot had me thinking that this bike would be reliable and a reasonably snappy pedaler. One thing I wasn't able to determine accurately before purchasing was the weight of the frame. I expected it to be fairly light and was not disappointed when our bare medium frame with protection (no shock, hardware, axle, headset, etc) weighed in at 3,336g (7.339 lbs). You can see additional weights separately in the gallery and our weights section.
Moving in for a closer look a the Undead's details the head tube is a logical first stop. My first thought, it's absolutely massive. This is partly due to the use of a 44 mm top cup and a 56 mm bottom which, in a much appreciated moment of forward thinking, allows for the flush mount of either a straight or a tapered steerer fork (think DVO) with just a simple swap of a crown race. Evil uses their own proprietary angled headset cup design that allows for about 1º of adjustment. The cups install with standard tools and are indexed to make aligning them a breeze. The head tube length is 4.9″ tall across the range of sizes which works well for me at 5′ 8″ but taller riders might find themselves stacking spacers to get to their desired bar height. Very well thought-out integrated frame bumpers guarantee a level of safety for your rig in a harsh crash. Notably, the bumpers pull double-duty as cable routing devices. Super clean.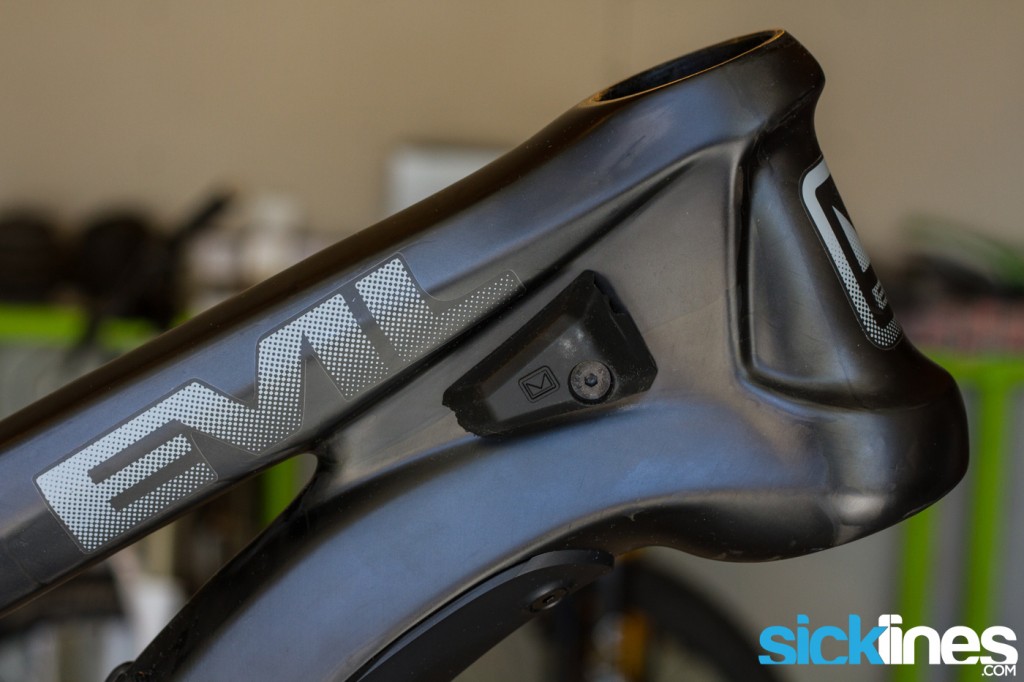 The rear triangle of a downhill bike can take tons of abuse from things like chain slap and debris flying off of the tires. Evil went with a beefy rubberized chain stay wrap to protect against chain slap and polished metal wraps to protect against chain suck and rotor damage. You might notice the lack of integrated ISCG tabs in the photo below and this is due to the fact that Evil went with removable/replaceable tabs that sit on an splined carbon outer BB shell. It's a very clean solution where the tabs are secured in place by the BB cups which helps keep the weight down to 34g for the alloy tabs. The Undead uses a standard threaded BB shell at 83 mm wide.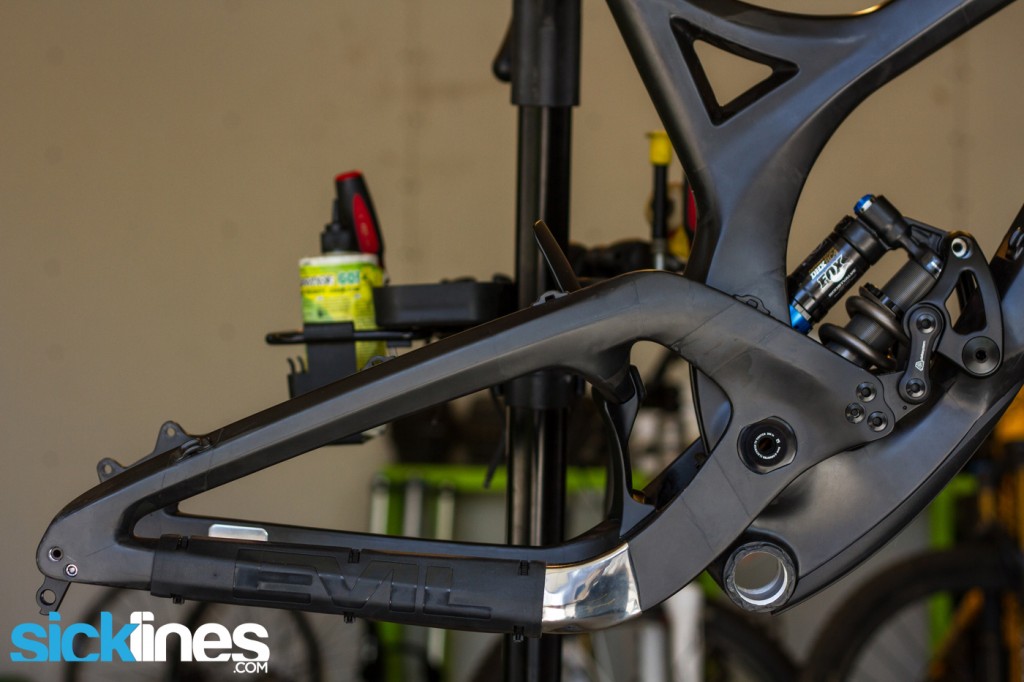 Evil includes a nicely integrated rear fender to keep the otherwise exposed rear shock out of harms way. I've noticed some other high-end manufacturers have glossed over this feature where the design leaves the shock exposed. Props to Evil for being extremely thorough in their design to include the fender and rubberized / metal additions to help keep the Undead rolling smoothly. This shot also captures the raw look of the carbon finish which is even more impressive in person.
The 9.5 x 3 Fox RC4 tucks nicely down in to the shock tunnel on the Undead. My frame showed up with the shock in this orientation which had me thinking that it was going to be a nightmare to make adjustments. In particular, the boost valve and bottom-out control are all but impossible to reach with the shock installed this way. The shock can mounted in the opposite direction which gives easier access to these adjustments while installed however. One nit pick with the shock mounting hardware is that the threaded insert for the lower shock mount is molded into the frame, meaning that if you somehow mess up those threads, it's going to be an expensive fix.
A fair amount of thought has gone into making some of the more complicated features of the Undead a bit more approachable. The "chips" in the shock linkage that are used to adjust geometry are clearly marked to indicate either Low or High. The process to flip the chips involves disassembling mounting hardware that is somewhat delicate. If you have large fingers it can take a bit of patience to reach the inside of the linkage. Use a small wrench or a torque wrench on the linkage hardware to keep from damaging it. My upper shock mount was machined slightly off and required a small washer to shim things up snug. Some folks have had issues with tolerances on the spherical bearings in the linkage, mine has been fine, but Evil is rolling out a revised bearing for 2014 and more that you can read about at the end of this review.
The Undead allows for a lot of geometry tweaking. The included headset cups offer both a steep and a slack option depending on which orientation you press them in. BB height and head tube angle can then be further manipulated through linkage "chips" which can be flipped between high and low settings. To help keep all the numbers straight in your head, Evil was nice enough to print a small guide next to the non-drive side BB for quick reference. The numbers range anywhere from a quick handling 64.5º HTA and 45.71″ WB at a 14.1″ BB all the way down to a super stable 62.9º HTA and 46.40″ WB at a 13.7″ BB for you aspiring WC downhillers. I suspect most of us will settle on one of the settings closer to the middle with the slack/high combo at a 63.6º HTA and 46.31″ WB at a 13.9″ BB looking like solid all-around geo.
Keeping with the frame protection theme, the Undead has two separate pieces of heavy duty protection on the under side of the down tube. Just below the head tube, a guard protects against damage from shuttle pads and down near the bottom bracket, a separate guard protects primarily against rock damage. The other interesting thing in this photo is the view of the asymmetrical linkage. Note how much the shock and linkage is offset to the non-drive side to, in theory balance out the feel of the frame.
Evil managed a nice, clean approach to the 12 x 150 mm rear axle design by using a simple, lightweight (58g) alloy axle that threads into the drive side dropout and then is locked in place by a locknut that threads directly into the non-drive carbon dropout. You have to be a little cautious with the lock-nut and remember that it is reverse threaded but fortunately a reminder for both the low torque value and thread direction are printed right on the cap. The Undead makes use of an IS brake mount and will take a 160 to 203 rotor with no issue. On the far side dropout you can see another metal protective plate placed to protect against chain damage.
The Build
My build goal was to achieve no nonsense reliability for an endless summer of DH laps. I pulled most of the build from past projects and updated only few key areas. I stuck with the stock Fox RC4 shock and added a 450 lb RCS Ti spring to get my desired 28% sag. I used carbon everywhere I could except in the wheels to keep things light but avoided messing around with ultra light pedals or drivetrain parts. My goal was to ride a lot and wrench very little and the fact that I was able to achieve those goals at 33.7 lbs speaks volumes for carbon fiber and bicycle technology as a whole.
Easily the biggest change in my build for this season is the move to a Dorado Pro. After being curious about this fork for a while but playing it "safe" with conventional forks I decided to give it a try. The Dorado weighs in at right around 6.5 lbs, is air sprung and utilizes a very sophisticated damper. It also looks cool as hell. Speaking of aesthetics the stock decals didn't quite match my build so I had Slik Graphics print off a set of stock style decals in red. I've been using Slik quite a bit lately to clean up the look of my builds. Basic setup of the Dorado is pretty typical with Manitou providing some solid base line settings based on rider weight and riding style. The first round or two of installing the front wheel can be a little tricky since the lowers can swivel independently, making alignment a bit tricky. You'll also need both a 4 mm and a 6 mm hex to fully secure the axle. Front brake line routing is pretty clean on the Dorado but you will need a little protective tape where the line routes over the lower crown to control cable rub.
The Enve bars are now into their second season with a few battle scars but nothing to warrant replacement. The Point 1 Split Second DM stem is so light that I wasn't expecting this longevity out of it at the onset. This stem is well into season 2 and 3 with no issues. I like to keep my grips fresh, often changing multiple times per season, but the Race Face Half-Nelsons seem to hold up to abuse pretty well. I'm still on my first set. The Formula Oval brakes got off to a bumpy start last season with a master cylinder failure on the rear but Formula had them fixed up and back in my hands in just a few days. Since then, the brakes have been flawless. With gobs of power, no need for constant bleed attention and decent life out the stock brake pads, it's hard to complain. I ran 180 rotors front and rear last year but with the Dorado only accepting a 203 I had to up-size the front.
This set of Industry Nine wheels actually has about 3 seasons on them now. I've replaced the rear rim a couple times but the hubs and spokes are still going strong. Overall, I've had great luck with I9's house brand enduro spec rim in terms of durability and tubeless setup. I rather doubt that less aggressive riders or those actually running I9's DH rim would have had to touch these wheels. Tire selection was easy this year. With Schwalbe introducing their Super Gravity casing, allowing for a 3-400g savings per tire while retaining a DH capable casing, I didn't really consider anything else. The Dampfs beaded up tubeless with a couple scoops of Stans sealant and a floor pump.
Clearance in the rear for the 2.35 Hans Dampfs is pretty good despite the fact that they're quite tall. We don't ride in much mud in UT but I don't see where I would have any problems with this or most any other popular tire.
I was cracking up a little looking at the shot of this saddle. I've lost track of exactly how many years I've had it around but it's at least 4. It's hard to fault a 135g saddle that somehow lasts long enough to wear the cover off of it. The Enve post also came over from last season. It does a fine job of holding the seat in place and looks great doing it, no complaints. One thing to watch out for on the Undead is that it calls for quite a lot of seat post insertion with very little room to adjust. It's important to measure carefully and take into consideration possible tire/seat contact so that you don't end up with too short of a post.
Ok, lots to talk about in this drivetrain shot. This is season number two for the Race Face SIXC carbon cranks and they're not showing any signs of issues developing. The BB is still smooth and the carbon seems to be handling DH abuse with ease. The E-Thirteen LG1 has also been hassle free and flawless in its ability to keep my chain put. I haven't even replaced a pin in these Twenty6 Predator pedals but a couple are due. Shifting duty went to a Saint M820 clutched derailleur which does a pretty darn good job of controlling the chain.
A trusty SRAM 11-27 cassette provided all the range I need and then some. Paired with the Saint derailleur and KMC chain shifting is rather crisp. I still have 3M 8228 rubberized mastic tape covering the chain stay from chain slap to keep things extra quiet. Speaking of which, you might noticed the included Evil chain stay protector is absent. Unfortunately, the protector interfered with the SIXC cranks, in part do to the large protective boots on the ends of the SIXC crank arms. Not a big deal and a saved a few grams going with the mastic tape option.
Initial Ride Impressions
In any typical summer I log heaps of ride time this one was no different. I have a fair bit to say about this frame and its build but for now I'm going to leave you with my initial impressions and then take a deeper dive later on. So, lets focus on the two most striking attributes of this frame which are the amount of compliance and the manner in which it builds momentum. Focusing first on the former, this frame is not the stiffest game in town but that's not an accident. In chatting with Evil about this, it seems that the compliance throughout the frame is engineered in. The reasoning behind this is to help the chassis maintain composure and find traction where little exists. In the off road dirt bike world this has been a focal point for a while. Flex is engineered into frames and some manufacturers spec alternate fork crowns with more flex on their off-road specific moto's. Only recently have mountain bike frame manufacturing techniques begun to produce frames that might be "too stiff". I know that we're all taught to hate on frame flex but what I have experienced here with the Undead is fairly compelling. Specifically, some of the ultra stiff bikes that I've ridden tend to want to hop and skip in dusty, loose corners, the Undead often settled and tracked better than any bike in recent memory. The draw back? Well, I can definitely feel the rear flexing when hooking up hard on tacky dirt. I don't know if it made me slower but if you're going into it thinking it needs to be stiff this may not feel all that confidence inspiring. And that's the rub right there. What level of compliance is the best balance of maintaining traction in loose conditions but while resisting excessive deflection when you're really hooking up? I like how the current bike is working but in talking with Evil, they've taken the stiffness up for 2014 with revisions to both the front and rear triangle. I hope to be able to get some impressions of the updates in the next few months.
So, I've made it clear I see an up-side to flex. Unfortunately, flex can also cause some problems. My test bike developed a crack in the paint on the underside of the swing arm near the adjustable geometry chips. I first noticed this after a month or so of riding but I can't be certain how long it took to develop.
We spoke to Evil about this issue and they said:
"The cracks that develop are in the paint and follow the area where the carbon joins the aluminum insert. The two materials flex at a different rate causing paint separation."
Evil further indicated that it is purely cosmetic and completely safe to continue to ride. Since first discovering this issue I've put quite a bit of ride time on it and while the paint crack did grow to wrap to the top side of the swing arm, the bike has continued to perform just fine. Evil has informed us that they will be replacing all swing arms that have cracked with an updated version around January. It's to be expected that designs can improve and it's good to see Evil marching towards improving their bikes.
This brings us to that other stand-out attribute, the way this frame builds momentum. The combination of Dave Weagle's magic linkage curve via the Delta Link suspension system and the fairly high pivot make for impressive square edge gobbling performance without feeling all mushy under power. This is a poppy, playful machine that likes to be pushed hard and is equally at home on the tech and the jump lines. One thing it does very well is recover quickly when you get off line or crash. Particularly, the suspension stands up in its stroke and allows you to pedal hard to recover speed through roots and baby heads where most DH rigs would be pedal striking left and right. The down side? I'm not convinced the 2013 Fox RC4 is the best shock for this bike. It's hardly terrible and, in fact, through first 75% of the stroke it feels close to spot-on. Deeper in the stroke the RC4 feels like it ramps up too much and in those moments near, but not quite at, bottom-out the rear-end skips and slides finding little traction. The best that I've been able to accomplish includes running the RC4's bottom-out resistance a the minimum and the boost valve at 145 psi. Fortunately, the updated Fox RC4 has been revised with a bit more linear tune that should be just the ticket for milking that last bit of performance out of the Undead. We hope to try one out and report back in a few months. In the mean time I do want to leave this issue in the context that we're talking about that last couple percent performance rather than any sort massive flaw. This is one fast bike and I'm stoked to continue to tune it to its full potential but felt the need to address some of the issues i've ran into for those curious to know more about the latest Evil bike. Stay tuned for more on this ride in the coming months.
Planned 2014 Undead Updates
Evil has a few updates in store for next season, here's what you can look forward to:
Swingarm
Full carbon swingers
Removed aluminum insert (this insert is responsible for the current paint crack issues)
Reduced weight
Claimed 30% Increase lateral stiffness
Hardware threads directly into flip chip
Bearings:
Spherical linkage bearings have been replaced with custom Dual Row bearings from Enduro which eliminate any linkage play
Front triangle:
Increased bearing size for durability, stiffness and longevity
Reduced weight
Claimed 20% Increase HT and BB stiffness
Geometry Specifications –
Learn more at http://fanatikbike.com/product/13evil-undead-frame-9927.htm and visit the official Evil site at www.evil-bikes.com .