Words: Toni W.
Yeti SB-66 Review Part-3 – Lets get down to business and talk about the ride
Fit and suspension setup:
The sizing specs on the SB-66 might seem a little unconventional if you're used to XC bikes but are spot on for modern aggressive trail riding. The top tube on the size small measures up at 23″ which is real close to where many companies place their medium. The seat tube lengths for each size are more inline with a traditional sizing with the small measuring 16.5″. Personally, I tend to like a 23″ top tube and a nice short seat tube suits my 30″ inseam just fine. Having gone with a 50 mm stem and 750 mm bars, the ride position is perfect for aggressive trail up through light freeride. I raise these fitment points as this bike worked well with a stem in the 70mm or less range and wider bars. The idea here is more length in the frame and less in the stem. You have the same total space in the cockpit but are located further behind the front tire. If you're on a medium frame with roughly a 23″ top tube now and a 90mm stem, consider a medium SB-66 with a 24″ top tube and try a 65 or 70 mm stem.
I've been on this SB-66 for awhile now, taking it down jump lines, pedaling all over the desert, and just generally jamming out as much single track as I could find. The SB66's Switch Link suspension has a signature feel. It's decidedly firm in the first third of its travel and there is only the mildest sensation of squat when climbing. With the RP23's ProPedal engaged, there is almost no perceivable squat once you have your sag sorted correctly at 25%. With the rider's weight in the saddle so well supported and transferred forward, the front end feels unusually well planted on steep climbs. With the Fox Float 36 set at 140 mm, I never found myself wanting for travel adjust in the fork or feeling as if I were suffering on the climbs just to have a fun descent. There is some sensation of the front wheel wanting to flop from side to side due to the 66º head tube angle I've achieved with the Cane Creek Angelset but a wheeling sensation has never been an issue during the climbs. It there's one caveat to a suspension that provides so much platform, it's that I noted the rear end trying to hang up just a bit when climbing over ledges. Climbing fast or with a small weight shift mostly mitigates this feeling but it'll sneak up on you if climbing at a relaxed pace. I played around with dropping the rear shock pressure in small increments to dial this out but was never able to completely get rid of it without causing some wallow. My advise is to climb aggressively, this bike was clearly built for speed.
Trail riding:
On rolling trails the handling dynamics of the SB-66 really shine, especially when hammering. Much more so than on continuous climbs, the SB really feels in its element when hammering out short ups and downs. it carries speed so well that it's weight is highly masked under in these conditions. Depending on the trail, I either ran the RP23 at full open or level 1 Pro Pedal but rarely felt the need to dial in any more platform. I found pedal strikes to be rare on platform pedals and almost nonexistent when clipped in even though I spent a lot of time on really rocky trails. I credit this to the suspension's tendency to ride high in it's travel and somewhat defy the low static bottom bracket height. If you're coming from a trail bike with a 14″ + bottom bracket, you still might find yourself needing to adjust but the payoff is well worth it. Since the majority of my time on this bike was in the spring, most of the riding I've done has been in the desert Southwest. The trails of this region are full of big rock, harsh ledges, and sand. At speed the SB66 flies through this kind of terrain. It rewards a rider who sprints, pops, and slides his way through the desert gauntlet as fast as possible. I felt a real nice balance of stability and nimbleness when pushing hard. On the flip side, the bike can feel a bit skittish when trying to cruise at a mellow pace. I softened up the suspension and even re-examined tire pressures but never did come up with a setup that really felt great for picking my way slowly through a loose or technical line. This bike just likes to go fast.
Descending, jumping and general hooliganism:
Pointed downhill this trail bike has all the right angles and just enough travel to hang with the big boys. Compared to say a 6 or 7 inch bike with a highly active suspension design, the SB66 requires a bit more body english to absorb the roughest sections but it's planted enough to never feel nervous or out of it's element. The words high-strung keep coming to mind but I wouldn't want to suggest that it's temperamental, just that its going to take a ride or two to get the most out of this rig. I say this mainly because in order to keep the suspension down into the mid-stroke where it really tracks well, you have to be off the brakes and moving at a good clip. That same Switch Link magic that makes this bike ride so high in it's travel when climbing can come back to bite you if you're not descending with some purpose. I'm pointing this fact out not so much to suggest fault but rather to impart that a quick spin around the lot or one quick test ride might not be enough to fully understand this bike. It's different, but once find the sweet spot, it's an animal. Another up-side to the rear-end riding high is that weight transfer to the front-end when descending and particularly on flat loose corners is excellent. I fount that I got a lot of bite and had very little front tire wash while unweighting the rear tire to back into corners required minimal effort.
Reliability and Maintenance:
I've had this rig in my stable as my primary trail bike for 5 months and logged hundreds of miles of rock, sand, mud, rain, big gaps, you name it. The SB-66 remains silent, not a squeak, not a creak, not a sound. Just like the first day I rode it. I did a pivot bolt check before assembly and then again just as I was writing this article. I found a couple pivot bolts had settled a bit and was able to get maybe 1/8 th of a turn which cured a slight amount of play that had developed in the otherwise stiff rear end. In fact, the only thing on this bike that I've had to pull it in to the shop for was a particularly finicky angle set that took 3 tries before I had it setup without creaking and popping. Incidentally, having seen a laundry list of "solutions" to quiet that headset down, I'm having the most consistent good results with heavy application of anti-seize. Packing it in between the headset cup and gimbal seems to encourage the gimbals to align and the extra anti-seize creates a shimming effect. It's not a long term solution but has been working for a few months at a time for me. About my only other complaint with regard to wear and tear is the finish. I would have really liked to see a raw or anodized option, especially at this price point. I've put clear film all over the frame but unfortunately, with anything that gets treated like a mountain bike does, without a super-durable finish it's bound to look old and abused in a few short months.
I wound up on a few muddy rides during the early spring and found the clearance with the fat 2.4 Hans Dampfs to be plenty generous for a trail bike. This is probably about as big of tire as most would run on the trail.
Conclusion:
So, what's the deal with this bike? It's a trail devouring hooligan machine that in particular rewards the advanced rider. Flat-out is the only way to extract the most from the SB-66. If you've become a Strava addict, this bike might be for you. Well, for the downhill trails anyway, it's perhaps to a bit too heavy to be a bonafide climbing beast. At any rate, If you're the hard charging type of trail rider, the SB-66 should be on your very short list of bikes to consider. I like it a lot, still feel good about plunking down my hard earned cash for it and it may very well stay in my fleet for a while to come.
Things I liked:
Highly efficient pedaling feel for a 6″ bike
Slack and low with a generous top tube
Angleset compatible
Removable ISCG tabs make for a clean design
Low maintenance
Things to consider:
The Shimano 142 axle system combined with the internal derailleur cable routing makes for the most difficult wheel to install in my garage.
Weight – at 7.5 lbs for the frame, this is bike is a bit on the heavy side for a small trail bike, maybe I need to try a carbon version.
Finish – I'd really like to see a raw or anodized option
ISCG tabs are not included and must be purchased separately.
Yeti SB66 Review Part 2 – Build
Picking up where we left off in part 1 of our Yeti SB-66 review, we're going to cover the build and put a few thoughts around our component choices. In keeping with the notion that the SB-66 is a fairly substantial trail bike, I went for a build that was strong enough to live up to Yeti's chassis without slowing it down to much on the climbs. A substantial fork and brakes along with a wheel set that should hold up to plenty of trail abuse are on the menu. Lets take a stroll through the build.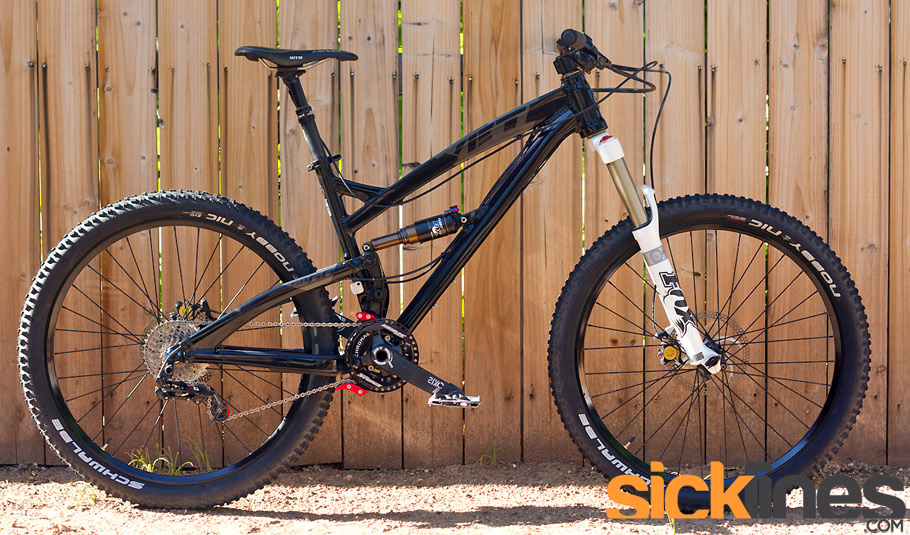 Yeti specs this bike with either a FOX 32 at 150 mm or a FOX 36 at 150 mm. I decided that I really wanted the low front end of the 32 and the muscle of the 36. To accomplish this, I bolted on my trusty 2010 Fox 36 Float RC2 and lowered it to 140 mm to match the Axle to Crown height of a FOX 32 at 150 mm. This gives me the stiffness and terrain gobbling features of the 36 with the climbing friendly position of the 32 with just a small sacrifice in total travel. FOX also has their new 2013 34 series forks as well that would be a good option to consider as well if you're after a bit more stiffness from a 32 setup.
In going to the lowered 36 my head tube angle came in right at 67º. Lately I've been riding closer to a 66º and figured keeping the front end planed wouldn't be too much of a chore considering the low fork. In comes the Cane Creek angle set with their 1º cups to the rescue. So there we have the slack angles and stiffness typically associated with the 36 combined with the front end height of the 32.
In keeping with the low front end theme I went with 750 mm wide Easton Havoc carbon bars with a 20 mm rise and no spacers under the 50 mm Chromag Ranger stem. The width of these bars combined with the 23″ top tube give me plenty of room in the cockpit for long trail rides and a ton of stability for driving through loose, berm-less backcountry corners.
ESI Chunky grips are really comfy and feather weight. Their lifespan tends to be a bit short and they will start to throttle on carbon bars as they wear but I haven't found another grip that I like as much for long hours in the saddle.
I went with a 1×10 setup on the SB-66 which makes for a clean and balanced cockpit, shifter on the right and remote seat post lever on the left. A 1×10 setup is not for everyone but it suits my riding style and terrain just fine. I run my cables a bit long for sneaking in an x-up or just to keep them from being ripped out when I crash horribly. Yeti did a good job with the placement of the forward cable guides under the top tube which encourage the loops to sit away from the head tube, minimizing rubbing.
No self respecting bike in this category is complete without a dropper post these days it seems. The latest generation Reverb looks perfect with a blacked out theme and has performed flawlessly thus far. I threw in a half wrap of the remote line around the post to keep it from buzzing the tire in the low position. The saddle is a WTB Devo Ti Carbon and delivers all day comfort at right around 200g for my bottom.
SRAM offers the Reverb remote in left side as well as right side bar configuration. I prefer to use a right-side bar remote and run it flipped upside down so that the button is right where a front shifter button would typically be. This only works out on 1X setups but it allows for actuating the remote with the absolute minimum grip adjustment. The more aggressive the trail, the more this small detail matters.
The Chromag QR clamp still has a home even with the dropper post as far as this rider is concerned, but then I've not been blessed with the longest of legs. A Ti bolt in the clamp saved a whopping 2g and helps me sleep better at night.
I went for a Straitline Silent Guide to keep the chain in check with the 1×10 setup. They make their Silent Guide in a 36-40t, 32-36t, and also a 32-34t size. Their rollers are available in a variety of colors as well (pictured in red here). I have a couple of these guides around now and they've become a favorite for their simple effectiveness with reasonable drag. I ran a set of SIXC cranks through the wringer for big free ride and bike park riding last year without any issues so they got the nod here again. The SixC cranks also come with some rubber boots that go on the ends of the cranks to help protect the ends of the carbon crank arms from damage. If you look closely below you can also see the rear shifter cable entering the drive side seat stay below.
I'm mixing it up between the XTR trail pedals and Twenty6 Predator's shown below. The Predators have a massive platform and these particular pedals are spec'd with ti axles and razor sharp steel pins. The grip on the Predators is unreal when using the steel pins. If you are looking for the ultimate in grip, these may very well be your pedal.
Out back an X0 10 speed short cage derailleur handles shifting duties. This X0 unit is headed into its second season and has held up to some pretty nasty hits including one that bent a big, thick hanger. It's still delivering crisp shifting in a super light package. Here again you can see the rear shifter cable internal routing as it exits the seat stay. It's a nice touch for a clean look and reducing cable rub but does tend to hang up on the axle nut during wheel install. Fortunately, fishing the cable housing through the seat stay was quick and easy.
10 speed has made the 1X configuration a bit more usable. I'm using an 11-36 XX cassette which gives a good range range for the trails in my area. Through-out the season, I typically swap the front chainring between 32t and 34t depending on the type of riding I'm doing.
Formula's The One is one of my favorite trail bike brakes. It provides gobs of fade-free trail power in a respectably light package even if a bit tricky to setup to eliminate pad drag 100%. A 180 rotor up front was the obvious choice and went 180 in the rear as well in anticipation of a lot of high speed descending. A 160 rotor out back might be grams well saved for those headed to tamer trails.
Wheels play a big factor in bike handing and performance in general. Rolling stock on this SB-66 is courtesy of Industry 9's sub 1700g All Mountain wheel set. The axles are easy to convert so running a 142×12 was a breeze. Up front it was also a relatively quick processes to swap between 15/20mm. This particular version is their totally blacked out Black-Eye wheel set which keeps with the stealth black theme.
These Black-Eye's are functionally identical to their standard All Mountain wheels but are finished in all black anodizing for a subtle look. Nearly everything on these wheels, including the minor touches such hub adapter caps and free hub body, are anodized black. The 26 mm All Mountain Industry 9 rim converts for tubeless pretty easy with a couple wraps of gorilla tape.
I'll be swapping back and forth between 2.4 Hans Dampfs and the 2.4 Nobby Nic's shown, both setup tubeless. The Hans Dampfs are mounted to a heavier duty wheel set and perform flawlessly on more aggressive rides. The Nobby Nics in combo with I9's All Mountain wheel set are light enough for long days and fast climbs while still holding up to the odd 20′ gapper that you just can't resist.
All in, this build weighs a bit under 30 lbs and not a single part that I don't have confidence in for trail riding up through some light freeride . Keep in mind that the 2010 Fox is a bit heavier than the latest versions which pushes the total weight up a about 1/2 lb. It's a small price to pay for the performance of the RC2 damper but we'll be looking to try the lighter and presumably more refined 2013 version of the Float 36 RC2 soon. Part 3 of the review coming soon where we'll find out how this rig performs on the trail.
Gallery:
Read about the frame details in Part 1 below.
Part 1.
In case you've been living under a rock, what you're looking at here is Yeti's latest do-everything trail rig, the SB-66. It's a low, long, and slack heavy duty trail bike and is the first to employ Yeti's switch link suspension technology. Fortunately, we managed to get our grubby little hands on one to see what all the fuss was about.
First impression, man this is a beefy trail frame. Straight out of the box this frame looks like it is built for an ox with a good size fork needed to match the overall beefiness of the frame. Yeti says "Trail", but this frame's lines almost scream freeride in the overall look of the frame. The massive head tube junction, short seat tube, and chain stay seat stay junction all reinforce these notions. It's really just the air shock and the front derailleur mount that gives a hint as to this frame's true intentions. All this muscle yet the buzz around this frame has really focused on the pedaling characteristics of Yeti's patented Switch Technology. Follow along as we build it and find out how to best put this 152mm travel weapon to good use.
Talk about some sweet lines, the SB-66 looks very tidy. The compact linkage creates a look of clean simplicity despite being packed with high-tech features. Look closely and you'll find this frame is full of details. Note the built-in chain stay protector, no need to wrap inner tubes around your nice looking frame.
It's hard not to love the head badge on the Yeti. Frivolous? Perhaps, but it reminds you of the quality time spent attending to details on this frame. We also love the look of of the tapered 44 top / 56 bottom head tube which is conveniently compatible with the Cane Creek Angleset if you should be so inclined to tweak the head tube angle. There's so much metal around the head tube it seems you could safely bolt on any size fork you like. I've seen quite a few built up with 160 and 170 mm forks but notably Yeti's big fork option is a Fox 36 lowered to 150 mm, presumably to keep the geometry sorted properly.
The SB-66 uses an eccentric link that rotates in both directions depending on where it is at in its travel, hence "Switch Link". The eccentric lower "link" and upper link create a very compact package lending to a highly refined appearance and likely very little flex.
Yeti managed 17.1″ chain stays with lots of tire clearance partly in thanks to the compact nature of the Switch linkage. As a strong descender but just an average climber I'm hoping this frame will deliver on promises of snappy climbing. The SB-66 tens to run a little bit longer than a lot of trail bikes so be sure to consult the geometry chart or test ride one before assuming you know the S / M / L / XL sizing.
The ISCG tabs slide on to the splined bottom bracket shell pictured below and are held in place by the bottom bracket cups. Note the splined area and BB threads both arrived nice and clean, ready for install. You also get a good view of the pivot axle/pinch bolt assembly. This looks to be good protection against the pivot axles ever loosening and the pinch bolt is big enough that stripping won't be much of an issue.
The ISCG 05 adapter is held in place by the bottom bracket cups. We really like the idea that the adapter can be swapped for different styles, removed, or replaced due to breakage without replacing the frame. Make sure you order the correct adapter for the chainguide you're planning on running with the frame.

The SB-66 uses a direct mount front derailleur for a precise, simple install. Even the casual mechanic should be able to achieve perfect shifting performance up front. A cosmetic cover would be a nice touch here for those of us running 1×10 but certainly isn't necessary.
Yeti came up with a very clean rear axle system that can be setup with 135 mm or 142 mm dropouts. Both Shimano and DT Swiss axle kits are offered. We're running the Shimano 142 setup on our test bike. Keep the ham-fisted mechanics away from those small bolts.
The rear brake mount is a 160mm Post Mount capable of accepting rotors up to 185 mm. This means your post mount caliper will bolt directly to these mounts if you're running a 160 mm rotor or will use a very small and light adapter if you choose to go up a size. We dig the clean look of having the bolts directly interface with the frame but wouldn't mind some replaceable threaded barrel nut in the event of a botched brake install.
Short chain stays and burly tubing, nothing on the SB-66 looks under built. It may not the lightest frame out there but it looks like it might be grams well spent in every other area. I'm looking forward to pushing this rig hard through corners and hammering rock gardens, as it looks like it has a lot of potential to be a winner where frailer trail bikes often falter. For those that are more weight conscious, Yeti also offers the SB-66 in a carbon model.

2012 MSRP:
Frameset $2250
Completes also available
Weight :
SickLines has the largest verified weight database. Be sure to check it out to see how these and other parts compare

| Manufacturer | Model | Year | Weight in grams | Pic. |
| --- | --- | --- | --- | --- |
| Yeti | Small Aluminum Frame Only with 142mm Shimano dropouts | 2012 | 3136 | |
| Yeti | Shock Bolts | 2012 | 19 | |
| Yeti | SB66 ISCG-05 Adapter | 2012 | 24 | |
| Shimano | 12x142mm axle | 2012 | 94 | |
| FOX | RP23 8.5 x 2.5 w/22mm hardware | 2012 | 305 | |
Vital Statistics:
Travel: 152 mm (6.00″)
Weight: 3136g (bare frame, with 142 dropouts, no shock or shock hardware)
Shock: Fox RP23 (8.5 x 2.5″)
Head Tube: 44 top cup, 56 bottom cup
Seat Tube: 30.9
Travel: 150 mm
Rear Axle: 12 x 142 (supports DT or Shimano) or 135 QR
Rear Brake: 160 post mount, supports up to 185 mm rotor
Front Derailleur Direct mount
Bottom Bracket: 73 mm
ISCG: Optional, supports ISCG-05 or ISCG-03
Sizes: Small, Medium, Large, X-Large
Geometry:
FIT
SMALL 5'3″ (160 CM) – 5'7″ (171 CM)
MEDIUM 5'7″ (171 CM) – 5'11" (180 CM)
LARGE 5'11" (180 CM) – 6'3″ (191 CM)
X-LARGE 6'3″ (191 CM) – 6'6″ (198 CM)
Stay tuned to SickLines.com for updates on our Yeti Cycles SB66 build and riding thoughts in the coming weeks. Visit Yeticycles.com to learn more.
Gallery: