Part 1 of 3
For 2012 we decided to take a deeper look at the Specialized Demo 8 II. Specialized offers the Demo 8 in a Demo 8 I package as well that is more budget oriented. In addition to the Demo 8 II and the Demo 8 II completes, the Demo is also available as a frame only option.
2012 MSRP:
Demo 8 II complete – 6600 USD
Demo 8 I complete – 4100 USD
Demo 8 frame – 2650 USD
In 2011 Specialized revised their production Demo 8 and Brandon Sloan took us through the highlights in the video you see below that are still relevant to the 2012 Demo 8 range.
With the signing of Sam Hill a few years ago, Specialized began revamping the Demo 8 to be a very capable downhill race bike. The Specialized Demo has come a long way in its lifetime. It has evolved quite a bit into what you see here. With two World Championship jersey's under its belt this bike is certainly up to the task when it comes to gravity riding. At the same time it's still a fun park bike.
The Demo 8 II has a very healthy part spec out of the box that rivals many World Cup setups. Boxxer World Cup, Renthal handlebars, SRAM X0 parts, Thomson, and Cane Creek's Double Barrel to name a few.
Frame specifications on the 2012 Demo 8 range
200mm of travel out of a 9.5×3 shock
3 sizes: Extra Small / Small / Medium / Large
Accepts a 150x12mm rear wheel
1.5″ Headtube
ISCG-05 chain guide tabs
30.9 seat post
Pressfit bottom bracket (PF30)
The geometry range of the Specialized Demo 8 is pretty big as they have 4 sizes to pick from. The bike features a short chainstay 421mm (16.57″) which makes this bike quite playful in the corners and in the air as its easy to whip it around.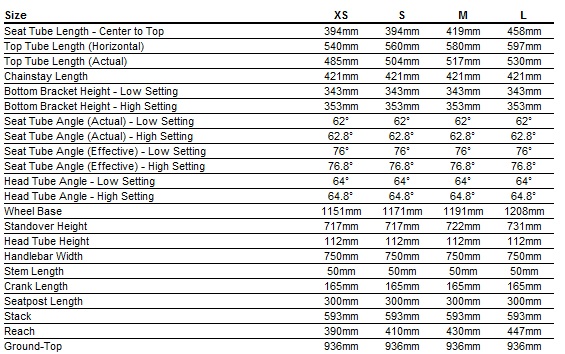 Specialized has some custom bumpers and a spacer for those who want to run a FOX 40 fork. With a RockShox BoXXer, no issues arose but if you want to run a FOX 40 you should use the Specialized FOX bumpers. The Specialized bumpers are needed because the downtube of the Demo 8 doesn't give enough room for the stock FOX fork bumpers to contact properly. Without these it can result in the lower crown dinging the downtube.
The rear end takes a 150x12mm rear wheel and Specialized has also reworked the back end of the Demo 8 to be narrower which means improved heel clearance as well. The axle threads in from the driveside and secures with a pinch bolt. We prefer to see the axle unthread on the non driveside as it give more room for removal but it is a small issue. Specialized also includes a hanger banger that is supposed to help save your derailleur in a crash.
The PF30 bottom bracket can take a typical 83mm style bottom bracket as well with the use the adapter cups. The Demo 8 II complete however uses some beefy SRAM X0 DH fiber cranks that sport a large 30mm radius. Its a stiff setup. We bolted up some 2012 Twenty6 Predator pedals to our bike as well with steel pins. Lots of grip here to say the least.
The main pivot right above the bottom bracket uses a captive nut and bolt setup that tightens from the non drive side. This helps ensure everything is properly torqued without having to remove the cranks.
Our bike was an early release and came stocked with the Truvativ Descendant cranks. Since the PF30 cranks we had were for a non bash-guard spider, we couldn't use the stock Gamut chainguide. We bolted up an MRP G2SL to the Demo 8 to the Demo 8's ISCG-05 tabs that are integrated nicely into the frame for lots of support.
Specialized equipped the Demo 8 with their own Roval DH wheelset. They've got an internal width of 23mm and have worked well so far for us. The Specialized Butcher tires have gone through a good bit of development under their racers and they're certainly quite capable. The Butcher we've found works quite well in the dry environments and overall its got a nice amount of stiffness to the sidewall to help resist pinch flats quite a bit better than most of the competition. Don't let the 2.3 size rating on the sidewall scare you however as these are comparable to Maxxis' 2.5 range.
For 2012, Specialized equipped the Demo 8 II with the Cane Creek Double Barrel as their stock shock. This shock feels and works very well with the Demo 8. Specialized / Cane Creek also provide a very good starting point for riders. I didn't have to do much tweaking personally from this base setup as it works quite well as a starting point.
The rear shock attaches to the linkage which houses bearings. This helps give the Demo8 a very supple feel and improved shock actuation as it doesn't use a rear DU bushing to rotate.
In addition, the Cane Creek has a neat bushing in the rear eyelet that allows you to change the geometry of the Demo 8 by turning the busing with a 3mm wrench. If you consult the geometry chart at the top you'll notice two different distinctions between a low and a high setting. The Demo also uses an FSR suspension setup to drive its rear suspension. It is designed to be active while braking as well as provide good suspension performance throughout its range of travel. Brandon elaborates on the Demo 8's suspension in the video above.
The Demo 8 also uses some pretty clean cable routing and some nice fittings that screw into the frame. It's a clean look as well. The front most cable adapter can be a little tight for a standard 3mm allen wrench. It is a little snug but still manageable.
For some time, Specialized has always sought to pick the parts specifically even if that means modifying a stock product. The brakes for example on many Specialized bikes are a bit unique in some way as they often have some sort of custom setup. The Demo 8 uses what they're calling "Custom Avid Code X0 World Cup" which is a lighter lever paired to an Avid Code caliper. It is also supposed to come with Semi-Metallic pads according to the spec-list, but for some reason ours had organic pads which we switched out for some Semi-Metallic ones promptly.
The headtube is 112mm tall and allows riders to easily get the bars low if desired. It would be nice to see a longer fork steerer tube on the complete builds as well for even more adjust ability in this area. They include a direct mount stem spacer underneath the stem itself was a nice touch that allow riders to get the bars in a higher position if they want.
The cockpit is a mix of SRAM, Specialized parts, and some Renthal 780mm wide Fatbars as well. The SRAM X9 shifter is tucked away nicely underneath the brake on a matchmaker mount. Manufacteurs typically equip their bikes with a higher spec rear derailleur than shifter for a variety of reasons but i'd rather have the higher spec shifter and a lower spec derailleur with some more money in my pocket.
Chain slap is something that most manufactures might not consider when building their bikes but Specialized has a pretty nice solution for their bikes that certainly is impressive. The bike comes with some pretty robust chain guards for not only the chain stay but also the seat stay that bolt into the frame for a clean zip-tie free affair. The Demo 8 is silent out of the box and we really like that.
Weights:
Our Large Demo 8 II (excluding pedals) weighed in at 37.08lbs

Large Frame only weight: 3888.3g
Axle: 58.9g
Shock Bolts: 34.2g
Seatpost collar: 17.4g
Demo 8 Cane Creek Double Barrel: 476.6g
450lb CCDB spring: 621g
Roval DH Front 20mm: 965.9g
Roval DH Rear 150x12mm: 1210.6g
See more weights in our verified weights (http://www.sicklines.com/weights) section
Stay tuned as we post parts two and three in the coming weeks and to learn more about the 2012 Demo 8.
Gallery: