Words: Jason Nixon

When it comes time to purchase a downhill mountain bike fork, most people have Fox's 40 on their short list. For 2012 Fox has made quite a few tweaks to their 40 RC2 fork that should help bump it up your list if you're in the market for a new fork.
MSRP:
$1600.00 USD
Featuring 8in (203mm) of travel out of the box, the Fox 40 FIT RC2 is FOX's premiere downhill fork offering. Axle to crown measurement is 571mm at 8in of travel. Available in white or black diamond (as pictured here).
Out of the box, the Fox 40 FIT RC2 fork comes with the fork as well as two springs in addition to a blue stock TI spring already installed. A 4 bolt style boxxer direct mount stem can be bolted to the crown or you can use a conventional 1 1/8″ stem.
The stock spring is Titanium (Blue) and is suggested for riders roughly 150-180lbs. A purple steel spring is included for riders 120-150lbs as well as a green spring for 180-210lb riders. Additional springs are available to purchase for even lighter riders (black) or heavier riders (yellow). A preload knob is located on top of the left leg that allows you to dial in the preload externally.
If you're looking or a quick rundown on the Fox 40 RC2, check out the video with Jim Noonan to learn the highlights of what they improved on.
Video:

In 2011, they added Kashima to their stanchions to improve the performance and debris shedding. 2012 sees an even more improved Kashima coating.
Learn about Kashima in the video

2012 sees a darker Kashima finish, coated in Japan, that is quite a bit more darker gold in nature. In addition to Kashima, they've also updated seals with new SKF seals that help reduce the stiction as well as improving on the FIT damper.
SKF Fork Seals
Fox has been working with SKF in Italy to develop new fork seals that are smoother and offer less friction. FOX wanted to improve the feel and performance of their products even more (much like what they did with Kashima coating last year). Lower friction for better performance and response. This new partnership has led to some great developments for Fox in their seal technology. These new SKF seals will be on all the 2012 forks from FOX all the way down to even their Evolution line. The seals are also able to be installed on any of FOX's previous forks if you want some of the benefits of the 2012 line.
Combine these new seals with Kashima coat and we feel riders get a much better product.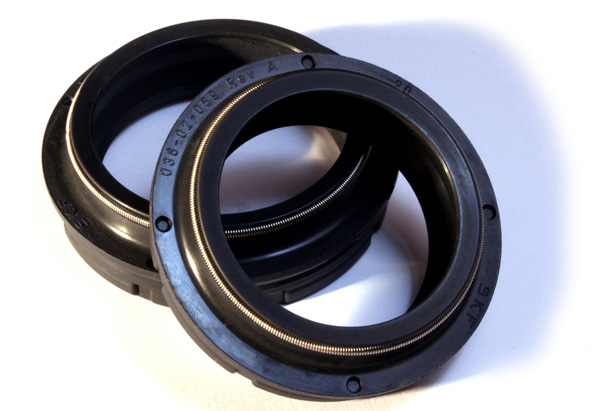 The FIT damper has seen some revisions to improve the functionality. With the FIT design, it allows damping fluid to remain clean and isolated. This helps improve reliabilty as well as performance. In 2011 the compression adjusters moved to the top of the stanchion on the 40 RC2 and the rebound to the bottom of the right leg. This has carried over to 2012 again.
The location of the hi and low speed compression adjusters on top of the stanchion allow for easy adjustment on the trail. Previous FOX 40's had the compression on the lower part of the leg which wasn't as handy for trail side tuning.
Learn more about the FIT Damper in the video below:

In previous year's the Fox 40 RC2 external compression adjustments didn't feel quite as wide as the range of adjustment in our 2012 Fox 40 RC2. Each dial still offers smooth actuation out of the box and gives feedback in a positive click.
The axle is a simple system of pinch bolts on both sides with an axle. It works well enough and leaves no question to proper installation at the end of the day. I found the axle removal can be a little awkward at times to remove as the axle doesn't have a lip to help grab onto on removal.
On some bikes, the lower FOX crown itself can come into contact with some frame down tubes. While I think bike manufacturers should ensure compatibility with the fork, Fox's lower crown could be revised to help alleviate this as well. While on the topic of possible improvments , the fork bumpers i've found can twist especially after they've been used a bit. It would be nice to see these bumpers improved more so that they stay in place better on bikes that don't utilize integrated bumpers.
The Fox 40 still utilizes a IS mount for the brake. A 160mm front IS adapter is used to work with a 203mm rotor. If you're looking to run a smaller rotor, you can't at this time.
The 2012 Fox 40 offers a good range of damping and the additional improvements to the Kashima coating and SKF seals make it an even better fork in our experience. The chassis is stiff and helps hold lines in the roughest of conditions.
We installed our Fox 40 on our Devinci Wilson that we reviewed awhile back and have framed some thoughts as well on the fork for you all.
I personally like how Fox has continually updated the 40 series essentially building upon a good blueprint. The 40 offers good damping adjustment to sit in its travel without sitting to low in its travel. It holds up well in corners and maintains a good ride height as well. Some spring noise was noticed but not a deal breaker by any means. The Fox 40 also offers more turning radius than a boXXer in comparison so while it might seem like a small point, it helps maneuver the bike in tight terrain if you compare the Fox against other forks back to back.
Trek's Session 9.9 has a revised Fox 40 that includes what they're calling Hybrid air that I think could be beneficial for future FOX users but isn't available at this time for consumers who don't purchase a new Session. Fox 40 RC2 Hybrid air is a system that Trek worked on with Fox that allows the user to add air to adjust the spring rate in greater precision in conjunction with the titanium coil inside.
Weights:
Our 2012 Fox 40 FIT RC2 weighed in at 3245.2g
Conclusion:
Overall the Fox 40 RC2 has proven to be a reliable fork for us. It's a stiff fork, stays up well in its travel, and has a wide range of adjustability. It isn't the lightest fork out there but certainly isn't excessively heavy when you consider that it is a coil fork. The FOX 40 FIT RC2 offers a lot of small improvements for 2012 that translate into a very solid overall fork. Put it on your list of forks to try out if you haven't already.