Introduction:
The Santa Cruz V10 almost needs no introduction. When picking the latest review build for SickLines we decided to build up the latest Santa Cruz V10. The V10 is known well throughout the downhill segment for a variety of reasons and we wanted to see what the fuss was all about. The V10 itself has been around for quite some time but has been refined year after year by Santa Cruz. Santa Cruz doesn't go by model years but updates their bikes when they feel it is due for one. This latest version features numerous improvements over previous V10's.
(click to enlarge)
If you'd like to purchase a V10 of your own we suggest talking to a respected Santa Cruz dealer such as Competitive Cyclist. Their service and expertise on Santa Cruz products is hard to beat.
[Santa Cruz authorized reseller Competitive Cyclist] [Santa Cruz Build Gallery]
Frame and Suspension:
Frame – Santa Cruz V10 – Large
(click to enlarge)
Why the Santa Cruz V10?
The V10 is well known in the downhill community and we felt it was one of the ones that people wanted to know about. It has been on the race circuit and winning for as long as we can remember so we wanted to see what the latest revisions to the V10 had to offer. The V10 is a refined DH bike and it is commendable that Santa Cruz seems to continue to develop their bikes versus creating new models (or updating the model year / colors to sell bikes). Welded over at SAPA and made in the USA, the V10 is one of the few bikes that still are made stateside.
(click to enlarge)
The V10 offers 254mm of travel (~10″) which is a good bit of travel to say the least. Compared to other top end bikes, the travel on the V10 is quite a bit of travel compared to the typical 8 – 9″ of travel of other bikes. The V10 suspension utilizes their patented Virtual Pivot Point (VPP) suspension that aims to deliver a top notch ride. The VPP system allows them to tweak and manipulate numerous aspects of the suspension like the wheel path, leverage ratio, squat, instant center, and more.
Construction wise, the V10 is welded together in addition to using some machining and a carbon upper link. Some gussets are welded atop and beneath the down tube to aid in giving it a bit of additional strength. The V10 comes stock with a Santa Cruz rear axle, Santa Cruz seat post clamp, chainstay protector, derailleur hanger, and a bolted on carbon fiber mud guard. The mud guard is something more DH companies should try and implement whenever possible. It did help keep some mud away from the shock, however the top of the shock area is still susceptible to mud/debris flying in but the included mud guard does a good job at helping out a good bit.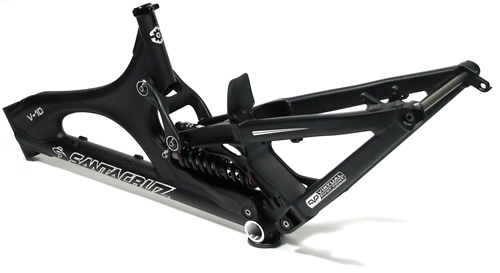 (click to enlarge)
Many more photos of the V10 frame can be seen in the gallery. The guys over at Point One Racing also sent us over a nickel lower link that matches their limited edition stem we used to give our v10 a subtle unique look.
V10 Frame spec's
1 1/8″ headset
83mm bottom bracket
30.9 mm seatpost
150 x 12mm dropouts
Shock – Elka Suspension Stage 5 & Cane Creek Double Barrel & Vivid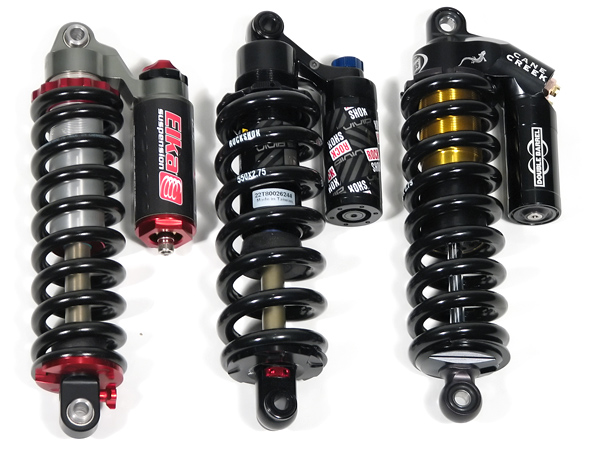 (click to enlarge)
Why all these shocks?

There are a lot of top notch shocks available on the market today and we felt it was important to try out a few on our V10 to see how they stacked up. The V10 we received uses an 8.75″ x 2.75″ shock. Packing in the task of controlling 10″ of travel in a 2.75″ stroke shock isn't a small feat.
The Elka Stage 5 was custom tuned for the V10 and was a new shock on the market that we were anxious to try out. Elka works with the manufacturers and the buyer to deliver a custom shock that is designed for the user's needs. The Elka Stage 5 features are outlined in the detailed preview we did previously on it.
(click to enlarge)
The Cane Creek Double Barrel is one of the finer shocks available on the market today and was said to work well on the V10 so we felt it was good to throw in the mix. The CCDB offers a plethora of external adjustments to help control the suspension including preload, high & low speed compression, and high & low speed rebound. To say it is adjustable is an understatement as it provided the widest range of adjustability of all the shocks we used. This can be a good thing, and a bad thing as well if improperly setup. The CCDB also used spherical bushings to mount to the frame that lets the shock perform quite well (by allowing it to move freely with little resistance) and aid in reducing wear and tear on the shock hardware. It offers some functional benefits over the standard bushing/3piece shock hardware that is typically used.
(click to enlarge)
The Vivid shock was used more as a baseline shock as the current V10 comes with either the Vivid or the FOX DHX5.
Fork – Manitou Dorado
(click to enlarge)
Why the Manitou Dorado?
The Dorado was used because like some of the shocks chosen, was new on the market and we wanted to see what it had to offer. This new Dorado represents an impressive step in the right direction of what Manitou needs to do more of. The damping in the Dorado is impressive to say the least and the hydraulic bottom out circuit is something that we wish every fork had. It allows for a nice ramp up at the end of the travel that also helps to dissipate the force of a big hit without returning a lot of rebound back into the rider. The Dorado offers a controlled ride with the TPC+ damping and easily maintains a good ride height without sacrificing big hitability or low speed sensitivity. The knobs have solid clicks as well and each little adjustment works nicely and can be felt. We've had our fork upgraded with a few new tweaks that Manitou has implemented including a softer top out bumper. Nothing is perfect, but we'll expound on the Dorado in greater detail in a separate piece on where we think the Dorado could improve and talk a bit more about how it performs.
Wheels and Tires:
Wheelset – Nuke Proof Generator Hubs / Stan's ZTR Flow Rims
Why this wheelset?
We've been using these Stans ZTR / Nuke Proof wheelset for some time now. They've held up quite well considering what they've been through. Look for a full review on the site. The hubs are still rolling just as smooth as day one which is impressive considering the mud, grime, and water they've been exposed to. The front wheel is still ticking over perfectly well. The rear developed a few dings after some heavy rock garden rides, and eventually died a few days ago but still held on remarkably well considering the beating they took. The ZTR rim has a shallow height to it that helps reduce denting to some degree in our experience. Mounting tires to the rims also was a bit easier as well due to the shorter rim height. If the rim develops a few dings it's probably worth replacing the rim (especially if you're using it tubeless) as the sidewall is quite short. We feel that the ZTR rim is worth considering for a lightweight DH race wheelset especially as a front wheel. They are stronger than most give them credit for and have held up pretty well for us. If you're looking for a wheelset that you can abuse day in and out on a DH track however, this wheelset isn't designed for you.
(click to enlarge)
Tires – Maxxis Minion DHF UST 2.5
(click to enlarge)
We opted to set up our tires tubeless with the ZTR rims after trying them with tubes initially. The ZTR rims have the ability to be run tubeless with just the Stan's yellow tape (strapping tape). We ran it with tubes initially and then tubeless with just the yellow tape. We opted for some UST Maxxis 2.5 DHF's and they mounted easily to the rims with the aid of some Stan's No Tubes sealant. We ended up running close to 30psi mostly with these tires and it worked out well and we only had the rear tire burp and roll off on one occasion when it had too little psi coming out of an aggressive corner / drop and side loaded the wheel a good bit. One option worth trying out is to use their rubber rim strip tape as well on this wheelset. It will add a little bit of weight but will add some security as the tire will bond to the rubber rim strip tape instead of relying on the rim exclusively.
Drivetrain:
Cables & Housing – Shimano SIS
Standard Shimano SIS housing was used in this build. It's very lightweight and works great.
Chain – KMC X9SL
The KMC X9SL chain shifts well and is very lightweight. It's a lightweight chain that doesn't compromise quality where some other chains fall short. We've had no issues with these chains and is one of our favorite chains to run.
(click to enlarge)
Rear Derailleur – SRAM X.9
For this build we opted to go with a X.9 short cage setup. It works well with the gearing we selected and kept the drivetrain functioning well.
Cassette – Shimano Saint / SLX 11-28t / Dura-ace 11-21
For the cassette, we have used the Saint / SLX 11-28t cassette as well as an 11-21 Dura Ace cassette. The 11-28t provided a very good range of gearing that offered some taller gearing and the 11-21 cassette offered some tighter gearing for purely lift assisted riding.
Chainring and chainguide – e.13 Guide Ring and LG1+
The new LG1+ worked well on our V10 day in and out. Santa Cruz Bikes recommends against using the taco style chain guides (and the MRP G2 style) perhaps because the ISCG-05 tabs are welded on the frame versus machined into the frame. The LG1+ is new this year and has seen some nice improvements that we've outlined previously in our LG1+ feature where you can read more. The new LG1+ clears mud better in our experience and also hovers closer to the chain ring to aid in better protection compared to the first generation LG1 with a taco. The chain ring is still susceptible to side impacts in our opinion to some degree if you do clip a rock on the exposed side but we haven't had any issues with doing this to date. The lower idler uses an aluminum bolt and if you're a big guy who smashes stuff constantly they also include a steel bolt for some added security. We also used a 36t e.thirteen guide ring to top off the drivetrain setup. The e.thirteen chain rings are lightweight, come in 32-40t including odd sizes, and work well on chainguides given their profile.
Crankset – Shimano Saint FC-M815
The Saint crankset has been stellar and provided a really nice interface for putting the power down. They're perhaps our go-to crankset in 83mm configuration for any DH/FR bike. Expect to see a lot of these cranks outfitted on a lot of peoples' bikes in the coming years. Shimano took a considerable amount of weight off these revised Saint cranks without compromising the strength or stiffness. Paired with the LG1+ the chain retention system was easy to set up and align properly. If using an SRS style guide ( where the bash is mounted to the crankarm spider) some caution is suggested as the Saint tabs are wider than most standard cranks and can push the bashguard further outbord that may cause alignment issues.
Pedals – Straitline
(click to enlarge)
Straitline sent over some of these nickel pedals for us to try out. They're gorgeous to say the least in the beginning but after some use they became a bit faded as mud/grime etched into the nickel finish. We were able to re-shine it up a bit with some polish but I suspect if they do offer this finish in the coming year the nickel process would be refined a little bit to keep its shine and finish better. The pedals proved reliable and remain some of our favorite pedals to date. They use bushings instead of bearings, but are very easy to service and are built to last. They are strong pedals and keep going strong even after the hardest of impacts. In the weight department they are a bit heavy compared to other offerings but the reliability and strength help negate that.
Rear Shifter – SRAM X.9
(click to enlarge)
To match up with the X.9 rear derailleur we used an X.9 shifter. Nothing special here but it works well.
Brakes:
Brakes – Shimano Saint BR-M800 / Straitline levers
It's always fun to go back and try older components to see how they stack up against the newer ones. The M800 series Shimano Saint brakes do not disappoint to say the least. We equipped the levers with some Straitline Components levers as well. The brake combo offered powerful braking that rivals a lot of today's current brakes. One modification we've been happy with in the past and executed the same on this bike is the use of one resin pad and one metallic pad. It seems to give the best of both worlds (good modulation and good power).
Cockpit:
Grips – Sunline Twisted Waffle Lock-on
The twisted waffle offers a good amount of grip, is not too plush, but also isn't too firm. Sizing wise it is a mid sized grip and we thoroughly enjoy the slip free and slop free functionality of their lock-on setup.
Handlebar – Easton Havoc DH
Easton is no stranger to building a good handlebar. The Havoc previously came in at 28″ (710mm) and only in a mid rise. This year Easton will be adding a few changes to meet some of our needs a bit more. Above is a pre-production colorway of the future, an Easton Havoc bar in 750mm length. It uses a 31.8mm clamp in standard Easton sweep and rise. Expect to be able to purchase a 750mm Havoc bar in the coming months. MSRP will be $75 and it'll be available as a low rise (20mm) and mid rise (30mm) version, both 750 width.
Headset – Cane Creek 110
(click to enlarge)
The current V10 uses a 1 1/8 headset so we wanted to find the best headset we could for it. We ended up specing our V10 with the 110 headset and couldn't have been happier with its performance. We've previously posted a good deal of information on the 110 headset that you can read more about here.
Saddle – WTB Silverado
The Silverado we've found is a good saddle that works well. Ours has tarnished a little bit with use and mud/grime but it is still going strong and works perfectly well. It's not a heavy saddle and offers some nice cushioning and has a good profile to it that adds to the comfort.
Seatpost – Thomson Elite
(click to enlarge)
A 30.9mm Thomson Elite seat post was used in this build as well. The Thomson seatpost is by far one of our favorite seatposts to use. It's light, strong, offers ample adjustabilty that is easy to adjust, and has never let us down. Set and forget pieces are hard to come by and Thomson seatposts are one of those pieces.
Stem – Point ONE Racing Split Second Direct Mount Limited Edition
The Point ONE limited edition DM stem was selected for this build. You can see our review writeup of it here. Point One racing released a limited run of direct mount stems that come with Ti bolts. The stem is light already with steel bolts, but the ti bolts and nickel finish on the limited edition are the icing on the cake. The stem is stiff to say the least and holds the bar as firmly or better than any other stem we've ever used to the crown.
Weights:
The weight of this bike came in at 37.74 pounds. Additional weight could've been saved elsewhere or added in other ones. The V10 frame is quite light as is and the use of an 8.75 x 2.75″ shock also helped the V10 out in the weight department. The V10 has been around for some time and it's clear Santa Cruz knows how to build a light frame that isn't weak. Not only was the frame pretty light, but the respective axle / seat clamp / etc were also quite light.
As usual, the door is open for more weight savings, but at this weight and build spec, the bike feels great to ride and has a pretty reliable build list.
The headings are sortable! Click on Part Name, Model, Year, Real(g) to sort by that column heading.
| Part Name | Model | Year | Real(g) | Pic. |
| --- | --- | --- | --- | --- |
| Frame | Santa Cruz V10 Large Ano Black (frame only) | 2009 | 3708 | |
| Fork | Santa Cruz V10 mud guard | 2009 | 61 | |
| Axle | Santa Cruz V10 axle | 2009 | 50 | |
| Seat Clamp | Santa Cruz V10 seat post clamp | 2009 | 20 | |
| | |
| --- | --- |
| Total Weight | 17118g | 37.74 lbs |
If you're interested in seeing more weights of the build including the shocks used, check our weight page.
That wraps up the build on our Santa Cruz V10. Look for a full review of our V10 this month as we've been riding it for some time already. If you're looking for an educated place that you can get a Santa Cruz V10 from, the Competitive Cyclist staff is well versed and knowledgeable when it comes to all bike things, Santa Cruz bicycles being no exception.
[Santa Cruz authorized reseller Competitive Cyclist] [Santa Cruz Build Gallery]