Its always fun to check out the latest and greatest but sometimes budget constraints mean you may not be able to always buy the latest and greatest. In this project we'll be exploring ways to update an older downhill frame and some things to look for should you be seeking a used downhill bike.
[Iron Horse Sunday Rebuild Project Gallery]
---
11/26/2012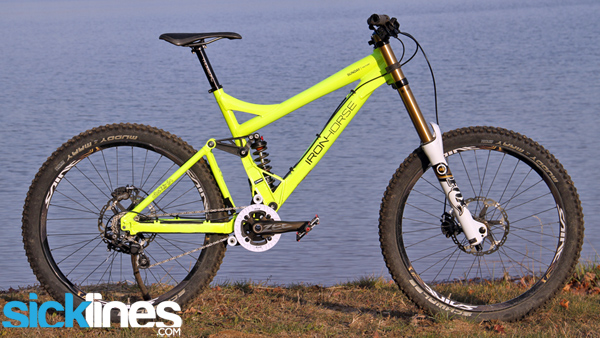 Sunday Drive side shot. FOX 40 RC2 in the front, Shimano Zee, and a PUSHED Vivid.
The Sunday is still a perfectly capable bike in the downhill realm. With the small changes done to it that we've done it has become quite the test mule for a few parts. The Sunday's geometry was already pretty good in its hay-day and with the angled headset cups it was quite the update. The angled cups extended the wheelbase to ~47″ (1194mm), dropped the bottom bracket to ~13.5″ (343mm) and as expected also yielded a slacker bike. This brought it closer to a lot of what most "race" bikes today are pushing towards. If you look at other bikes you'll see similar geometry numbers. If you dont' want the lower bottom bracket, you could also consider raising the fork crowns instead (or some combination with a slightly slacker cup set). This would get you a slacker bike and a longer wheelbase without lowering the bottom bracket as much.
Out for a ride on the Sunday
The stock deity pedals were already quite nice but I wanted to see if I could get a little bit more grip. Straitline pins screw into the Deity decoy pedals and provided more grip in comparison. The decoys are still spinning nicely and have a good size platform.
K9's -2 degree cups helped bring the Iron Horse Sunday into some great geometry numbers. Not quite as elegant as other angled headsets from an aesthetic standpoint but fool proof and functions a bit nicer in the elements in comparison as it has less moving parts with good tolerances.
The K9 stem offers 55mm of reach. There aren't a ton of manufacturers making lengths over 50mm but K9 does. They have a good system for the stem bolts that have you tighten the lower bolts fully first and then evenly torque the top two bolts. This makes it easy to properly torque this stem. The titanium bolts worked OK but I would like to have seen some steel bolt options for those not so concerned with weight in a stem. The ti bolts save some weight but personally I'd prefer steel for peace of mind. You could easily swap out for steel bolts yourself but its another step to do.
Zee cranks and MRP S4 chainguide. The Sunday already has what most downhill bikes today still run. (83mm bottom bracket/150mm rear wheel / ISCG-05). The tabs arent' quite as strong as some of the newer bikes but are still quite good in comparsion. The S4 is MRP's refined approach to their roller chainguide. It now sports captive hardware and is near silent in operation. A carbon option is available as well and its pretty competitive in the weight department as well. PUSH no longer sells PUSHEH-ed Vivids but will service the ones that are in the field still. Other options that work well would be to install a FOX RC4 (some machining on the lower link would be necessary to allow it to clear).
The Zee Brake lever and Zee shifter nest nicely together. The Zee shifter isn't quite as nice as the new Saint shifter but still offers good shifting. It all bolted up to the deity blacklabel handlebar that has ample width with a nice clean finish.
The Shimano Zee caliper is pretty much a replica of the Saint caliper but with a cost saving cotter pin instead of a allen bolt for the pads. A few other cost saving things like the banjo bolt, tool free reach adjust lever, and their servo-wave screw are all that separate Saint from Zee. With all that taken into consideration i'd be hard pressed to spend additional money on the Saint brakes unless you really want/need the best of the best. The Zee brakes are awesome and you'd be hard pressed to tell any performance difference.
The Zee shifter mates nicely underneath the Zee Brake lever. The Shift Lever blades aren't as long as the Saint and lack the dual shift ability on the upshift lever. You can still push the upshift lever from either side however.
Zee shifter underside shot. If there was one place to spend additional money in the Zee vs Saint components this would certainly be one to consider. The Zee shifter works great, but the Saint shifter is much more awesome with more features, smoother action, and better tactile-shift effort in our opinion.
The Zee rear derailleur reminds me of the M810 series Saint derailleur, but with a Shadow Plus clutch mechanism. The Zee derailleur isn't quite as updated as the new Saint derailleur and lacks the rubber bump stop to help quiet it even more. Zee offers a more cost-saving option in comparison and the clutch mechanism quiets down the chain slap quite a bit. These new clutch style derailleurs offer quieter operation and better performance when things get rough.
Overall, we've been pleased with the updates made to the Sunday to get it a bit more modern. We tried it with a variety of parts and it's an impressive bike considering its age. The weight of the Sunday might not be in the league of the latest carbon bike lineup but it has proven to last the test of time. In comparison to alloy bikes out there that are still popular like the Intense M9, the Sunday is still as light or lighter than most and that says something considering how its held up. If there was one area i'd like to see improved it would be with the pivot hardware and lower shock eyelet hole. Everything works as it should but it could be better. It's too bad the Sunday isn't produced still as it would arguably be a contender still with a few modern tweaks. Hopefully you enjoyed our Sunday rebuild project.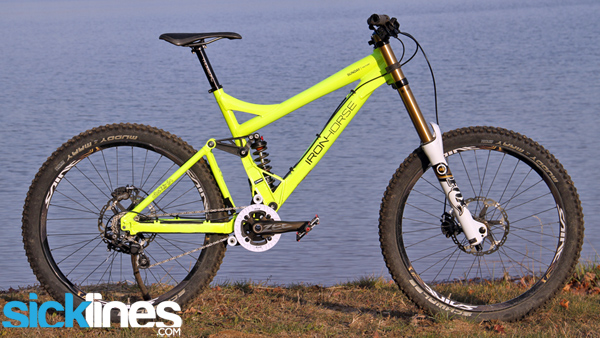 ---
7/6/2011
One of the key things in a bike is its geometry and damper characteristics. We sought to improve both with this project, as these are things many people look to change on older bikes to make them perform better. The Sunday is a little bit of a unique flower in that it already has similar geometry to most downhill bikes already today.
To bring the geometry a little bit further in line with modern bikes we installed some K9 Industries angled headset cups. We've used these in the past but they've improved these quite a bit since our first set. They've eased installation of these cups by adding in various etching marks to help you ensure the cups line up straight and centered in the headtube.
Alternatively, you could also use a Cane Creek Angleset to achieve similar adjustability, but the K9 system has its own benefits. The K9 cups come in a 2º option out of the box, which is what we were after. Additionally, there are less moving parts in the K9 system and. Compared to an AngleSet, the K9 system is lighter and the cups have less parts to deal with. Once the cups are aligned in the frame, it is just as easy as installing any headset cups compared to the AngleSet that has more parts to work with in installation. The K9 cups are specificly cut for a given angle so there is no gimbles to deal with here but you only get one fixed angle. The K9 cups are simple enough to install but the faces are angled. This can make for a slightly harder initial install since the faces aren't quite as flush compared to an AngleSet or a standard headset.
The other facet of angled cups in general is that the bottom bracket also lowers slightly as well as adding some additional length in the wheelbase. A low bottom bracket might not be for everyone, as it is easier to hit obstacles, but it certainly feels good in corners.
One of the other key areas in making an old bike ride better is shock selection / tuning. We chose to send off our RockShox Vivid shock to PUSH Industries with a few ideas on what we were after. It came back looking brand new and the work they did on the inside of the Vivid really helped this Sunday perform even better in our experience.
The Sunday is well known for riding well but one of the downsides to it was that it can push through the travel a bit too quick with some shocks. PUSH has some special Sunday internals for the Vivid that helps control the damping characteristics. Ideally we didn't want it to push through its travel so quickly and bottom out, while also giving it some good mid-stroke support as well. PUSH also offers various bottom out cones to help aid in controlling the last bit of travel based on the riders needs and the bikes' end travel tendencies. PUSH can tune a shock to your liking, so if you know what you want, chances are PUSH can help get your shock to do it!
For springs, we are also using K9 here. They are new to offering springs and they come in 25lb increments in three models: Performance, Race, and Ti. This is nice when trying to find that perfect spring. The K9 race spring is made by Eibach so you know it is a quality product. They are available in several lengths with adapters to fit BOS /Cane Creek / FOX / Vivid / etc. Read more about them on the K9 website.
We are also trying out their spring thrust bearing as well. It is designed to help the spring move freely as it is compressed (see installed detail picture below). This should translate into allowing the shock to be a bit more sensitive and offer increased performance. Their thrust bearing can be fitted to most every shock on the market when used in conjunction with their springs.
Another trick bit that RWC makes for the Sunday is a needle bearing kit. We also installed one of those on our project bike to help the shock move a bit more freely in its range. You can get needle bearings for FOX, RockShox, and Elka shocks. Check out their product page for sizes and compatibility.
To install this needle bearing, RWC offers some handy tools that make this a breeze to install.
3/14/2011
After getting the Sunday repainted, we found some of the bearings were in need of replacement.
When it came time to source new bearings for the Sunday, it was an easy choice to go with Enduro bearings.
Enduro "MAX" bearings explained:
"MAX" bearings (also known as "full complement"), which use no retainers or cages, contain more balls per bearing, and are designed specifically for high-load, low rotational applications. Unlike caged bearings, MAX bearings are ideally suited for extreme axial and thrust loads. MAX bearings are stronger. For example, a standard 6903 2RS cartridge bearing has a static capacity rating of 477. The 6903 2RS MAX cartridge bearing has a rating of 763. – Enduro Bearings
Real World Cycling made it even easier too as they already have pre-packaged kits for a variety of frames. We went with the complete bearing Sunday kit.
It includes all 8 bearings necessary to replace all bearings on the entire frame. At an MSRP of $49 this will help breathe new life into our Sunday. If you only need a few bearings, Real World Cycling also has individual Enduro bearings easily.
After installing the new bearings, we then slid in the new hardware we purchased and are on our way to a finished frame.
(click to enlarge)
For reference, you can take a look at this Sunday reference picture to assist you.
Next up, suspension overhaul!
1/13/2011
After removing all the pivots and bearings, we decided that some new pivot hardware was in order for our Sunday project. Pearce Cycles in the U.K. stocks almost every spare part you'd ever need for a Sunday. While this isn't necessary when restoring an older downhill bike, it certainly helps make things feel like new again.
(click to enlarge)
If you're after parts for a Sunday be sure to check them out. If you're in the market looking for a bike to refurbish, we highly recommend making sure there are adequate spare parts available so you don't run into any problems should something need replacing. Derailleur hangers, any proprietary parts, and bearings are all things you want to be able to find, as this could put your budget build over the top if you're not careful.
12/8/2010
The Iron Horse Sunday in our opinion is a great bike to build off of if you're looking to build a used downhill bike. Certainly there are a number of bikes out there to pick from in the used market, but the Sunday presented itself with a nice framework to build off of.
The Sunday had a pretty big following as well as being quite well known for good performance overall in its heyday. Iron Horse's name at the end of the Sunday's reign was certainly not the way most bike companies want to be remembered but thankfully the bike itself isn't affected by this.
Piloted by the likes of Sam Hill to a World Championship title and more, the Sunday certainly was a benchmark of sorts for riders and bike companies alike in some way / shape / form.
The Sunday has a good baseline to build off of. A 1.5″ headtube, 83mm BB shell, 150mm rear end, and a pretty strong chassis that has proven to stand up over time quite well.
Geometry wise it may not be the most modern of bikes in the low bottom bracket and long wheelbase category, but for its time the Sunday certainly had a bit more aggressive geometry than most bikes in 2006-2008. Its bottom bracket height was considered quite low for its time (and certainly a lot of riders would consider it still low) at 13.75″. The stock head angle of 65º certainly isn't extremely slack by today's standards, but with angle reducing headsets this can be modified quite easily now if need-be.
Our plan with the frame is to modernize it a little bit through some parts and modifications. We're excited to try out some ideas with this used bike, as it's not something we typically do. There are a lot of great options and budget oriented parts that work well (but perhaps aren't well known). Stay tuned to see what we try out on this revamp of sorts with this well known frame.
Nowadays it seems almost too commonplace to have a high cost of entry for downhill. Most top level downhill bikes are in the neighborhood of $3000.00+. While this might not seem like a lot to a hook'ed up rider, or one who is fully immersed in the sport, entry level riders often can't justify the high expense of the sport. One way to help mitigate some of this additional cost has always been to buy used, as it offers a lower cost of entry for new riders.
With a used bike there's always the risk of having dings, dents, and other damage. This Sunday for example was in good shape overall but certainly wasn't perfect. There are some dings here and there, but that's typical with a bike from 2008. Be sure to inspect a used bike before you buy it. If you're unfamiliar with what to look for, take it to a competent bike shop for assistance. They should be able to help look over the bike or perhaps even check for known issues with a particular model.
The Sunday had some issues with its hardware from time to time with riders. Frozen hardware in the shock's linkage was common and we experienced one of the lower M6 bolts freezing in the 10mm shock pin. Luckily hardware is still available if you know where to look, as this was something we were mindful of before picking up a used Sunday to try this project out.
With a used downhill bike of this age, bearings typically also need to be replaced. Being able to factor in the costs of getting the bike up and running certainly needs to be accounted for when you buy a used bike as it sometimes might cost more to fix up a used downhill bike than buying a new bike. If you've got friends who also ride, chances are they have parts that you can get for a good price. Being able to have a compatible frame helps in this regard, as you're more likely to be able to find parts to fit easier if your used frame doesn't take weird or quirky parts. A good principle that can be applied here is keep it simple stupid. If you're buying used, try to find a simple bike that is easy to fix and find parts for, especially if its no longer being produced. Bikes that require odd or special parts can sometimes make your budget build no longer a "budget" build.
The nice thing about going with a used frame is that you can save a good bit of money compared to buying new. This lets you budget for better parts. You'll be able to piece together a bike the way you want to more easily. Additionally, if you invest in a frame that uses current standard parts (150mm rear end, ISCG-05, 83mm BB, 1.5″ steerer in our case) it is also easier to move parts to a new frame should you need to down the road.
Stay tuned as we rebuild this used Sunday from the ground up.