The Iron Horse SSO
The Iron Horse SSO is a very rare bird. It was designed to be Sam Hill's weapon of choice for courses with less gnarly features where a bike with less travel could be more effective. The SSO in the name stands for "Sam's Sea Otter" which is one of the courses it was designed for due to its notoriously mediocre terrain. It is a variant of the DW-Link 6 Point but with geometry that was nearly identical to Sam's Sunday downhill bike. This way he could easy get off his big bike and jump on the SSO with only minor differences in ergonomics.
Iron Horse SSO (click to enlarge)
---
12/22/2009
The Iron Horse SSO has been a great bike during the 2009 season. We got to ride it at a lot of different locations ranging from mini-DH and parks to full on DH along the east coast. We've been very impressed with the SSO the whole time. The frame suspension performance and geometry has been stellar in almost all types of riding conditions, making it a lot of fun to take on all of our trips.
As the season progressed we did find some things we wanted to change on the SSO. Our biggest complaint was the Magura Wotan fork that we never got dialed in as well as we wanted. It provided ample stiffness but when the trail gets rough we didn't feel like the damping performed good enough for our needs on this bike.
We've since installed a 2010 170mm Rock Shox Lyrik Coil with Motion Control DH. The new Lyrik Coil will give us more control over compression damping (LSC and HSC). Since its a coil fork some fine tuning in spring rate is lost but some suppleness is gained. The Lyrik Coil has an extra 10mm of travel and weighs a bit less too at 2413g with the new Maxle Lite installed vs 2618g of the Wotan. This fork felt better out of the box but the compression adjustments were initially stiff and needed some turning to break in. We'll have more info on the Lyrik down the road as we get more time on it.
We updated the chainguide to e*thirteen's SRS+. There was nothing wrong with our old SRS but the new one offers weight advantages, simpler setup, and looks nice. We've had e*thirteen's SRS+ and LG1+ on a plethora of bikes and we've yet to be let down by their performance, even in the worst of conditions.
Another major thing we found slightly troublesome about our initial build were the brake rotors. The Alligator/Ashima rotors look great and perform decent at low speeds but whenever you get the bike up to higher speeds the rotors quickly lack the power we're used to with the stock Formula rotors. We have not changed the rotors out yet in these pictures, but suffice it to say, they will not be on the bike when we go out to ride next.
Several other obvious changes are the addition of some extra white pieces. We liked the first build that was mostly black and white so we went back to a similar scheme. We lowered the cockpit a little bit with a low rise Syncros Bulk handlebar and added a bit more cushion with a Charge Knife saddle. Our custom argyle saddle was a little worse for wear after the wet/muddy season. The Knife weighs in at 213g so it doesn't add much extra weight but makes riding more comfortable. It's a bit slimmer than the original Charge Spoon saddle we had but still offers a decent amount of padding.
As for the rest of the bike, everything performed very well. The Schwalbe Muddy Mary tires worked well in a lot of situations making them very versatile. They excel in loose and muddy terrain but should suit most riders' tastes for other types of riding too. The Gooey Gluey compound is pretty soft allowing them to get good grip in a lot of situations. The wheelset is still rolling strong. There might be a couple new dings but nothing serious. The wheelset is still dead true which is very nice due to a great build and the higher tension in the Sapim CX Ray spokes. The hubs are still smooth but we'll want to take them apart and do a little maintenance for good measure. The Straitline pedals aren't as pretty as they were at the beginning of the season. They've seen their fair share of rocks but no pin placements were irreparably damaged and still spin smoothly.
---
6/15/2009
Since our last update we've changed some parts around on the SSO. We've added a few final component changes and adjusted some other aspects of the bike. Check out our thoughts and changes below.
Frame: We've gotten some riding time in on the SSO and we've been impressed with its performance so far. The frame geometry and suspension work well together making it a great bike for its intended design; moderate DH courses. The bike pedals well in the flat as well as over uneven rocky sections and is able soak up the bigger hits with ease. The air shock doesn't track the ground quite as good as a coil shock or feel as plush but it has gotten the job done well enough. The bottom bracket sits quite low at 13 3/8″ and while it doesn't sag quite as much as a bigger bike does, some care has to be taken when approaching trail features.
Fork: We've been a bit less impressed with the Magura Wotan fork overall so far. We're still trying to get it dialed in a bit more to our liking. The dampening in the initial part of the stroke is nice and works well over small to medium size obstacles but we felt ours ramps up a little harshly. We've talked with Magura and are working on tuning the air and oil to make it work a little better.
Tires: We've been pretty happy with Schwalbe's Muddy Mary tires. They've been used on several of our bikes as of late and perform well on a variety of terrain. We've swapped out the back tire to a 2.3 and are running the Gooey Gluey compound. In the mud and loam these tires especially shine as they clean very well and have good side knobs for off camber traction. We've gotten to the bottom of the mountain and seen some riders with Minions and other tires that were caked with mud, while the Muddy Mary's self cleaned well which helps them hook up the whole way down the trail.
Rotors: While the Ashima Windcutter rotors look interesting and weigh less than standard rotors, they do not offer the same performance. We've noticed a decrease in overall power and increase in fading from these rotors compared to the stock Formula rotors. This was to be expected with less physical contact area at the brake pad to the rotor. Over extended use on steeper terrain we feel they don't hold power quite as well but if are looking to make your brakes a little less "grabby" or tone down the power of a brakeset these are worth a shot.
Stem: We swapped out our Thomson 50mm stem for Straitline's SSC stem in 35mm to shorten up our cockpit a little bit. The 15mm difference hasn't changed the handling detrimentally but works well at letting riders with shorter arms get off the back of the bike a little easier.
Headtube badge: Jen Green created a stunning headtube badge for our SSO and it looks great. We used some all weather double sided 3M tape for a strong hold.
Pedals: The Wellgo's are gone and replaced with a set of Straitline pedals. The change make a noticeable improvement in the amount of traction and platform area available compared to the Wellgo's.
Saddle: We've replaced our white Charge saddle with a custom piece to match the bike a bit more and play up the red accents.
The saddle started out its life as a inexpensive Sette Race Ti saddle.
We removed the cover starting underneath working the edges gradually lifting it from the foam padding. We left the foam padding as it was still in good condition. The original cover was used as a template to cut the new cover for a nice fit.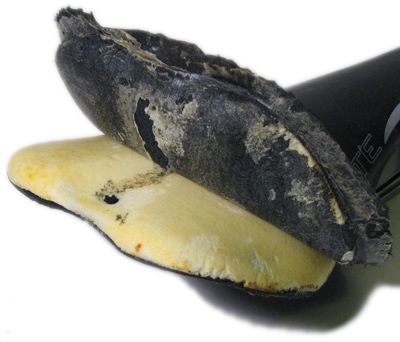 The cover is alligator printed leather that can be purchased from a leather goods store. We originally were going to just add some small detailing to the saddle but ended up going with a more all over print for more impact and easier aligning. We had it embroidered at a shop using a repeating argyle pattern with color matched thread to the ano on the bike.
Barge cement was suggested by the leather goods store as a good glue to secure the cover back to the saddle base. Barge offers a nice flexible hold and works well with a variety of materials and environments. The Barge was squeezed into a dish and then smoothed onto the underside of the cover and the saddle base with a paint brush. Barge is a lot like rubber cement to work with. The final result is quite stunning and looked great until it saw a few rides and some mud and now looks a little less posh but well broken in.
---
6/12/2009
To give everyone a little bit more background on the SSO we asked Dave Weagle some questions about it.
SL: Who designed the SSO?
DW: This was a bike that I conceived in 2003 or 2004 and built for Sea Otter 2005. I designed it over the late Spring of 2004.
SL: Where was it built?
DW: This particular bike was built at APRO in Taiwan. There were 4 total frames made, all of which were unrideable as manufactured. I had to personally hand machine the frame pivots and associated hardware on the 3 frames that were assembled. These are the epitome of "prototype".
SL: What is the history behind the SSO?
DW: The SSO started off as a random idea. One of those "wow, it would be cool if we did this" type of ideas. Ultimately, the bike was something that I personally wanted to ride, a 6" travel mini DH bike with the same relative geometry and cockpit feel as the Sunday. Most of the parts, the swingarm, links, and all the tubing came off of a prototype all-mountain bike called the Type 6. The Type 6 was scheduled to be sold as a 2006 model and had 154mm of travel. The prototype Type 6 is one of my favorite all time Iron Horse dw-link bikes to ride. Although shown in prototype stage at Interbike 2006, ultimately, a long string of reasons forced delays that doomed the Type 6 for production. The 6POINT was a last minute "Mc Guyver" job that was built to replace the void that the Type 6 left, but the 6POINT was based on the 7POINT, and shared no parts with the Type 6 platform. The Type 6 and SSO were supposed to be debut at Sea Otter 2005, coincidentally the same day that the Santa Cruz Nomad debut. The SSO was more of a works project, with the Type 6 being the main attraction. We (Todd Seplavy and I) felt like this new "all mountain" type bike could really be appreciated by a lot of riders. Ultimately, manufacturing delays and QC issues on all sides caused the bikes to miss their Sea Otter debut by a couple of months. It's too bad, RockShox and the Blackbox program built a special 6" air boxer for the SSO's debut. That fork found it's way to Rennie's newly introduced Nomad for the even
SL: Where did the SSO get raced at?
DW: I think that the first time it was raced was at Sea Otter 2006, I'm actually not 100% sure on that one.
SL: Does SSO stand for Sam's Sea Otter or Sam's Special Order or something else?
DW: I had to name the CAD file something, so I named it Type 6 SSO, with SSO standing for Sam Sea Otter.
SL: Our's is spec'd with a Progressive Air, why was that suggested over newer shock designs?
DW: The Iron Horse team had a great relationship and team agreement with Progressive Suspension at the time. The bikes (all of them) were designed to work with Progressive's position sensitive dampers. The bikes also had the latitude to work with the coil over 5th element shocks. Eventually, the bike was run with a FOX DHX coil with great results. We closed up the boost chamber all the way and ran higher pressures to get end travel spring and high speed damping ramp.
SL: What tweaks were made so it fit like Sam's Sunday?
DW: Ergonomically, the cockpit dimensions were identical to Sam's Sunday, which in 2005 was bone stock. This is not nearly as simple as just setting the top tube and stem the same length (actually they were different). I developed the bike's geometry so that turn-in feel, cockpit sizing, etc.. all matched up so that Sam could hop off his 8" bike and get on the 6" bike without skipping a beat.
SL: What other riders got to ride an SSO?
DW: Probably only me, Jacy, Sean, and I'm sure Justin got to rip one a few times.
SL: How many were produced?
DW: 3 rideable bikes exist.
SL: Does it have similar characteristics like all DW-Link bikes?
DW: The SSO doesn't have any specific tweaks that are radically different than the other dw-link bikes of its period.
SL: Does the bike have special tubing or other interesting design aspects of the bike not discussed in the above questions?
DW: The only thing that I can think of is the prototype 12.7mm shock hardware, which was intended to totally eliminate the hardware supplied with the shock from the shock vendor. (Iron Horse had a lot of issues with 3rd party shock hardware in 2005) Ultimately, the 12.7mm hardware was a total pain to work with on the bike, so we went to a 10mm diameter that we could control tolerances on a little better. Uprights are CNC machined out of plate, as opposed to forged like they normally would be on a production bike. Also, the lower link may be an earlier generation design, it went through a few iterations of increasing strength and stiffness through that time period.
For more information on the dw-link suspension technology visit the dw-link website.
---
3/9/2009
In the last update you got a chance to see the frame after it was powdercoated. We now have an initial full build of the SSO as a complete bike to show you. The bike weighed in at 34 lbs on the dot. The wheelbase is 44″ with a 13 3/8″ bottom bracket height. At this point we don't have very much saddle time on it, but from the time we have had the bike feels like it's really going to rip.
(click to enlarge)
Magura Wotan Fork
We got a chance to check out Magura's Wotan which should work out nicely for this type of bike. The Wotan as you would expect is a very stiff fork thanks to its double arches. It has 36mm stanchions and features a Maxle 20mm thru-axle. The Wotan offers 160mm of air suspension travel and has an axle to crown 5mm shorter (540mm) than a Lyrik so it doesn't change the geo very much.
(click to enlarge)
The Wotan has adjustable travel down to 120mm via the Flight Control knob. The Wotan comes with a handlebar mounted remote control to adjust the travel as you ride which can be handy when climbing. The other adjustments on the Wotan include the Albert Select compression damping, preload, and rebound. We'll have more information and thoughts on the Wotan in the future as we get more time on it.
(click to enlarge)
Brakes
Formula K24's will be doing the braking on the SSO. They're light and powerful enough for our purposes on this build. They're fitted with some Straitline levers (review) and we've swapped out the standard Formula rotors for some Ashima Windcutters.
(click to enlarge)
We're running a 203mm rotor up front which works out nicely due to the Wotan's 8" post mount. The rear is a 180mm.
(click to enlarge)
The weight difference is about 40 grams (308g for the Formula pair vs 270g for the Ashima pair). We'll have to put some time in on these rotors to find out if they offer as much power, heat dissipation, and pad wear as we're used with the Formulas.
(click to enlarge)
Cockpit
The cockpit is a fairly simple affair. We're running a Spank Lounge bar (article) with a Thomson X4 stem (article). Headset duties are provided by Cane Creek with their ZS-2. This setup is close to what Sam rode on his SSO and feels quite nice.
(click to enlarge)
The grips are ODI Rogues with Straitline bar end caps to finish off the ends cleanly and give a little bit more grip width to the bar if necessary.
(click to enlarge)
The seat and seatpost duties go to Charge's Spoon saddle (article) and Thomson's Elite seatpost (article) bound with a generic collar with some Ti hardware.
Drivetrain
A SRAM X.9 shifter and derailleur (review) were used for gear changing duties. We used Nokon shifter housing (review) in order to keep the shifts as crisp as possible and keep dirt and grime out.
(click to enlarge)
We got one of the few remaining 170mm double ring Hone cranksets we could find for this build. The Hones look great, are lightweight, and plenty strong for the SSO. A 34t e.13 guidering is used up front with a Shimano Ultegra 12-27t cassette. KMC's X9SL chain was used due to its light weight and strength. Wellgo MG1's were used for the pedals. e.13's STS chainguide was mounted up to keep everything protected and running smoothly.
(click to enlarge)
Wheels and Tires
The wheels and tires on the SSO are a little bit of the used and a little new. The used part is the wheelset consisting of Hope's Pro2 hubs laced to DT Swiss 5.1 rims (review) with Sapim CX Ray spokes and DT's Pro Loc aluminum nipples. The wheelset is lightweight and strong enough for our purposes. We've had this wheelset for a little while now (article). The rims have a few dents here and there but they're still dead straight (no truing needed after initial tensioning).
(click to enlarge)
The new part is Schwalbe's Muddy Mary tires. We have a few pairs of Schwalbe's we'll be testing out in the future and installing on some builds. So far the Muddy Mary's have performed well. The 2.5 version is almost the same width as a 2.5 Kenda Nevegal. The tread pattern is very open and cleans well.
(click to enlarge)
At the moment we're running their DH two-ply Triple nano compound. We have their Gooey Gluey compound to test out as well. Look for more info in the future on these tires as we get more time on them.
(click to enlarge)
Stickers and Headtube Badge
To finish off the frame it needed some stickers and a headtube badge. Ryan (rufusph[email protected]) has done some great work for us in the past (Amp, M6). He created some great looking Iron Horse stickers that fit perfectly. If you'd like some of your own custom sticker work done, get in touch with Ryan.
(click to enlarge)
We have a standard Iron Horse headtube badge but we felt that for a bike of this importance it needed something a little special. We went to Jen Green to get her to make us a custom headtube badge for the SSO. She does amazing work (check her past designs) and we were sure she could create a great looking badge for us. After coming up with a custom designed line drawing we sent it off to Jen and discussed some color options. The final result came out perfect. It was exactly what we wanted to top off the build.
(click to enlarge)
We'll have more articles down the road on the SSO as we get more time on it and swap out some parts to alter the build to our needs. You'll get to see the headtube badge mounted as well as some other goodies we have planned for the SSO.
Photos:
(click to enlarge)
(click to enlarge)
(click to enlarge)
(click to enlarge)
---
2/3/2009
The Design:
(click to enlarge)
For the SSO we decided that we didn't want to completely mimic the old SSO (as the part spec was leaning towards), so we decided to go with a complete opposite colorway. We wanted something simple and clean to highlight the frame and create a base to work off of. We went with a pure white powder for the main frame triangles and matte black powder for the links and extra hardware. The hardware for the links and bearing covers were only coated on the face as we didn't want the powder finish in any of the threads or laying against the pivot bearings. We didn't have Spectrum do any graphics on the frame but they can easily reproduce any logo work that you'd like (except putting another manufacturers' name on the frame).
(click to enlarge)
The Powder Coating Process:
We wanted a tough durable finish for the frame so we knew powder coating was the direction we wanted to go as liquid paints just don't hold up that well. We went with Spectrum Powder Works to finish the SSO because of their tremendous experience and reputation for creating very high quality work. Many custom builders and high end bike companies use Spectrum for their coating needs, so we felt very secure in letting them handle this important step.
Setting up our project was very easy. We made a call to Spectrum and discussed possible colors, process issues, and timing. Once satisfied that we knew what kind of design we wanted to go ahead with we fully disassembled the frame and sent all of the pieces to them. We made sure to label each part and face we wanted with the appropriate color so that it was easy to manage once Spectrum received our frame.
Once Spectrum receives the frame their first step in the process is to clean off the frame to remove any grime or dirt. They then take the frame to the stripping cabinet where they use plastic media to remove the old finish as well as any fillers or rust. If you send them a frame that has already been powder coated they put the frame in a chemical dip to soften the powder first and then remove any left over with their stripping cabinet.
Spectrum's plastic media detail
The next step is to give the frame a good surface for the powder to adhere too. They use a very fine mixture of aluminum oxide and glass bead to blast the frame giving the powder increased surface area to cling to for maximum durability. Once the frame is finished with the bead prep the frame is only touched with gloved hands to prevent any contamination that would ruin the finish. The final initial steps involve a flash preheat to remove any static on the frame and then the base finish is applied.
before prep
after prep
Once the base coat is applied the frame is put into the oven for a partial cure. Once this is done any masking and graphic detail is worked up. Spectrum is able to do many custom finish options and graphics from flames to panels to fades. Once all of the detail work is finished the frame is cleaned and the final coating is applied. After the final cure and cool down the piece(s) are unmasked and packed up ready for shipment.
base coating
The result:
(click to enlarge)
Our frame arrived in one of the best packed boxes we've ever seen. All of the parts were heavily padded and bubble wrapped so that no harm would be done to them during shipping. Once unpacked we were thoroughly impressed with the frame. All of the areas were thoroughly coated with no light areas or mistakes. The small bolt heads and bearing cover faces were all done exactly how we wanted and little to none of the threads had any powder inside them. The bottom bracket and headtube were both faced nicely which makes assembly a snap.
(click to enlarge)
(click to enlarge)
(click to enlarge)
If you have a custom project you'd like to have done in the future Spectrum Powder Works should be on your list of companies to check out. They do excellent work with very timely turnaround. Be sure to check out their extensive gallery of past work to see other frames they've finished and get ideas for your next project.
About:
Spectrum Powder Works is a custom powder coater based in Colorado Springs, Colorado. They specialize in creating unique custom paint jobs for the bicycle and motorcycle industries using their own unique technology and techniques. They are able to create highly detailed and decorative finishes that were previously thought to be impossible using powder coat finishes. They are able to create a myriad of designs and effects to suit any style or creative design. All of their work is done in house allowing them to have total control over the project from start to finish.
(click to enlarge)
(click to enlarge)
---
12/22/2008
Christmas came early for us this month when the SSO arrived. It came in raw form as can be seen with only a chromate coat on it. We plan on doing a full custom build on the SSO and document the process in this project section as well as a full article on customizing your own bike down the road. At the moment we're lining up details on powdercoating and parts for the build.
(click to enlarge)
In a future update we'll have a full interview with Dave Weagle about the bike looking into some of the details about its history, features, and racing success.
Specifications
Many of the specifications for Sam's SSO can be found in the May 14, 2007 issue of VeloNews. Matt Pacocha put together an article on the bike detailing the build that was spec'd on the SSO at the time. We also have a few pictures of Sam's SSO in the Monster Energy pits from the 2007 U.S. Open.
(click to enlarge)
(click to enlarge)
(click to enlarge)
headtube size: 1 1/8″ semi-integrated
headtube angle: 66 degrees
(click to enlarge)
hub spacing: 135mm
seattube angle: 69 degrees
size: Medium
The Build
For our build we will be specing a few similar parts to Sam's SSO to keep the geometry close to the same as well as pay a little homage. We plan on sticking with a Lyric Solo Air up front offering 160mm of travel to match the rear effectively. It should gives us a nice slack headangle around the 66 degree area. We'll be running a semi-integrated headset with a stack height close to Sam's via Cane Creek or Acros.
(click to enlarge)
The rear shock is a 8.75 X 2.5 Progressive 5th Element Air which gives about 6″ of rear wheel travel.
(click to enlarge)
Our wheelset will also be close using our custom built set of DT Swiss 5.1 rims laced with Sapim spokes, DT alu ProLoc nipples, and Hope Pro2 hubs. We'll also be speccing some Maxxis Minion DHF's for tires.
(click to enlarge)
The drivetrain will be predominatlay SRAM based as well with X.0/X.9 shifting components and Truvativ OCT crankset. e.13 will get the nod in the chainguide department. We'll have several Straitline goodies to put on the bike in the way for their new SSC stem, pedals, and brake levers. Formula K24's will bring the bike to a stop with 200mm / 180mm rotor combination.
(click to enlarge)
We'll continue to update this project page as more parts and items arrive. We have a lot of custom pieces planned for this build so it should turn out rather nice.