August 2, 2022 – The latest generation of Nomad now has a larger, 29-inch wheel up front paired to a 27.5-inch rear wheel. Mixing the best of both worlds when you don't know where you might be riding tomorrow.
If you're stomping gaps and stamping passports you're no stranger to travel. The Nomad has 170mm travel on a 38mm diameter fork and 170mm of VPP™ rear suspension. The Nomad is exceptional at absorbing the biggest hits so its rider can charge harder, with more confidence, in the very worst terrain. But because it's still pedal efficient, getting up to the best, highest trails isn't a chore like some other bikes.
And because everyone loves traveling with carry-on luggage the latest Nomad has a Glovebox too. Stash your ride essentials in downtube inside the included Tool Wallet and Tube Purse.
The legendary Santa Cruz fit, finish and quality construction means the toughest carbon frames, a lifetime warranty, and easy-to-work-on parts should have you covered on your epic road trips.
The key design details on the new Nomad are below but there is more than just these highlights. Mixed wheel options, glovebox, 170mm front and rear travel, and different chainstay / seat tube angle matched to the frame size.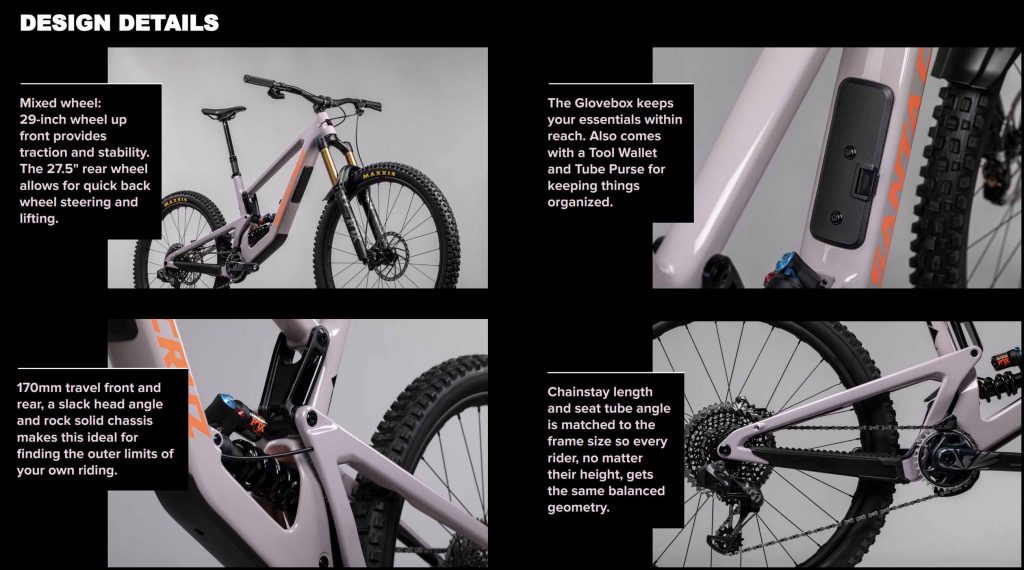 Chainstay length and seat angle are matched to the frame size (STA steepens and rear center grows as frame size increases) so that every rider, no matter what height, gets the same balance of geometry and handling characteristics. Bigger riders means bigger stresses on bigger frames. So we tailor stiffness for every size to make sure everyone gets the same ride quality.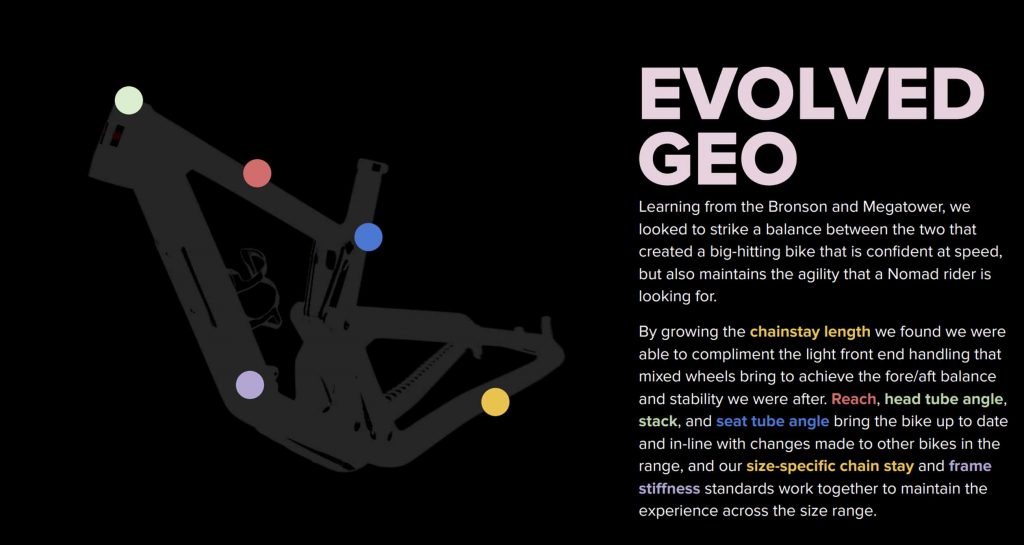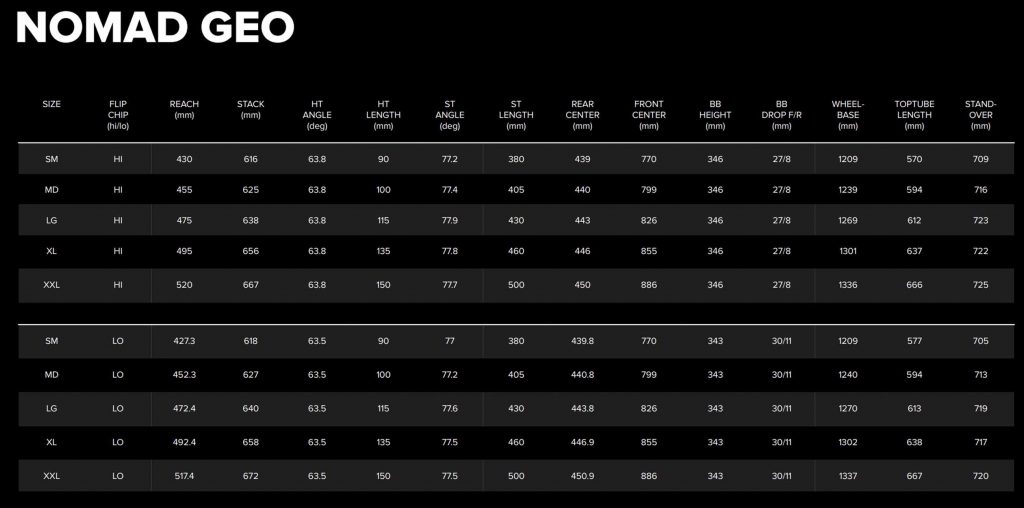 On the Nomad 6, our goal was to make the suspension have better sensitivity and grip while also improving platform consistency throughout the travel. Lowering the anti-squat reduced pedal kickback on big square-edge hits at speed, all while improving the overall sensitivity of the suspension to maintain traction at all speeds. Up and downhill. By reducing the starting leverage of the latest Nomad, we were able to improve body-weight influenced geometry stability throughout the travel. While reducing progression allowed the suspension to have consistently better tracking qualities throughout the stroke.
Details on the leverage ratio, suspension sensitivity, and grip through some charts compared to the Nomad 5.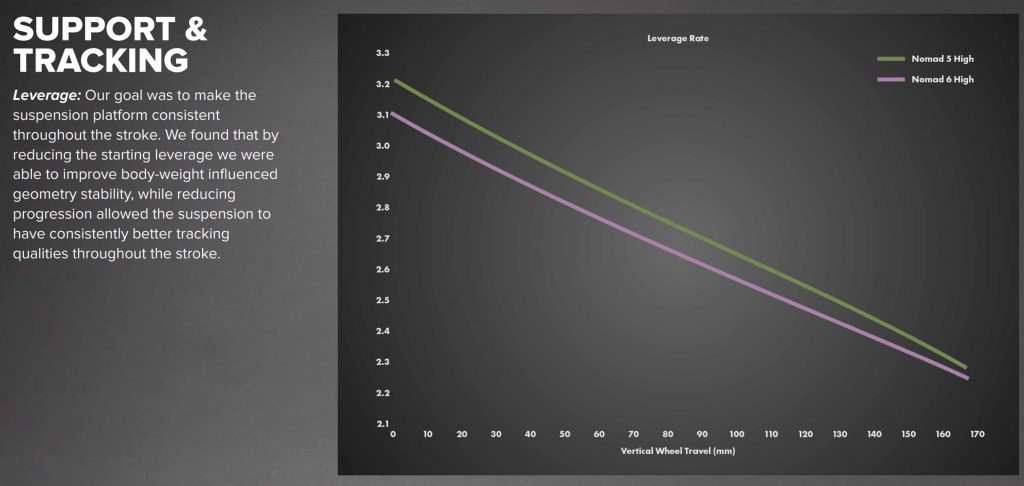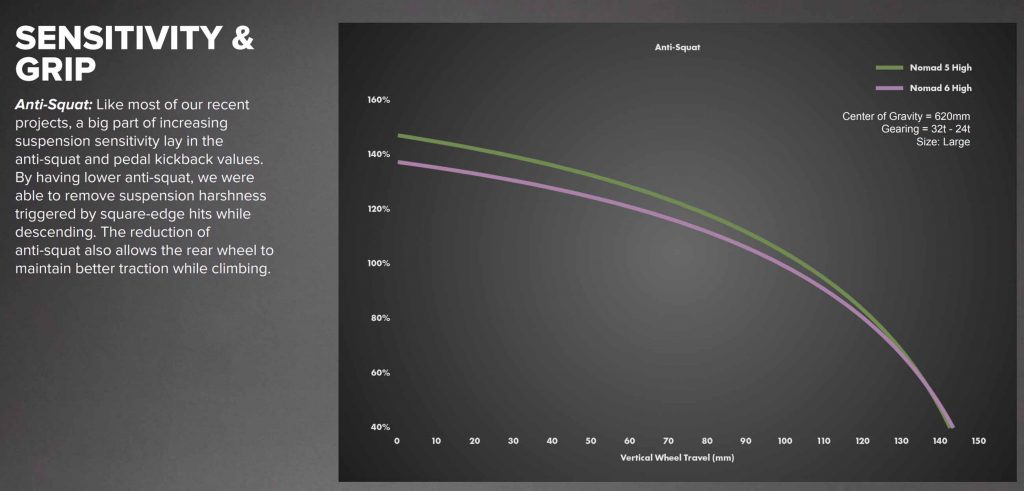 Santa Cruz Nomad Models
Max tire width: 29 x 2.6 F / 27.5 x 2.6 R
Boost 148mm spacing
Post mount brakes w/ 180mm rotors
ISCG05 chain guide mounts
Threaded BB
Santa Cruz UDH – It's better
IS headset
Nomad Frame Options
\
Nomad R-Kit $5,649
Nomad S-Kit $6,799
Nomad GX AXS-Kit $8,499
Nomad GX AXS-Kit Reserve $9,799
Nomad X01-Kit (CC) $9,299
X01 AXS-Kit Reserve $11,199
The Nomad take a lot of design queues from the recently launched Megatower 2 as well so be sure to check that one out for more details if you're looking for a shorter travel bike.