BLEVINS, COURTNEY, SKELTON, AND NORTON EARN NATIONAL TITLES ON FINAL DAY OF MOUNTAIN BIKE CHAMPIONSHIPS
The skies opened up in the afternoon to provide challenging terrain for the Elite and Pro racers.
WINTER PARK, Colo. – The final day of the 2022 USA Cycling Mountain Bike National Championships saw the crowning of two new elite short track cross-country national champions as well as two professional downhill champions. With afternoon showers enveloping the mountain, the Elite Men finished in a torrential downpour which ultimately caused a delay in racing for multiple downhill categories.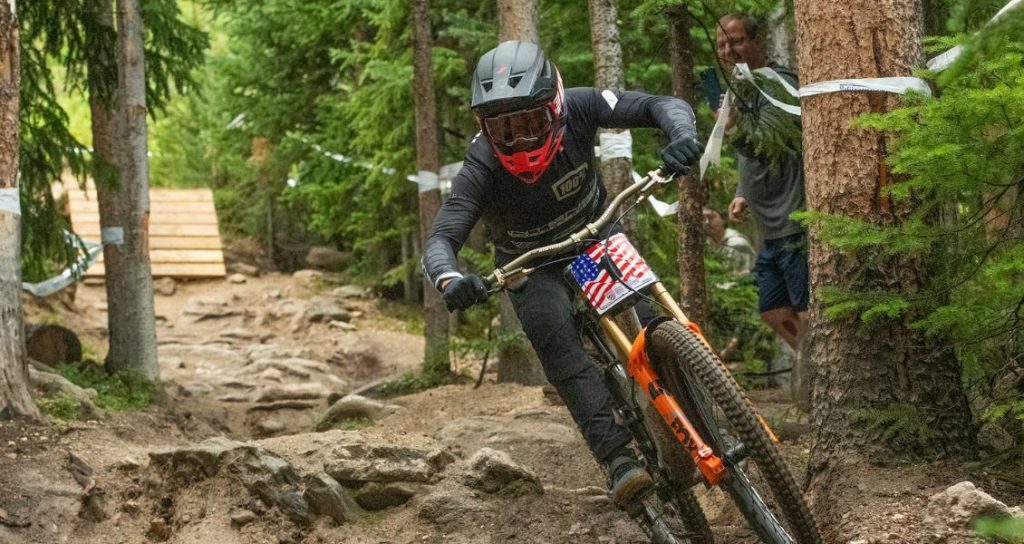 Downhill
The morning kicked off with the amateur and master downhill riders taking to the track. Earning gold in the Women 19-29 was Celia Ferguson (Evergreen, Colo.), who finished her run in a time of 4:50.99. Taking the win in the Men 19-29 category was Jake Green (Conifer, Colo.). He completed his run in a time of 3:44.64; that time would have also placed him in the top 20 for the Pro Men.
After a rain delay, the Pro Men and Women would eventually head to the top of Trestle Bike Park to start their race runs. Earning the stars and stripes for the second year in a row, Kailey Skelton (San Marcos, Calif.; KHS Factory Racing) barreled down the hill to finish in a time of 4:15.34. When asked about her run, she said, "It was pretty surprising. It was a little more slippery and wet than I had thought it was going to be. Throughout the middle of the run, it definitely got pretty slippery in some of the rocky sections. I had a pretty good mess up at the top but tried to circle back, got my focus back, and just got my head back in the game."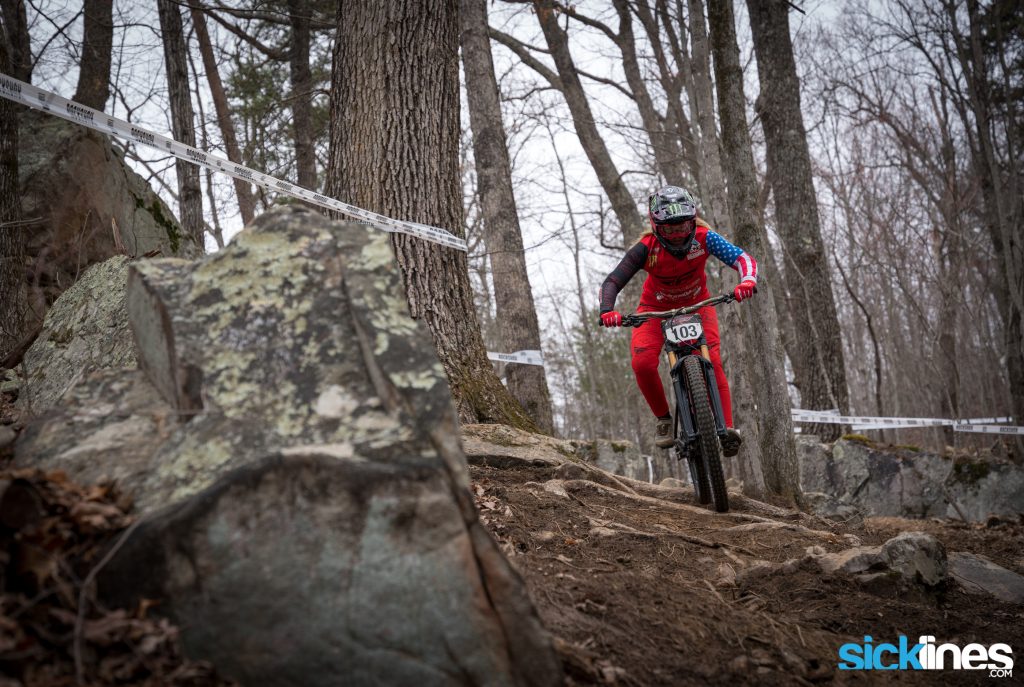 On the Pro Men's side, returning national champion Dakotah Norton (Clinton, Tenn.; Intense Factory Racing) was focused going into the race. Knowing the pressure was on after seeding first in yesterday's racing, he would have to stay on the gas if he wanted to beat Aaron Gwin (Hendersonville, Tenn.; Intense Factory Racing) in the final run. Norton ended his day on top with another gold medal. He rode an immaculate race. His final time was 3:28.81. When asked about what's ahead this season, Norton said, "I have a new bike and a new team behind me, so I am stepping back into the world cup with Aaron [Gwin] this year, and I think the energy will be super high. I'm excited to take the confidence that I built this week and try to roll that into next week in Snowshoe."
Other Downhill Champions include:
Men 25-29 – Jared Calhoun (Centerton, Ark.; Rogue Trails Racing)
Master Women 30-39 – Brittney Van Vleet (Fort Worth, Texas; Dirt Therapy Project)
Master Men 30-34 – Bradford Lowery (Lakewood, Colo.; Fivetran)
Master Men 35-39 – Gary Rummage (Salt Lake City, Utah; Ext-USA)
Master Women 40-49 – Tori Broughton (Loveland, Colo.)
Master Men 40-44 – Michael Clark (Springdale, Utah; Mojo Wheels)
Master Men 45-49 – Petr Hanak (Winter Park, Colo.; 8150 Wheels)
Master Men 50-54 – Daniel Weinman (Taos, N.M.; Team Gravity Down / PPC Solar)
Junior Men 15-16 – Asa Vermette (Durango, Colo.; GT Bicycles)
Junior Women 15-16 – Teagan Heap (Boulder City, Nev.; Pivot/ FiveTen)
A complete list of results from this week can be found here.
NORTON Dakotah Intense Factory Racing Clinton,TN 3:28.81 –
GWIN Aaron Intense Factory Racing Hendersonville,TN 3:30.35 +1.5
DOOLEY Austin Commencal North America, Monster.. Yucaipa,CA 3:33.74 +4.9
PINKERTON Ryan * Gt Factory Racing Aliso Viejo,CA 3:35.78 +6.9
SILVA Dante Canyon Collective Pirelli Chula Vista,CA 3:36.65 +7.8
Short Track
On the endurance side, short track racing was the day's primary focus. With multiple age groups taking to the 1.1-kilometer course, all categories raced for 20 minutes plus three laps. Bailey Cioppa (Durango, Colo.; Bear National Team) earned the first title of the day, winning the Junior Women 17-18 category. Finishing in a close second was fellow Durango- native Lauren Aggeler (Durango, Colo.; Team Segment 28). Racing continued with the Women 19+. Taking gold after finishing at a time of 31:22 was Lia Westermann (Salt Lake City, Utah; Pivot Cycles/ Stan's NoTubes). Westermann put 40-seconds between herself and second place. The Junior Men 15-16 race was hot from the start. Rolling an average lap of 2:30 and pulling away with two to go, Nicholas Konecny (Breckenridge, Colo.; Bear National Team) took the podium's top step. In the Junior Men 17-18 race, the Bear National Team took control. The Bear National Team riders put in a massive effort on the climb each lap, ultimately separating them from the rest. In a one-two-three sweep, Cayden Parker (Hot Springs, Ariz.; Bear National Team), Dan English (San Ramon, Calif.; Bear National Team), and Raulito Guttierrez (Temecula, Calif.; Bear National Team) finished out their day together on the podium.
The Men's U23 riders were next on course. It was a place switch after Saturday's cross-country event for the group, with Brayden Johnson (Littleton, Colo.; Bear National Team), who took silver in the longer distanced event, crowned national champion in the short track, and Saturday's champion, Bjorn Riley (Boulder, Colo.; Trek Vaude), took home silver today.
As the clouds began to move in, the Elite Women took to the short track course. After settling in during the first couple of laps, a group of four riders, including Kate Courtney (Kentfield, Calif.; Scott-SRAM MTB Race Team), Savilia Blunk (Inverness, Calif.; Orange Seal Off-Road Team), Kelsey Urban (Kentfield, Calif.; Team 31), and Gwendalyn Gibson (Ramona, Calif.; Norco Factory Team), eventually pulled away from the pack and created a significant gap. After an attack on the uphill, Courtney was focused and hungry for the win. In a massive push at the end, she solidified her lead on the final gravel section and pedaled into the finish as the national champion.
The Elite Men were the final racers to take on the short track course. Similar to the women's race, a large group of riders stuck together for the first couple of laps until Eric Brunner (Boulder, Colo.; Blue Competition Cycles) decided to take a solo flyer. Several riders, including Christopher Blevins (Durango, Colo.; Specialized Factory Racing), Stephen Davoust (Durango, Colo.; Giant Factory Off-Road Team), Howard Grotts (Durango, Colo.; Specialized), and Keegan Swenson (Park City, Utah; Santa Cruz Bicycles), reeled him back. Swenson realized he had a slow leak in his tire and began scrambling to find a solution to fix it. Russell Finsterwald (Colorado Springs, Colo.; Specialized Off-Road) offered a cartridge, but the leak would be race-altering. Ending the day on the top step was Blevins after he pulled away from Davoust, Finsterwald, and Grotts.
Full results : https://my.raceresult.com/212867/
Words/Photos: USA Cycling