BELL RELEASES ALL-NEW FALCON XR AND FALCON XRV HELMETS
Falcon XR and XRV MIPS offer riders multiple models that include a removable LED light
Scotts Valley, CA (July 13, 2022) – Bell announced the all-new Falcon XR MIPS and Falcon XRV MIPS, versatile new helmets featuring Mips® technology, deeper coverage, ample ventilation and an available 30-lumen Blackburn® Grid COB rear light, providing riders additional visibility during nighttime rides.
The Falcon XR draws on the DNA of the XR Spherical, launched earlier in 2022, which is equipped with Spherical Technology™ powered by Mips, deep road coverage and unmatched cooling. Falcon XR carries many similar characteristics such as Mips rotational impact integration, deeper shell coverage and excellent ventilation. Offering all-around performance and value for nearly any type of riding such as commuting or gravel riding during the day or night, the Falcon XR is a must-have for the multifaceted cycling enthusiast.
"The Falcon XR and Falcon XRV deliver performance to all-around cycling enthusiasts," said SJ Owen, Marketing Director at Bell. "Building off the success of the XR Spherical helmet, cyclists can now enjoy similar industry-leading features such as Mips Evolve in a well-equipped but budget-friendly helmet. With multiple models with and without the Blackburn Grid COB rear light or the visor in the Falcon XRV, cyclists now have a truly versatile go-anywhere-at-any-time helmet."
Available in four different models — the Falcon XR MIPS, which is available with the removable Blackburn LED GRID light, and the Falcon XRV MIPS with a visor and with the removable Blackburn LED — provide options that allow riders to pick the right helmet based on their needs. The Falcon XR and XRV come in unique, model-specific colorways.
There are 24 color options across the Falcon XR and Falcon XRV line for riders to choose from. The Falcon XR also offers rider-focused comforts such as the Ionic+™ antimicrobial padding, with silver metalized yarn for odor control, and the Fidlock® buckle system, sweat guide and No-Twist Tri-Glides straps. The Fusion In-Mold Polycarbonate Shell, featuring the Mips Evolve and Bell's Float Fit systems, weighs 305 grams in the medium size.
The removable Blackburn Grid COB rear light available on the LED models is a bright, 30-lumen LED light that includes four different modes — steady, pulse, strobe and Eco — which can be toggled with a button. The Blackburn® Grid COB rear light charges easily via USB-C and lasts an estimated 1.5 hours in steady mode and up to 15 hours in Eco. Riders can purchase the Blackburn® Grid COB rear light separately for $20.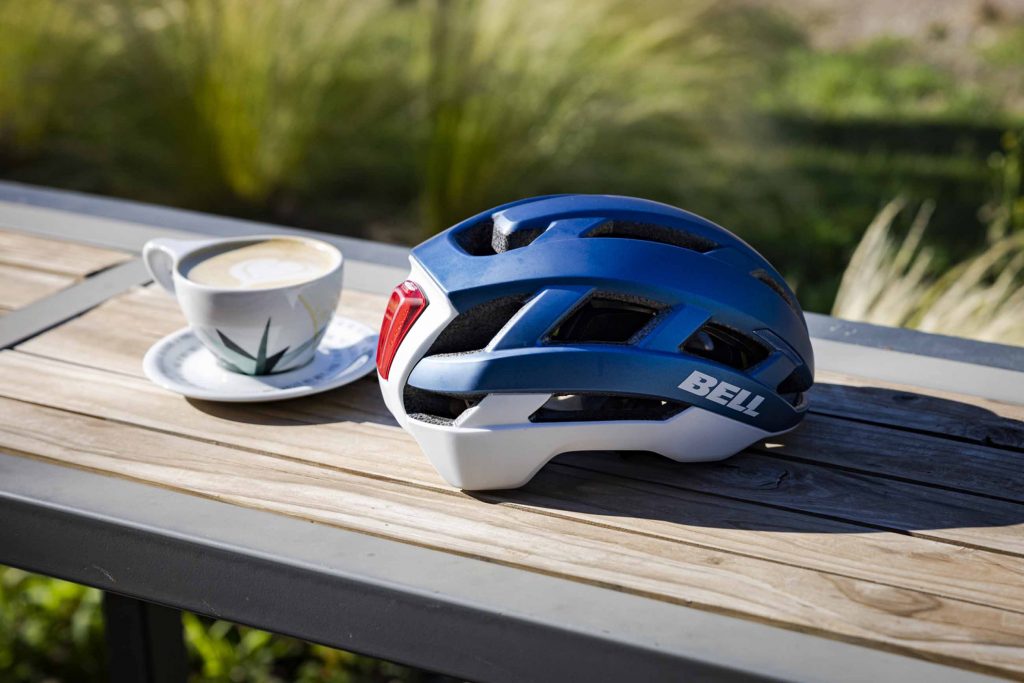 Available online and at Bell authorized retailers in sizes small through large, the Falcon XR MIPS will retail for $120 USD ($140 USD for the LED-equipped model), and the Falcon XRV MIPS will retail for $130 USD ($150 USD for the LED-equipped model).
To learn more about the Falcon XR MIPS, visit BellHelmets.com and follow Bell Helmets Bike on Facebook, Instagram and YouTube.
When we set out to design the XR Spherical, we were after one helmet to do a bit of everything, from racing cyclocross to touring the world to just KOM'ing your buddies on the weekly lunch ride. With Falcon XR, we've taken many of the same features—"Deep Road" fit, ample venting, Fidlock® buckle, Ionic+TM antimicrobial* comfort padding—and built them into a helmet that is both utilitarian and economic. Constructed with Mips® Evolve technology, this helmet was designed for day, night, dirt, pavement, and any two-wheel adventure you can throw at it. We offer four different models, with features and options that perform in all conditions, making this truly is a one-and-done solution for your ride.

Falcon XR is available with, or without an integrated (and removable) Blackburn® Grid COB rear light. This 30-lumen "to-be-seen" LED light includes 4 different modes, including Eco Mode that lasts up to 15 hours. Falcon XRV is spec'd with a visor and is available with or without the Blackburn Grid rear light. All four versions boast the same "All-Rounder" ethos and slim profile of XR Spherical, making it the easy choice for versatile riding.

*Ionic+ antimicrobial padding uses silver metalized yarn for helmet odor control