JEFFSY Uncaged 8: Nuts by Nature
April 7, 2022 – Following the spirit of offering a true connection to the trail, YT's latest Uncaged model combines a highly appetizing specification with ultra-adjustable suspension. The home run of a spec sheet includes suspension front and rear from Cane Creek, wheels from Crankbrothers with Industry 9 hubs, along with SRAM GX Eagle AXS – look Mom no wires! Oh, and if you think bigger is better, this chassis can go all the way to 160mm travel upfront. Everyone, please meet the JEFFSY Uncaged 8.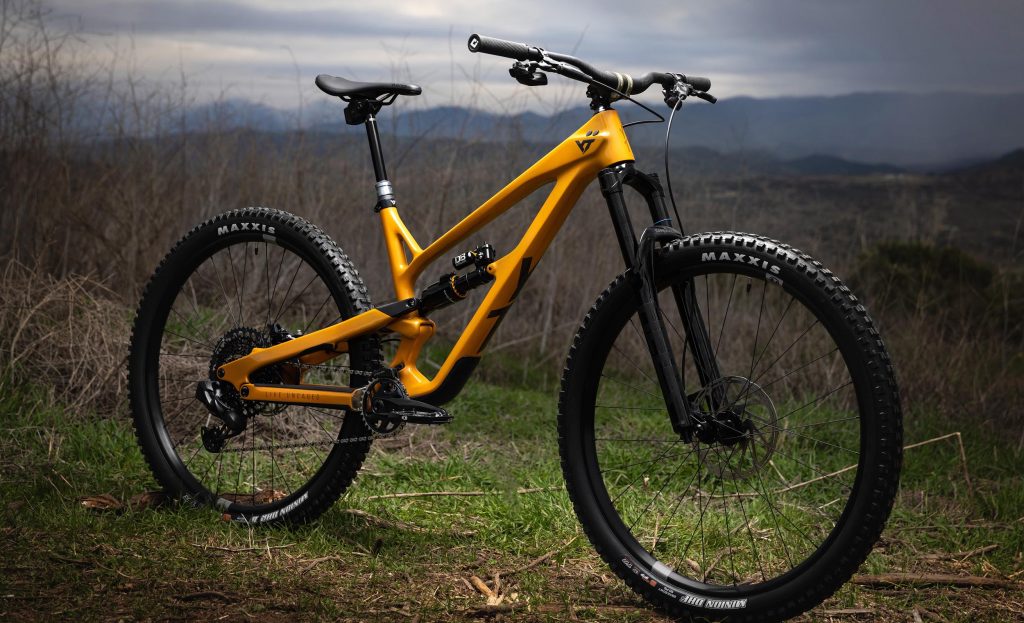 The JEFFSY has always been about friendship, and the latest Uncaged 8 model takes the relationship to new heights. The aggressive trail geometry caters to the rider who isn't afraid of taking to the trail head-on or shelling peanuts themselves. Call it all-mountain if you will. As with all Uncaged models, this flavor doesn't last forever and is limited to 300 bikes around the globe. The Jeffsy Uncaged 8 is available now in the US and mid-spring within the EU.

"With the decision to cooperate with Cane Creek we decided to get high-end products from a passionate and non-mainstream brand with a long history.

It ?s stunning how their products can easily compete with the big brands in terms of performance, quality, and reliability. The wide range of adjustability and sensitivity of their suspension elements are state of the art."

Reynaldo Ilagan (Director Product Development)
GEOMETRY & FRAME
The JEFFSY Uncaged 8 shares the same venerable format as its previous iterations, providing excellent trail manners with hard-hitting ability on tap. Like all YT bikes, gravity runs through the JEFFSY's veins, albeit in a peanut color this time. In the interest of providing a dependable platform, the Ultra Modulus Carbon Frame delivers a connected yet comfortable feel through your feet & hands, all whilst keeping weight to a minimum. With one of the lowest stand-over heights of any 150 mm 29" trail bike and sizing available from S through to XXL, this gives every type of rider the chance to get hands-on. Balance and predictability are key traits of JEFFSY's nature, which is why chainstay lengths are increased from 435mm to 440mm on the larger sizes.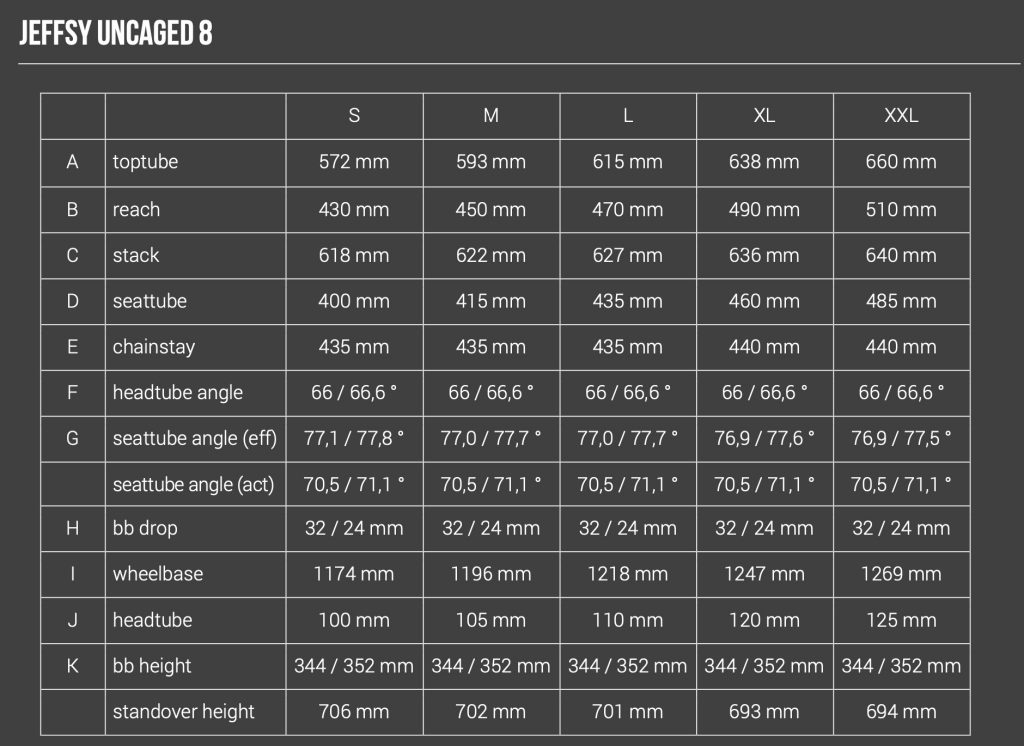 SPEC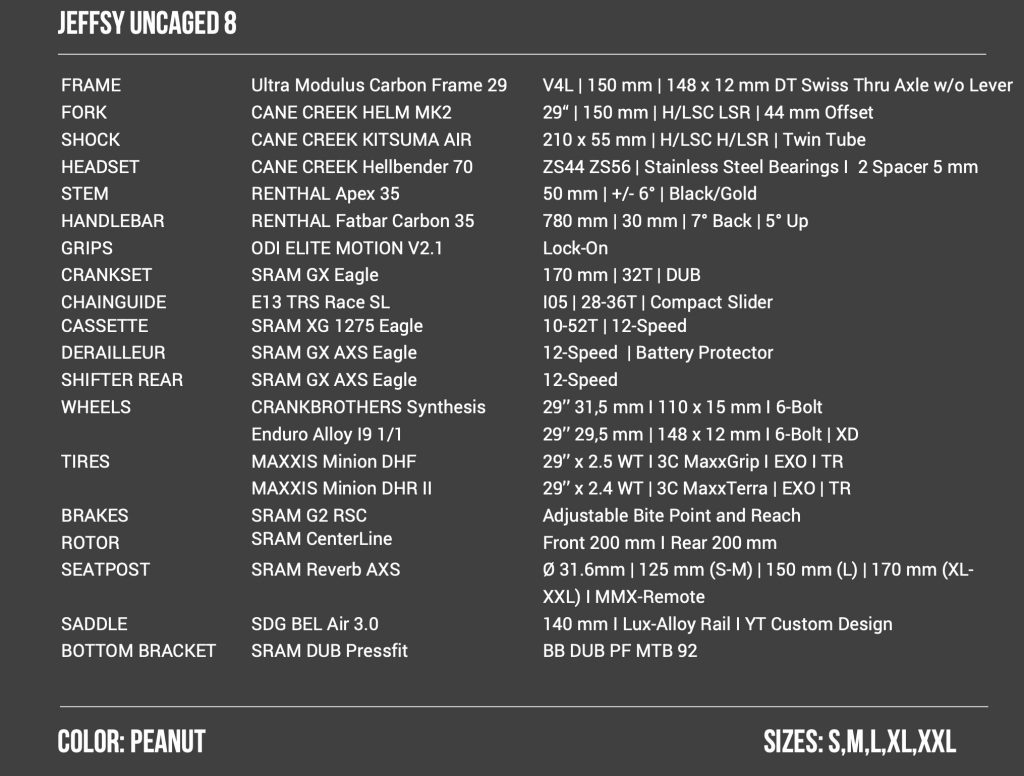 Peanut is the color, but the components bleed red, white, and blue if that's your jam. Assembled by hand in North Carolina USA, the Cane Creek Helm MKII fork and Kitsuma air shock deliver 150mm of controlled travel front and rear. The three-position climb switch and 4-way compression/rebound adjustability of the Kitsuma damper make set up on the trail a breeze – no need to keep puzzling over counting clicks with tool-free adjustments, nice! Now, it's time to take a bow for the Helm MKII which wages war against friction.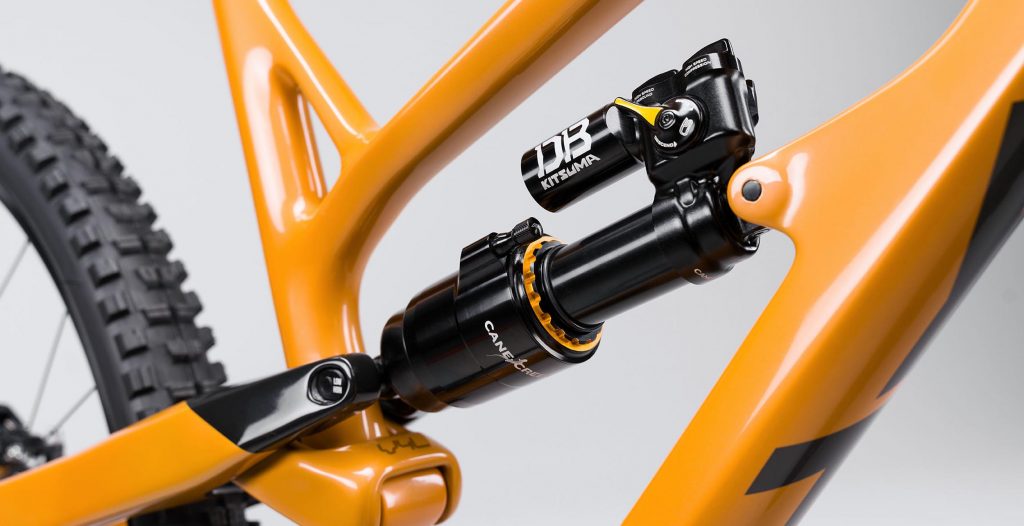 Updated SKF seal heads, lighter viscosity damping oil, and a manually balanceable negative air spring all add performance when you find yourself in deep water. If you're the sort of person who likes to turn it up to 11, the front travel can be upped internally from 150mm to 160mm without extra components. The same goes for the air volume adjustment, as no plastic tokens are needed to make changes. Continuing the theme of easy tool-less setup, external high, low-speed compression, and rebound adjustments are all featured on the Helm too.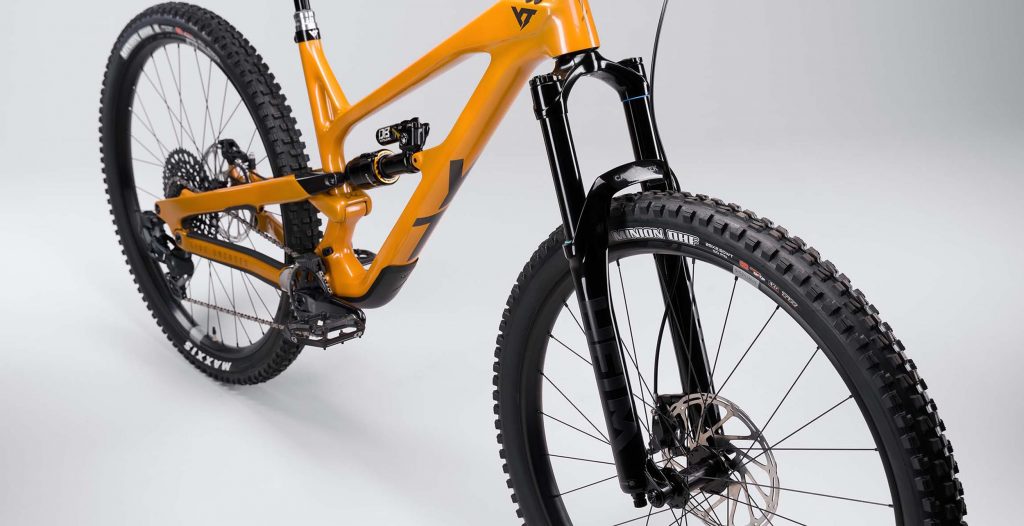 Hands up if you like fast and effortless shifting? The SRAM GX AXS Eagle groupset brings the technology of its high-end stable mates in line with the 520% range 10-52 tooth cassette, making it suitable for any ride. A RockShox Reverb AXS signs off the dropper post duties, with the SDG Bel Air 3.0 saddle bringing up the rear. Rolling onto the next star-spangled specification, the USA handmade Industry Nine 1 to 1 hubs are laced onto Crankbrothers Synthesis Enduro rims, which have separately designed cross-sectional profiles for the front and rear applications. Keeping the Maxxis DHF and DHR II tires under control are the SRAM G2 Ultimate brakes, topped off with a Renthal Carbon cockpit and ODI grips.