Windrock hosted another Tennessee National March 9-13, 2022 that consisted of a US National downhill race as well as an Enduro bolstered with EWS qualifying points. UCI points are hard to come by and Windrock delivers these crucial points needed for racers hoping to compete at bigger events.
First race jitters is real and these early season races give riders a chance to see how their off-season training efforts paid off. The cobwebs are quickly dusted off at Windrock as racing begins to pick up for the World Cup racers.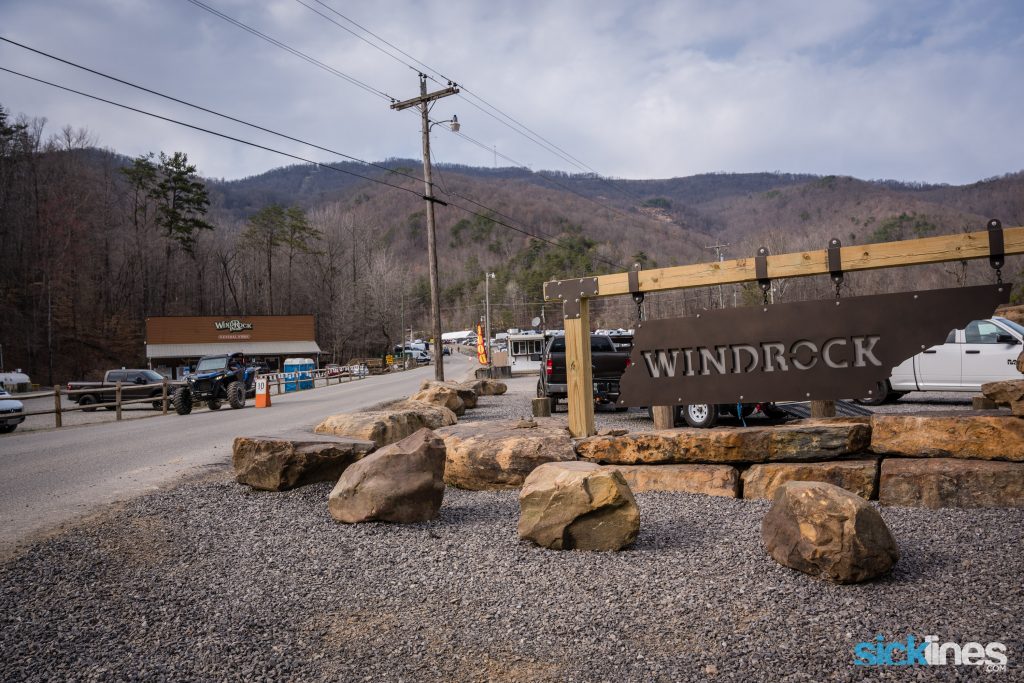 Windrock, located in Oliver Springs, TN, is a formidable venue for an early season race and a popular training site for many gravity athletes. The Tennessee National held here hosts the first of three stops in the 2022 US National downhill race series, boasting UCI points, and held an EWS qualifying Enduro race. With spring flowers however often comes spring showers and racers were in for a memorable event.
Snowy weather was predicted for Saturday, the official Tennessee National downhill race day. The forecast continued to show snow even though beautiful sunny conditions were present during Friday's seeding day.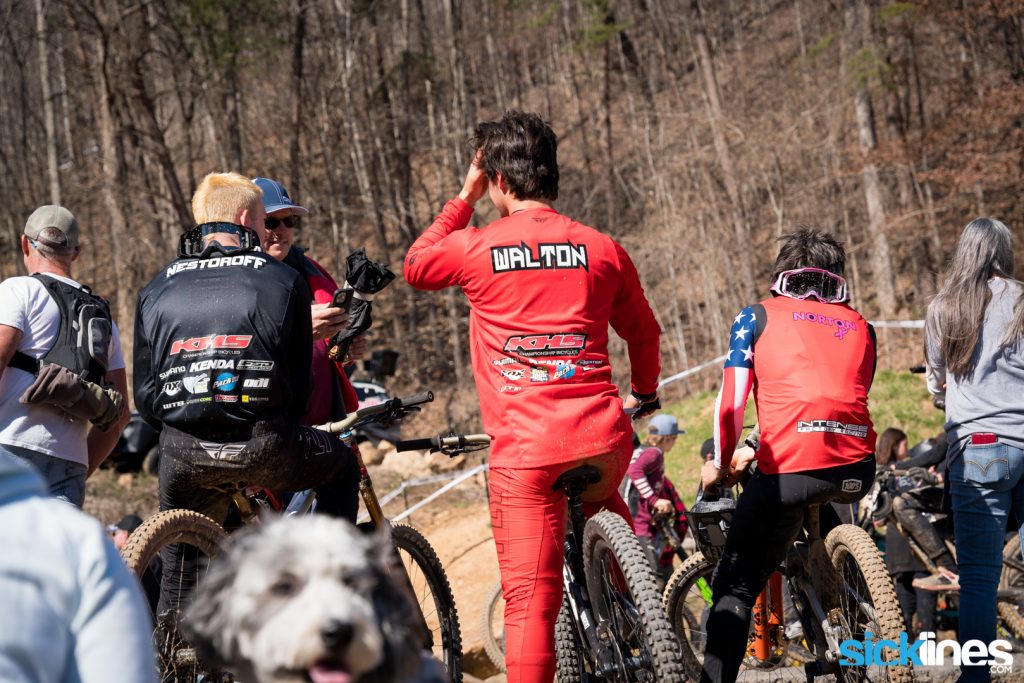 Earlier in the week riders had a little bit of mud to deal with due to some rain and many were hopeful that things wouldn't escalate much further on race day as the forecast was in the 60's on Thursday and Friday.
After completing the track walk on Wednesday, the first day of practice was initially a bit slippery in spots as riders had to navigate soft fresh unridden sections on a few off-camber sections.
At the same time racer's were pushing to get up to speed quickly and test the limits of control before race day. Unmute the video below if you want to hear the sounds of riders on course.
The weather on Thursday and Friday ended up being stellar days for riding and many were uncertain if things would really escalate to snow on Saturday's race day.
Downhill Seeding Day
The top of the middle finger rock section was a popular spot during practice to dissect the best race lines as it was slippery and technical for many racers early on. You wouldn't win the race alone here but you could certainly lose it here.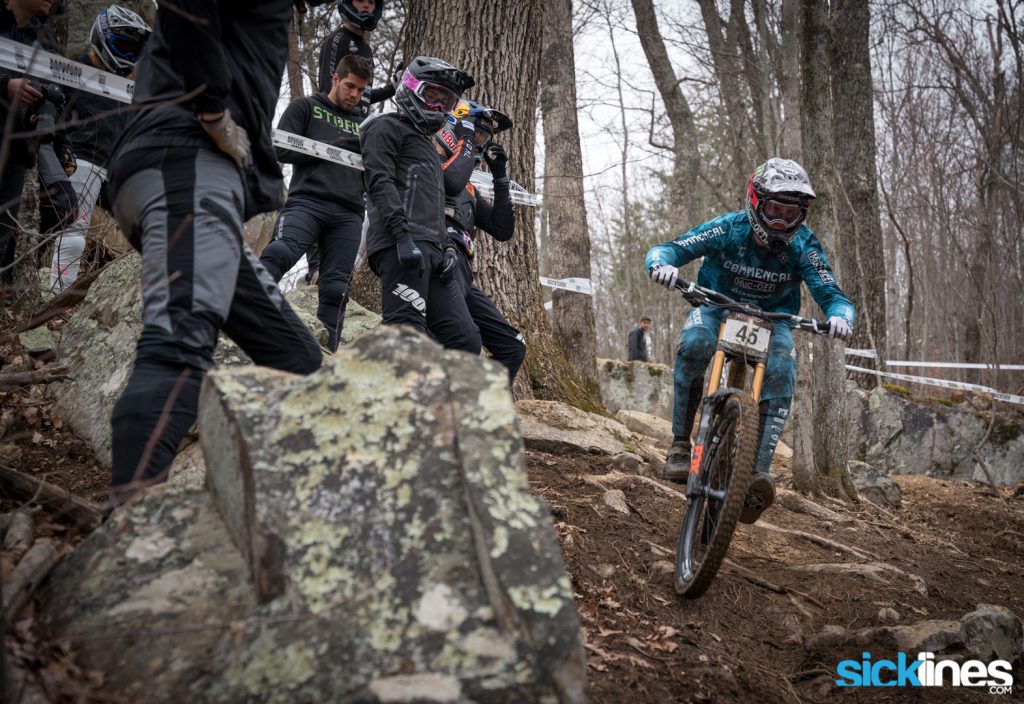 After being treated to two bluebird days, racers were informed that due to the possibility of snow in the forecast, seeding runs on Friday would count as the final results if the race had to be called due to weather.
There were a few injuries as the week progressed and some local favorites also had to sit out due to injury like Neko Mulally.
Neko Mulally is running his own program this year onboard his new Frameworks bike. He was contemplating racing this event but he recently broke his finger and it wasn't quite where he wanted it to be yet so he's letting it heal a bit more ahead of the World Cup races.
Seeding Runs
Kailey is no stranger to going fast at Windrock and she seems to excel here especially when it's dry. Last year she also seeded in first place and she did it again in this year.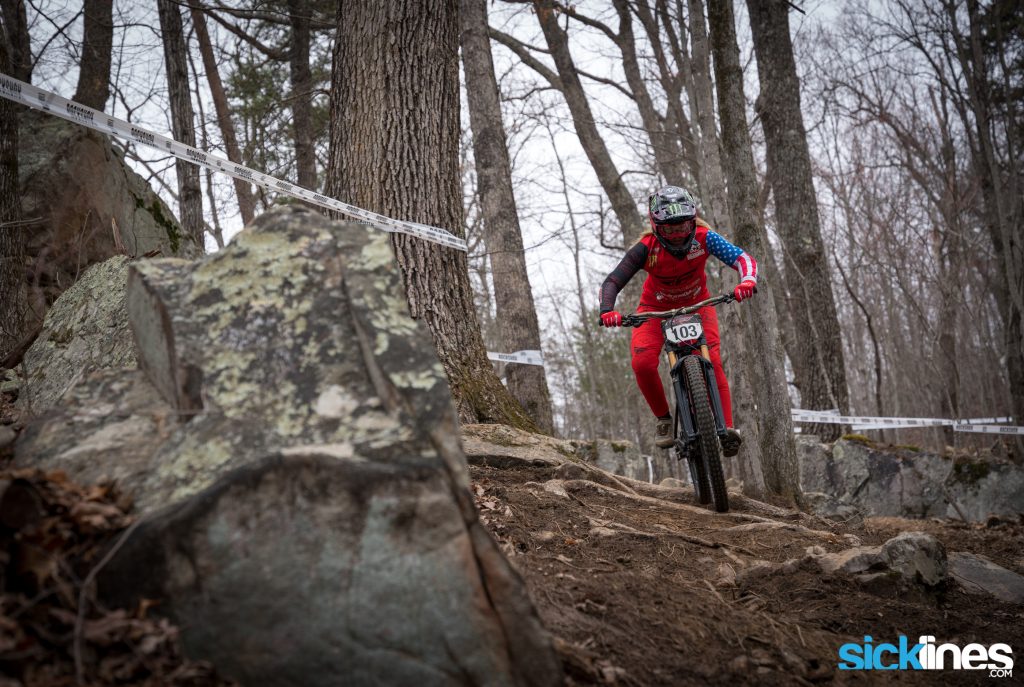 This year she took the win in UCI Elite Women with a 2:57.59 as the seeding results counted as the race due to the weather. Frida Ronning is no stranger to the podium here and took second place not far behind her with a 2:58.14. Gracey Hemstreet took third with a 3:01.52.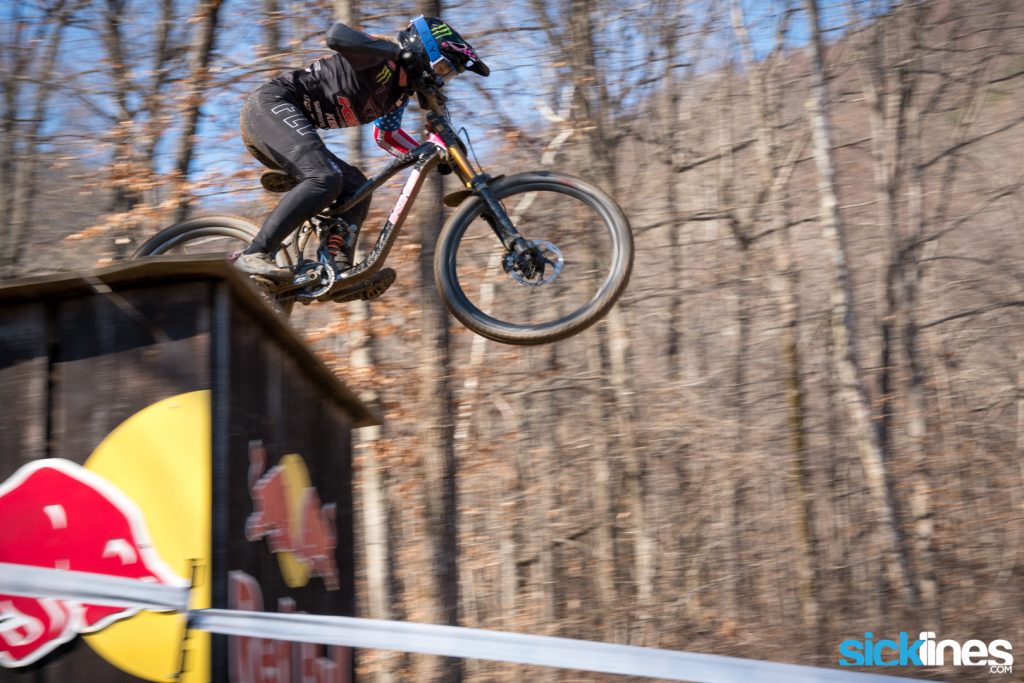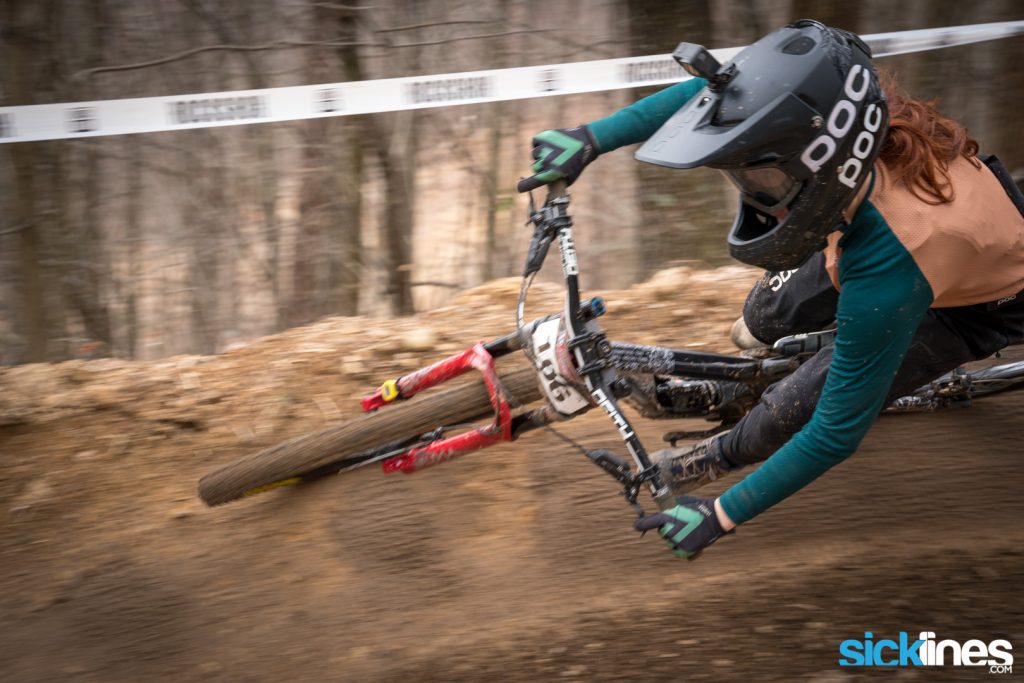 Dakotah Norton has a new ride for 2022 on Intense Factory Racing. They've been doing some testing on their new high pivot prototype bike and things are starting to click.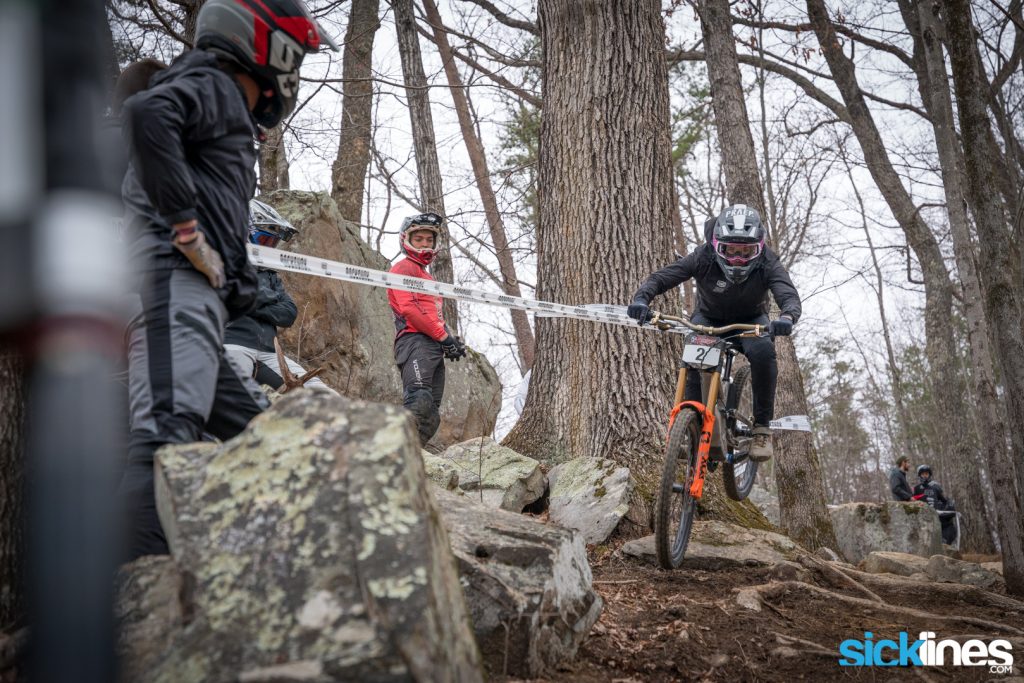 Austin Dooley took second place and Nikolas Nestoroff rounded out the top three in Elite Men.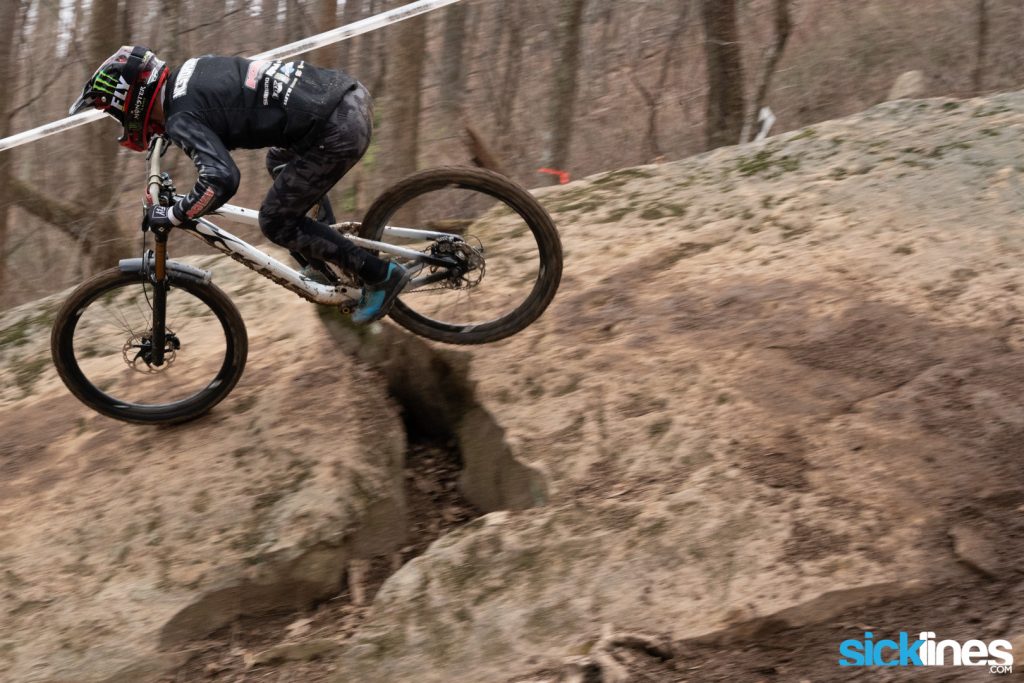 After seeding finished, Dakotah Norton (Intense Factory Racing) was in the top spot for UCI Elite Men and Kailey Skelton (KHS) for the UCI Elite Women.
Many riders suffered mechanicals or had on track errors during their seeding runs. Aaron Gwin was one of those casualties as he had a front flat tire at the bottom of the track along with many more riders who didn't have a solid race run.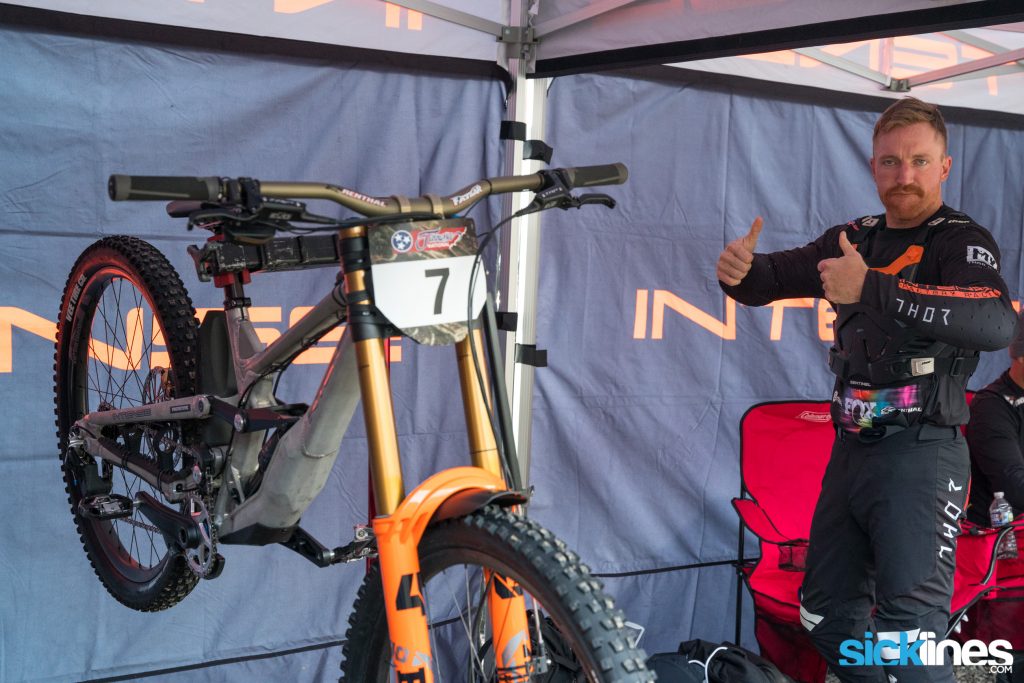 UCI Elite Men Finals Results
Dakotah Norton took the top spot with a 2:25.02. Austin Dooley took second and was a little bit over six seconds bend with a 2:31.69. Aaron Gwin looked on pace to put down a good run and was in second position after the first two splits. He was still pushing the best he could but he came down the hill with a front flat tire. He ended his run in 12th position.

UCI Elite Women Finals Results

UCI JrX Men Finals Results (Cat1 17-18)

Full Results
Saturday – Original Downhill Race Day
As Friday night progressed, the cold weather swept in quickly and the snow started to come down along with heavy winds. On Saturday morning, conditions were blustery and snowy.
A rare snowy drive into town for some breakfast.
The Aftermath at Windrock
Overnight the venue reported high winds and snow accumulation. The aftermath of the weather clearly hit the venue hard. There weren't many canopies left standing.
After returning to the venue, it was shocking to see the damage. Everything was blanketed with snow and there was some significant damage to the pit areas. The snow and high winds did a lot of damage.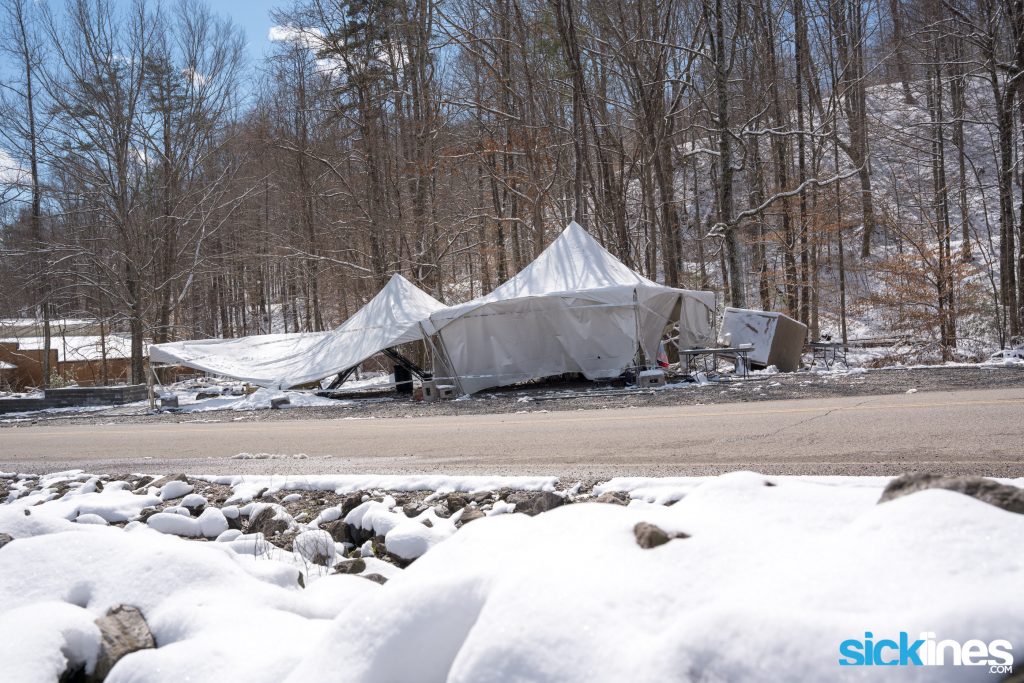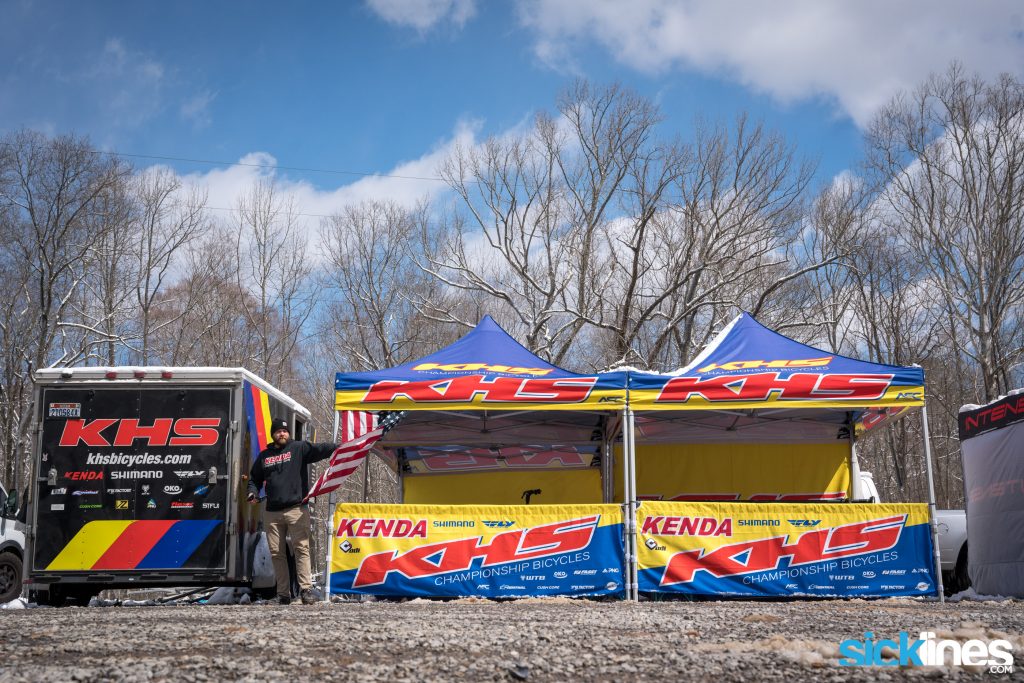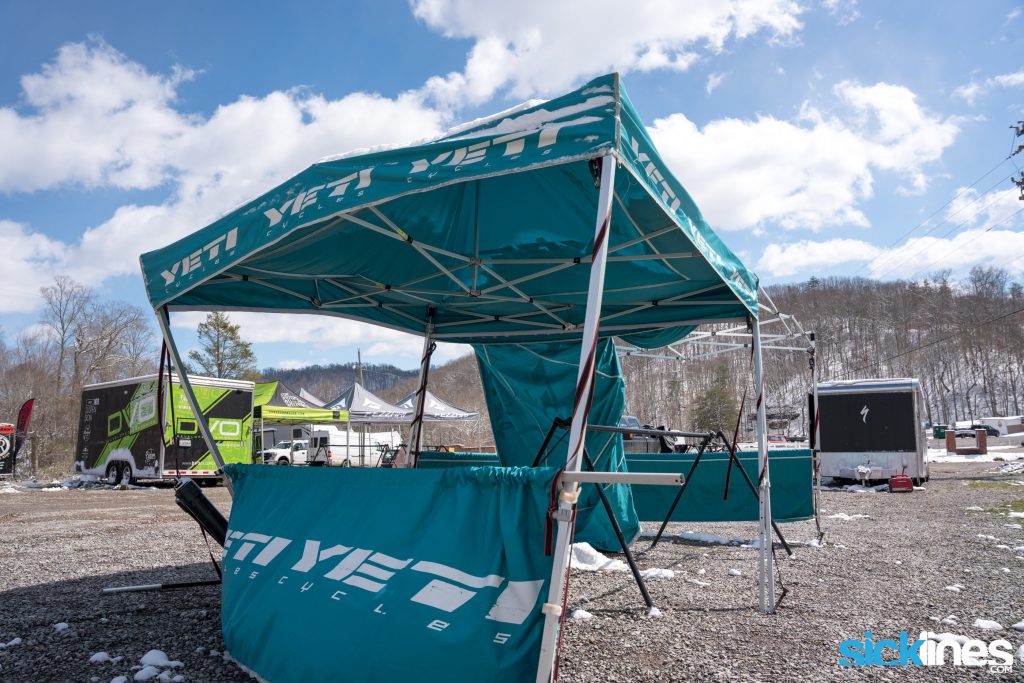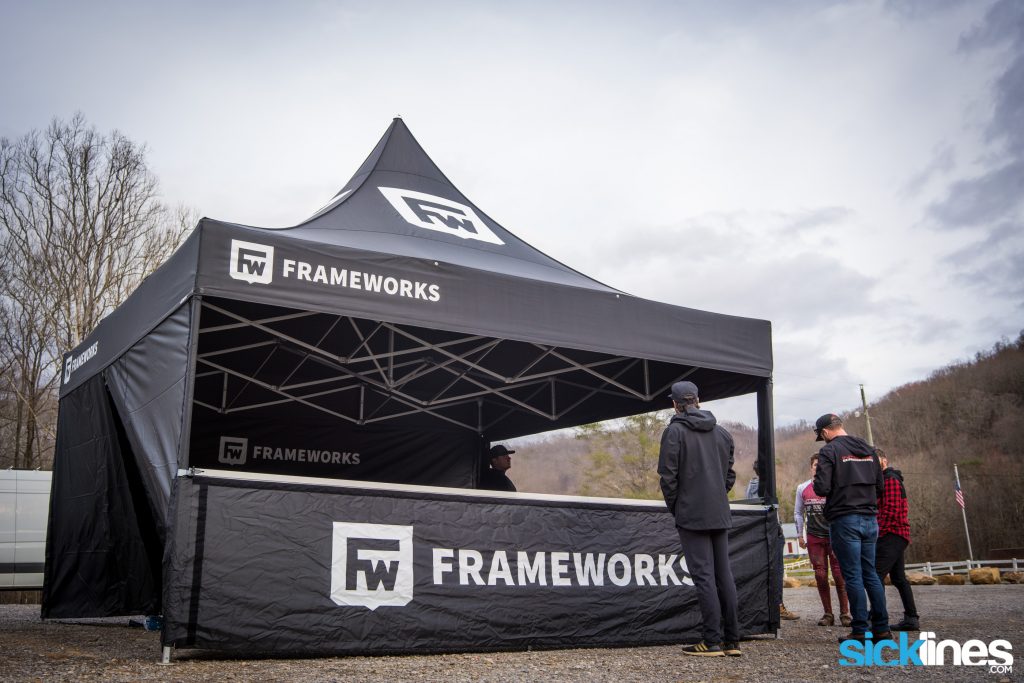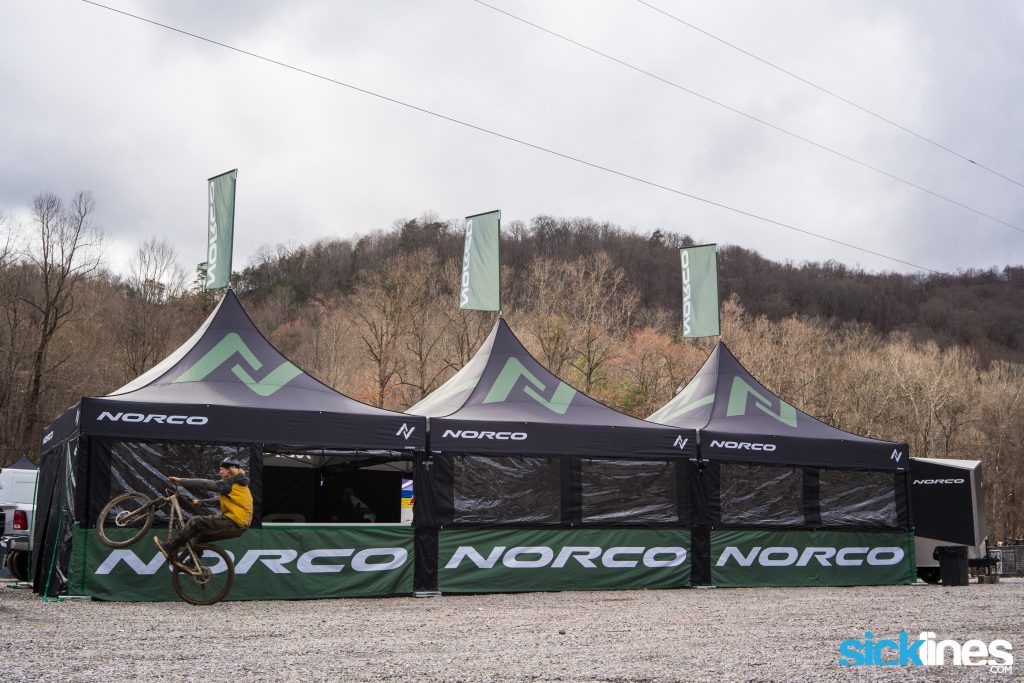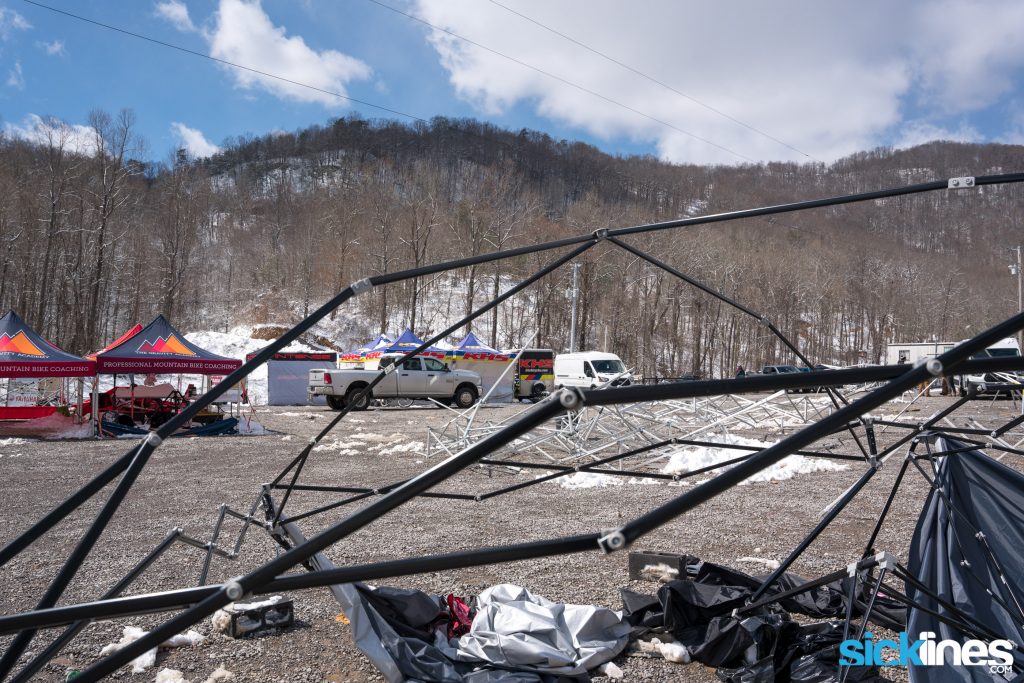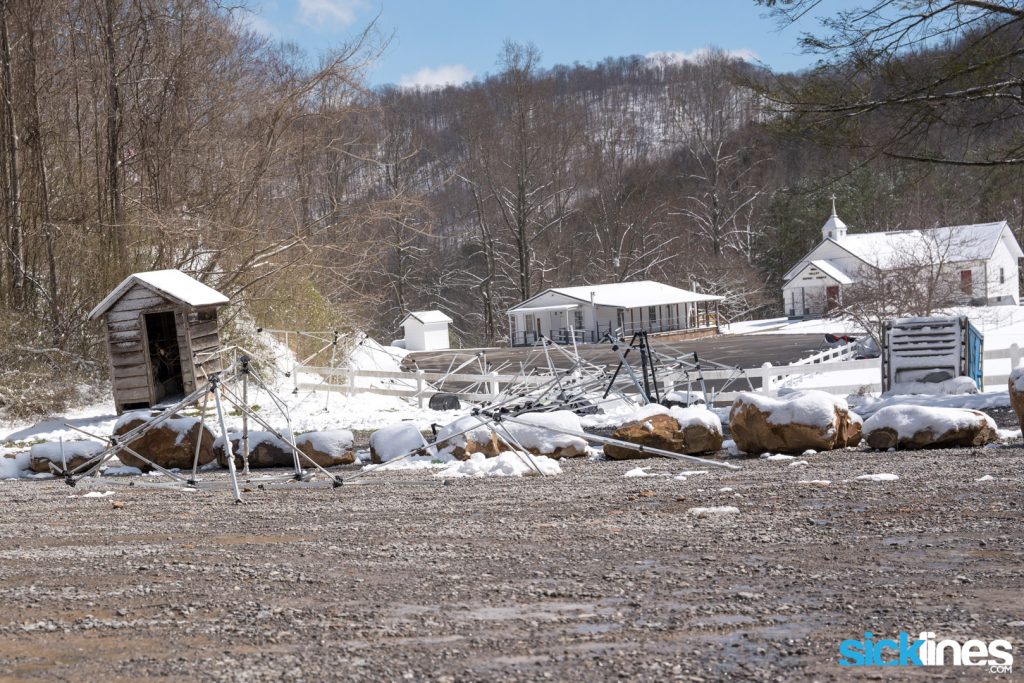 Tennessee National Enduro Race
The enduro race was scheduled for Sunday, March 12th and racers practiced on the courses ahead of the race day but conditions were much different on race day. The trail crew had to blow off the trail with powerful leaf blowers, rakes, and some help from the local American hard enduro moto crew.
Richie Rude knows his way around Windrock and he has been practicing here for some time leading up to the race. He was a clear favorite for the win here again.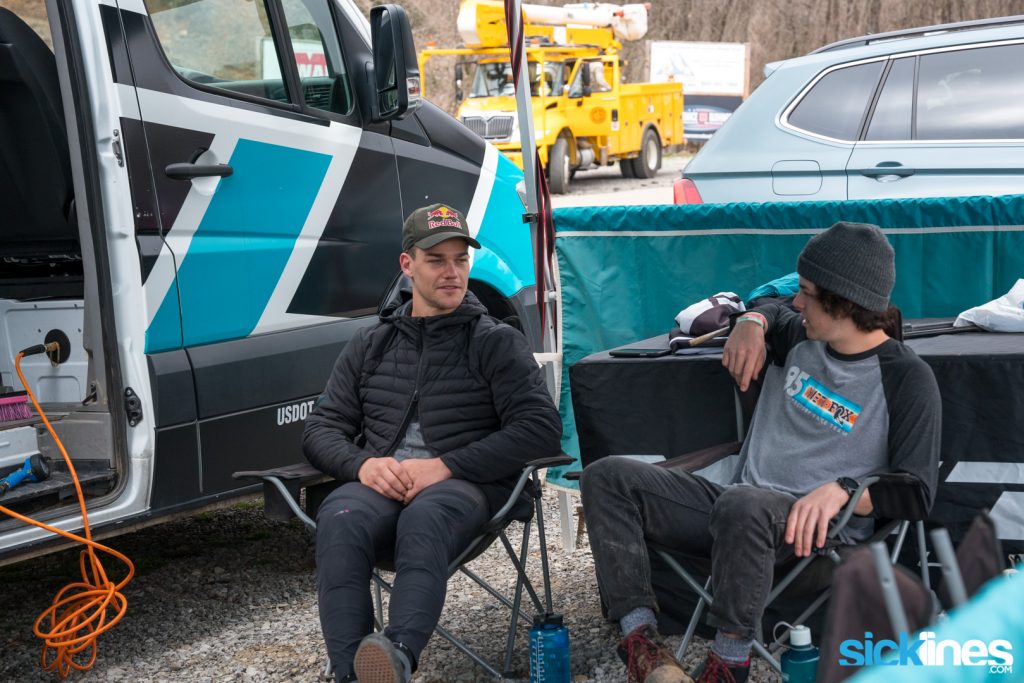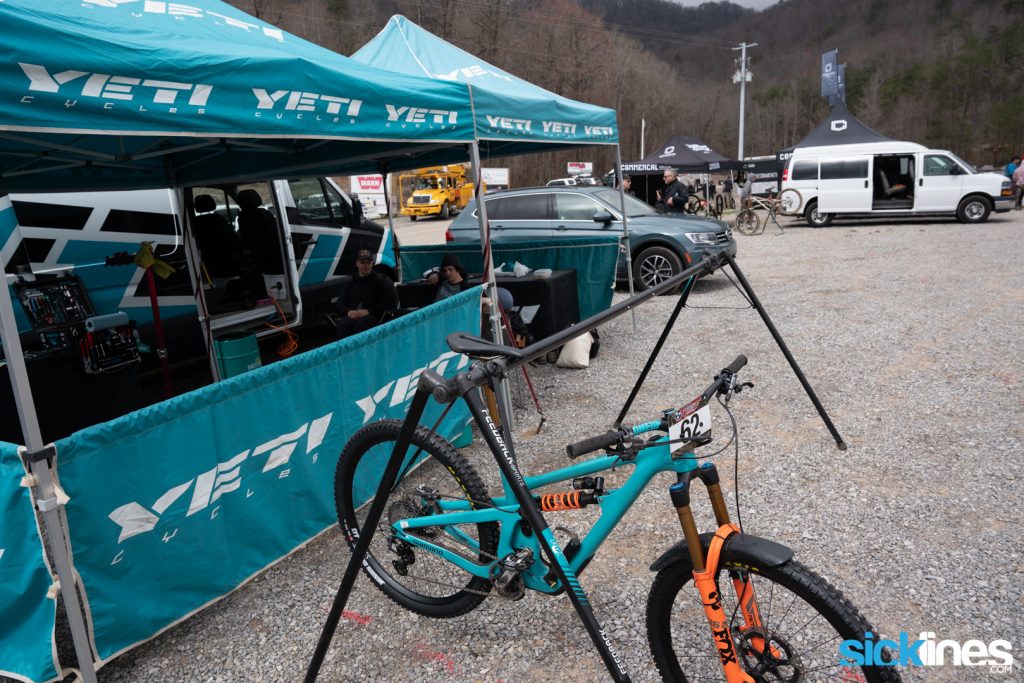 The cold and snowy conditions on Saturday meant a lot of riders had less time to practice on the courses. On race day, Saturday, the course was slippery and muddy to say the least. At the end of the day, Richie Rude took the win at the Enduro ahead of a number of talented riders including Cody Kelley, Max Beaupre, Kasper Wooley, and Jack Brown. Check out the Enduro race recap video below.
Full Enduro Results (Elite Men , Women, Cat 1-3)
Cover Photo: Frida Ronning in her seeding run to take second