RACE THE FACE ENDURO NOVEMBER 6 & 7, 2021
REGISTER FOR BOOTLEG CANYON'S FIRST-EVER ENDURO WITH ALL STAGES ON THE LEGENDARY FACE
Valencia, Calif. (Oct. 20, 2021) – Race the Face, as part of the 7th annual DVO Winter Gravity Series, is a three stage enduro at Bootleg Canyon on November 6 and 7, 2021. Rising above Boulder City, NV, Bootleg Canyon has been established as a gnarly and technical winter stomping grounds for downhill racers the likes of Aaron Gwin, Mitch Ropelato, and more. For the first time ever, enduro racers are welcomed to tackle three full stages on The Face, Bootleg Canyon's steep and rocky rite of passage.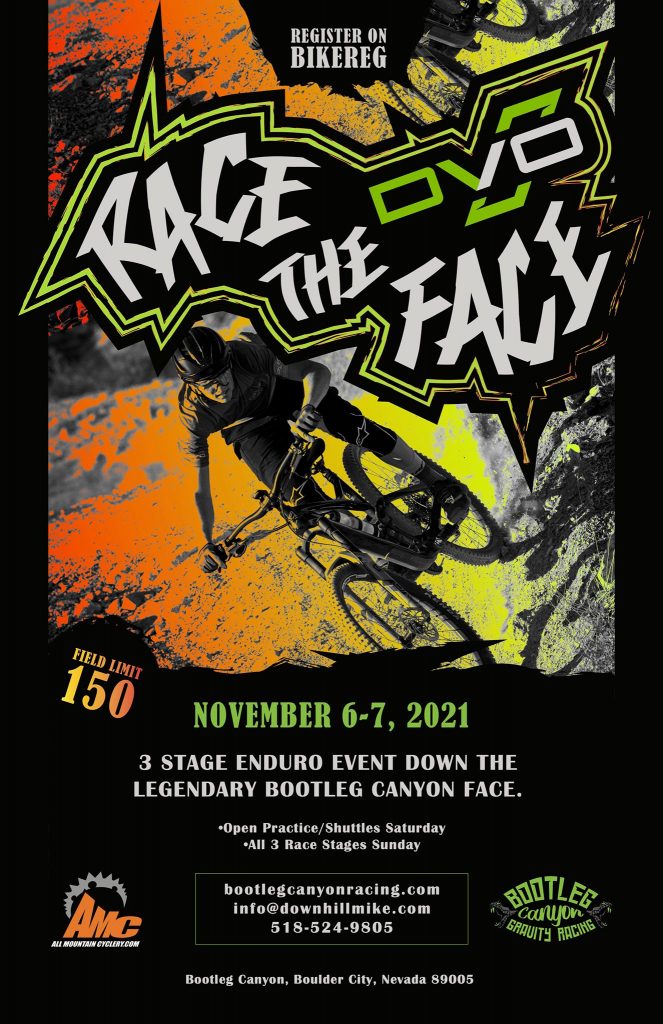 The 2021 DVO Race The Face Enduro is hosted by Bootleg Canyon Gravity Racing, providing shuttles and a guaranteed good time. To ensure physical distancing, registration is limited to 150 racers and must be completed online. Racers will pick up packets with a quick and easy drive-thru process. Saturday practice shuttles and Sunday race shuttles are included with registration. Registration can be completed here.
While Race The Face will certainly be a feat of technical steeps, Bootleg Canyon isn't all gnar and scar. Bootleg Canyon is home to over 36 miles of trails, ranging from double-black advanced tracks to flowing intermediate runs. The DVO Winter Gravity Series is a season-long race series for cross-country, downhill, enduro and dual slalom racers of all ages and abilities. Free on-site dry camping is available during race weekends where a community of riders and families congregate in the high desert.
More information on the DVO Winter Gravity Series can be found online and includes the following events:
COYOTE CLASSIC #2 Cross-Country on Oct. 23, 2021
RACE THE FACE Enduro on Nov. 6 & 7, 2021
COYOTE CLASSIC #3 Cross-Country on Nov. 20, 2021
BLUE DIAMOND Enduro on Dec. 11, 2021
NV STATE CHAMPIONSHIPS on Jan. 14, 15 & 16, 2022
MOB N MOJAVE Downhill, Enduro and Dual Slalom on Feb. 11, 12 & 13, 2022
REAPER MADNESS Downhill, Enduro and Dual Slalom on April 15, 16 & 17, 2022
DVO and Bootleg Canyon Gravity Racing would like to thank the late Brent Thomson for having the vision, passion, strength and friends to create the Bootleg Canyon mountain bike trails as well as the Boulder City Parks Department, GT Bicycles, ODI Grips, Intense Cycles, CushCore, All Mountain Cyclery, MJT Designs, Box Components, KHS Bicycles, Trucker Co., Mynesweepers, Kore North, Alta Racks and Fezzaru Bicycles.