Our Sea Otter coverage continues as we dive into the details of more exhibitor products from the show.
Hustle Bike Labs
Hustle Bike Labs had their rare earth metals(REM) neodymium magnetic pedal on display at Sea Otter along with a new shoe they've developed with G-Form. Founder Craig Payne wanted a way to develop a pedal system that offered a way for riders to get clipless-like benefits combined with flat pedals benefits. The result is the Hustle Bike Labs REMPedal.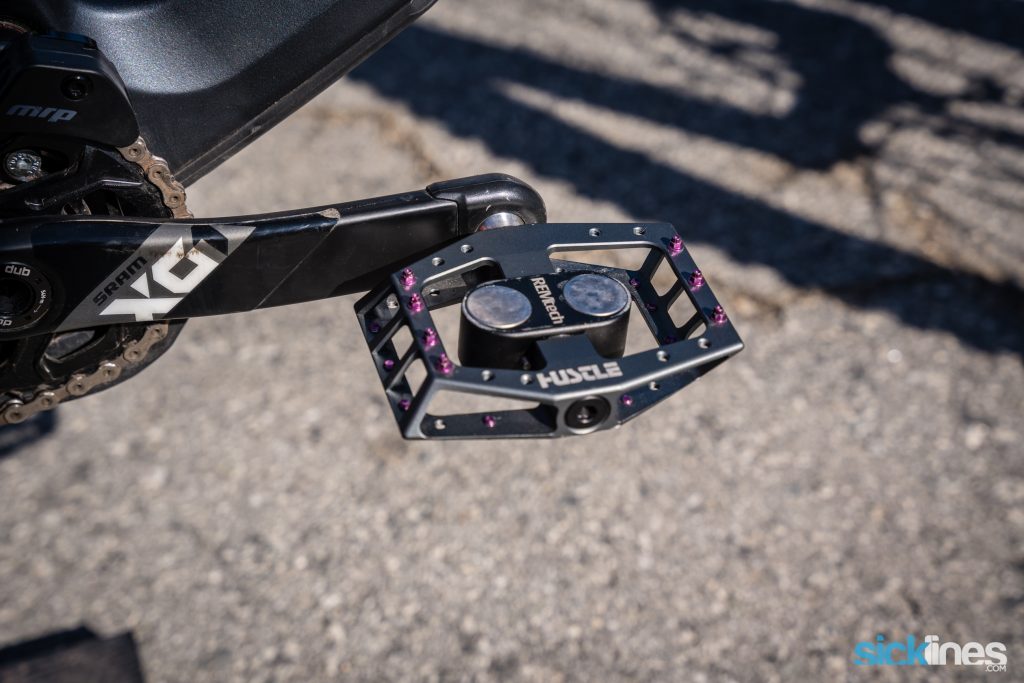 As you can see in the video above these pedals help keep your feet on the pedal through the strong neodymium magnetic attachment system. With over 100lb of force to break away, these pedals will help keep your feet on the pedals. It's not quite as locked in as a clipless pedal so don' think you're going to sprint or charge rock gardens with impunity if you pull up too hard if you're not careful with your pedal stroke.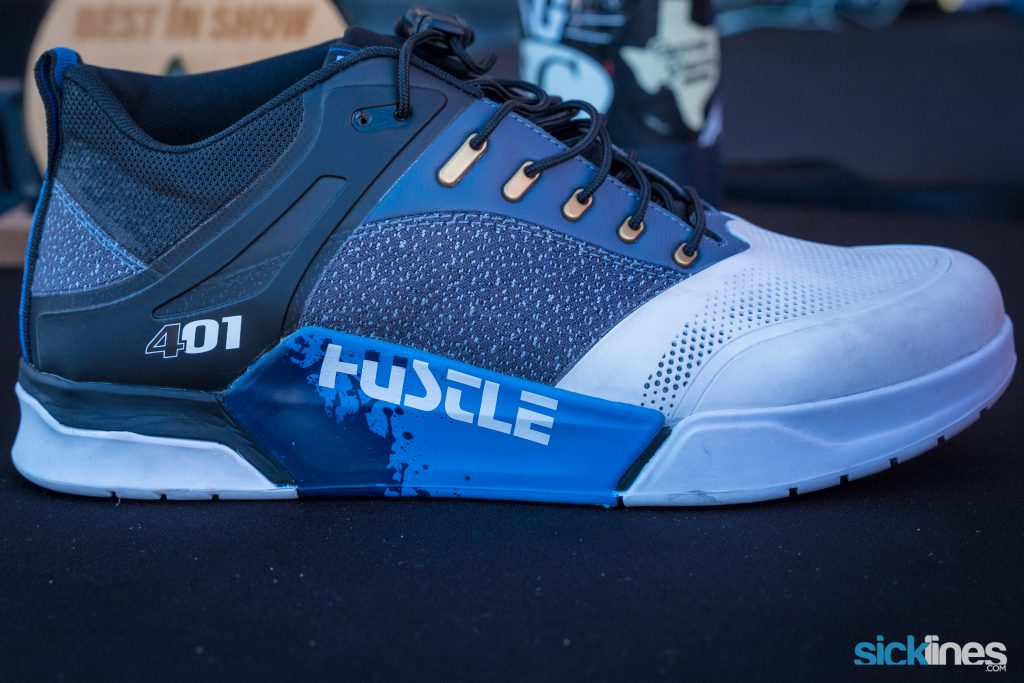 The cleat of the shoe gives some rotational float as well and the contact area is pretty big overall. The traction pins let you get more grip on the pedals and the new G-Form shoe also gives a slimmer profile on the cleat to allow for even more contact with the pins to improve grip.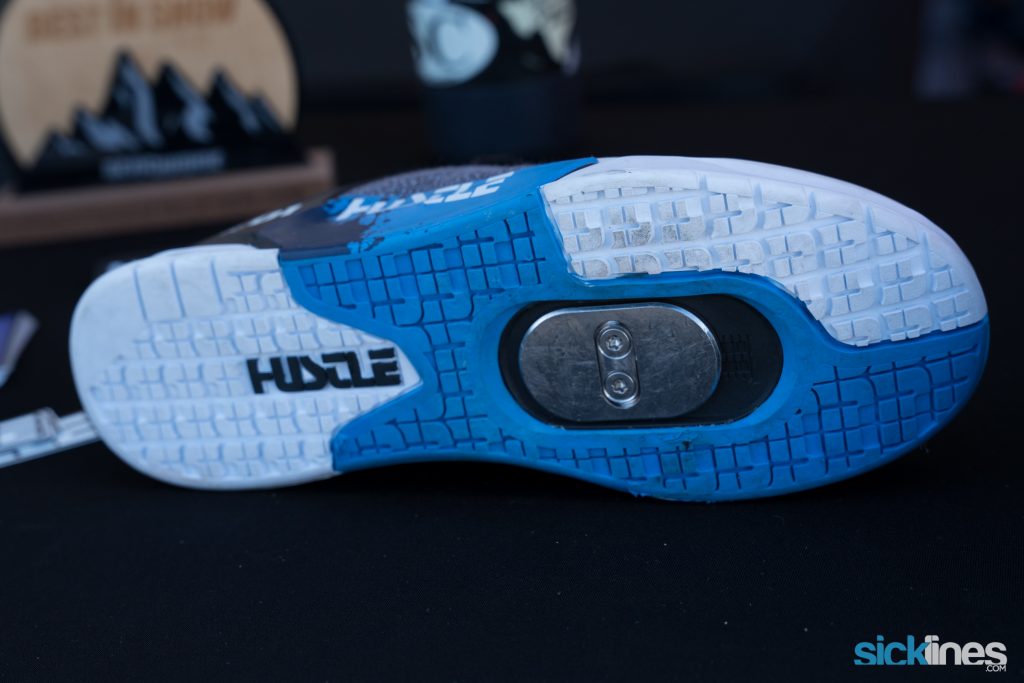 The Hustle pedal has removable pins in the pedal body to allow riders to adjust the pin placement feel to their liking. Construction-wise, the pedal is made from 7000 series aluminum and uses Neodymium N52 magnets w/Stainless Steel Cap. You can read more on their webiste (https://hustlebikelabs.com/).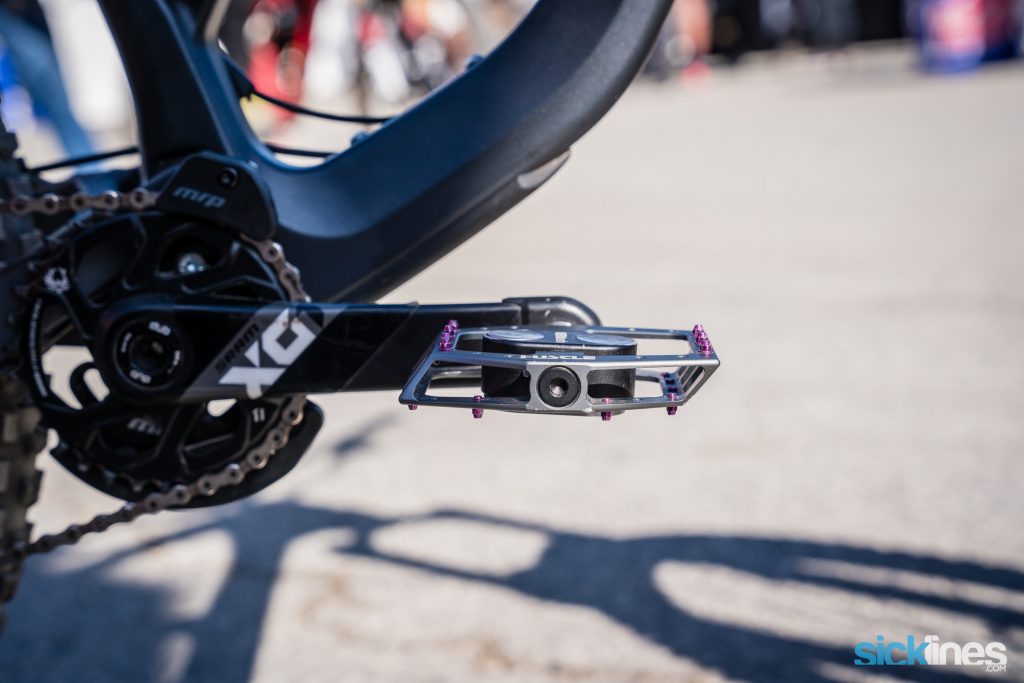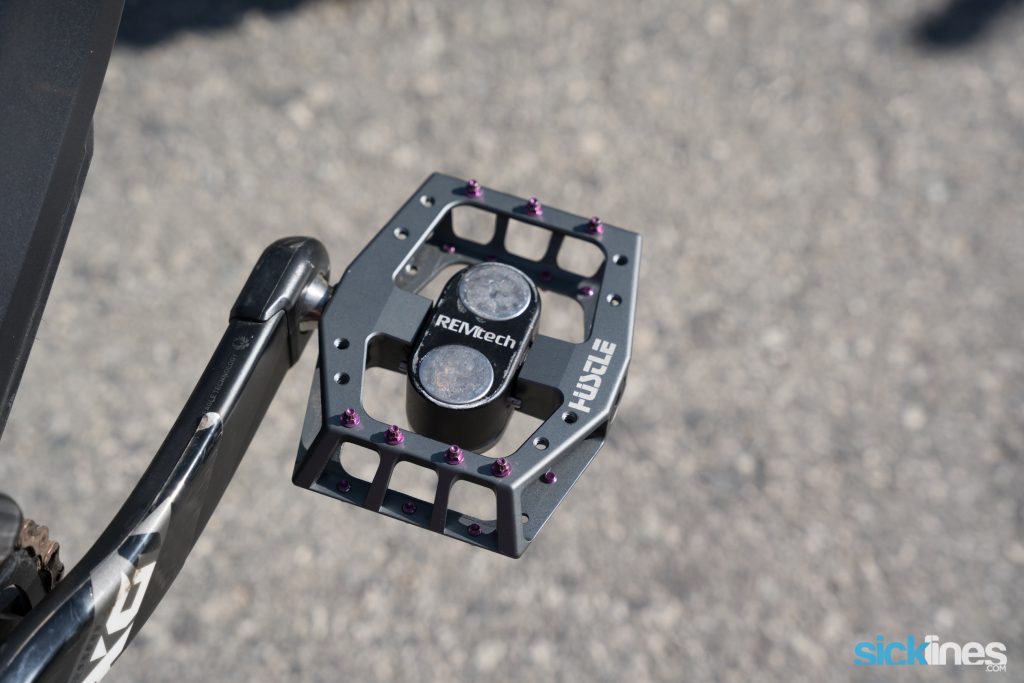 Cascade Components
Cascade Components have developed a range of made-in-the-USA CNC'd products that cater to aggressive riders who enjoy riding challenging terrain where progressive bikes shine. Their linkages add progressivity in suspension bikes and they're becoming more and more well known.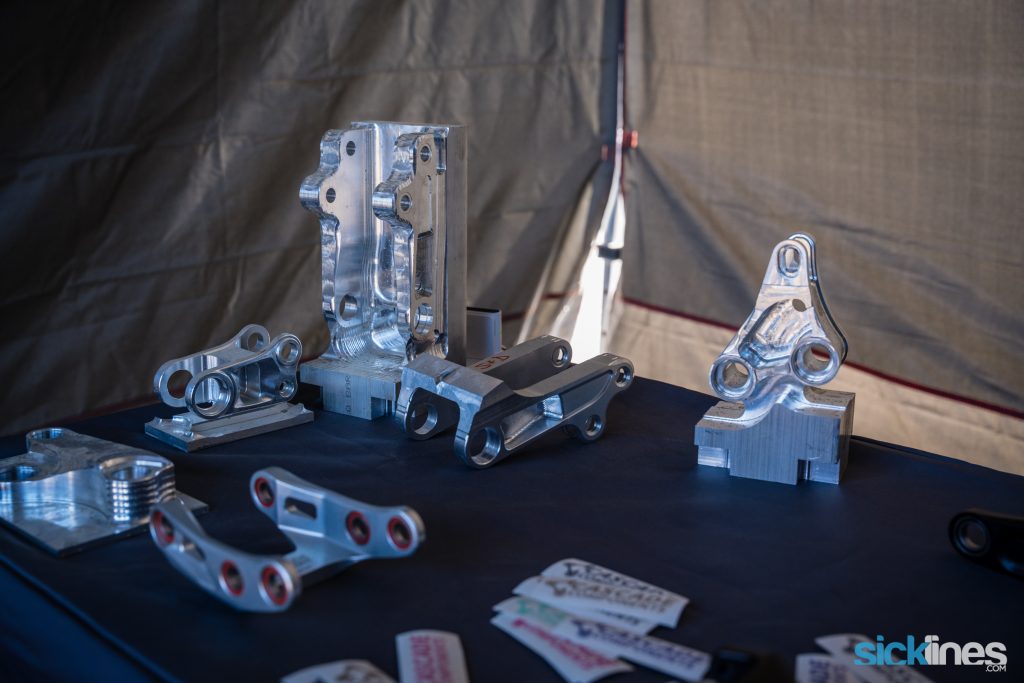 Cascade Components offers an ever-growing wide range of replacement progressive linkages for a number of bikes on the market including the Specialized Stumpjumper, Santa Cruz Hightower, Evil, Norco, Giant, Pivot, to name a few.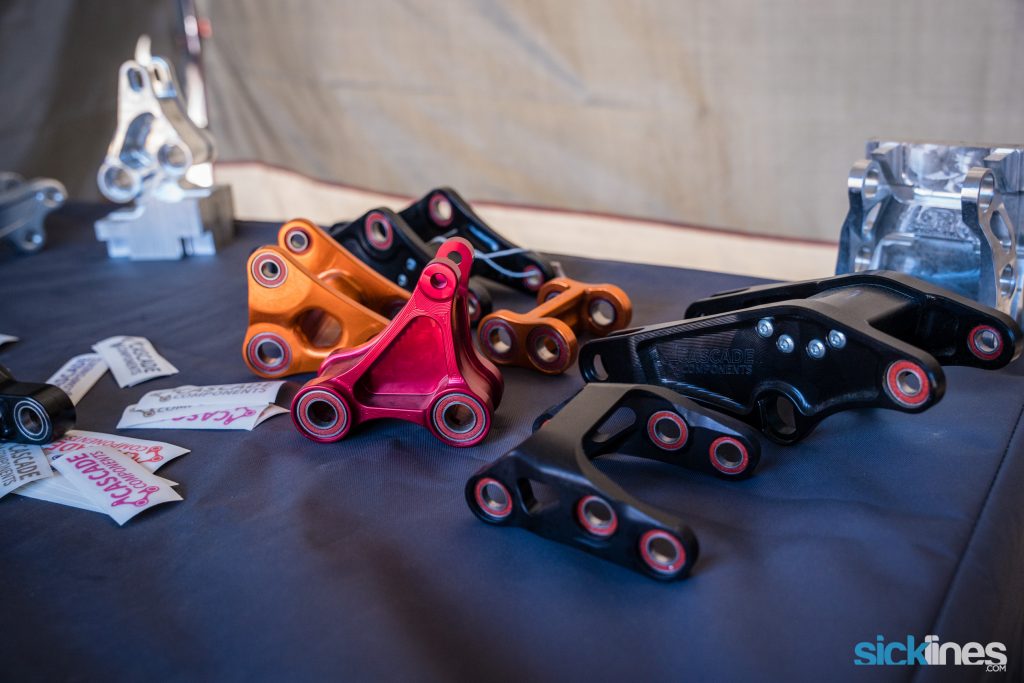 Their most popular one is for the 2018-2020 Specialized Stumpjumper that is available in three color options much like many of their products. It comes preinstalled with quality Enduro Bearings as well and works on the Stumpjumper EVO, Stumpjumper, and Stumpjumper ST.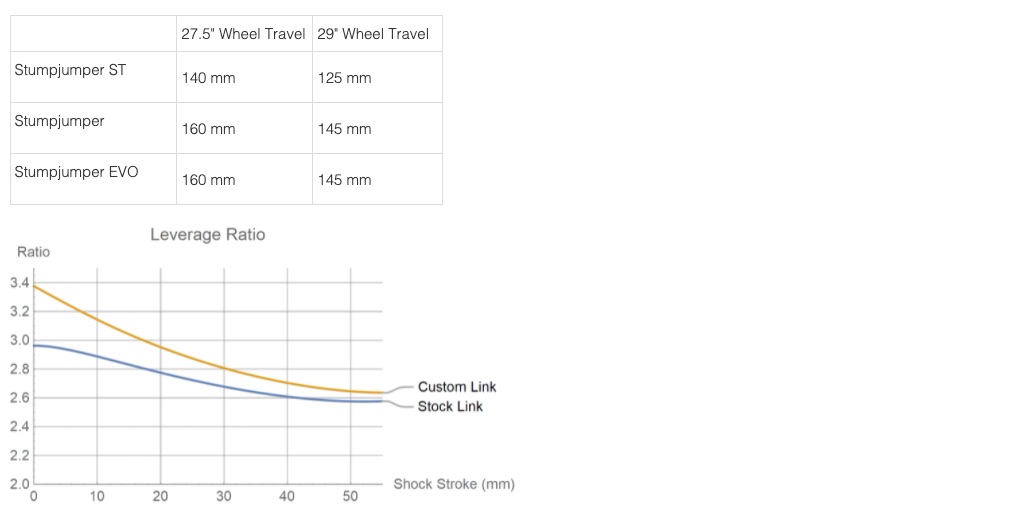 Our link for the 2018 to 2020 generation of Stumpjumpers gives the suspension 70% more progression as well as an increase in travel. This allows the bike to be run with a stiff enough spring to prevent harsh bottom outs, without having to compromise on small bump sensitivity or ride height. For riders on air shocks, fewer volume spacers can be used to achieve the same bottom-out resistance, opening up a wider usable range for those dealing with lots of volume spacers as well. As a result, the suspension can handle larger hits better than ever while maintaining loads of traction in rough terrain. The Stumpjumper LT link truly maximizes the bike's descending capabilities.
Cascade NORTH FORK Brake Caliper (SRAM Code Caliper replacement)
If you're looking for more power out of your Code brakes, the Cascade North Fork caliper ($283) might be the upgrade you've been waiting for. The North Fork caliper gives an additional 20% of power over a stock Code caliper. It uses the same Code pads but they've outfitted this caliper with 16 and 18mm phenolic pistons to give it the 20% bump and improve cooling. The caliper is made from 6061-T6 aluminum and pairs with your existing Code levers.
They're also working on a minimal ISCG-05 chain guide that is only 92/93g depending on if you have the 32t or 30t model. It uses a UHMW upper guide and Delrin lower guide/bash.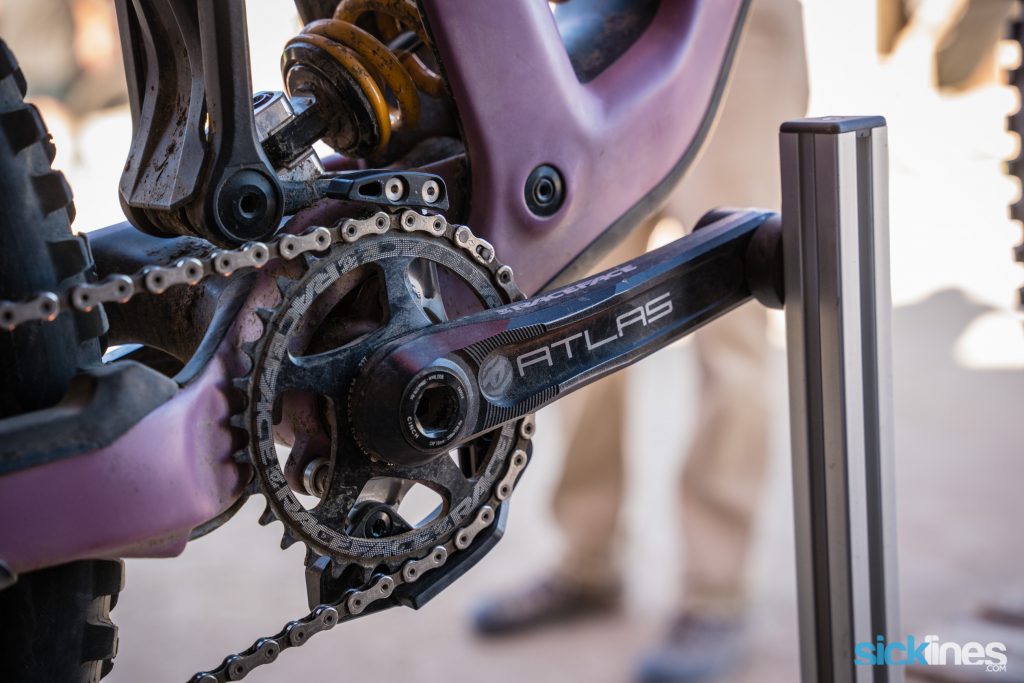 Cascade CODE Brake Cam Set
Some riders like the softer lever and linear application of power but some like a sharper on/off to their brakes. The Cascade brake cam set replaces the cam link in the CODE brake lever to provide a sharper on/off feeling.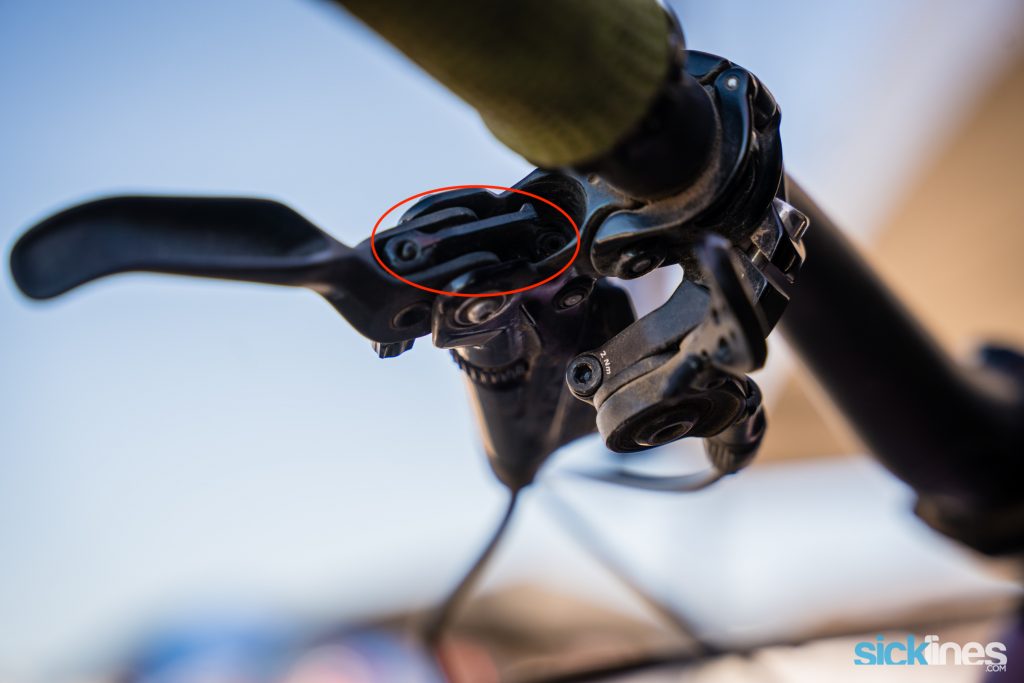 See more pictures of the Cascade products and more in the gallery at the bottom of this page.
GU Energy Labs
Everyone loves a good energy supplement and GU Energy Labs has a wide range of products that have been helping athletes and adventurers for some time. GU Energy Labs had a few things they were promoting at Sea Otter that you can check out below.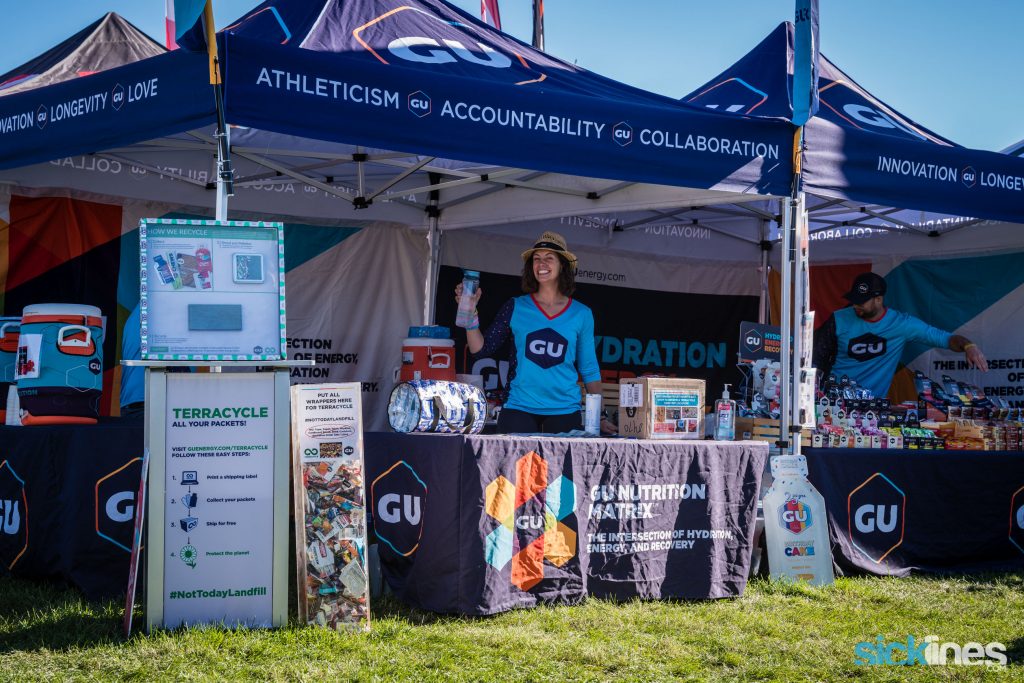 If you've ever been to a race you know how popular GU and other energy packets can be. GU has a program to help recycle the all of those wrappers used in many of the food products it and other supplement companies sell through a Terracycle program. They convert these used packets into things like shipping pallets, picnic tables, and park benches.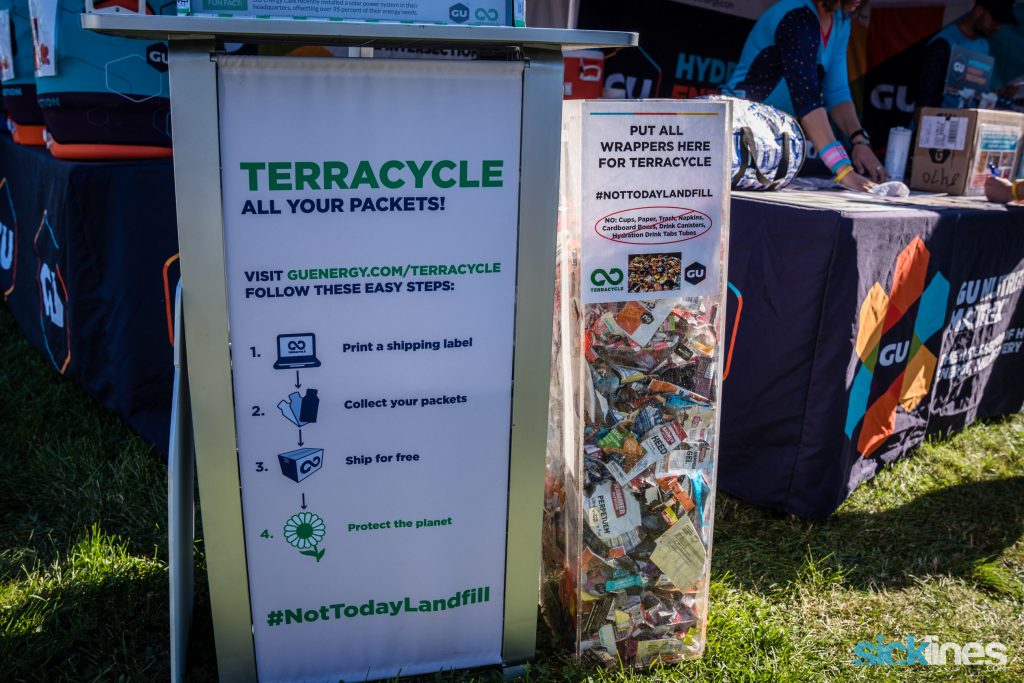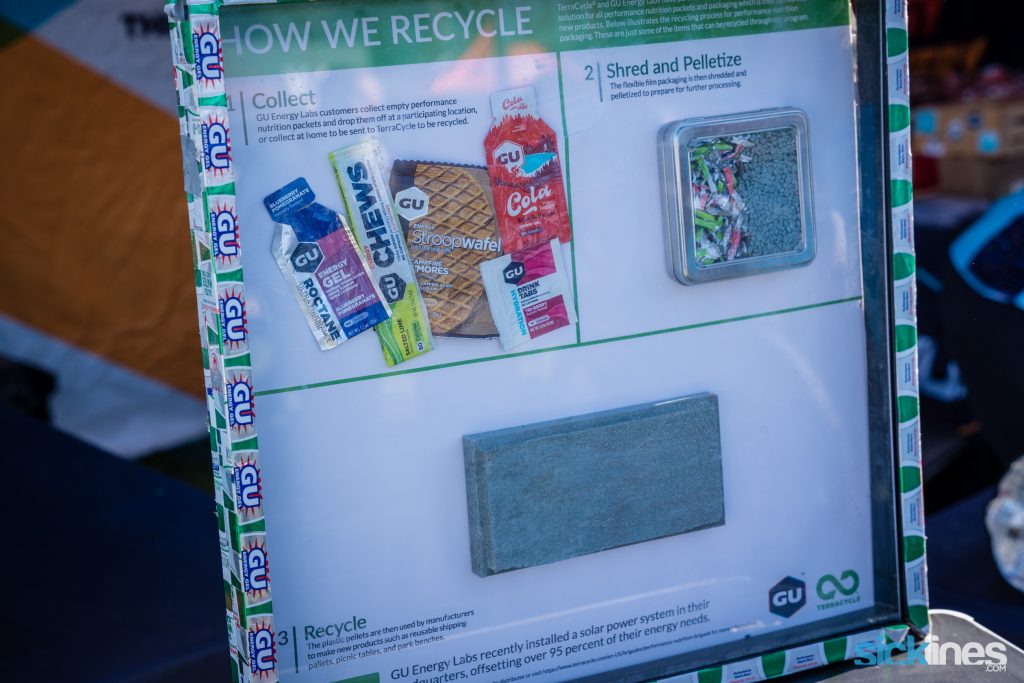 Moving into the product side of things from GU, they make a lot of tasty things from gels, chews, drinks, waffels, and capsules to help keep you performing during activities like biking, running, hiking, and more.
If you're a fan of the stroopwafel, GU has a number of flavors that are quite tasty including Campfire S'Mores, Salty Carmel, and Salted Chocolate to name a few. For those who can't make up their mind, try they also offer a mixed box. GU also makes supplement capsules as well for electrolytes, magnesium, probiotics, and more.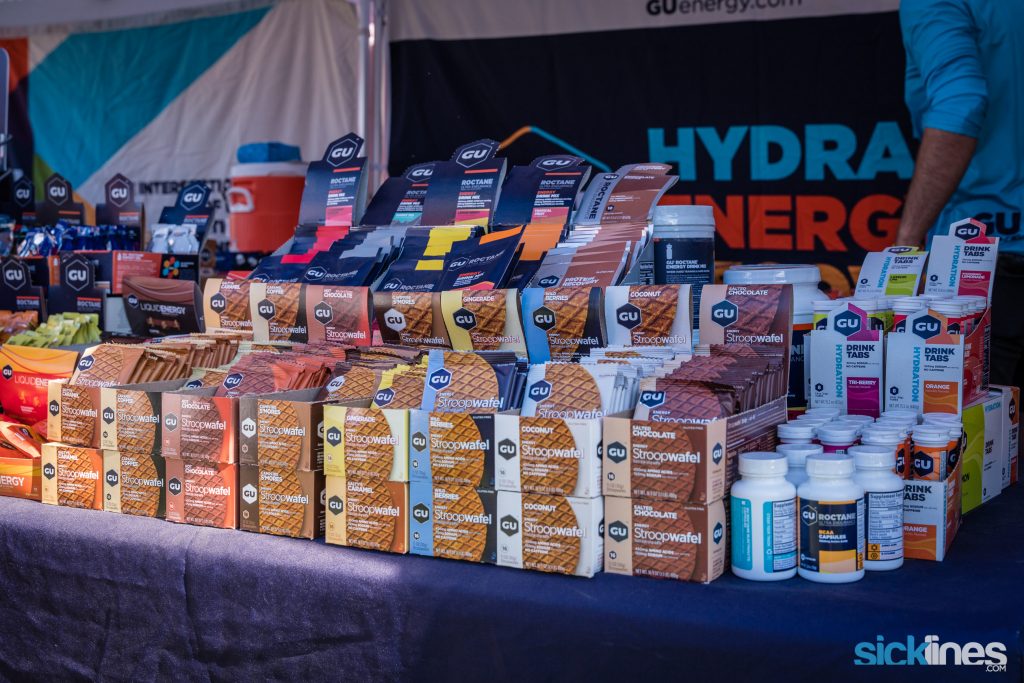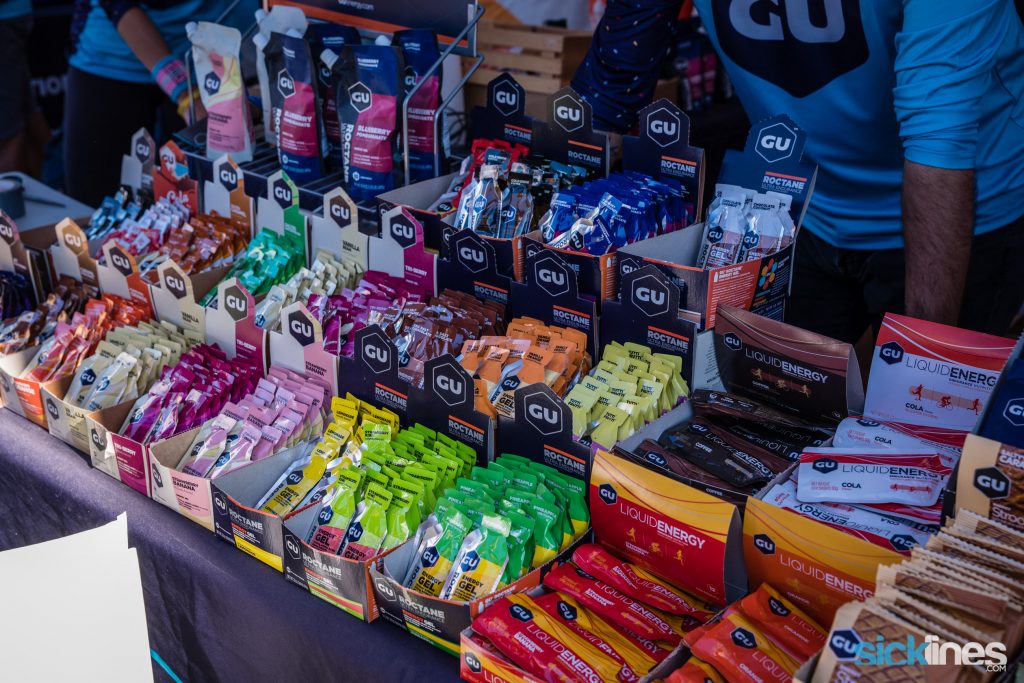 Chews are popular and GU makes those too. They had smaller single-serve packages to sample their chews. No caffeine, gluten-free, and packed with amino acids and electrolytes.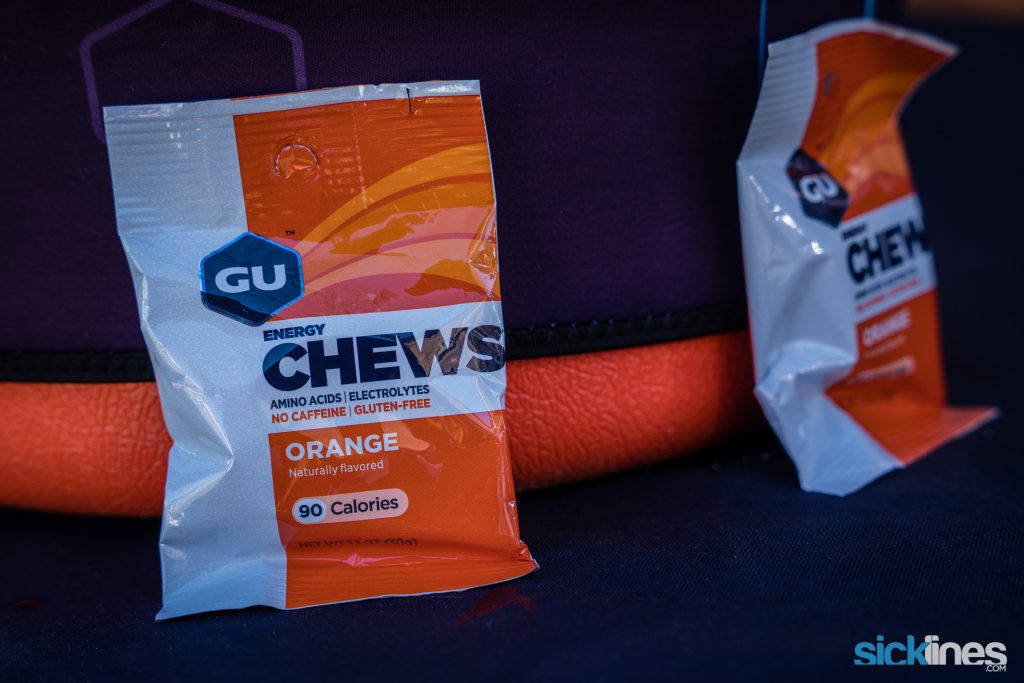 Giro
The new Giro Latch shoe is out now and we've posted up some details on this shoe as well already but have addeda few extra detailed pictures below to show you guys the new shoes.
The key features with this new shoe from Giro feature their Mute Foam™ which is a midsole technology and their Tack Rubber™ outer sole compound that works together to improve foot to pedal contact, grip, and rider stability.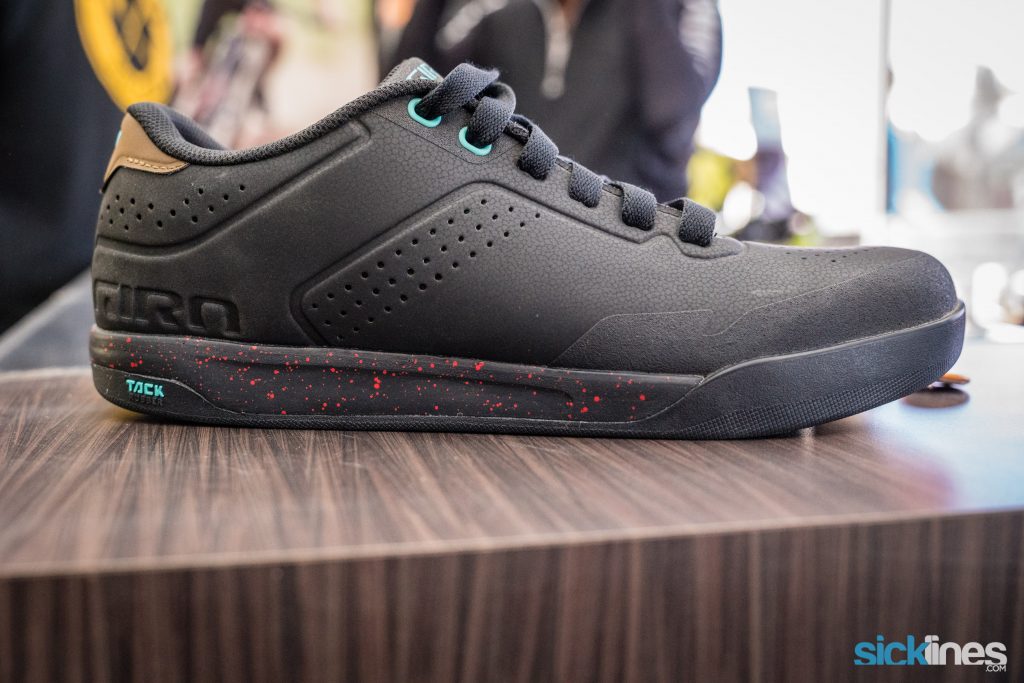 The Latch features a breathable microfiber upper, hydrophobic structural inners for faster drying, and minimal seams and stitching for increased durability.
Overall the shoe is quite light as well and should be a hit for flat pedal riders.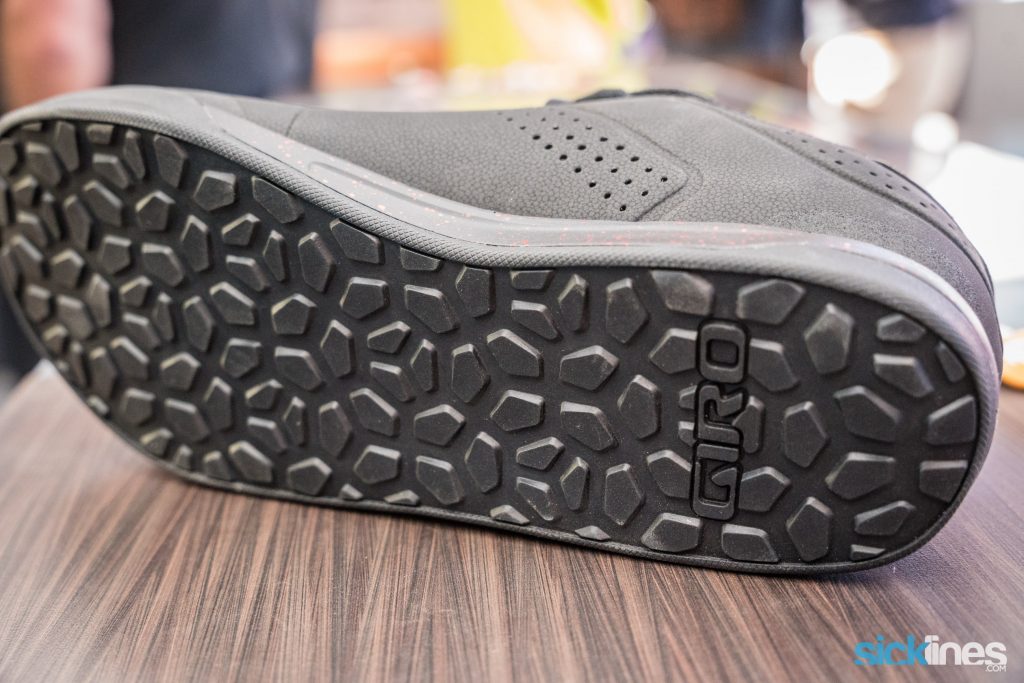 Giro Montaro
Giro is no stranger to making quality helmets and the Montaro MIPS comes in at a low price point with MIPS technology. If you're in the market for a new helmet and want one with MIPS the Montaro is worthy of consideration.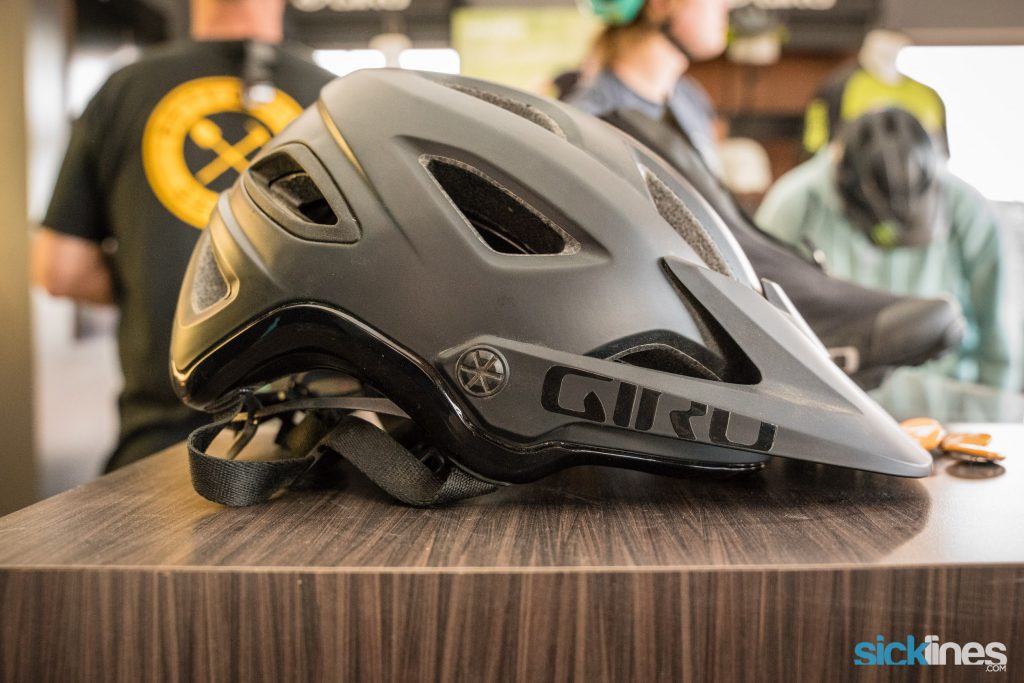 If you ride in inclement, or cold weather, the Giro Blaze might be just the footwear you've been looking for ahead of winter.
THE ALL-NEW BLAZE™ IS OUR CORE WINTER CYCLING SHOE, FEATURING MODERN TECHNICAL MATERIALS AND DESIGN TO REDUCE BULK WHILE DELIVERING EXCEPTIONAL WARMTH AND WEATHERPROOFING FOR CONDITIONS DOWN TO -10° C /14° F.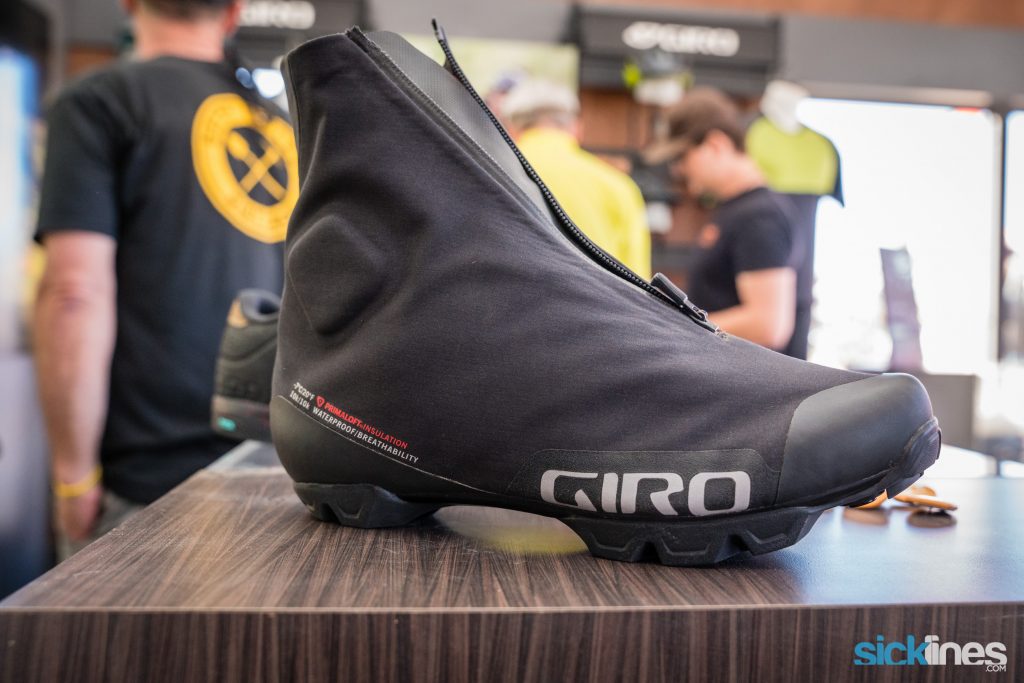 Stay tuned and check back to see more of our content from the 2021 Sea Otter Classic.