DENVER, CO, October 7, 2021 — Colorado-based boutique bicycle manufacturer, Alchemy Bicycles, has pushed all their chips in the dirt at this year's Sea Otter Classic, in Monterey, CA. Built from the success of their current lineup of mountain bikes and gravel bikes, including the Arktos and Ronin, Alchemy has driven even further into the dirt arena with the launch of two new bikes and a flip chip suspension system modification for the 2022 Arktos.
For 2022, Alchemy has a flip-chip update to the Arktos. Flip chip available on Arktos 120, Arktos 135, and Arktos 150 & MX models. The chip modifies the head angle and seat angle by 0.75 degree in the high position.
2022 Arktos Launch with Flip Chip

Alchemy's 2022 Arktos features an all-new flip chip modification that now offers the ability to transform the Arktos from a capable, playful down-country bike with a steeper, more maneuverable geometry to a wickedly fast enduro machine. In addition, the flip chip modification makes it incredibly easy to convert the Arktos from a 29" bike to a mixed-wheel arrangement, further expanding the Arktos' already impressive versatility.

Flip Chip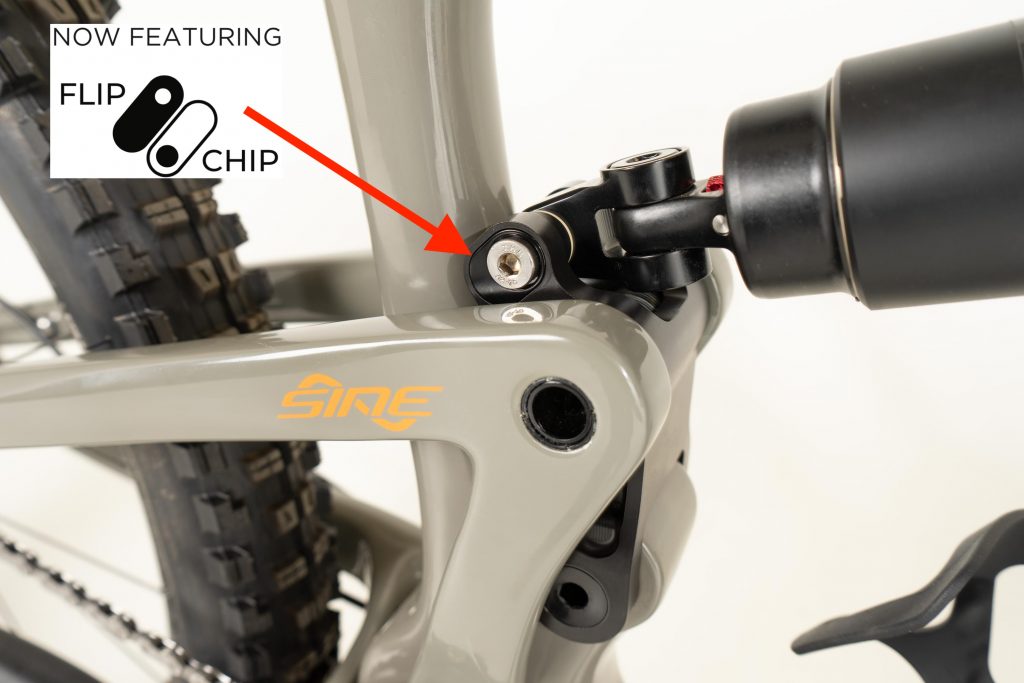 It's easy to change by just removing the shock bolt and adjusting the chip position.
Adjust geometry with High/Low position (MX only compatible in High)
Groups ranging from GX Eagle, XT and X01 Eagle, with custom options available by request
Pricing and Availability:
Available starting 10/31/21
Builds ranging from $5,499 to $7,499
Updated Paint Schemes and In-House Cerakote

Alchemy, known for their custom in-house finishes and paint jobs, is pleased to expand their finishing capabilities even further. They now offer two new finishes that will also remain in-house: a chromatic harlequin paint scheme and a variety of Cerakote colors.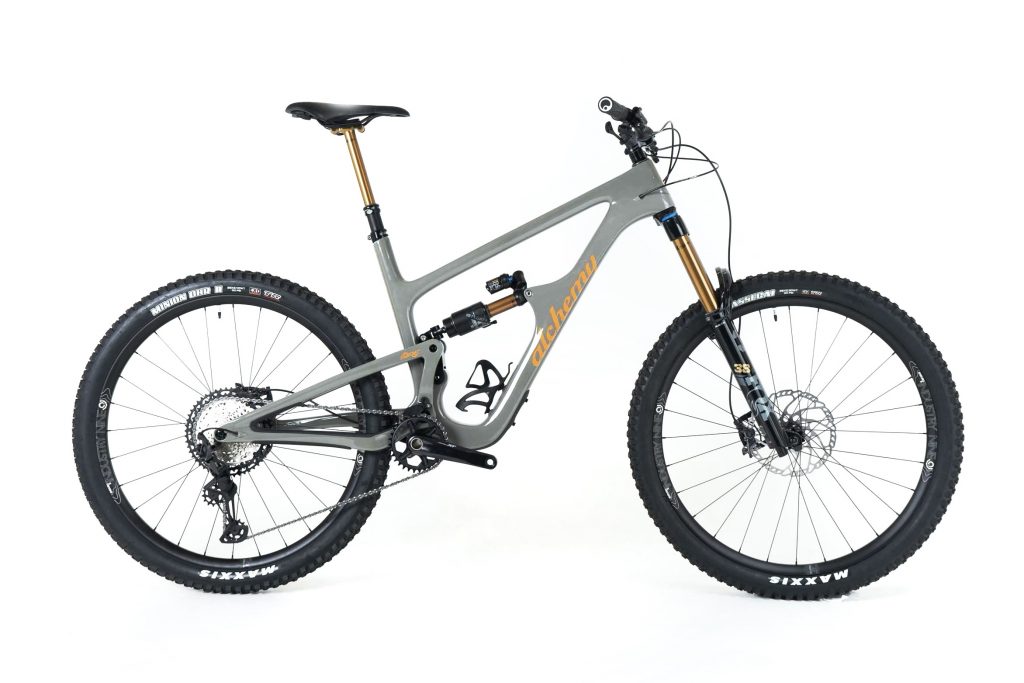 Cerakote, a thin polymer/ceramic coating, is drastically more durable than liquid paint and an ideal addition to Alchemy's lineup. Applied at approximately 1/6 the thickness of standard paint, Cerakote is much lighter in weight. While other finishes can scratch and rub off over time, Cerakote will not diminish in any way, making it a perfect compliment to Alchemy's built-to-last ideology.
Argos Ti Frame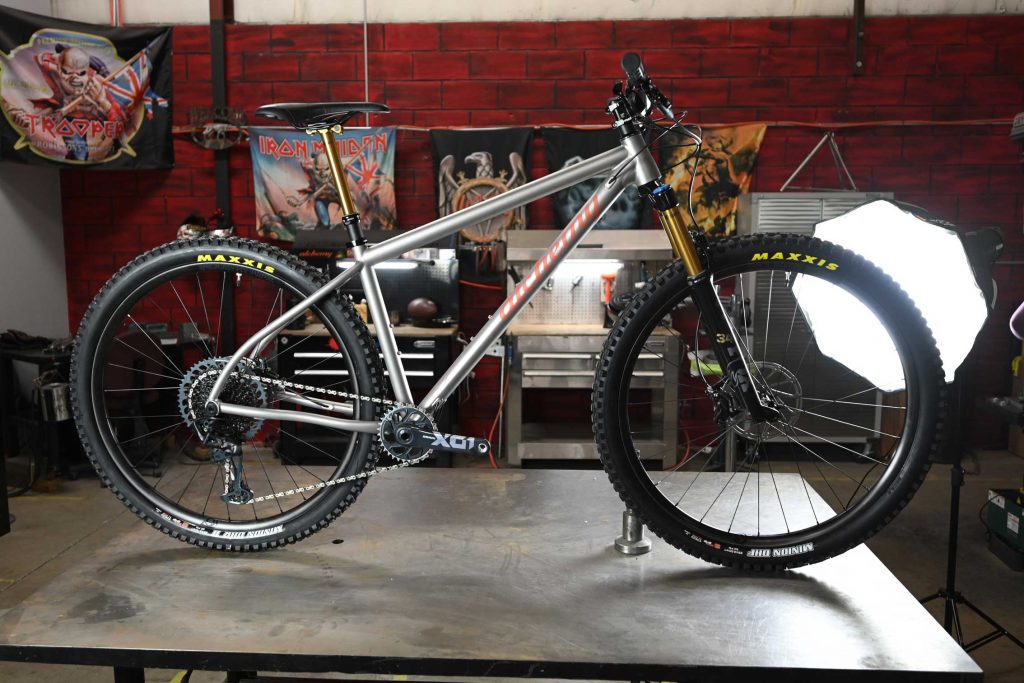 Argos – Titanium Hardtail Mountain Bike
Inspired to be the perfect trail hardtail for the Argos Trail, located behind Alchemy's soon-to-be-headquarters and the gateway to the Apex Park in Golden, CO, the Argos titanium hardtail is the newest addition to the Alchemy mountain bike lineup. The Argos is built to tackle the strenuous climbs throughout the Colorado Rockies while maintaining strength, resilience and impact resistance. It is a true trail-attacking hardtail with updated progressive geometry. Handcrafted in Alchemy's workshop using Alchemy's custom USA blended titanium, the tubing, bends and welds are all designed for quality ride-feel and performance.
Featured Information:
1.125" – 1.5" Tapered Headtube
12x148mm Boost
Dropper post compatible
Internal cable routing
Threaded bottom bracket shell
Clearance for 2.5" tires
Cold-formed chainstays and seat stays to provide comfort and responsiveness
Available with custom sizing (stack & reach), paint and build kit options
Aggressive, trail-oriented geometry
Pricing and Availability:
Frame (without Fox Factory 34 Fork) – $3,999
Frame (with Fox Factory 34 Fork) – $4,499
Builds ranging from $6,299 to $8,299
Available immediately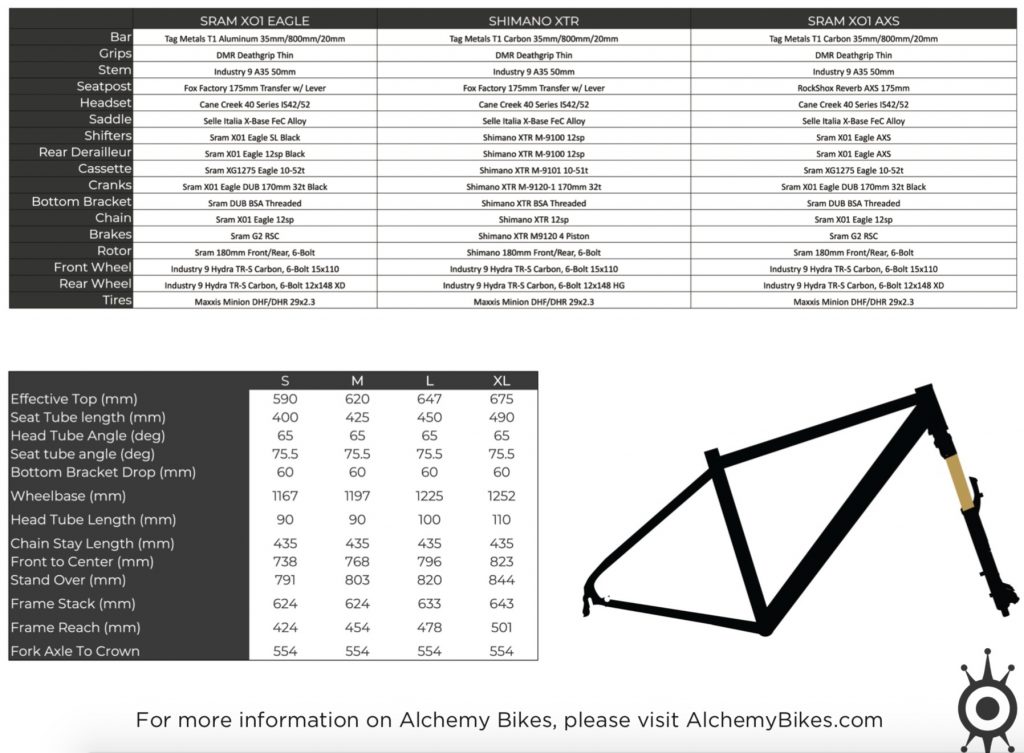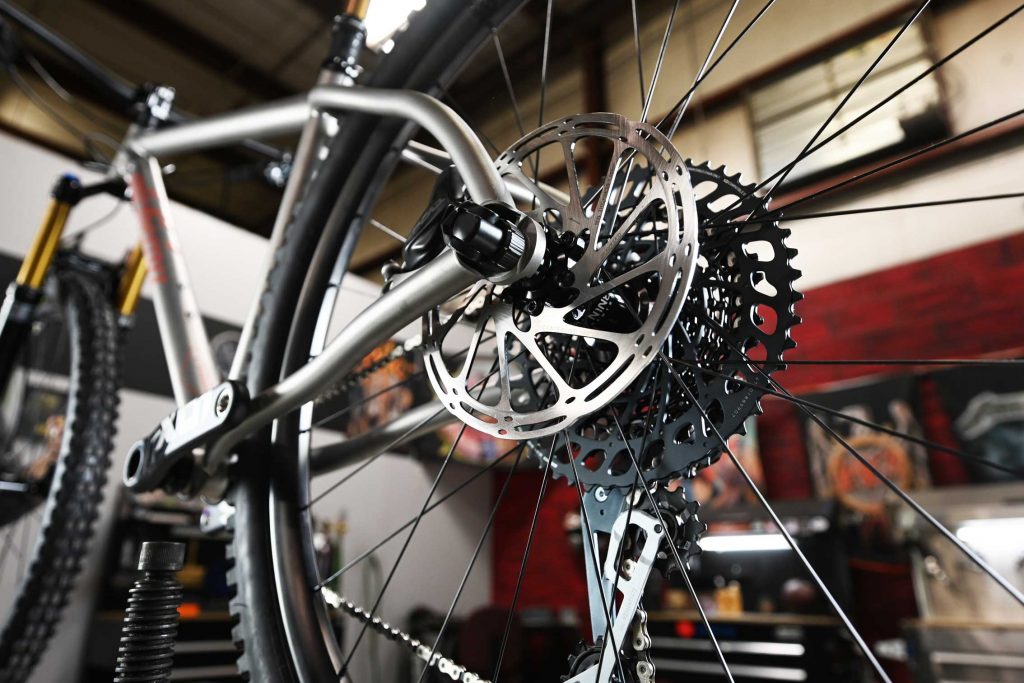 Rogue – Gravel Bike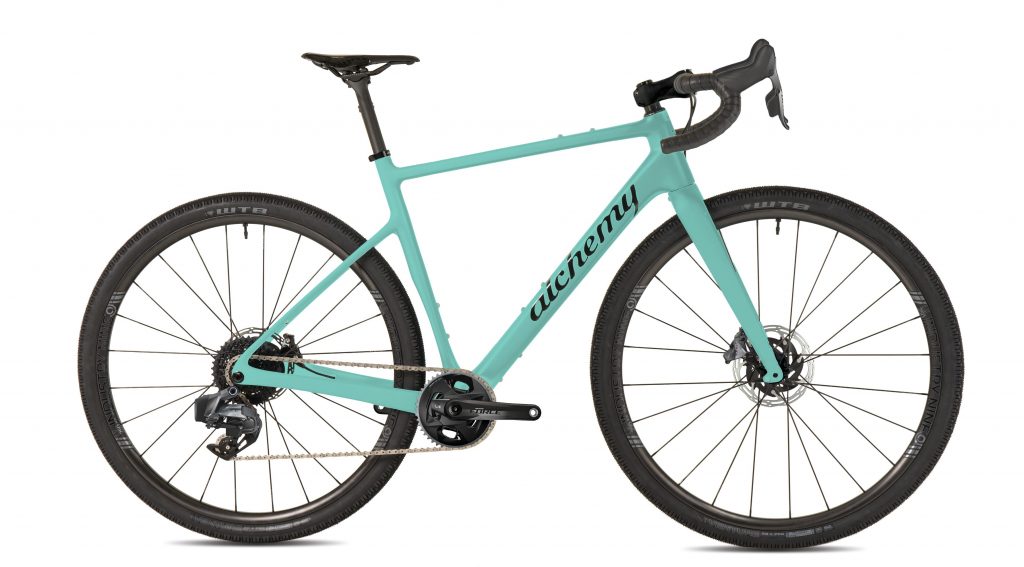 The Alchemy Rogue is a natural expansion of Alchemy's handmade in Colorado gravel bike lineup and the perfect complement to the Ronin. The Rogue brings more terrain capability with a slack head tube angle, wider tire clearance and updated geometry. It is the first US-made gravel bike to include the SRAM Universal Derailleur Hanger (UDH), giving the bike more range and reliability. In addition, the frame is built with the award-winning Alchemy Factory Carbon that has been revered for over a decade.
Featured Information:
Handmade in Colorado
700x50c / 650×2.2" Tire Clearance
Dropped seat stays
Universal Derailleur Hanger
Numerous mounts for racks, bags and bottles
Progressive, modern, suspension-corrected geometry
Compatible with hydraulic droppers as well as wireless droppers
Aerodynamic frame design
Custom paint and build kit options available
Pricing and Availability:
Frameset Module – $4,299
Builds ranging from $7,999 to $9,999
Now accepting reservations with delivery in November
Specifications & geometry at www.alchemybikes.com