Words: Toni Walbridge Photos: Misti Walbridge
By now, Raaw is a brand well known by the core mountain bike crew. Their no-frills heavy hitting Madonna has been making waves among niche brand aficionados for some time now. For those of you who spend more time pedaling than reading web forums, or have a life outside of mountain biking (is that a thing?) you could be forgiven for having never even heard of Raaw. As a small brand out of Kempten, Germany and seemingly focused on turning out frames with progressive designs and built for bomb-proof durability, Raaw has been an instant hit with the ride-more-wrench-less crowd. The Jibb is just their second offering and with 135 mm travel is designed as a more playful option to the 160 mm Madonna's all-out speed mindset. This is a bike for the rider that values agility over stability but also wants something strong enough to handle shuttle laps and bike park days.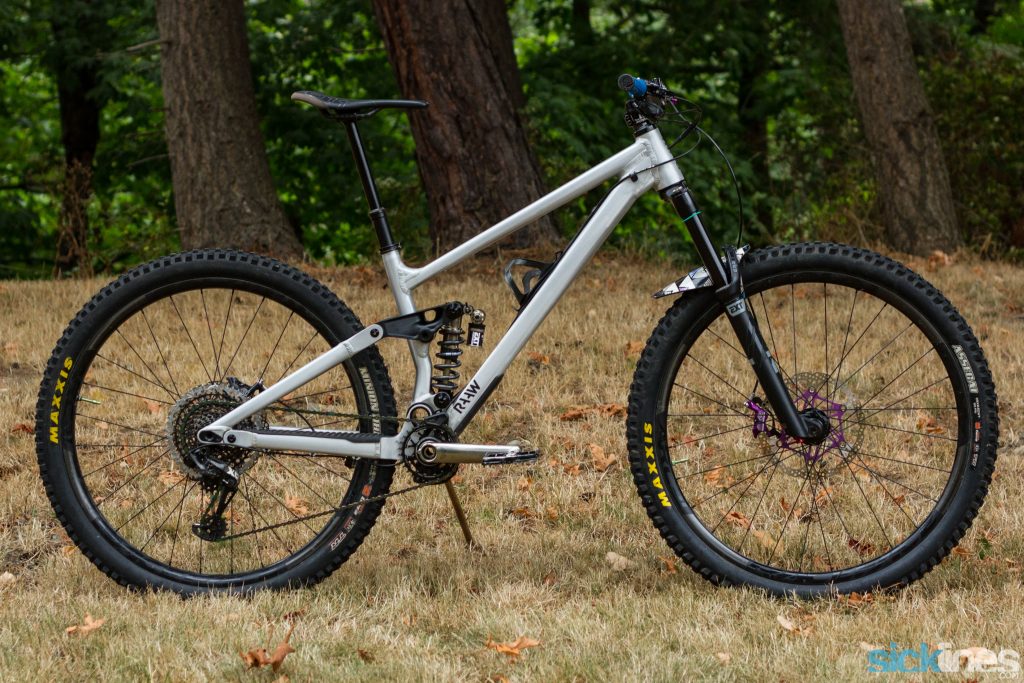 What's in a name?
When I think of "jib" in the context of biking, I tend to think of something not far removed from a dirt jumper. Something with minimal travel, short chainstays, a steep head angle, and a relatively compact wheel base. Raaw's take on the Jibb is not that. Rather, they have created a bike that's capable enough to be quite at home on terrain for which you'd normally grab a longer travel enduro bike but with an emphasis on playfulness over all out speed. The Jibb is a sort of mini-enduro bike in that you're not going to break it should you come up a little short on an ambitious gap but it is not going to deliver the all out speed of a race bike. With the reduction in travel, the Jibb is snappy under power and with its more compact dimensions, it's a scalpel in the twisties. This is a bike that you can pedal all day, boost your local flow trails to the moon, and show up at the bike park and have a great day. It's more demanding of rider fitness and skills than a big bike but it's also deeply rewarding. The Jibb is all about fun over a wide range of conditions and less about posting the fastest time.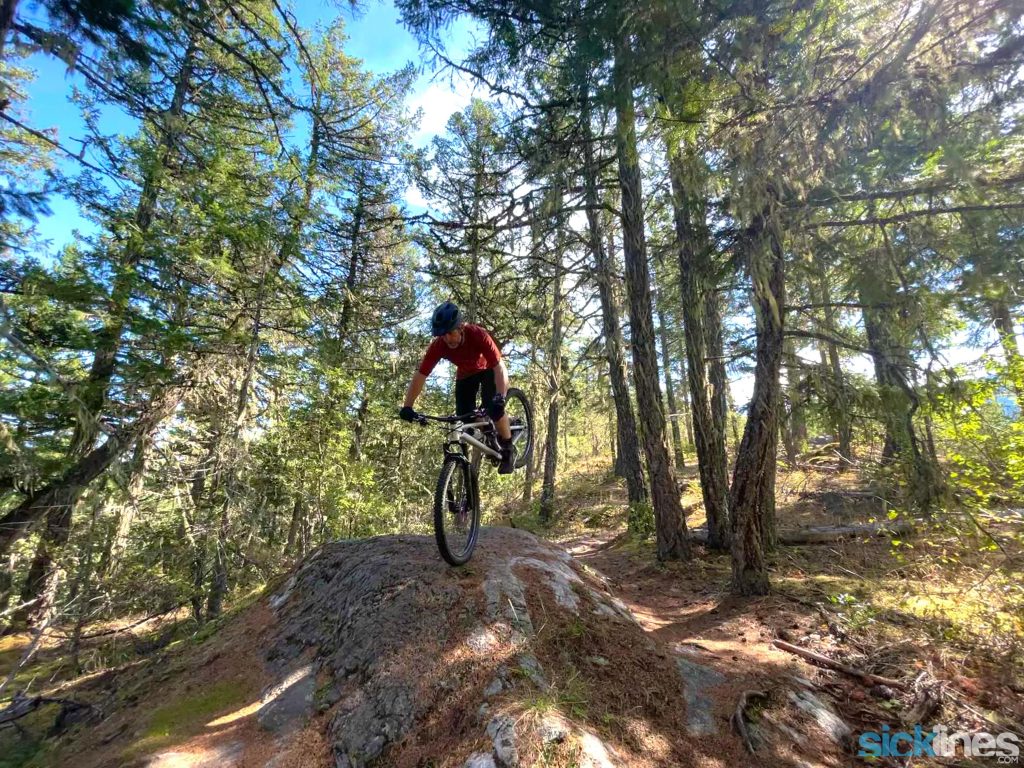 Design Elements
The overwhelming theme with the Jibb is durability and simplicity. My medium raw frame without shock weighed in at 3.8 KG. This is a beefy frame. The tubes, gussets, and beautiful welds inspire confidence that the Jibb is prepared to take anything you're willing to throw at it. Visually, it's clean and simple with mostly straight lines with the notable exception being the bend in the seat tube. Up close there is quite a lot of interesting detail in the tube set, notably the tunnel in the down tube to provide clearance for the rear shock reservoir and route the externally routed lines. The pivot hardware is simple and the entire frame uses only 2 common sizes of bearings to keep even long-term maintenance a fairly simple affair. The bottom bracket spec is the ever sensible 73 mm threaded standard. Rear dropout spacing is boost 148 and employs inserts to adjust chainstay length per size. The head tube uses the familiar zero stack 44 / zero stack 56 configuration allowing for headsets with reach adjust and angle adjust in addition to conventional headsets. The rear shock is oriented vertically and uses a trunion mount to keep things compact. This enables room for a water bottle and short seat-tubes and low standover height across the range.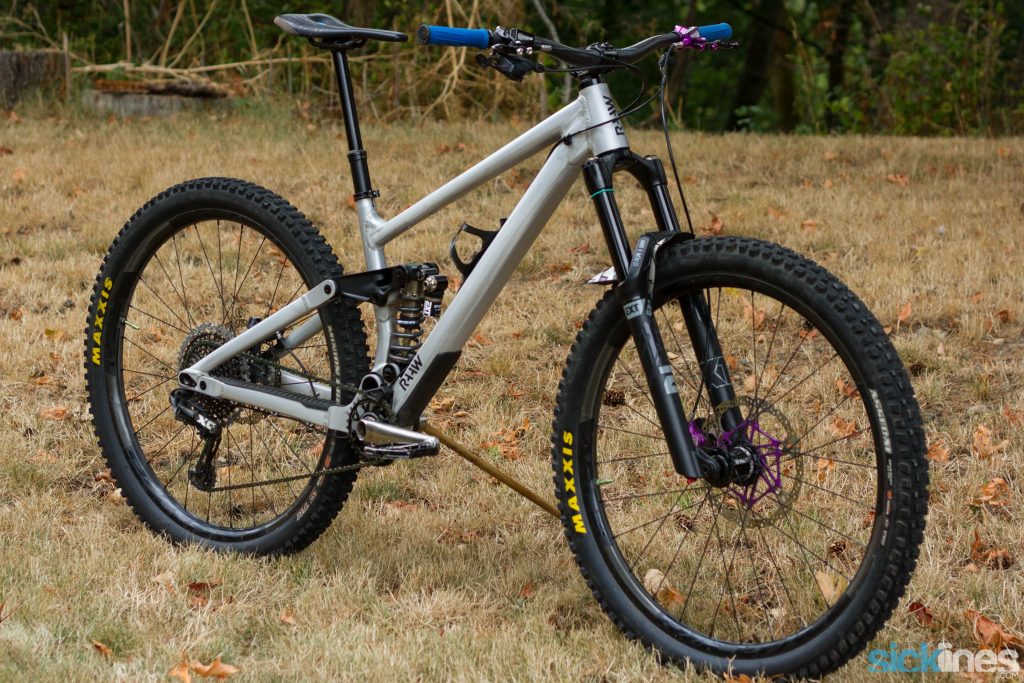 Digging into the numbers
Compared to Raaw's smash hit Madonna, the Jibb shares unmistakably similar lines. The design language is so similar that parked next to a Madonna, the Jibb is distinguishable only by a well trained eye. That said, the geometry of the Jibb is quite unique to achieve a fun-first feel. Raaw has carried forward their long chainstays paired with a reduced reach and steeper head angle relative to the Madonna. The 35 mm BB drop is the same as the Madonna's but with 25 mm less travel, the dynamic BB height is significantly higher. This gives the Jibb a nimble feel and also makes it easier to pedal through rough terrain. Speaking of pedaling, the Jibb's effective seat tube angle of 77.5º places the rider's weight forward and substantial pressure on the front wheel. The Jibb's wheelbase averages approximately 30 mm shorter compared to it's Madonna counter part across the size range. This all adds up to a bike that rails tight turns and is a bit easier to roll into a manual than its big brother.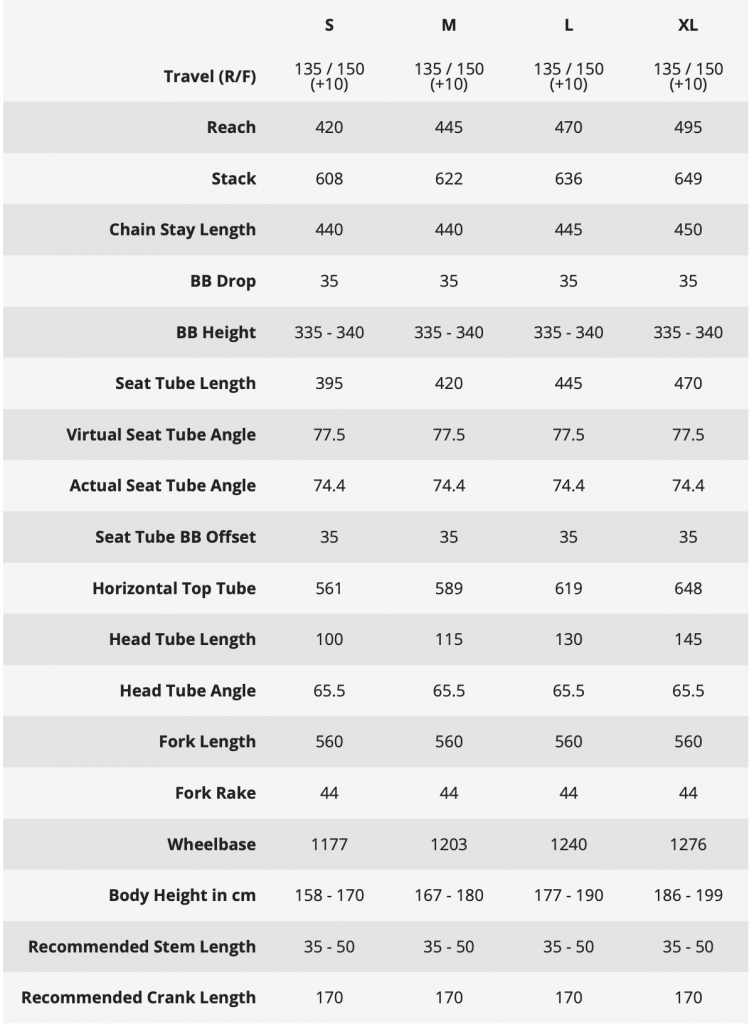 Suspension
The Jibb's suspension straddles that fine line between being firm enough to feel snappy under power while being active enough to maintain traction. Its 15% progression does a great job of controlling bottom out on bigger hits and allows the Jibb to work with both coil and air shocks. Combined with the EXT Storia's hydraulic bottom-out control, I've never felt anything that I would describe as a truly harsh bottom-out. With only 135 mm on tap and the extent to which I've botched lines it's really an impressive feat. I'll dig in more on my observations during the ride report and leave you with a couple graphs to nerd out on.
The Build
Raaw is currently offering the Jibb only as a frame and shock kit with the option of an "Essentials Kit" that provides a few basic parts to get your build started. I ordered in a frame with a Fox DHX-2 coil shock and the optional Essentials kit which includes an Acros headset, DT Swiss rear axle, a house brand seat post clamp, and clear protective film. If that last element raises an eyebrow, it's worth noting that the raw colored Jibb is not actually raw aluminum. In this case, the frame has been cleaned up and clear coated and the protective film is to protect the clear coat. With supply chains being as strained as they are this year, I picked up the few new parts I could get my hands on and re-used several parts from previous builds for the rest. One of the great things about this approach for a review is that I'm able to ride the components that I already know and love and focus my evaluation on the frame design and suspension performance. One of the places that I took creative license was the headset. To be clear, I initially built and rode the Jibb with the stock headset and geometry. Within a few rides I found that on the. steepest and fastest tracks I ride the long rear end lent composure and confidence but the front end felt a little nervous. The EXT Era's ability to stay higher in its travel is head and shoulders above most forks but I felt the need to slow down the steering just a bit and add a little wheelbase. To that end, I added a -1º Works Components headset which brought the head angle down to around 64º and pushed the wheel base out closer to 1210 mm. This calmed the Jibb down in the steeps but turn in and front wheel traction on flatter and tight corners suffered slightly. It's all about trade-offs. If I were living far from genuinely steep and rowdy trails, I'd leave the Jibb stock, but for where I live, the relaxed head angle makes a lot of sense.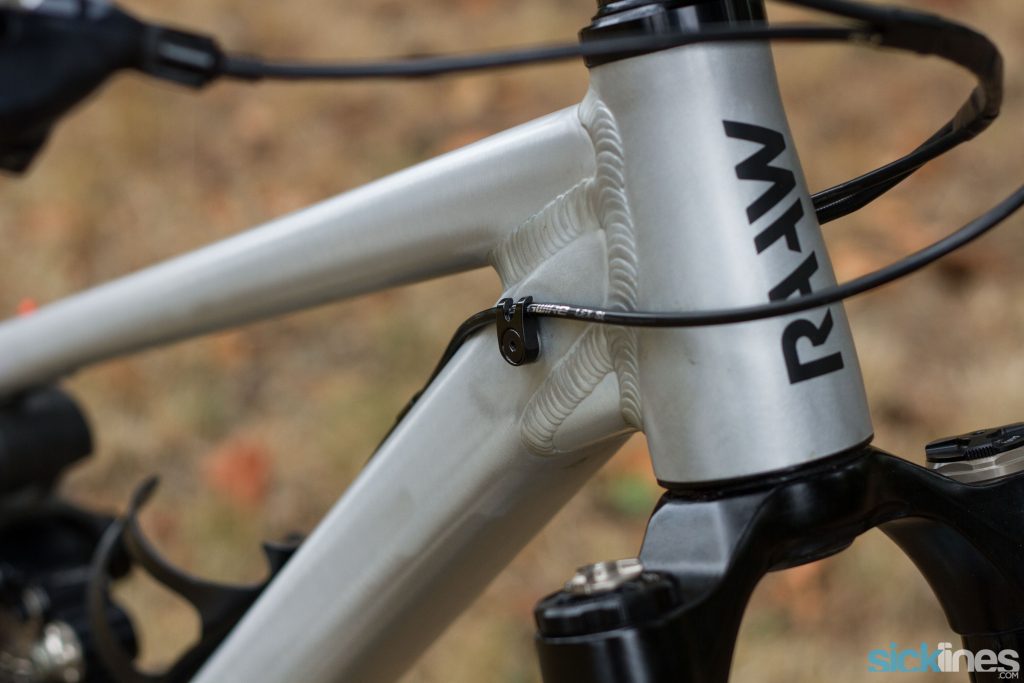 Raaw offers the Jibb as frame-only with no shock or a choice of Fox shocks including a DPX2, DHX-2, or Float X-2. Additionally, if you're interested in something a little different, they offer the Formula Mod coil shock. I ordered mine with a DHX-2 coil shock and a 500 lb spring but for the purposes of the review, I ran an EXT Storia Lok V3. My rational for my choice is that I knew I wanted maximum traction for the wet roots and steep slabs that make up my home turf and coil shocks excel in this regard. However, I also needed bottom-out control and have struggled with coil shocks in the past in this regard. I like to jump. I don't always hit my landings. My lack of precision means I've broken a fair number of shocks, frames, and forks over the years so I settled on the Storia largely for its ability to manage big impacts. I suspect many riders seeking a coil shock will be happy enough with the DHX-2 but because Raaw does offer the Jibb frame without a shock, the up-charge to run an Storia is only about $400 USD at full retail. If you want small bump sensitivity and need bottom-out control, this is the shock to have.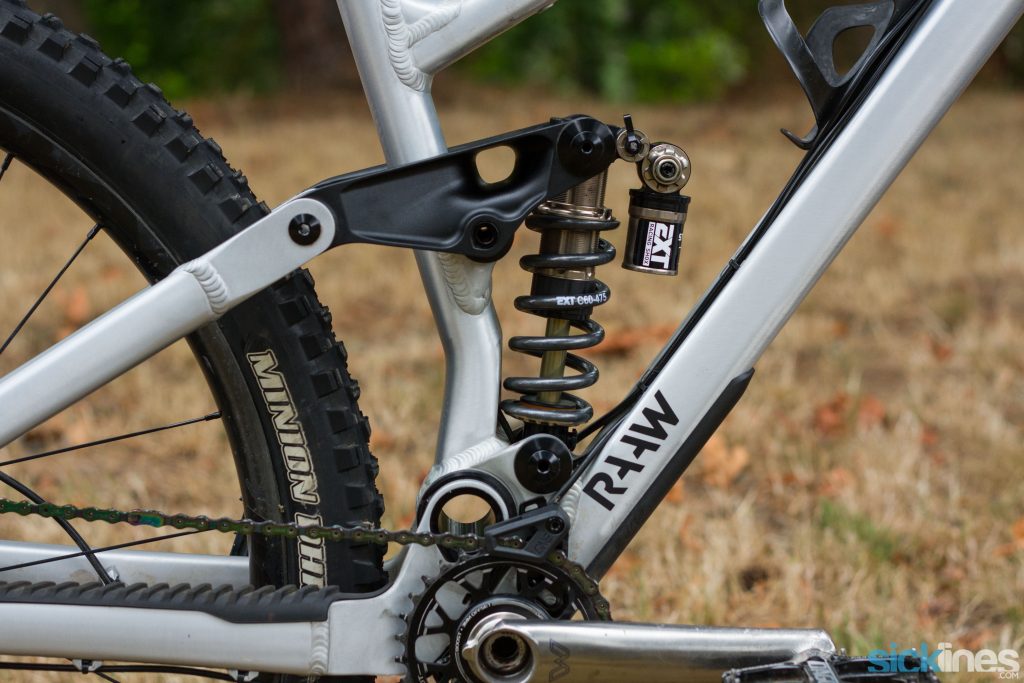 The Jibb's rear-end is at once beautiful and a little unrefined. The signature massive main pivot, straight lines, and clean welds hint at the time and effort that went into the durability side of the equation. The cable routing, on the other hand, feels like a work in progress. It's pretty tricky to get the cable to sit neatly in place without rubbing on parts they shouldn't. There's no getting around the un-tidy look as the shifter cable follows the bottom of the chainstay. The brake line is equally tricky to keep tidy right around the main pivot but the routing under and along the inside of the non-drive chainstay is a bit cleaner. The moulded rubber chainstay protector with it's raised ribs does a good job of keeping noise under control and provides enough coverage that I wasn't compelled to supplement with mastic tape. Raaw uses a single seat stay assembly that accepts multiple inserts to adjust the chainstay length. My drivetrain was comprised of a set of CaneCreek eeWings titanium cranks carried over from a previous build which appear as though they will outlast the author. I ran a 30t Chromag Sequence chainring, SRAM XX1 chain in the rainbow colorway and an X01 cassette and derailleur out back. If this drivetrain spec is starting to look familiar its because I'm seeing excellent longevity out of the cranks, cassette, and derailleur. This means that other than cassettes, chains, and shifter cables annually, my drive train is fairly maintenance free.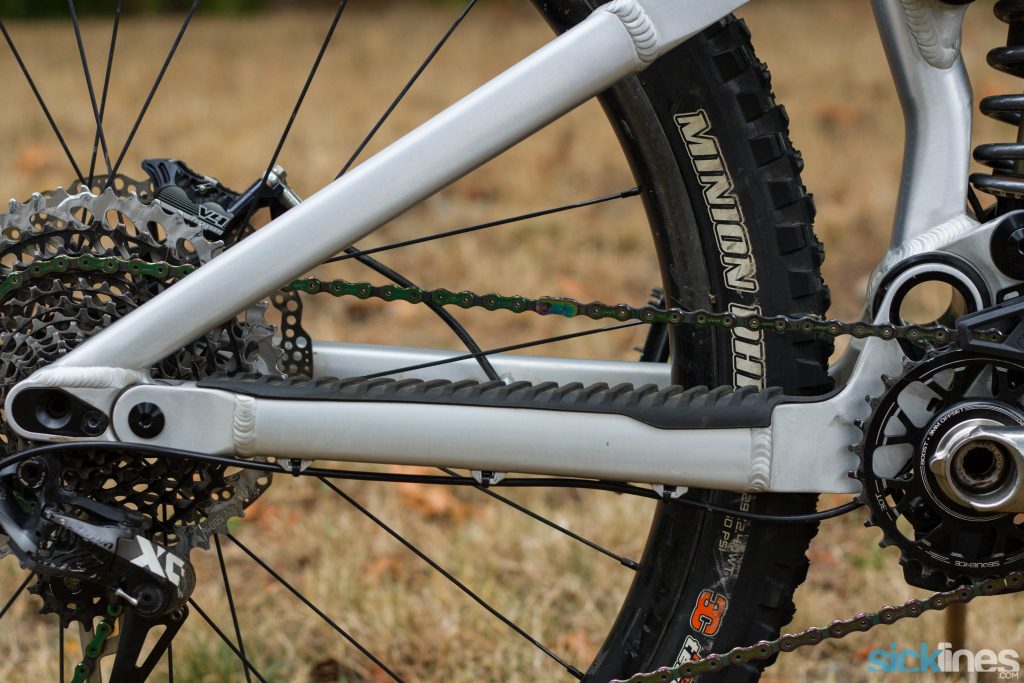 Raaw specs a 200 mm rear brake mount on the Jibb. 180 mm rotor adapters are available as an optional add-on. Raaw also uses the same base seat-stay assembly for each size Jibb and uses inserts to adjust the chain-stay length from 440 mm for sizes small and medium, to 445 mm for size large, and 450 mm for the XL frames. The brake adapter and the chainstay length inserts are matched sets. If you want to run a large frame in the short 440 mm chainstay position, you will also need to purchase both the chainstay inserts and a brake mount to match. I ran the stock 440 mm chainstay position and 200 mm rotor paired to a Hope V4 brake and floating rotor. Raaw offers a tool-free DT Swiss axle which employs a removable handle should you so desire to use a wrench instead. I'm not sure what's different about the Jibb over several other bikes I've reviewed lately but I have not been able to keep the axle tight over long descents. I've checked with a couple other Raaw owners, both Madonnas and Jibbs, and it seems I'm not alone in this issue. On average, I find that for every 1000 vertical feet I descend, I have to stop and snug up the rear axle.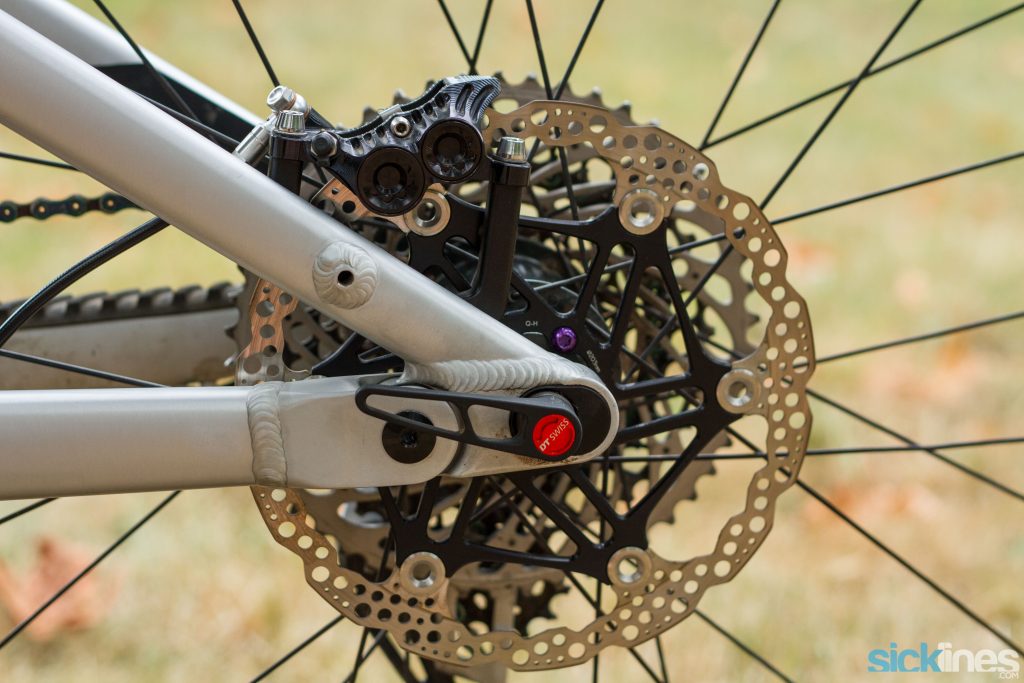 Up front, I'm running EXT's Era fork with travel set to 160 mm. The Jibb can be setup for a fork at 150 mm or 160 mm travel. It's worth pointing out that Raaw's reference geometry table reflects the former option. Since I live in the Pacific Northwest and frequent Whistler, I went for the longer travel option which relaxes the head and seat angles slightly while simultaneously raising the BB and shortening the reach. I chose the Era based on my experience running it on the Nicolai G1 that I recently reviewed. The Era has a few cool tricks up its sleeve but in the case of the Jibb, the dual positive air spring system allows tuning mid-stroke and bottom-out control separate from the main spring rate. This means, that I can get the the right amount of support off the top without sacrificing traction while simultaneously having the fork stand-up in its travel on extended steep sections of trail. With only 160 mm on tap this is a game changer for confidence and stability, especially when a steep line leads to successive harsh compressions. There's no sugar coating the exorbitant cost of the Era. At a retail price of $2100 USD, it's approaching double the cost of some other good options. That said, if you're someone who's trying to cover the maximum range of uses with a single bike, there may not be another fork that does it as well as the Era. One quirk I wanted to point out is the plug protruding from the bottom of the fork crown in the picture below. I'm a huge fan of running OneUp's EDC in my steerer tube. Unfortunately, the inside diameter of the Era's is a little too small for the plug that goes in from the bottom to keep the EDC tool from rattling. I got it to work, but only after carefully grinding down the OneUp tool plug. I didn't yet have it quite right when I snapped this photo thus it's pushed out the bottom of the steerer tube.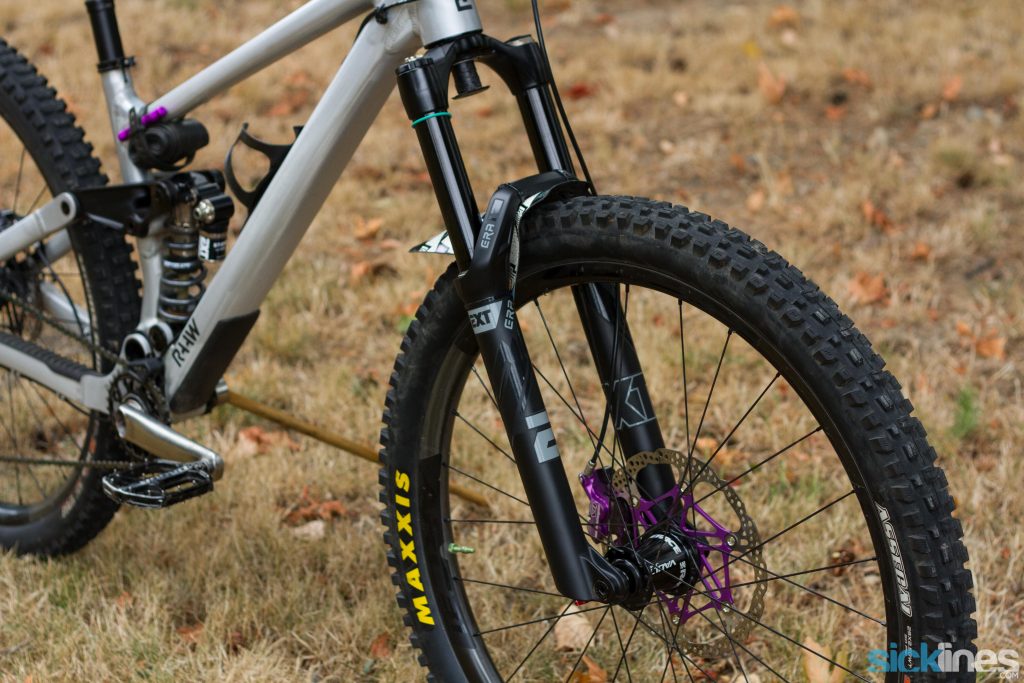 I don't think anyone needs reminding of how difficult it has been to source parts this year. We're all feeling the pain and thus my Jibb build is a bit of a COVID special. I'm running Hope V4 brakes front and rear but purple up front and black out back. I'm running an oversized 220 mm rotor up front instead of the common 200 mm standard and a North Shore Billet adapter to accommodate it. Aside from a very small weight penalty, I can't find any downsides to this setup. Power is up considerably but at no discernible impact to the outstanding modulation and reliability that Hope brakes are known for. Another nice upside to this setup is that brake pads last noticeably longer. For wheels, I dusted off the Race Face wheels I reviewed back in 2018 comprised of ARC 31 carbon rims, Vault hubs, and Sapim CX-Ray spokes. These wheels have proven incredibly durable and low maintenance despite being subjected to a ton of abuse. For tires, I'm running a 2.5 Assegai in EXO MaxTerra up front and a 2.4 DHRII in Exo MaxTerra with a Cush Core in the rear. I went EXO casing to keep weight in check and Cush Core for its proven ability to keep flats and broken rims to a minimum.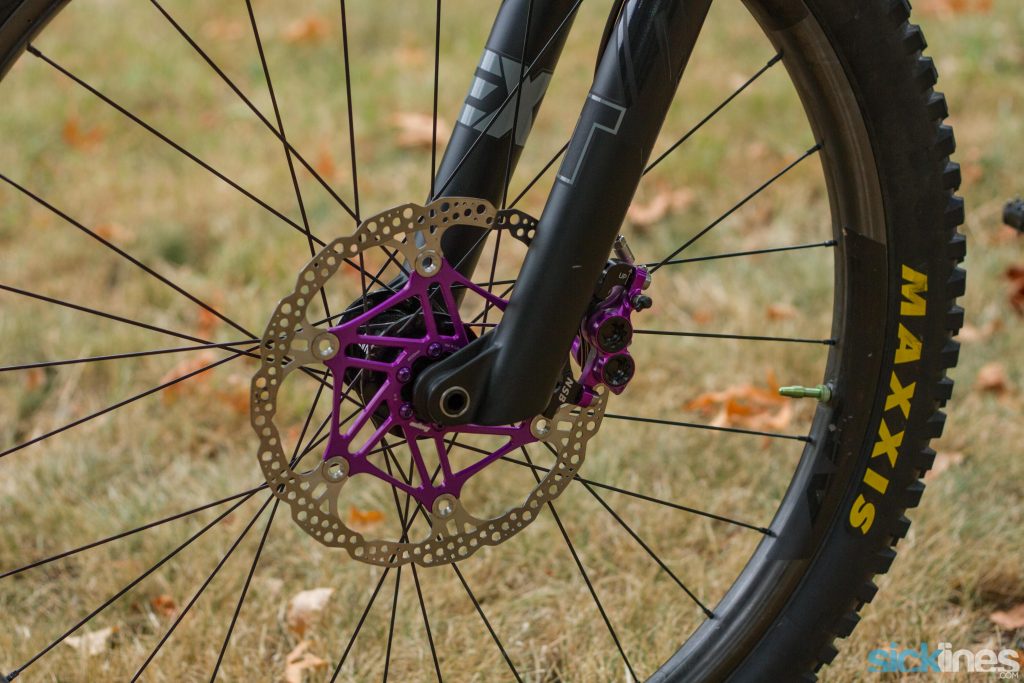 Continuing with the "found-parts" theme to my cockpit, I dug up an old set of Chromag Cutlass bars in 25 mm rise and trimmed to 780 width. I paired them with a fresh 40 mm Chromag Ranger stem. This is the first time I've been on a stem longer than 35 mm in quite a while but at just shy of 5'9″ on a size medium, I felt like I needed a little extra room. Rounding out the front-end, the grips are Chromag Format single-clamps and I'm running a Bike Yoke remote paired to a OneUp dropper post and an X01 shifter pod.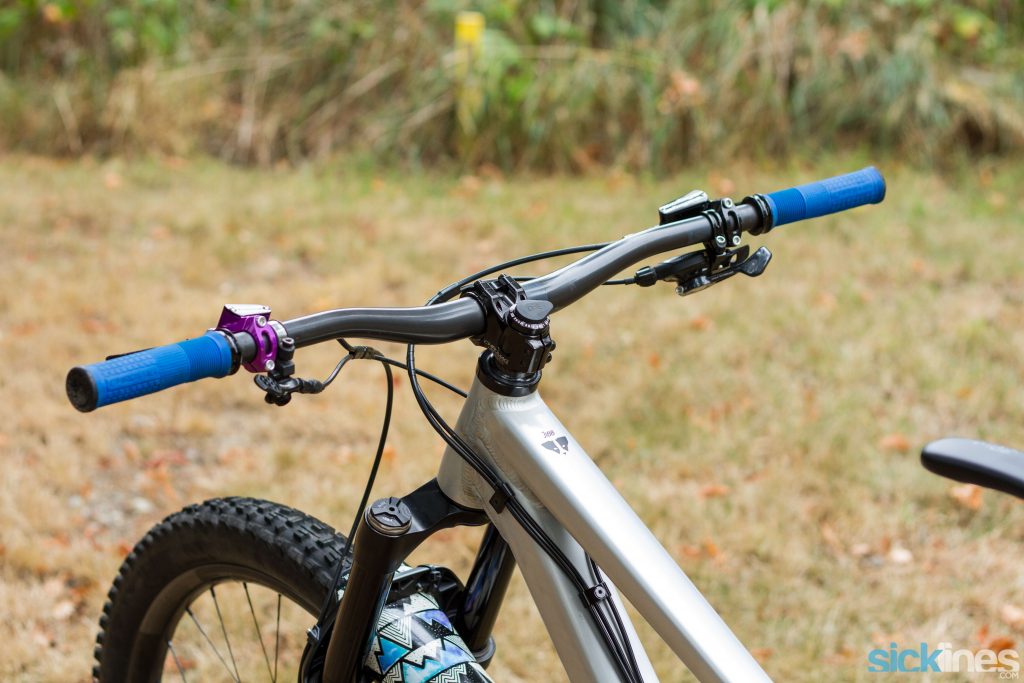 Since I was completely free to spec this build as I saw fit I didn't hold back in addressing all the detail. A OneUp EDC tool in the steerer tube ensures tools are always close at hand while keeping my pack light.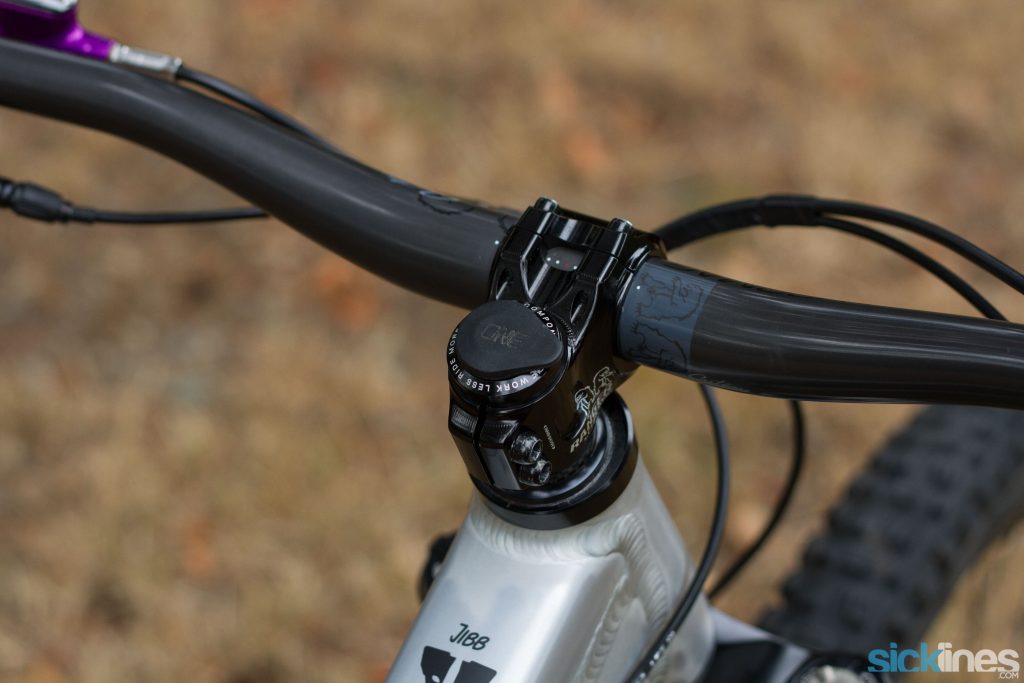 A OneUp strap holds a tube and my matchy-matchy purple Dynaplug tool. An Arundel carbon sideloader cage provides low-profile water bottle storage so that I can run a full sized bottle.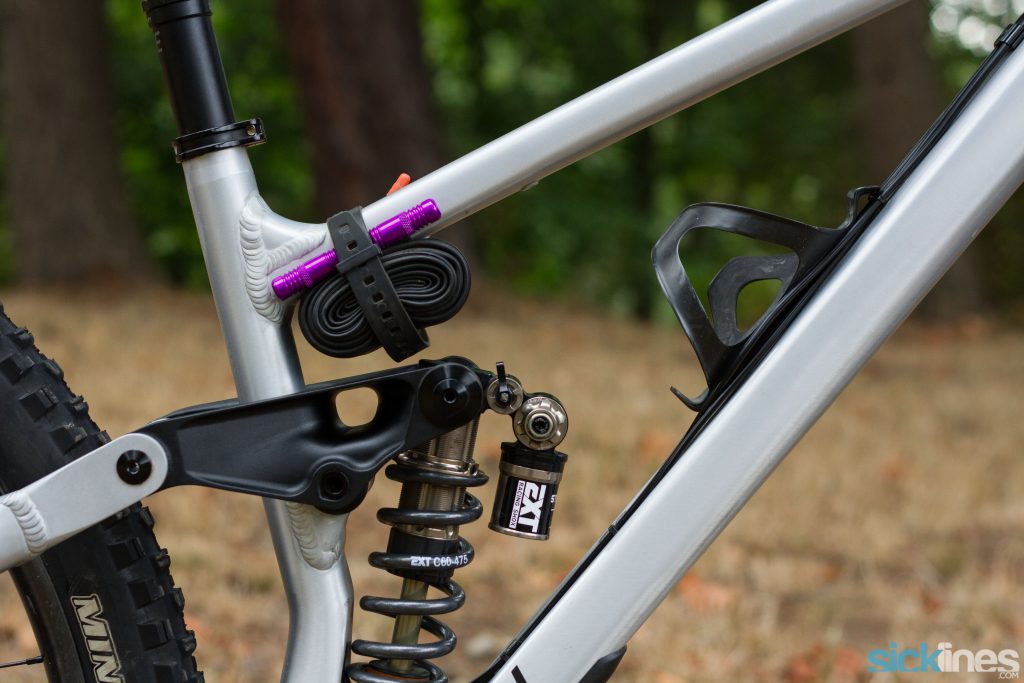 An SQ Lab 611 carbon railed saddle in 140 mm width keeps the saddle sores at bay with excellent support and pressure relief and is perched a top a 180 mm OneUp dropper post. It's worth noting that I was able to achieve my preferred 29″ saddle height (BB to top of saddle) with room to spare despite the bend in the Jibb's seat tube.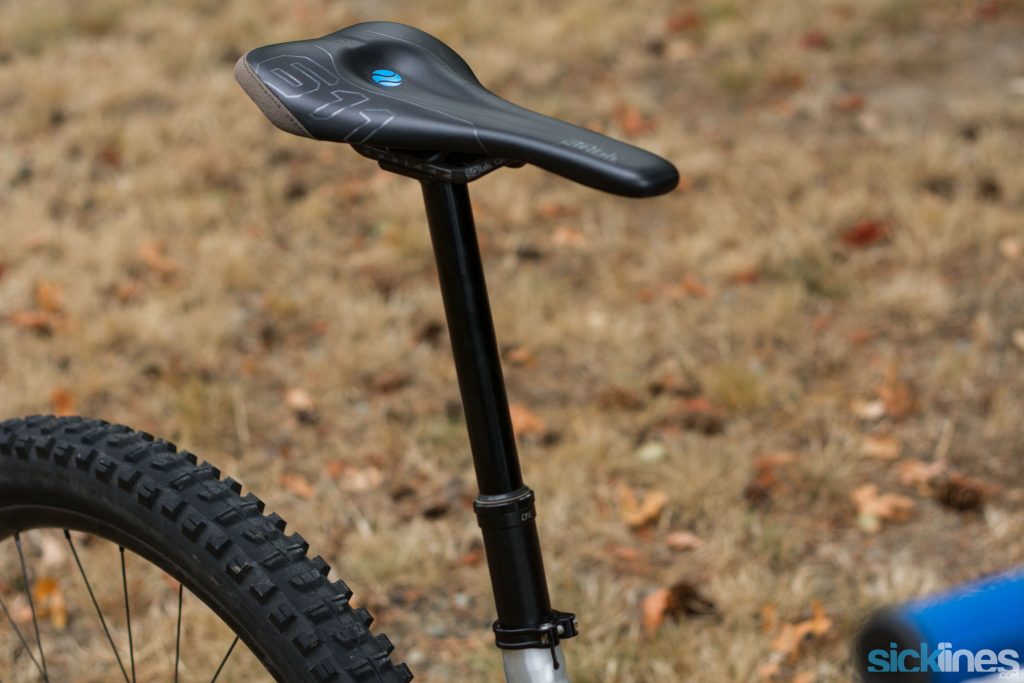 Ride Report
I really didn't know what to expect out of the Jibb. I've owned and ridden many 130 to 140 mm play bikes and generally love the genre. I've never been the fastest rider but I do like to get loose. Almost every bike similar to the Jibb that has come before has had substantially shorter chainstays and reach. I was concerned that it wouldn't be as playful or reactive as I am accustomed to and I was partially correct. The Jibb feels a little more planted and purposeful than a pure play bike and in some situations carries speed similar to bikes with far more travel. This is not a bike that I would ever take to a pump track. Rolling into a manual takes considerably more effort than something like a Transition Scout with its chainstays measuring a full 10 mm shorter. The suspension, even with a coil shock, does have a nice poppy feel that thrives on boosting jumps but it's a little softer off the top and delivers more traction than say a Pivot Switchblade. Back to back with full sized enduro bikes on the same trail, the Jibb is far more playful than any 160 mm + race bike and finds itself in the air rather than eating up every bump. The Jibb is a play bike for the masses. Neither as sharp nor as demanding as some of the more extreme examples and with far more range as a daily driver than most other comparable options. The Jibb is an excellent option as a 1 bike quiver for the person who's looking for a responsive ride to make the most of local trails that are on the tame end of the spectrum but occasionally wants to send it on more rugged terrain.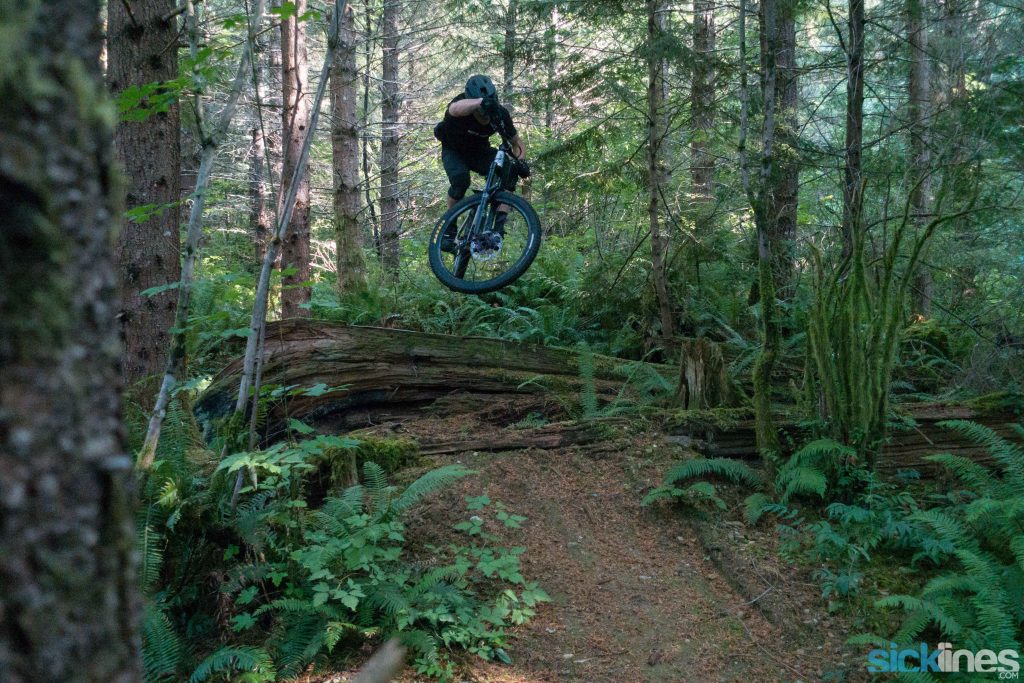 Do you enjoy playing on kinda weird, kinda dumb on a "big bike" features? I found myself wasting time on all sorts of goofy trail features on the Jibb. I ride for fun first and foremost. Not for racing, not for my job, for fun. The Jibb delivers smiles for days. I grab this bike to challenge and amuse myself and I grab it any time the flavor of the day is flow trails and jumps. I grab this bike when I want to scare myself a little bit. I grab this bike for big days. I grab this bike when I know that what I really need is a super fun, laugh out-loud kind of ride.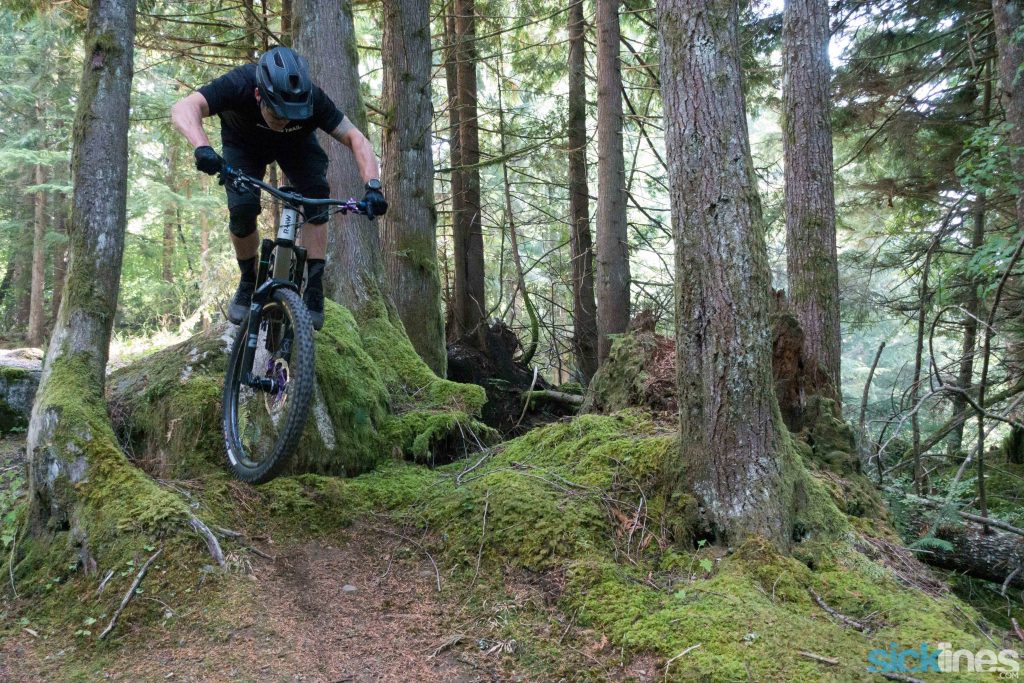 I almost never ride in a straight line for very long on the Jibb. I've said it several times already but this is a bike for having fun rather than chasing fast times. Below, I'm popping out of a sustained steep run on a greasy day following some much needed rain. That extra 10 mm in the chainstays over the traditional approach and the outstanding traction delivered by the EXT suspension lent confidence to get just a little out of control at every opportunity. On these days I do notice that my arms and legs get a little more fatigued as my body has to absorb what the bike will not. There's a point where the Jibb does start to feel out of it's element and less fun. Big holes and successive square edges are a real chore. Around my home town of Bellingham, the Jibb chews up our mostly smooth and flowy trails. In Whistler, the more textured terrain means it's hard to stay on pace and rather exhausting aboard the Jibb. Part of this is suspension travel and part of it is the short wheelbase. I agonized over sizing, going back and forth between medium and large. Medium for agility, large for stability. Considering the amount of time I typically spend in Whistler, if I had to do it over again, I'd get the large. Each size jump adds 25 mm to the reach number and over 30 mm to the wheelbase. In the 160 / 135 mm travel configuration that I'm running in size medium, I mostly feel like there's plenty of suspension travel but occasionally not quite enough stability. Sizing up would almost certainly fix that while still maintaining an overall playful character relative to my fully sized enduro bike. Nothing new in that observation. If you want a straight up play bike, size down, if you want stability and speed, size up.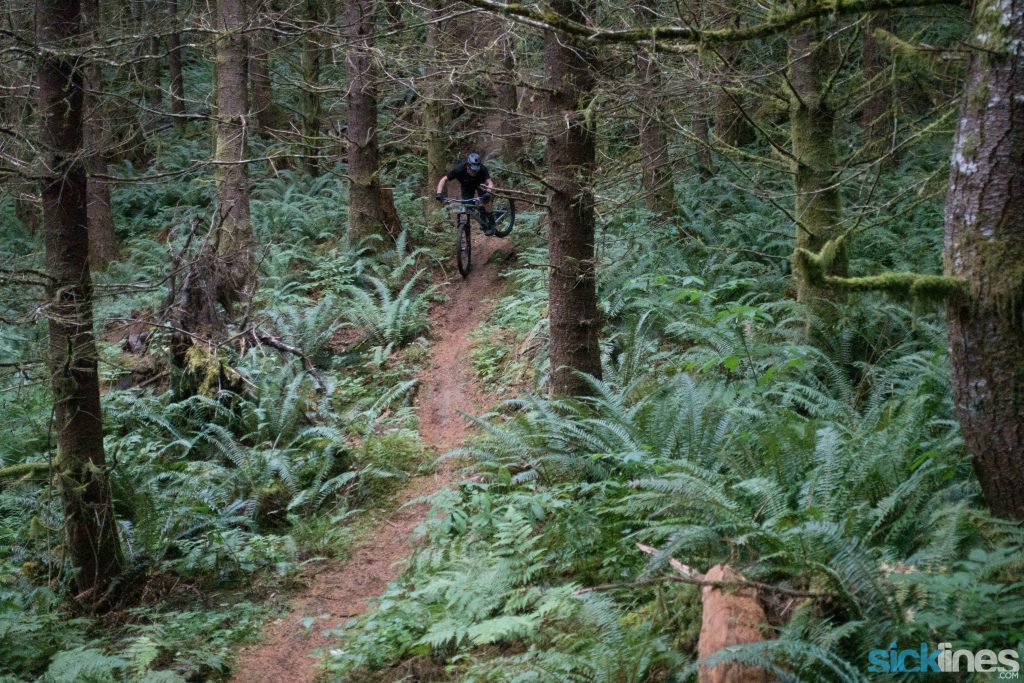 Climbing aboard the Jibb is a genuinely pleasurable experience. The steep seat tube angle and long chainstays help to keep your weight shifted forward. Little rider input is required to keep the front wheel planted. The Jibb makes quick work of tight switchbacks and tricky ledge ups, maintaining poise and traction with ease. For less technical climbing, the Jibb spins along efficiently with no need for a flip of the climb switch as long as your cadence is reasonably smooth. Standing while climbing will create a little more unwanted suspension motion but not enough to be of concern for short bursts. Want to stand and hammer up a fire road climb? That's about the only use case I have for the climb switch. Another welcome trait of the Jibb is that pedal strikes are rare. Despite the 35 mm drop and even with the massive platform of the Chromag Dagga pedals I was able to spin my 170 mm cranks through the rockiest climbs without much drama. The only thing that holds the Jibb back from being a truly fast climber is weight. My complete build came in at around 33 lbs. My choice to run a coil shock and a heavy wheel and tire combination add a couple pounds to the build. If you ride where you can get away with less rotational mass and an air shock, I have no doubt the Jibb has the potential to deliver climb PRs.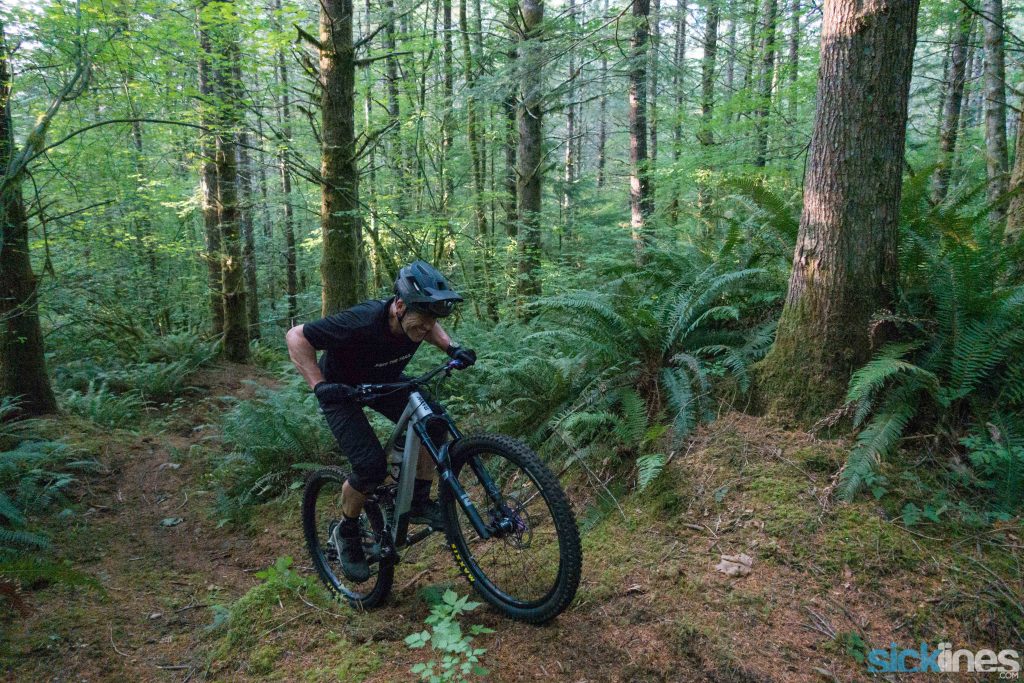 Quirks and quibbles
Below, starting at the top left and moving clockwise. The reservoir on my EXT Storia rubs on the shifter and dropper post cables, just barely clearing the brake line. The stock derailleur hanger is soft to the extent it results in poor shifting and bent easily. A stiffer hanger of 7000 series alloy is available from Raaw and I highly recommend you run it. Access to the BB is pretty tight once the brake line is in place. Having an open ended BB wrench is handy to have around. Lastly I had significant creaking from nearly every pivot within the first month of riding. I was not thrilled to have to go through a full linkage tear down and re-grease so soon. Fortunately, the Jibb is very easy to pull apart and in the two months since it has been quiet and trouble free.
Final Thoughts
It's probably pretty clear by now that I quite like the ride experience the Jibb delivers. The mechanical issues and quirks that I ran into were fairly minor in the grand scheme of things. Is there anything I would do differently? I tend to think the Jibb would be even more fun with slightly shorter chainstays and a slightly extended reach. It's hard not to imagine a mullet version being fun. From a value perspective, the complete Jibb frame with DHX-2 shock and Essentials Kit came in at 2,260 Euros. That price has gone up by 210 Euros since I placed my order in late May. Buyers in the US should also keep in mind that there is a 150 Euro shipping charge, 14% import duty, and you may end up on the hook for state taxes as well. I'm detailing these charges because with current pricing, the total cost of this Jibb frame to my door is now approximately $3500 USD at today's exchange rate. If you order a Jibb now, you're looking at paying roughly the same cost as several high-end carbon frames. In my personal experience, I have found aluminum frames to provide more longevity than their carbon counterparts and the massive pivots should be trouble free for years to come. Depending on how long you tend to keep your bikes and how much you value simple maintenance, the cost may or may not be a tough pill to swallow. Personally, I'm always trying to maximize my ride time and minimize wrenching so the Jibb resonates. As I wind down my review, I'm looking forward to spending a lot more time on this bike just for fun. If you ride for fun over all else and value durability over cutting edge technology, I recommend you give the Jibb a close look.