THE SECRET IS IN THE SUSPENSION

HOW DVO'S FASTEST AND STRONGEST WOMEN ARE SETTING UP FOR SUCCESS
Valencia, Calif. (Aug. 26, 2021) – All too often, women are excluded from innovation where the latest technology is designed with an average male rider in mind. With a for riders, by riders approach, the high-performance technology and customizable tunes behind DVO Suspension elevates the riding experience for athletes of all sizes. DVO's tireless commitment to suspension technology for all riders has set a foundation for which women are progressing the sport. From the EWS world stage to freeride progression, DVO Suspension is the secret to success for women pushing the sport now and in the future.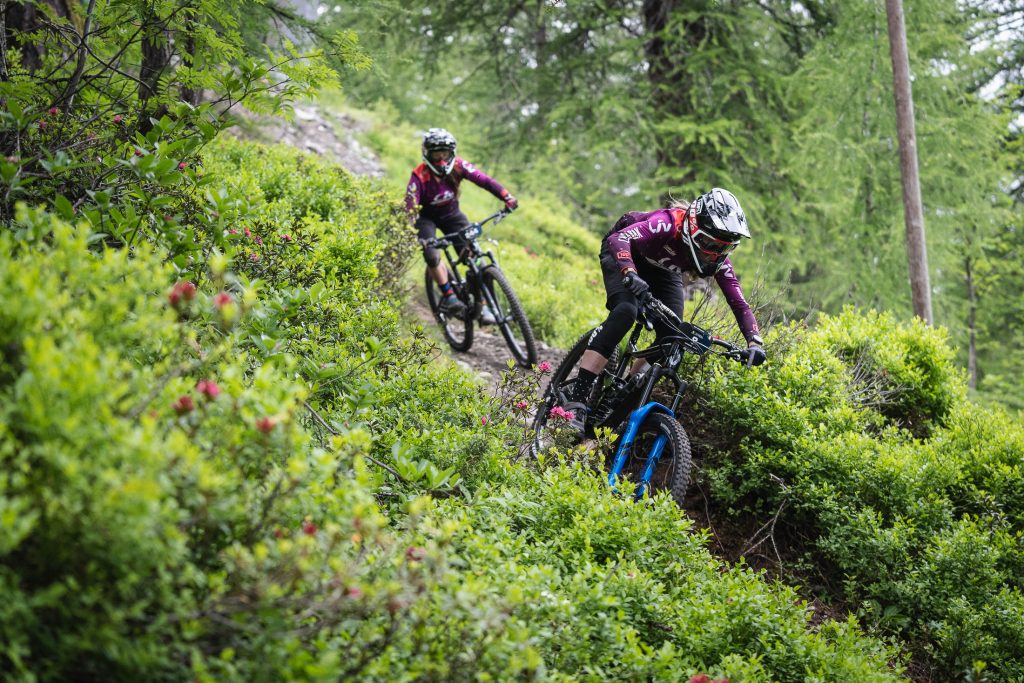 DVO's leading enduro women, Mélanie Pugin and Rae Morrison, are proving that consistency is key with the return of a full Enduro World Series season. With the new back-to-back format, these women depend on DVO's features for endurance, efficiency and control.
Pugin, with an impressive 340 point series lead, thanks DVO's Off The Top technology for saving her arms over long race days. Pugin is a small pilot that loves Europe's steep and rooty tracks. Off The Top Technology, an exclusive external adjustment of the preload on the negative spring, allows Pugin to fine tune the initial sensitivity of her Oynx SC fork. The softer beginning stroke improves small bump sensitivity and traction without compromising middle and end stroke support.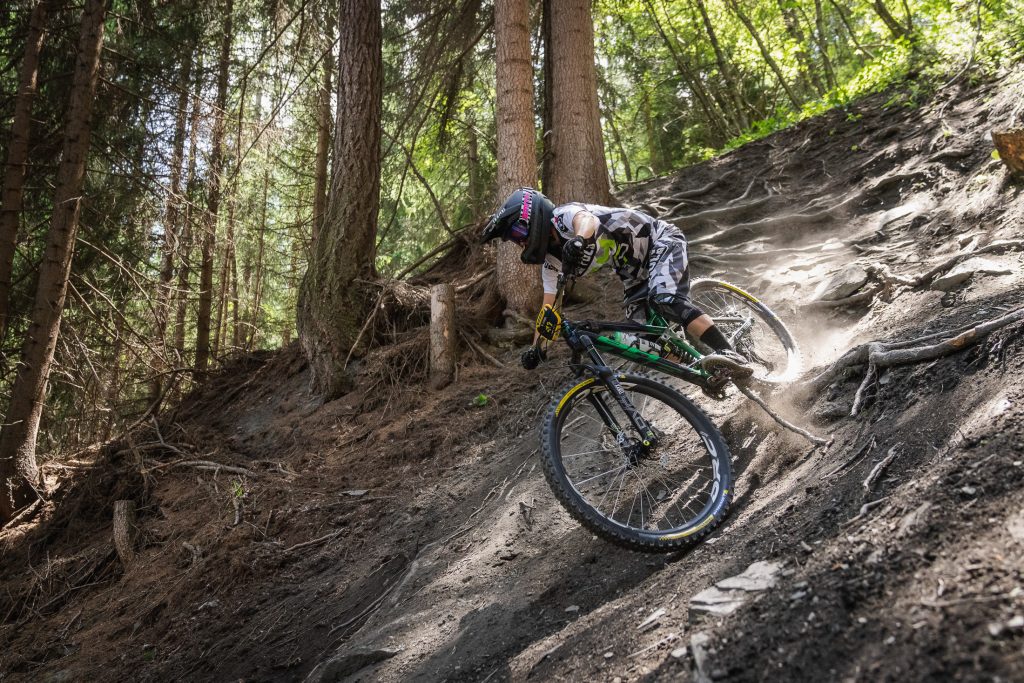 Morrison has established herself as an EWS household name through speed, control and year-after-year results. The Kiwi racer is a loyal fan of DVO's Jade X coil shock and says the three position pedal platform is ideal for enduro racing. The Jade X gives Morrison the best qualities of both air and coil shocks: a firm climb, a responsive pedal and a plush descent. Matched with DVO's ProRate Spring, with up to 125 lbs. of progressive rate coil, Morrison is able to balance the linear leverage curve of her bike and maintain a supple and grippy initial stroke.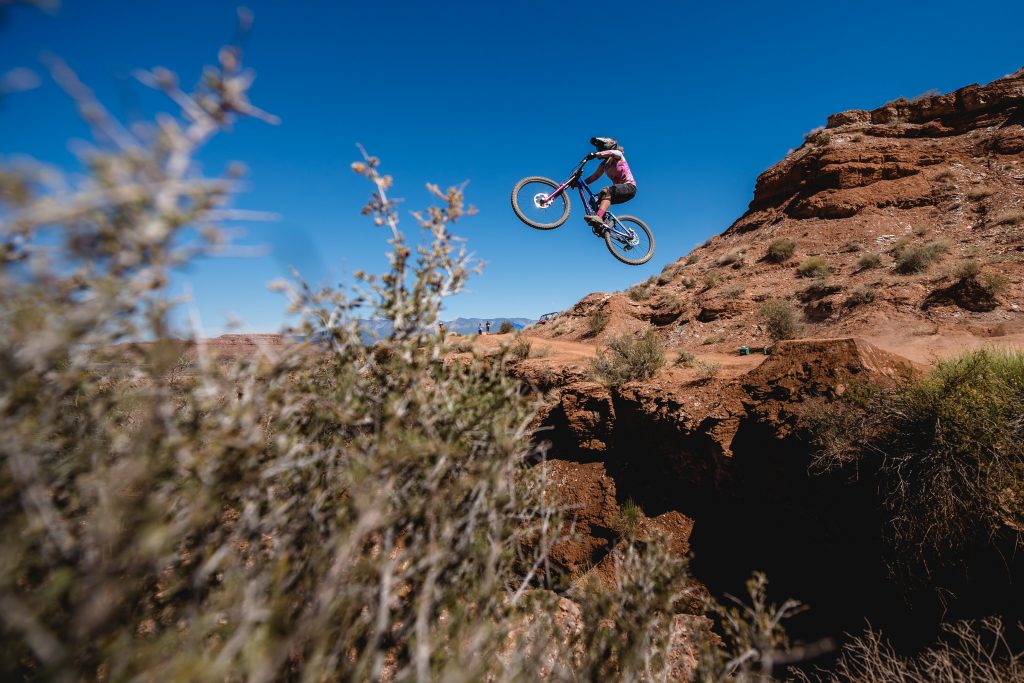 DVO's biggest hitting women, Chelsea Kimball and up-and-comer Teagan Heap, show that support for big lines doesn't have to come at a price. With DVO's Oynx DC up front, a dual crown fork born from World Cup racing, Kimball set the bar for female freeride at this year's Red Bull Formation. After days of hard digging, Kimball was grateful for her fork's damping design and independently adjustable HSC and LSC in taking vibrations and tuning for the terrain despite the supportive 105 psi necessary for the massive gaps and drops. Off The Top is her favorite feature and says "having the ability to adjust the feel of only the top few inches of travel is so valuable."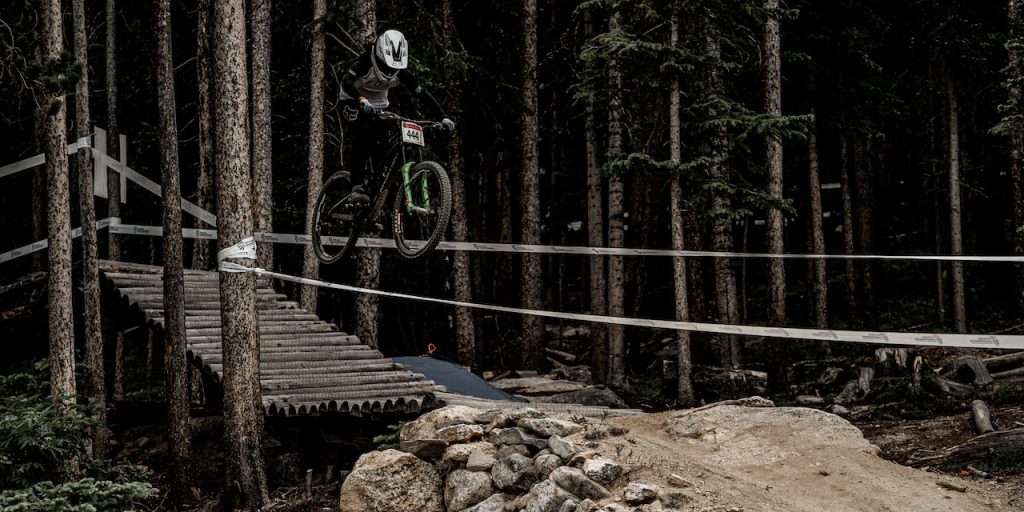 At just 14 years old, Heap is turning heads on the DH circuit and highlighted her season with a National Championship at Winter Park. Heap calls the rough and rocky trails of Bootleg Canyon home where Off The Top helps her float over The Face. The "cool" initial feel allows Heap to run a supportive air pressure while also making easier work of the gnarly terrain.
Many of DVO's hardest charging women enjoy a custom tune of their forks and shocks, an elite-level treatment that's available to all riders. When purchasing a new suspension product, DVO customers can visit the Custom Shop and input their details for a master crafted feel. Current DVO product owners can send their fork or shock in for service for the same master tune attention.
MÉLANIE PUGIN

RAE MORRISON

Favorite Terrain: Steeps with roots and loam
Up Front: DVO Oynx SC D1 170mm at 62 psi with
8 clicks of rebound, 4 clicks of LSC and the HSC fully open
Out Back: DVO Jade X with a 250 lb coil,
3 clicks of rebound and 176 psi in the bumper
Favorite Terrain: Techy and steep
Up Front: DVO Oynx SC D1 160mm at 56 psi
Out Back: DVO Jade X with a 300 lb ProRate Spring
CHELSEA KIMBALL

TEAGAN HEAP

Favorite Terrain: The cliffs and ridges of Virgin, UT
Up Front: Custom painted DVO Oynx DC D1 at 95-110 psi,
depending on the terrain, and generally fully open OTT and LSC
Out Back: DVO Jade with a 350 lb. spring and a heavier spring
for bigger terrain
Favorite Terrain: The gnarlier the better
Up Front: DVO Onyx DC D1 at 86 psi
Out Back: DVO Jade with a 350-400 ProRate Spring