Our Big Gear Show content continues as we cover some product highlights from adidas Five Ten, Helinox, and Yakima.
adidas Five Ten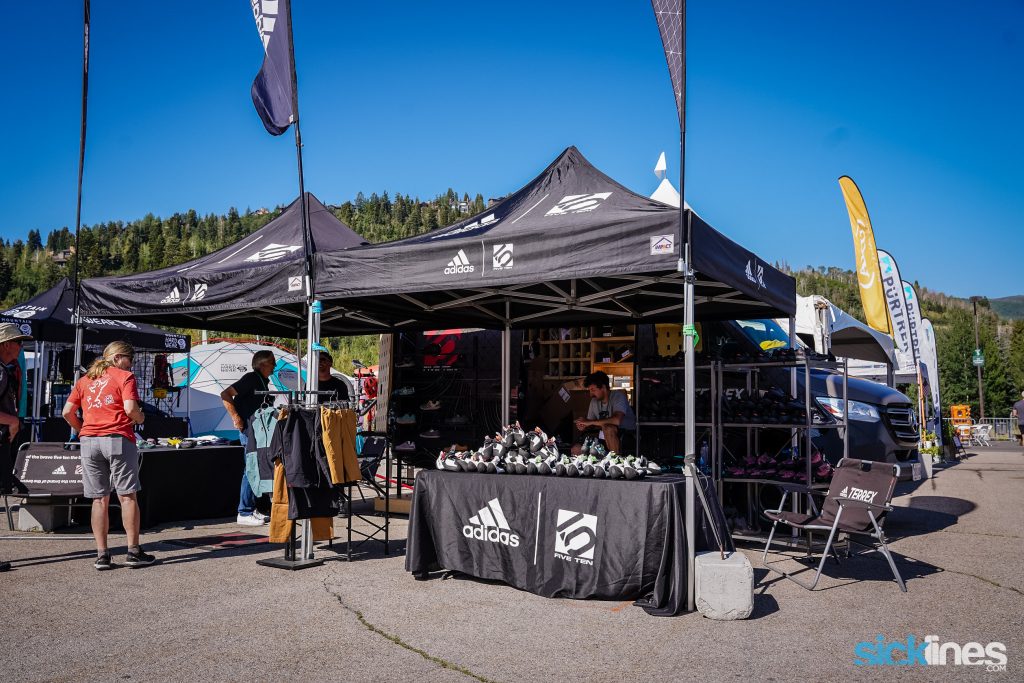 adidas Five Ten 5.10 is well known for its sticky rubber soles in climbing and cycling. They make some quality shoes that compete at the highest level and many cyclists love their shoes. They've expanded their range of shoes to include even more offerings to suit more riders, including kids!
Hellcat Pro
The standout for enduro or gravity-focused mountain bikers using clipless is going to be their Hellcat Pro pictured below. This clipless shoe packs a lot of features in a lightweight package. It features a stiff midsole to help improve pedaling performance along with a number of other features. This shoe like many of the adidas Five Ten products also uses recycled products to help save mother earth. 20% of pieces used to make the uppers with a minimum of 50% recycled content.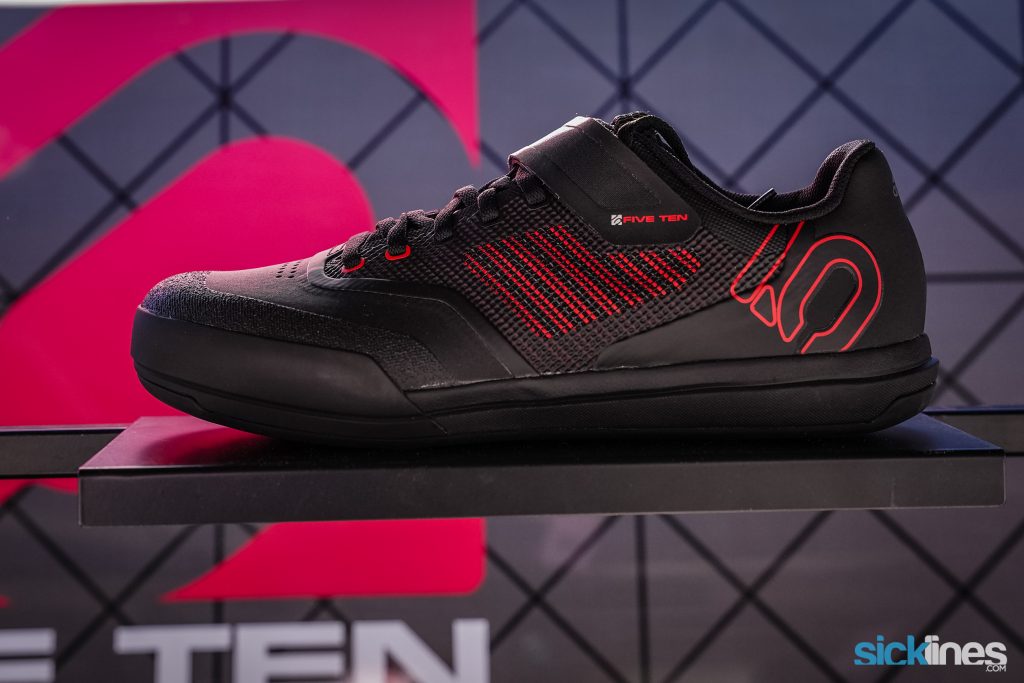 The clipless mount on the bottom of the shoe has a number of position marks on it to help ensure your cleats are aligned properly and equally on both shoes. Great attention to detail that makes clipless setup easier.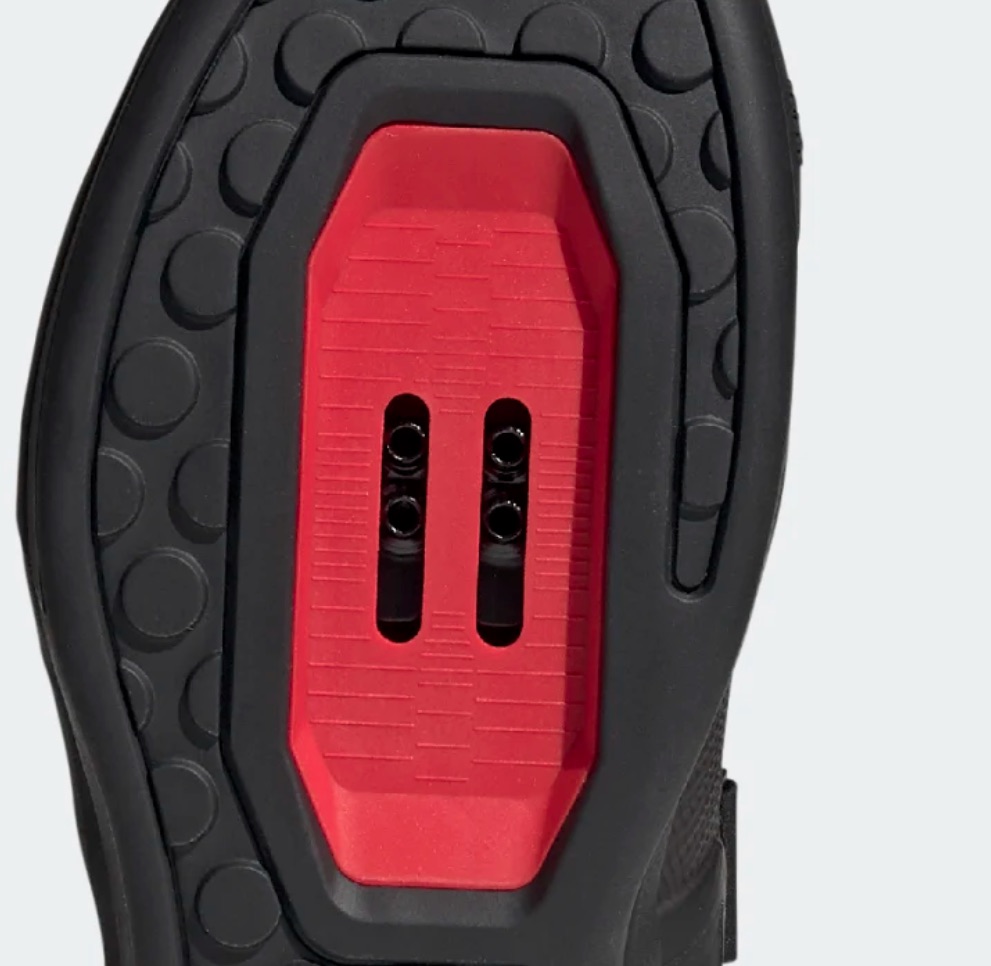 Adidas 5.10 Cycling Clothing / Pants
Clothing is another area where Adidas Five Ten has dove into as well more recently. The pants below, Felsblock pants, utilize recycled components as well and are designed to be a technical piece of clothing that will move with you as they have stretchy cotton and a number of other technical tweaks. They offer a few models of pants and shorts to suit both men and women.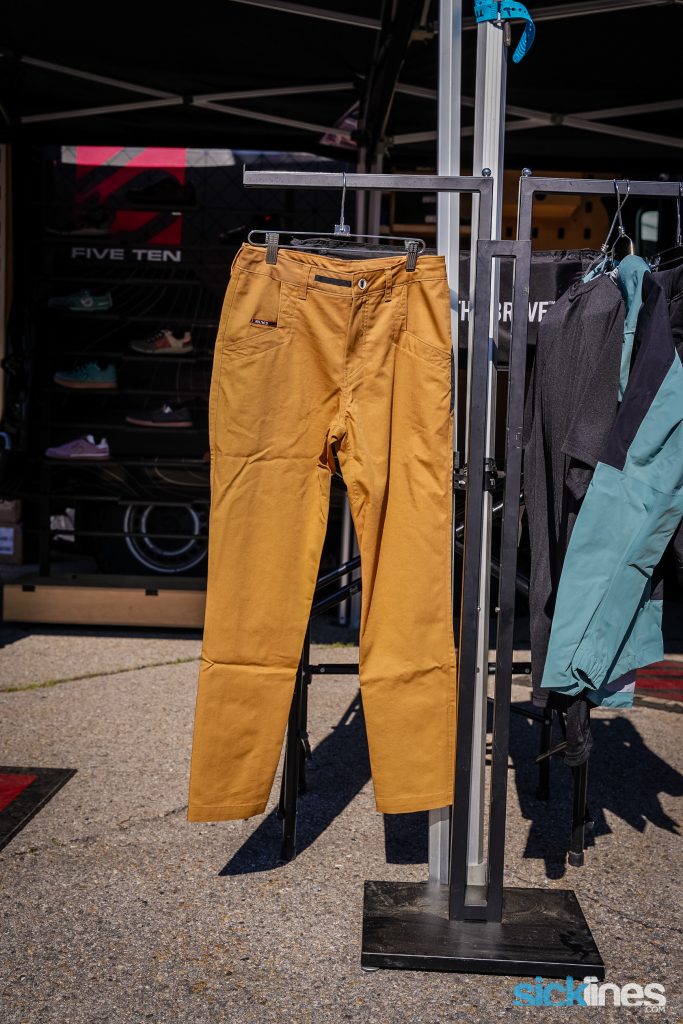 A good lightweight rain jacket that works well on and off the bike is an important piece of clothing if you ride in inclement weather. The Adidas 5.10 All Mountain Rain Jacket is a fully waterproof rain jacket. It is available in a men's and women's version (pictured below). The cut and angles of the jacket allows you to move easily on the bike and the rear dips down more so that when you're riding the rain is pushed away from you better if you're in a cycling position.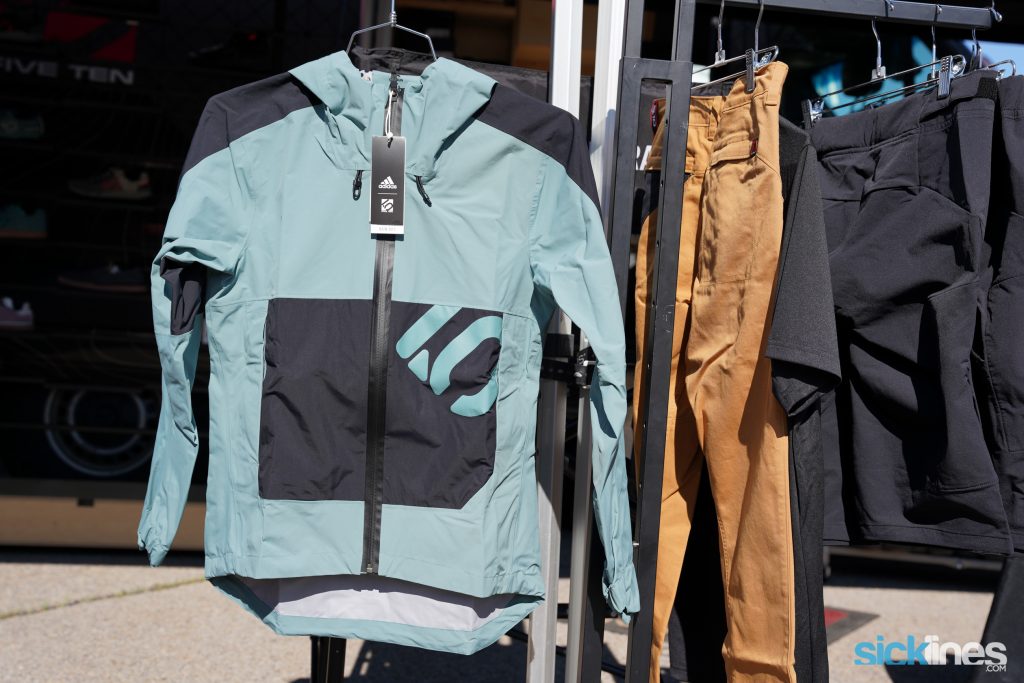 The cuffs are also contoured, tapered, and have some stretchiness to them to allow for a snug but comfortable fit around the wrists. The hood also has adjustments to work with helmets.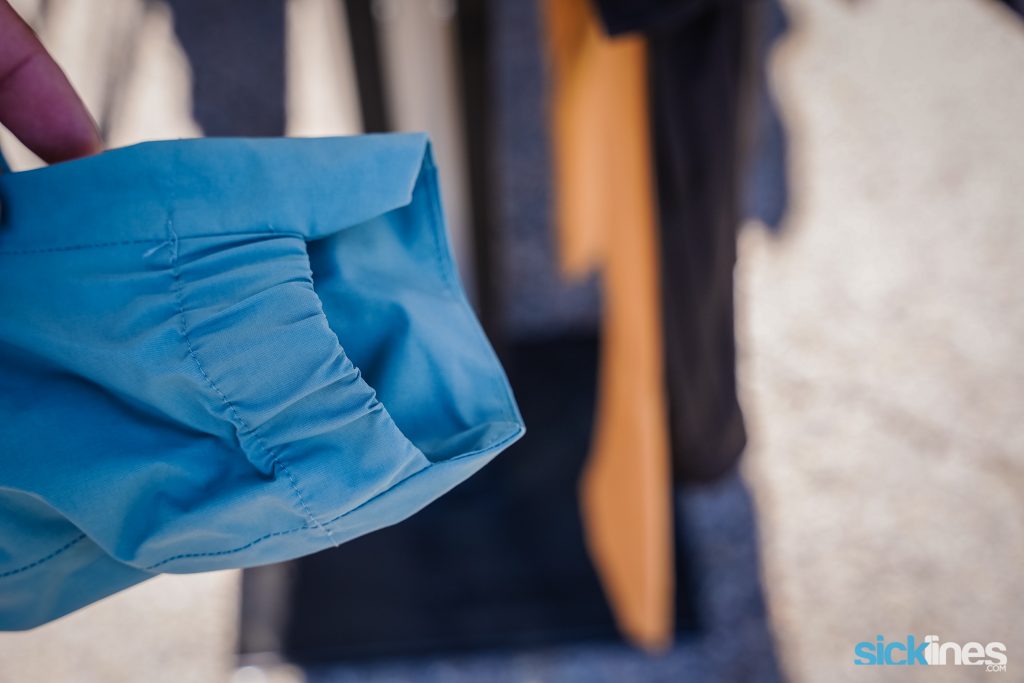 Shoes for Kids Who Bike – Freerider Kids
If you know or have a kid who bikes, chances are you want them to enjoy some quality sticker rubber sole shoes as well when they ride., The Freerider is a nice flat pedal shoes for kids as they have the sticky stealth rubber sole.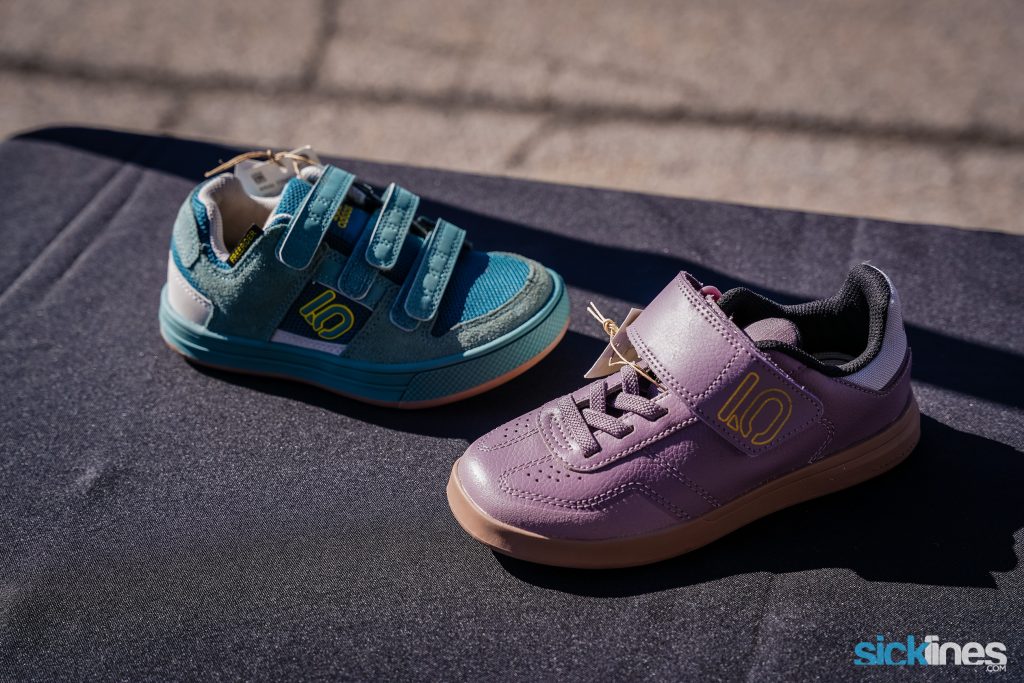 Sticky stealth rubber soles help your kids or little ones help make sure they do not slip off their pedals!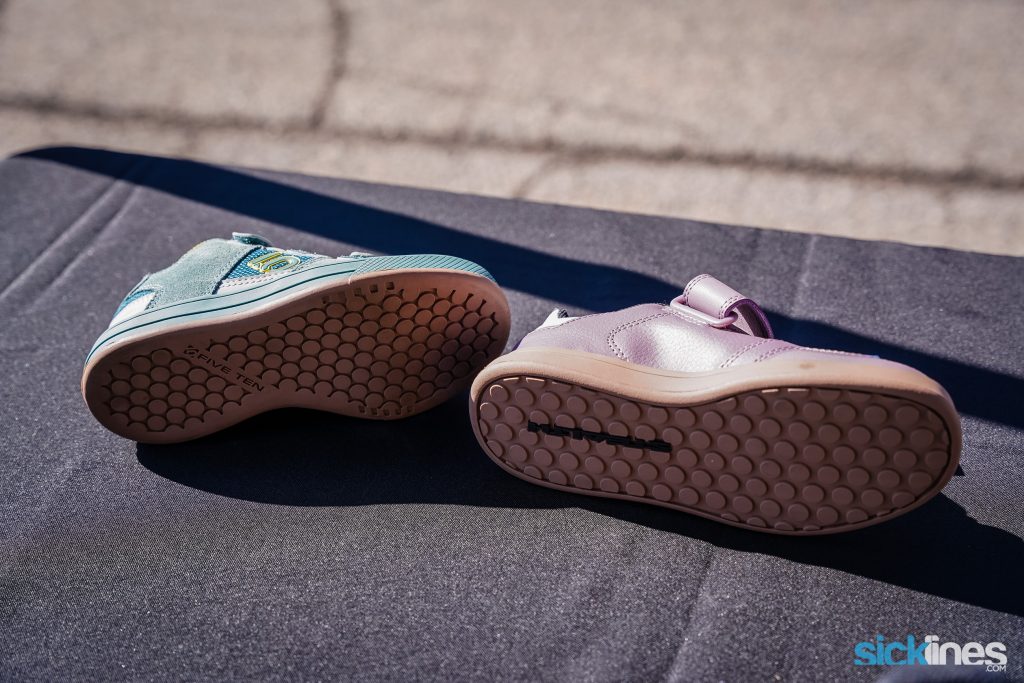 adidas Five Ten also has a number of other shoes like the Freerider Pro that are popular flat pedal shoes for trail and mountain bikers.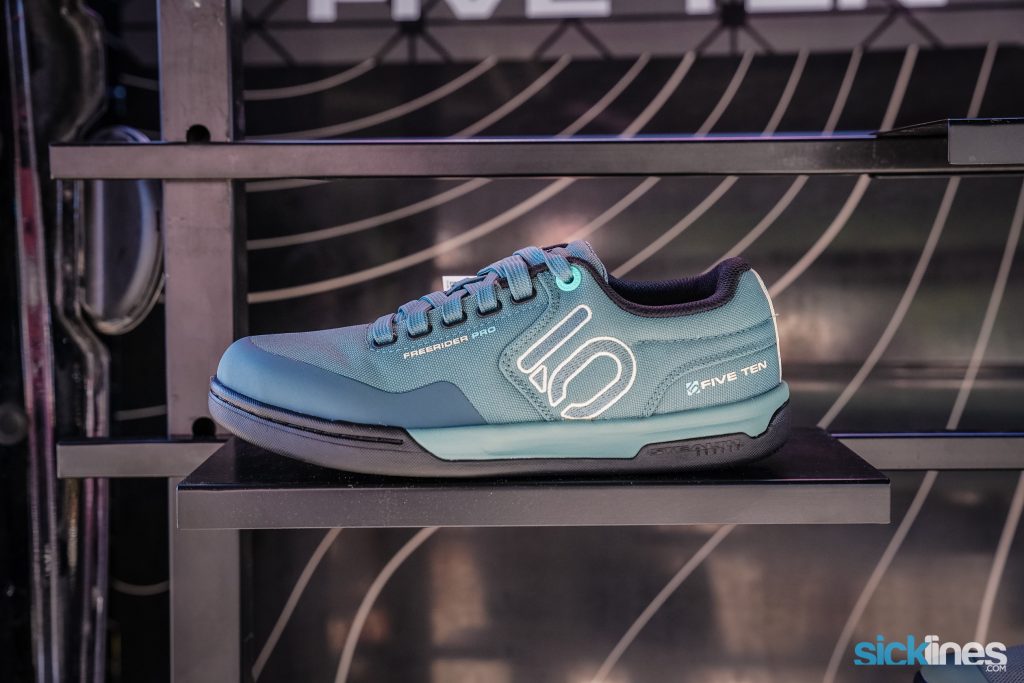 If you're into commuting or e-bikes, these Sleuth DLX / DLX-W shoes have been popular among city and commuters. They don't look like a typical cycling shoe and have a broader appeal to those looking for a more traditional shoe look and are available in both men and women's options. The sole of these shoes also uses stealth rubber so they also get good sticky traction for when they are on a bike.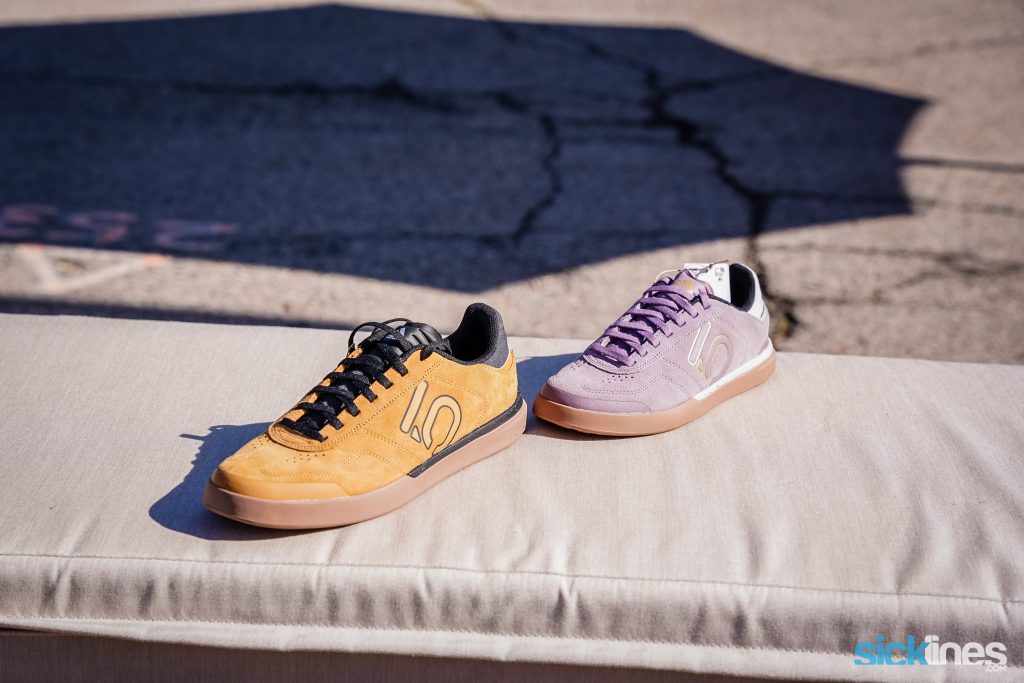 We've added a few extra pictures to the gallery at the bottom of the page as well for additional pictures from adidas Five Ten and more.
Helinox
Helinox makes some great lightweight outdoor furniture pieces that are well built and we took a look at some of their newer offerings at the Big Gear Show.
Their gear is all compact and easy to transport. These are popular for camping, beachgoers, bike packers, tailgaters, and outdoor work to name a few uses. Their products utilize strong DAC aluminum alloy poles and are easy to set up and tear down in a tent-pole-like fashion.
Helinox Field Office
With the changes in many people's workspaces from 2020 Helinox thought up this Helinox field office. With remote work in mind, this setup could be a hit for an outdoor beach, patio, or campsite.
The table folds down for transports and the carrying case attached allows you to store all your work equipment like a laptop, papers, headphones, and whatever your situation demands. The Helinox chairs also offer many accessory attachments to store additional things like cup holders and bulk storage options.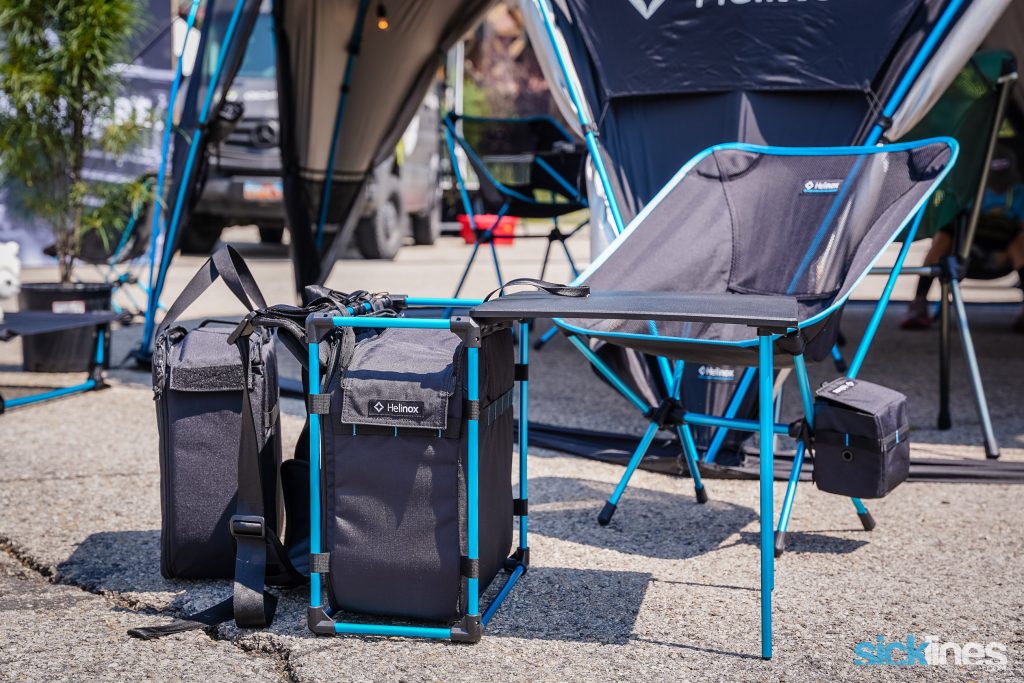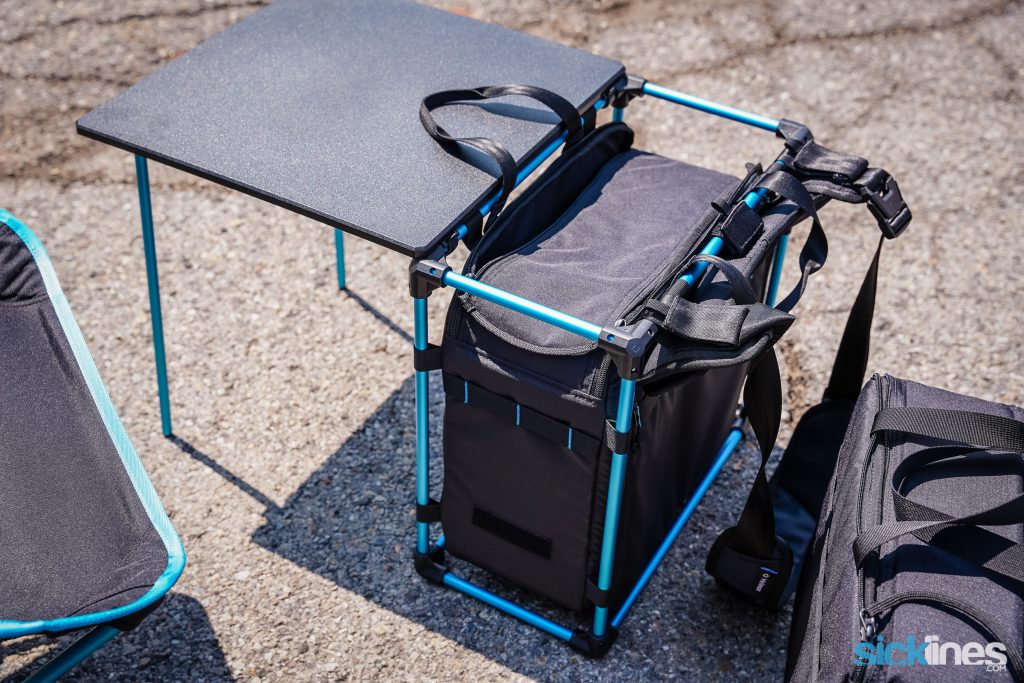 Helinox Chairs
Helinox is well known for its lightweight packable chairs. They offer a wide range of chairs in their line that is easy to assemble and take up a small footprint when packed down due to their tent-like design. They're quite comfy too and have many options to attach accessories to them like sunshades, cup holders, stability mats for sand or loose aggregate, rocking feet, and more.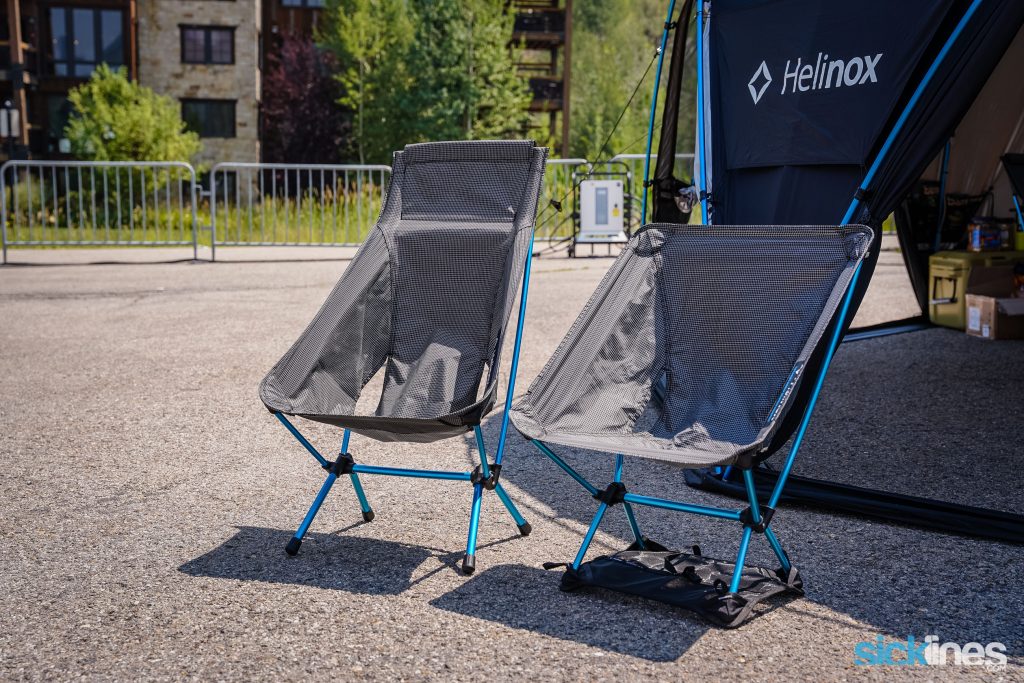 Helinox Dog Cot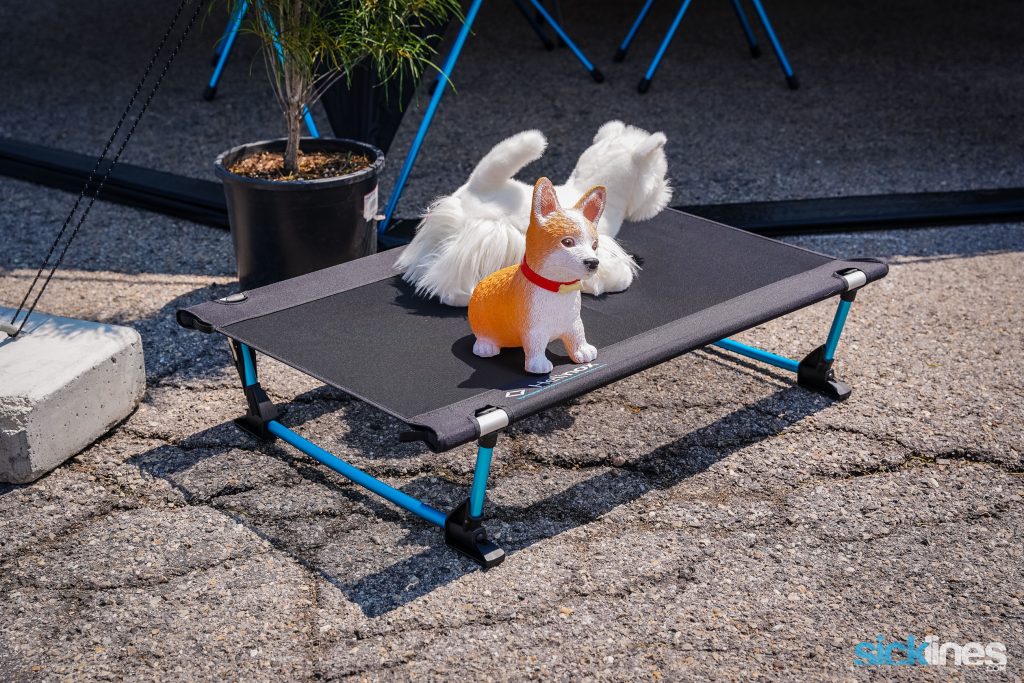 If you have a dog, child, or just want a spot to keep some things off the ground, the elevated Dog Cot may be a hit with you. The elevated platform has some breathable mesh underneath to help with airflow as well.
Helinox Cafe Chairs and Table
The Helinox Cafe chairs are a bit more upright and taller than the typical Helinox chairs that mimic a cafe-style table and chair setup.
These are designed to let you work or eat at a more comfortable height and angle. The elevated table offers a 60cm x 60cm surface at 68cm(~26.7″) to hold your cactus, drinks, food, or whatever your table needs are.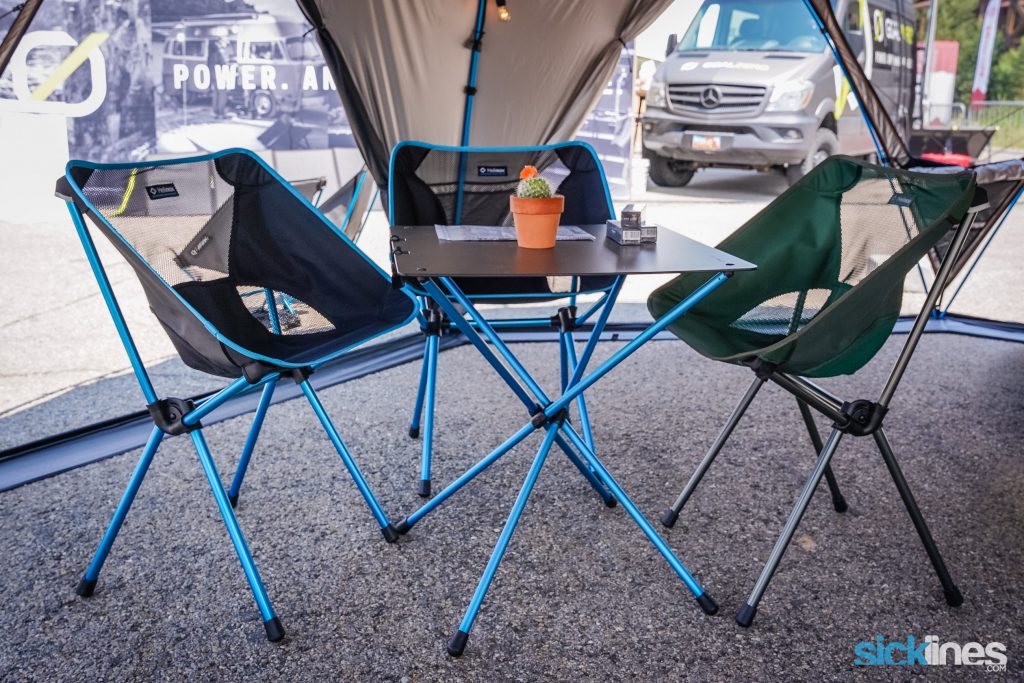 A more upright position on these Helinox Cafe chairs.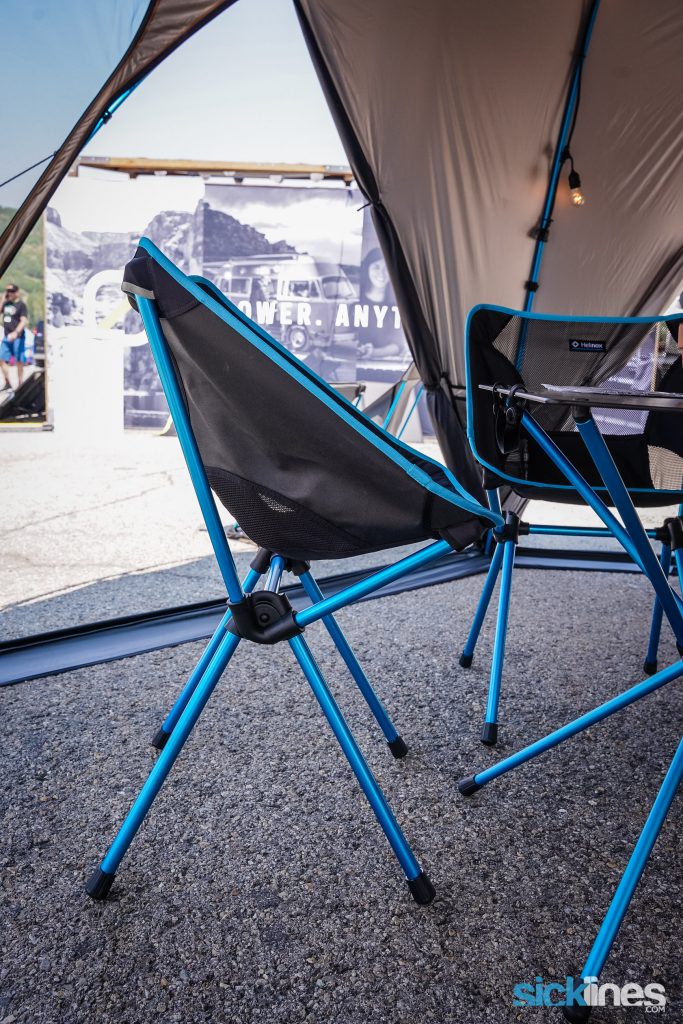 Yakima
Yakima had a lot of interest in their EXO range of products on display and they've expanded it to enable more customization and capabilities to haul bikes. They offer an EXO Top Shelf to allow for a two level option for those who need to carry more gear and accessories.
Yakima was also displaying a hitch bike rack attachment that could also carry road and mountain bikes in reverse that is a little bit different than their Hangover series rack as the Hangover is only for suspension bikes.
We've covered their Hangover 4/6 bike rack as well previously in case you want to learn more about that offering.
Stay tuned for more of our coverage from The Big Gear Show
If you want to read more about The Big Gear Show, visit their website at www.thegbiggearshow.com