Diamondback Bicycles
Diamondback Bicycles brought a wide range of demo bikes to The Big Gear Show. Their booth was one of the places where you could grab a bike to explore the surrounding roads or Deer Valley Ski lift terrain.
We ended up taking a spin on their Release full-suspension bike as well as their Union e-bike during the event which we cover below.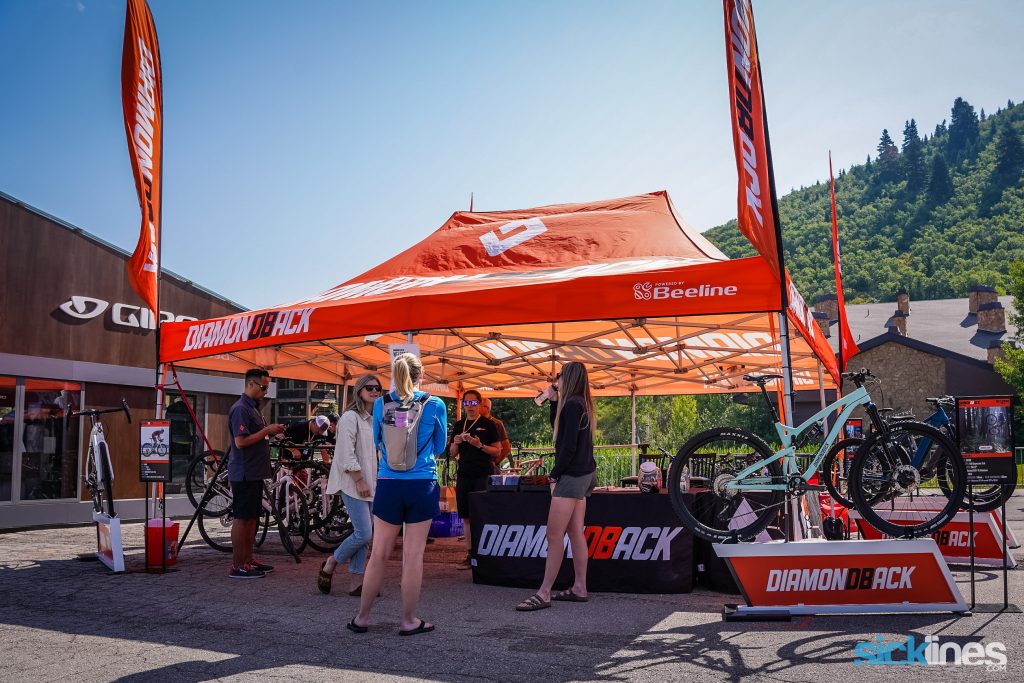 The Diamondback Release is available in a variety of options to hit different price and performance areas for their customers. They offer the Release in 29″ or 27.5″ options and it's paired with 130mm of travel through their Level Link suspension. It felt quite capable on the mountain offering 130mm of rear wheel travel without pushing through its travel too quickly. The 150mm of FOX front suspension helped soak up the front impacts well. While not a long travel bike or modern enduro weapon it's been some time since I've rode a Diamondback and I was pleasantly surprised at this offering. If you're in the market for a trail bike or a shorter travel bike these are worth throwing a leg over for a more thorough test and consideration.
Diamondback Offerings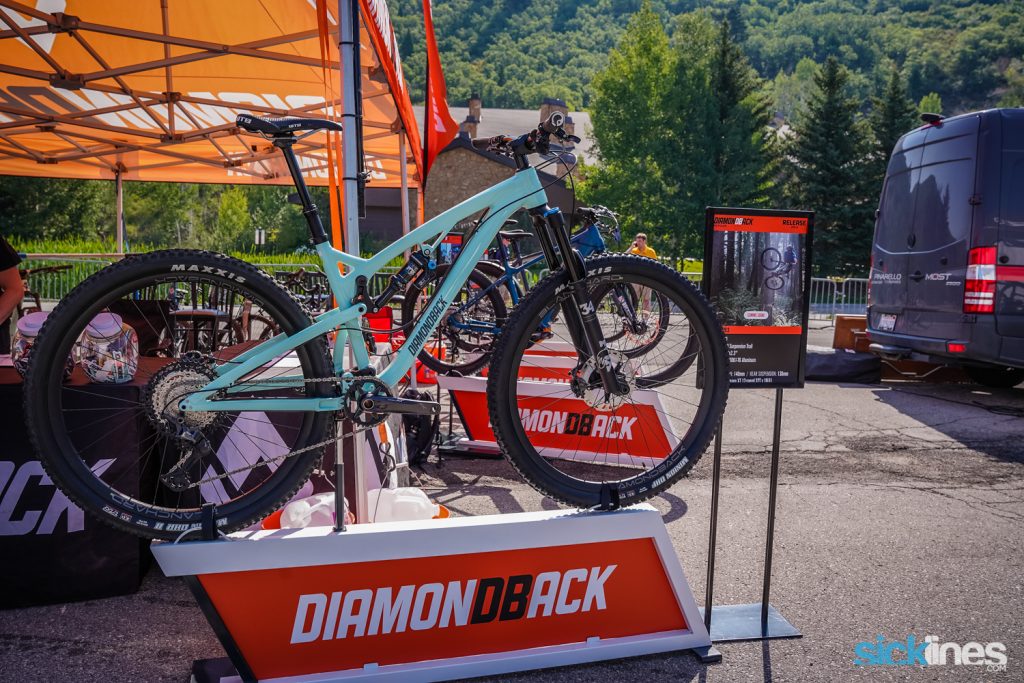 Eric Porter has ridden for a number of brands in his career and he has been riding for Diamondback for 10 years now. He was at The Big Gear Show and we took a look at his personal Diamondback Release 29.2 bike.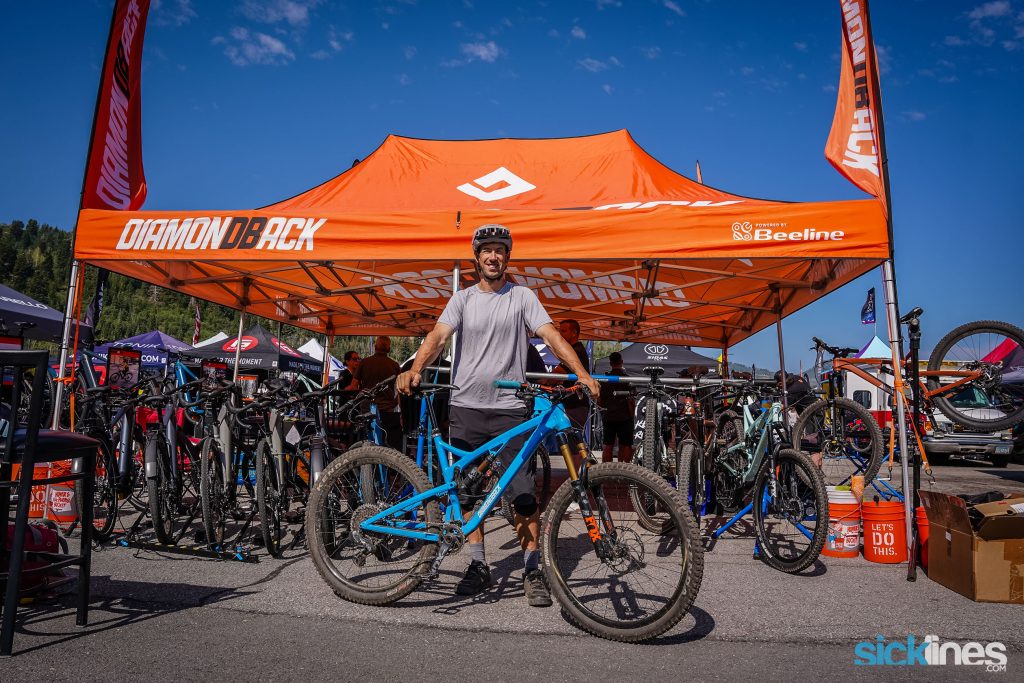 His cockpit had Magura brakes, Magura wireless dropper seat post, and a Deity carbon bar/stem with the SRAM AXS wireless shifter. He opted for a FOX 36 on this bike as well to handle the Deer Valley / Park City trails he rides this bike on.
Everything is wireless on-board including the Magura seatpost except for the brakes.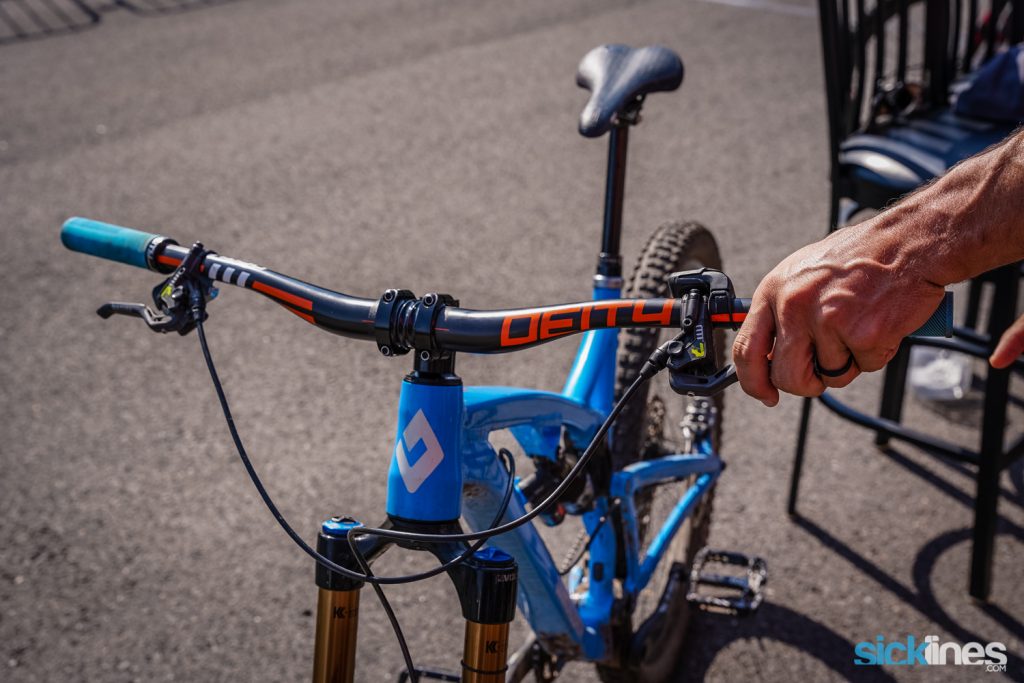 Porter's bike had one of our favorite grips, the Deity Knuckleduster, paired with the SRAM AXS wireless shifter.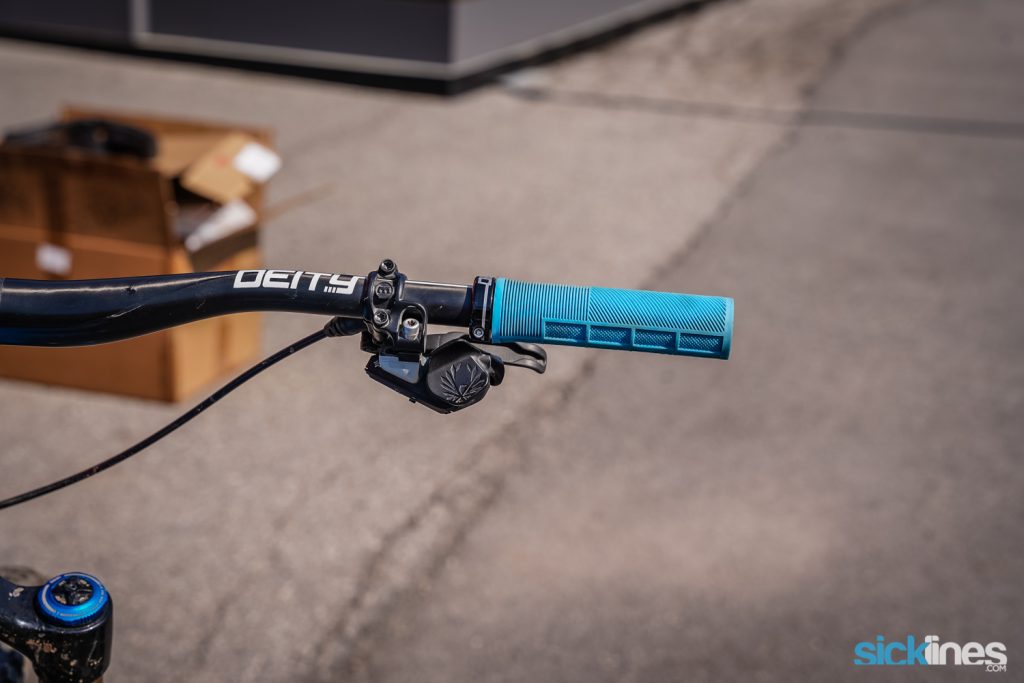 He also opted for a bigger 36t sprocket on his wireless drivetrain along with some Deity TMAC pedals and Kenda Pinner tires.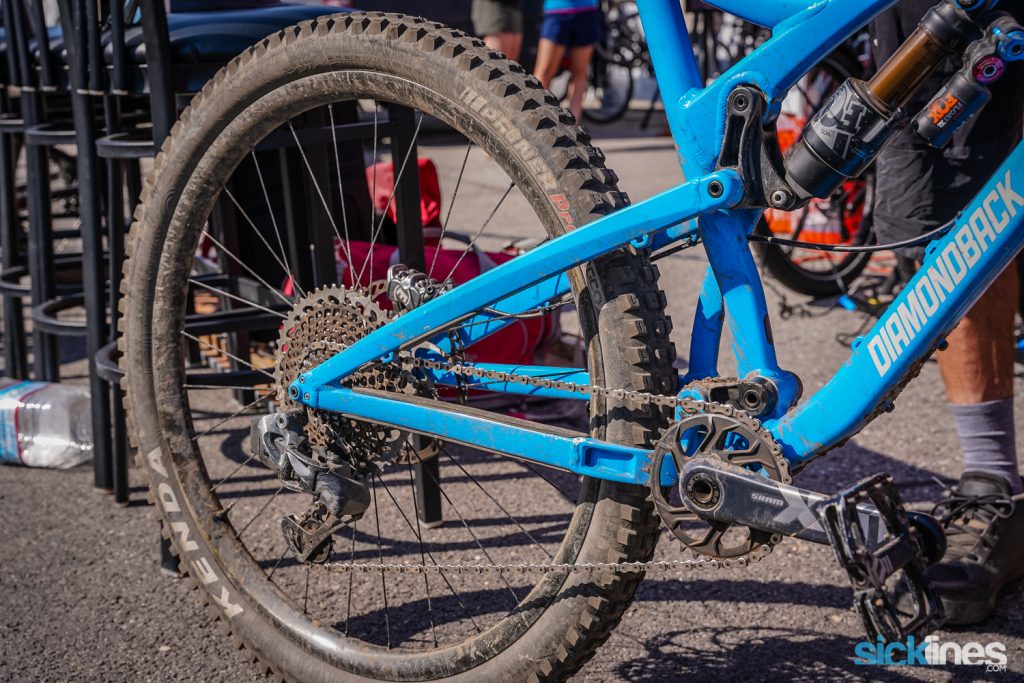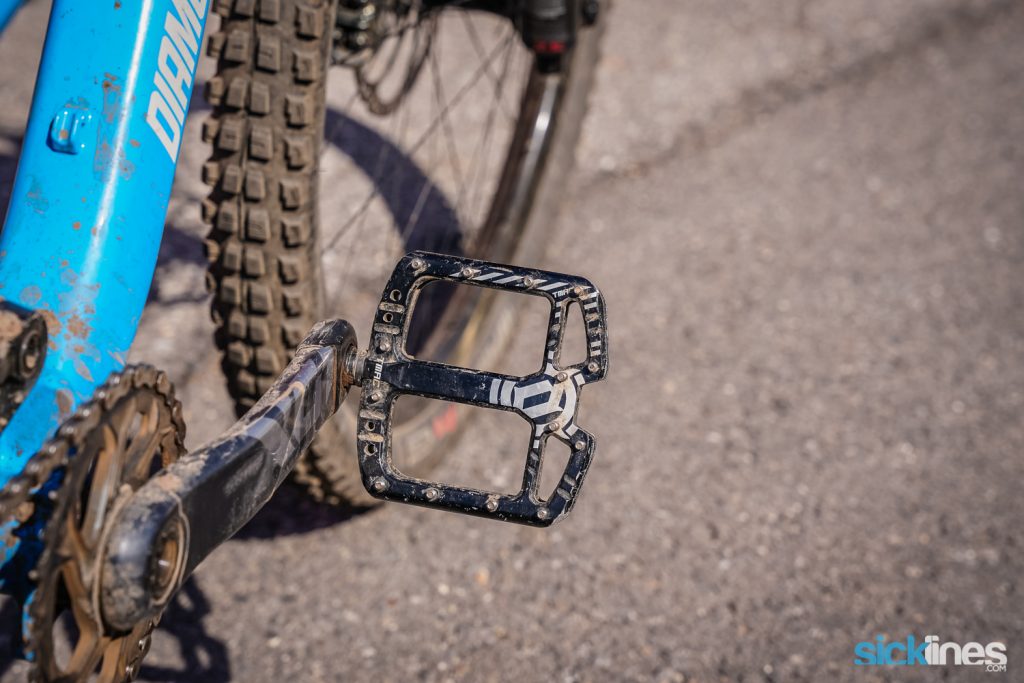 You can see more pictures of Porter's bike in the gallery below.
Diamondback Bicycles E-Bikes
The e-bike market continues to gain momentum and Diamondback had a few of their offerings on display at the show. Their Response e-bike hardtail below offers 120mm of front suspension to help smooth out the bumps on an urban ride, commute, or trail.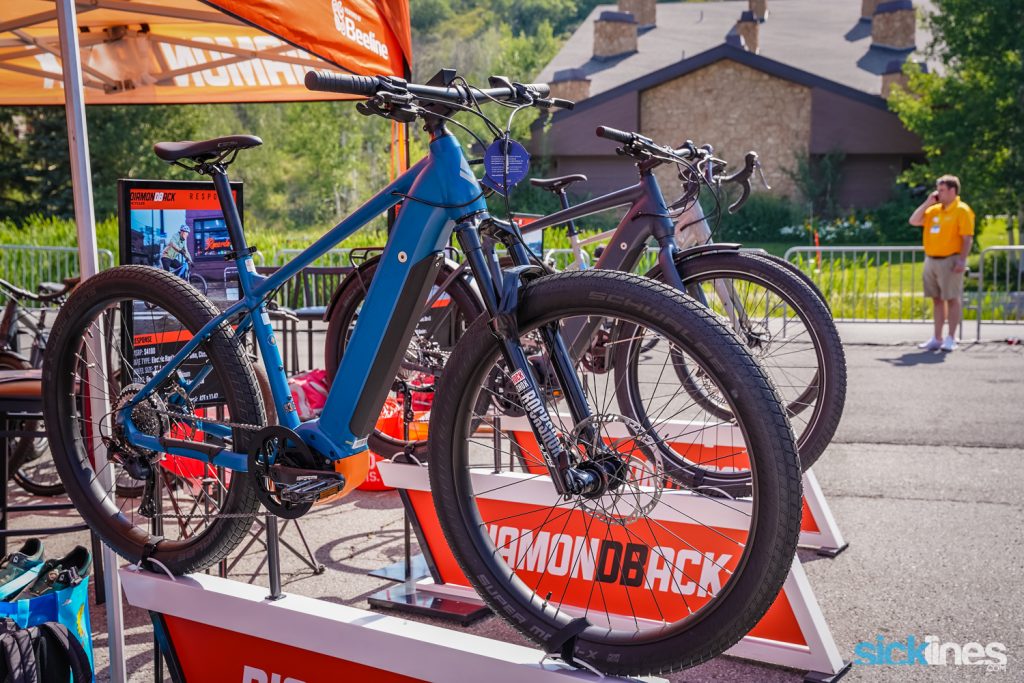 Diamondback also had two other Class 3 e-bikes on display aimed at commuting and city riding called the Union and the Current.
The Class 3 Union 1 electric bike gets things done. Built on a sleek aluminum frame with internal cable routing, this eBike is powered by a Bosch Performance Line Speed motor and a powertube integrated 400Wh battery. The Bosch Purion on-board computer lets you focus on the important things with a minimalist design but the data you need at the touch of a button. A 10-speed Shimano drivetrain fine-tunes your pedaling, while Tektro hydraulic disc brakes keep your speed under control. Wide tires on 27.5-inch wheels take the sting out of rough pavement. With an integrated rack, and fenders, the Union 1 lets you cut through city traffic with ease and confidence.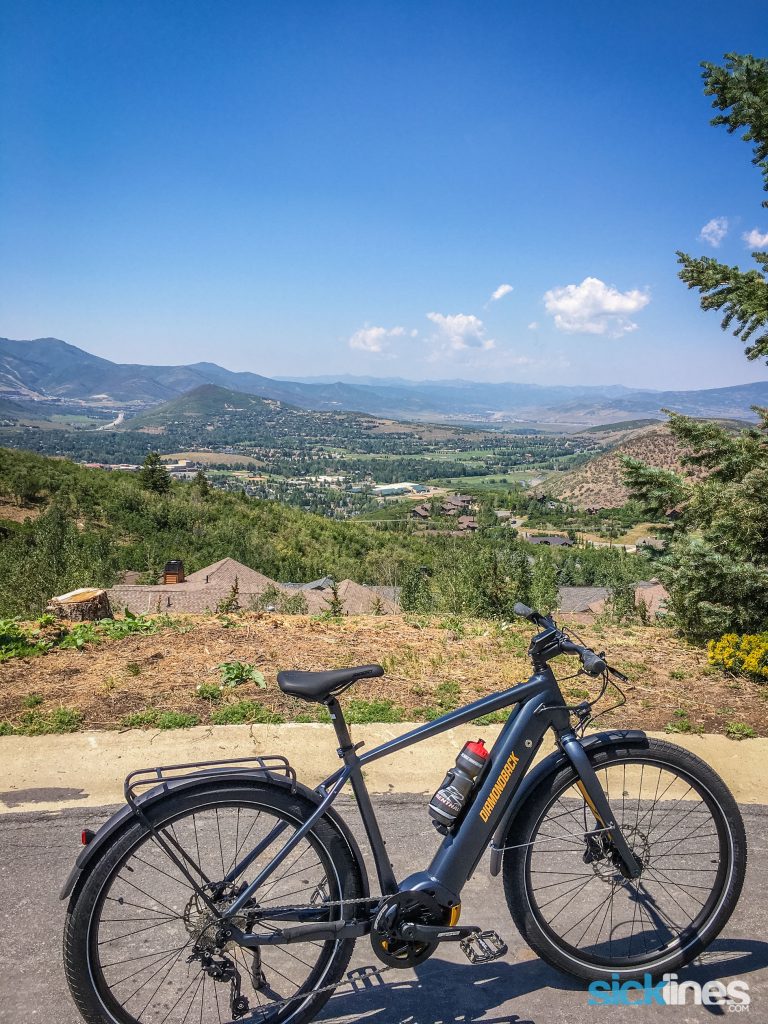 Getting to the top of this lookout a few miles away from the expo was a breeze onboard the Diamondback Union. The Bosch battery-assisted class 3 e-bike meant that when you pedaled the bike gave you some aid to reduce the effort on climbs significantly. Overall this bike is heavier than a regular commuter bike but the weight was a non-factor with the Bosch assistance motor enabled. There are a variety of features to configure on this e-bike and the controller placement near the grip made it easy to cycle through all the features.
Eric Porter also hosted a cook-out with Traeger grills where they grilled up some fabulous meat while Eric Porter rode the jumps in his backyard.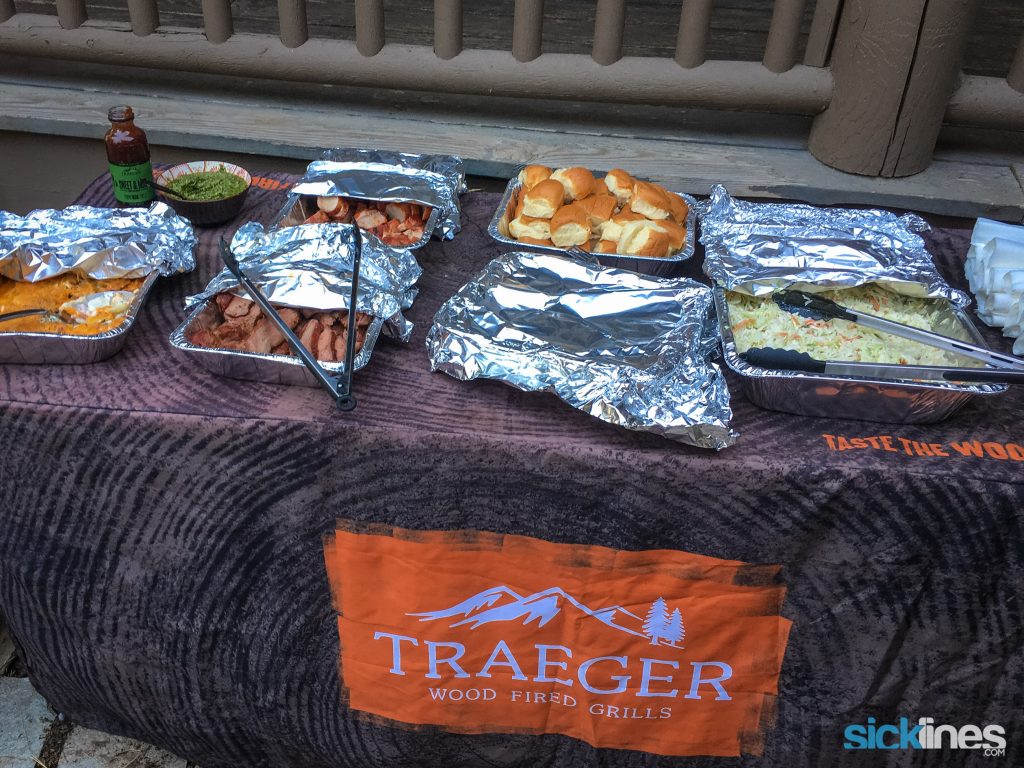 Eric Porter's Backyard Jumps
You can see more pictures from the Diamondback booth in the gallery at the bottom.
Polar Bottle
Polar Bottle is crafted and made in the USA. They came to the show with samples from their Colorado facility and they had a lot of their newer bottles on display with some expanded sizes in their range.
We thought would be good to highlight some of their new options for you all. Hydrapak purchased Polar Bottle as well that we covered in an earlier Big Gear Show post if you're looking for more hydration content.
Polar Bottle has a variety of updated bottles to suit a wide range of users and needs. The single wall bottles are lightweight and the breakaway caps pack some neat features in a lightweight package.
They've added a smaller 12oz option as well to fit mountain bikes with limited bottle storage due to tight frame/suspension components. The Muck nozzle is shown on the small bottle below which keeps debris out of the bottle that can easily flick open with a finger when needed.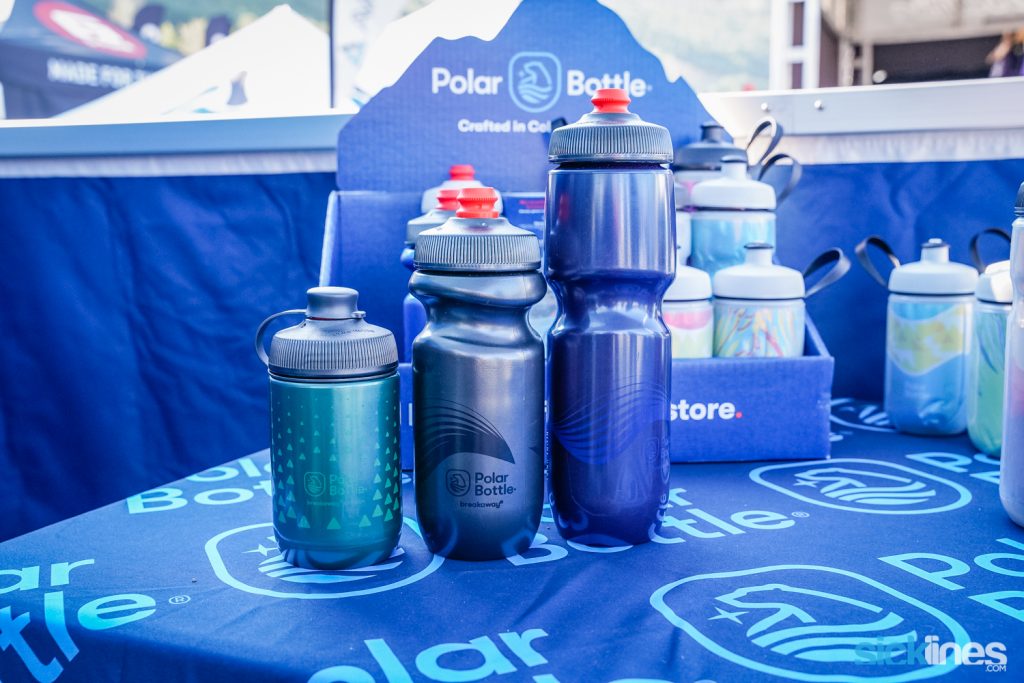 The Muck cap option adds $1 to the overall cost.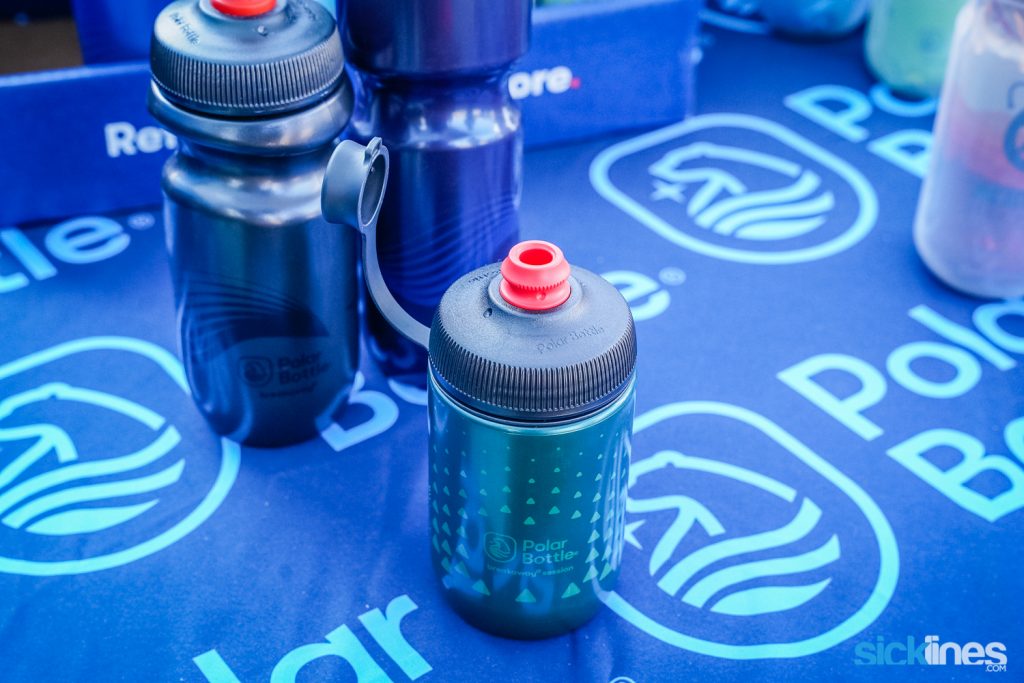 The Polar bottle cap allows the red nozzle to come out to facilitate easier and more thorough cleaning. A great option for those who mix powder additives in their hydration bottles.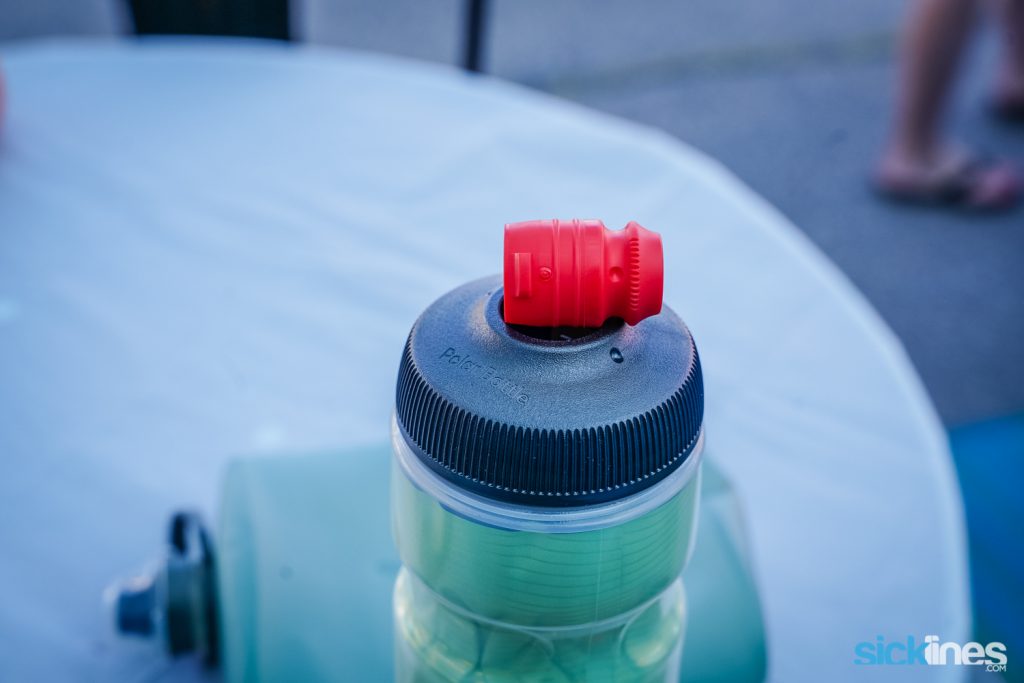 Polar offers bottles in double-wall insulated versions (Breakaway Insulated Bottle) as well that we dig. No more crinkly noise from these updated bottles. They help keep your liquids much cooler throughout the ride. These work really well and the smaller bottle should be a hit with many users.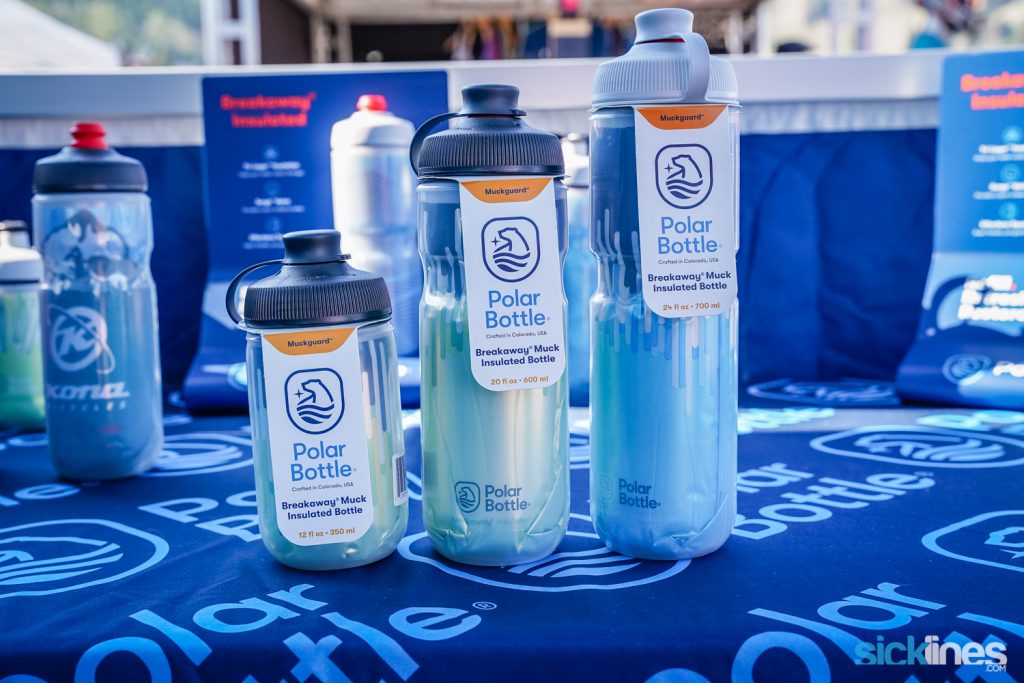 The new smaller insulated 12oz bottle is great for full suspension bikes that are tight on space or shorter rides to keep your drinks a bit colder. The 20oz / 24oz are also available.
Polar Bottle also offers custom bottles for a unique custom look. Teams and shops love these.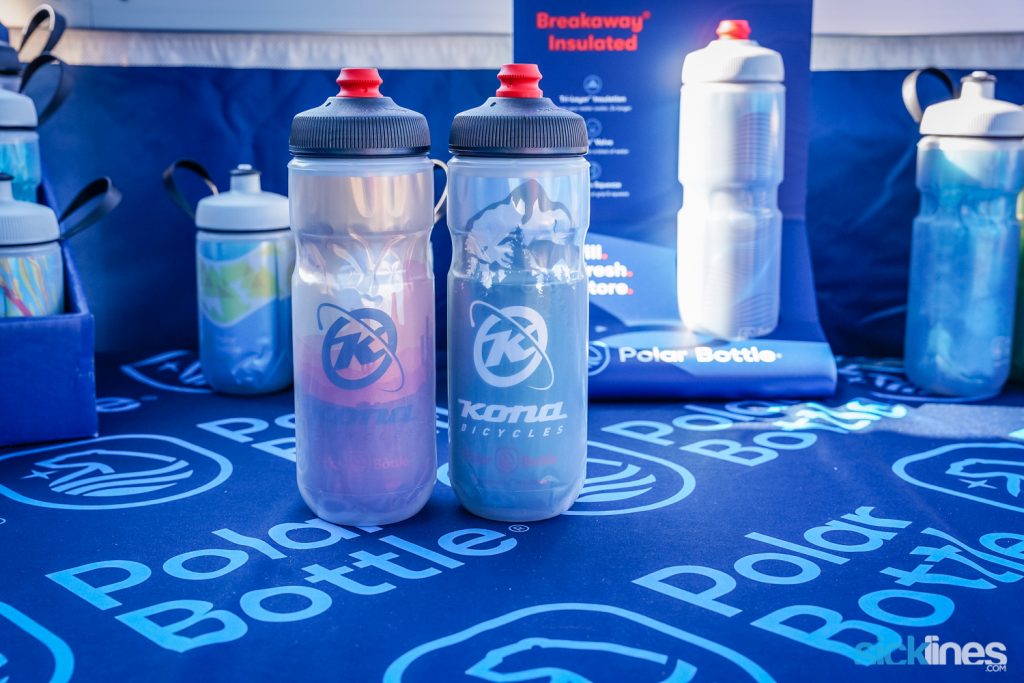 Inside A Insulated Polar Bottle
So what's inside a Polar tri-layer insulated water bottle? The Polar team cut into one for us to see the layers. See additional images in the gallery at the bottom of this page.
The mylar layer, reflective layer, double-wall construction, close cell foam, and features in their radiant heat reflective technology helps keep your beverage cold.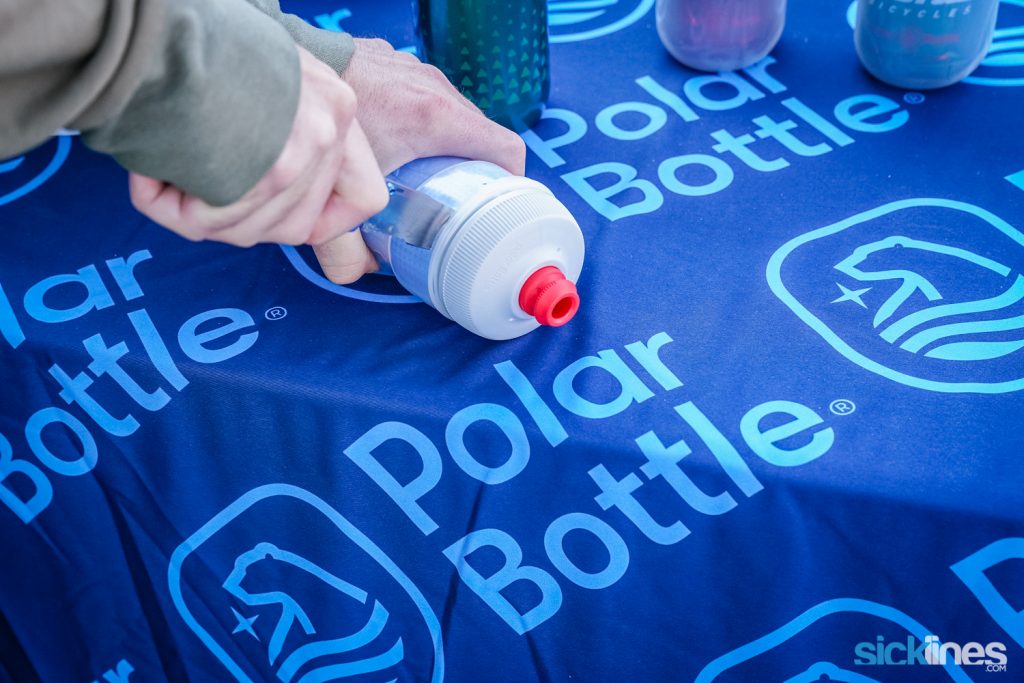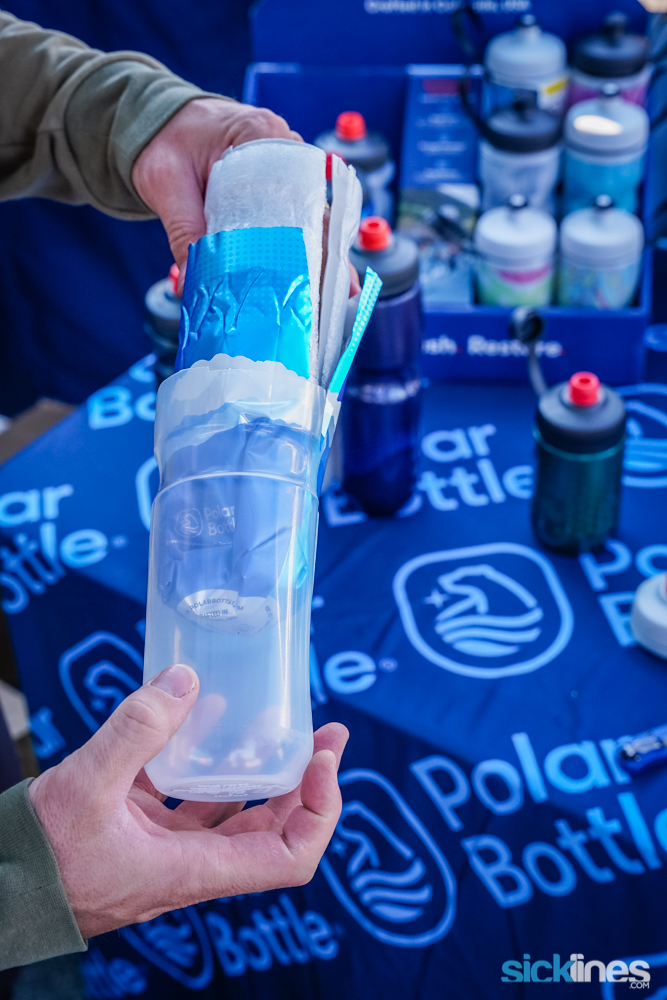 These updated bottles are a hit. Easy to squeeze, insulated, clean branding, and with no crinkly noise.
HydraPak Recon
If you're into a non-squeezable container for hydration or cooking like a Nalgene, the HydraPak Recon bottle lineup features 50% recycled plastic with a unique cap. The 1L and 750ML Recon offerings were already out but there is a new 500ML option as well now. Bike packers like these as they fit inside a water bottle cage.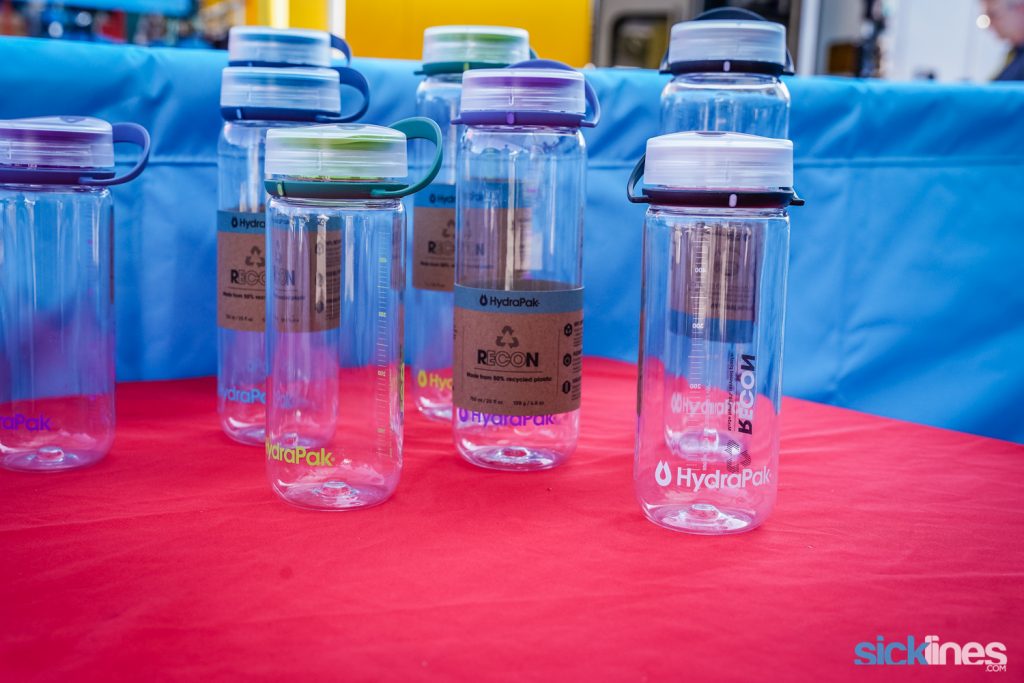 The 500ml Recon bottle option is also coming out soon. The cap is fixed on top and you turn it to enable drinking so you don't have a lid to worry about dropping or flopping about.
RECON features a unique cap that's like drinking from a glass. Minimally designed with only 2-parts, the cap and inner gasket separate for easy cleaning. The wide-mouth design includes an integrated TPU bail handle that is comfortable to carry, lightweight, and nearly indestructible.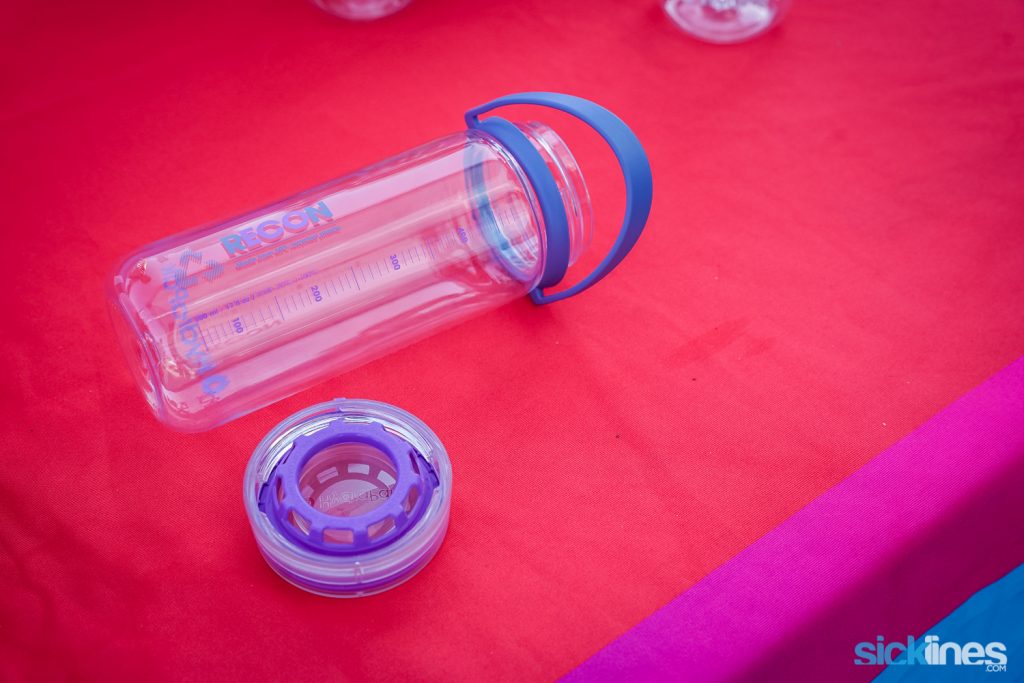 Stay tuned for more of our coverage from The Big Gear Show
If you want to read more about The Big Gear Show, visit their website at www.thegbiggearshow.com
Note: We participate in Jenson USA's affiliate program and we may earn from qualifying purchases. Some of the links embedded in this article will guide you to items for which we may receive a commission on your purchase.