We've had good luck with Kuat racks in the past and their latest offering, the Kuat Pison Pro X looks to have a lot of neat features built into it. Check out the details below from Kuat.

Kuat, a Pioneer of Rack Innovation, Releases the All-New Piston The premium Piston Pro X revolutionizes bike rack offerings boasting taillights, Genuine Kashima Coat, OneTap hydro-pneumatic tire arms and more.
August 10, 2021 (Springfield, MO)– Kuat continues to establish itself as the leader in rack innovation and development with the release of the all-new Piston Pro X, hitch-mounted bike rack. The new rack boasts taillights, Genuine Kashima Coat, OneTap hydro-pneumatic tire arms, and numerous other features.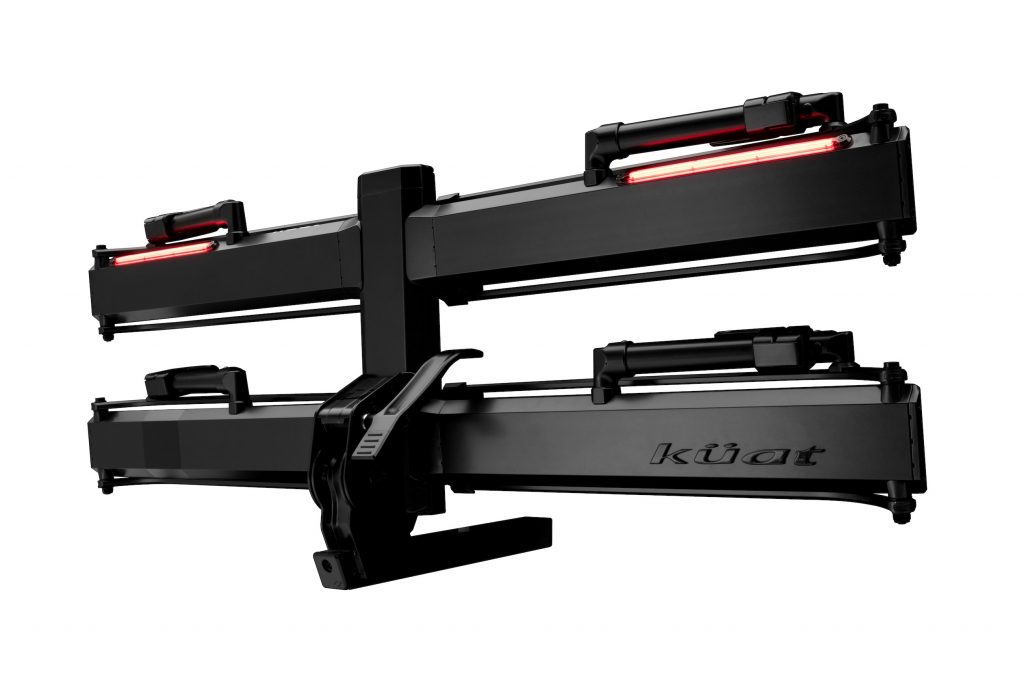 A main objective of the Piston Pro X was to ensure ease of use, while still making a rack that can withstand the burliest of roads. Hence the FastFit tool free tire chocks that can slide with one hand (fits wheels sizes 18"-29" up to 5" tires and up to a 53" wheelbase without adapters or tools) combined with aluminium construction and a solid steel hitch holding bikes up to 67 lbs per tray*.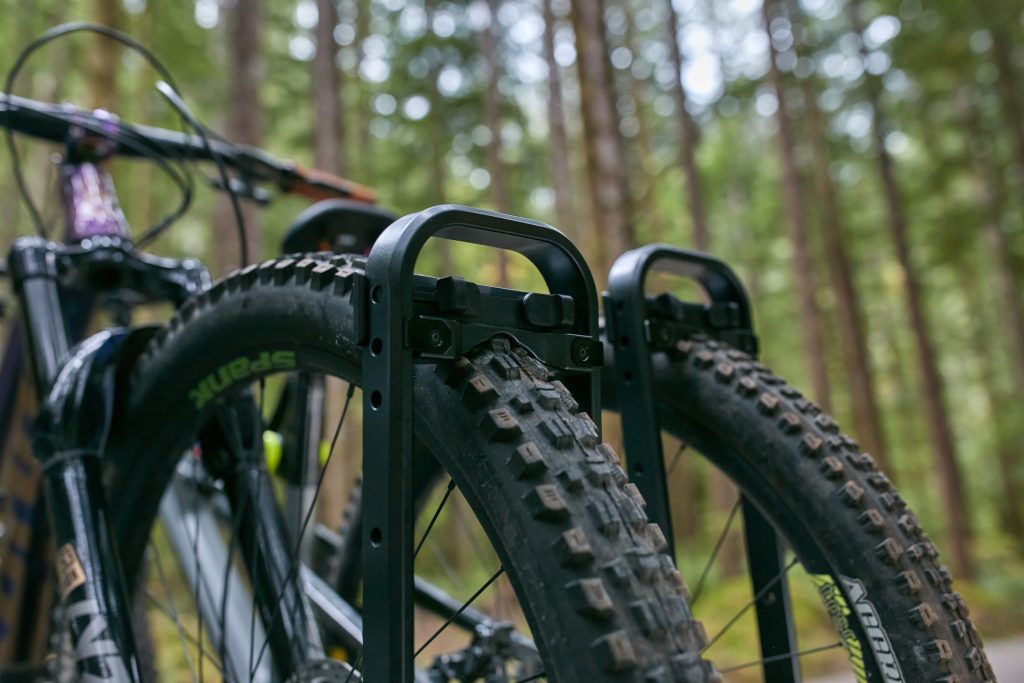 Genuine Kashima Coat, supplied via an exclusive contract with Miyaki Co., coats the hydro-pneumatic dual tire arms for long-term durability. The hydro-pneumatic tire arms release completely on their own with OneTap technology and ratchet down making no contact with the bike frame, keeping the bikes secure, but preventing unwanted scratches. IGUS bushings used on key pivots, custom formulated Tiger Powder coating, stainless steel hardware, and automotive grade 750-hour salt spray on steel hardware all contribute to a bomb-proof rack.

Safety and security was also a major concern and the Piston Pro X answers definitively via integrated LED taillights and a semi-integrated cable lock.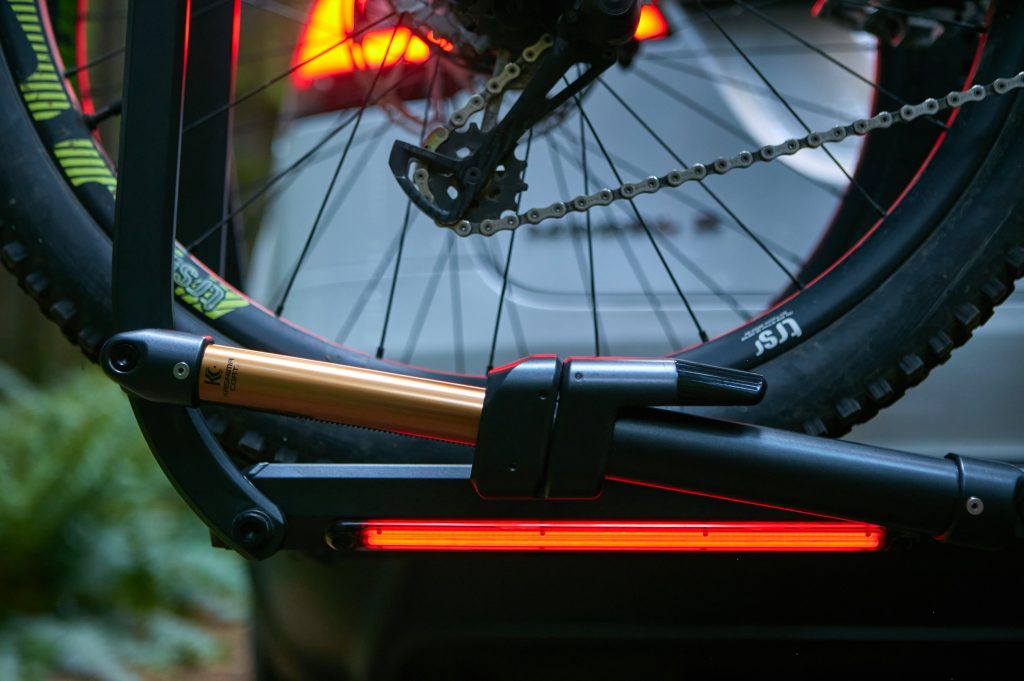 The magnetic, quick connect plug cable ensures vehicle taillights are duplicated and braking and turn signals are communicated clearly. A 12mm thick semi-integrated cable lock will fit around numerous bikes and the rubber cable coating keeps the cable from scratching bike frames.
"By far our most ambitious project, said Kuat president and co-founder Luke Kuschmeader. "We wanted to challenge what a bike rack can do and offer a rack like nothing else in the market. The PistonTM Pro X is the premier product in every category from safety, security, durability, details, and aesthetics."

The PistonTM Pro X also offers a Flatlock hitch cam with a lockable install feature keeping your rack secure and wobble free. QuickConnect modular design allows for the addition of a one or two-bike add-on with bike carrying capacity ranging from two, three, to four bikes. Kuat offers an optional e-bike ramp for easy loading and unloading of heavier e-bikes and tiered trays that add ground clearance and options for which bike riders can load and unload no matter which position the bike is in on the rack. Foot or hand actuated pivot on the two bike version and a clever end pull handle on the add-ons makes lowering the rack up or down, with the add-on, less of a stretch.

The Piston Pro X will be available in the spring of 2022 at select nationwide retailers along with several paired down models coming in fall of 2022 starting at $989. As with any Kuat rack, the Piston Pro X is covered with Kuat's No Worries Warranty and backed by the best customer service in the industry.

For more information visit https://www.kuat.com/piston.html
Piston Pro X

MSRP: $1389 Capacity:

Holds 18"- 29" wheels, up to a 5" wide tire and accommodates a 53" wheelbase out of the box with no tools needed

Two 67 lb bikes

RV approved (42 lb max per bike)

Features:
All metal construction with aluminum casted parts throughout
Genuine Kashima Coat struts
OneTap hydro-pneumatic tire arms – patent pending
Seamlessly integrated LED lights with magnetic quick plug – patent pending
One hand FastFit wheel chock adjustment- patent pending
Foot or hand actuated pivot on 2 bike and end pull handle on one and two bike racks
Flatlock hitch cam with built-in lockable install tool – patent pending
Hitch lock and tamper resistant hitch cam for double rack security
Semi-integrated industry leading ultra-high strand 12mm cable lock
Stadium tiered tire trays for added ground clearance
QuickConnect one and two bike add-ons – patent pending
10 year, no fade powder coat
Stainless Steel and Automotive grade 750 hour hardware
Automotive-style raised logo
Over center ratchet arms for selective unloading
Optional E-bike ramp accessory
Lifetime Warranty

About Kuat
Kuat Racks designs stylish and easy-to-use products that help cyclists and adventurers get out and do more. What began as an idea for a better way to transport bikes in 2008 has evolved into a thriving company that creates high-end, awesomely engineered hitch racks, roof racks and accessories that push the envelope of innovation. Team Kuat is comprised of avid cyclists, outdoor enthusiasts and fine ale connoisseurs. This motley crew of dreamers and schemers pool together their diverse talents and interests to bring you sharp design, quality products and awesome customer service.