Press Release – Port Coquitlam, BC – June 23, 2021 – Engineered from the ground up to be the fastest bike on the Enduro World Series, the new Range is also the most anticipated bike the British Columbia company has ever produced for Big Mountain riders craving speed on steep, technical backwoods trails.
"When we set out to build a new Range, we made a list of exactly what we wanted the bike to be able to do, and this ticks off all those boxes," said Jim Jamieson, Norco's Senior Product Manager of the team who developed the Range.

"We wanted to build the fastest bike we could for Enduro racing, and this bike's definitely it – and everything that makes it fast in races, makes it perfect for those high speed, rowdy days in the woods with your buddies."
First introduced into the brand's lineup in 2012, the original Range pre-dated Enduro racing, but embodied everything the emerging sport demanded – mid-travel suspension, efficient pedaling, and stable, high speed agility on challenging trails.
10 years later, the 29-inch wheel Range is pure race – employing an entirely new take on Enduro geometry developed using Norco's proprietary Ride AlignedTM Design System in a whole new way; creating unique rear centre lengths, seat tube angles and head tube angles for each frame size to account for the unique demands of different size riders.
Ride Aligned also played a pivotal role in the development of the Range's all-new High Virtual Pivot suspension design, which provides 170mm of travel with a rearward axle path to maintain momentum on rough trails. By positioning suspension mass low in the frame, the High Virtual Pivot design combines high-speed stability and agility with balanced support front and rear, which remains fully active under braking and is precisely tunable for any rider using the Ride AlignedTM Setup Guide.
Whether you measure it in KOMs, podiums, or during apre?s-ride shenanigans, your hunger for speed and progression is insatiable – but it's also the monkey in your hip pack.

The High Virtual Pivot design helps maintain momentum on descents, neutralizes braking forces, and it positions mass low on the frame for a perfect mix of agility and stability, so all you need to focus on is choosing the fastest line.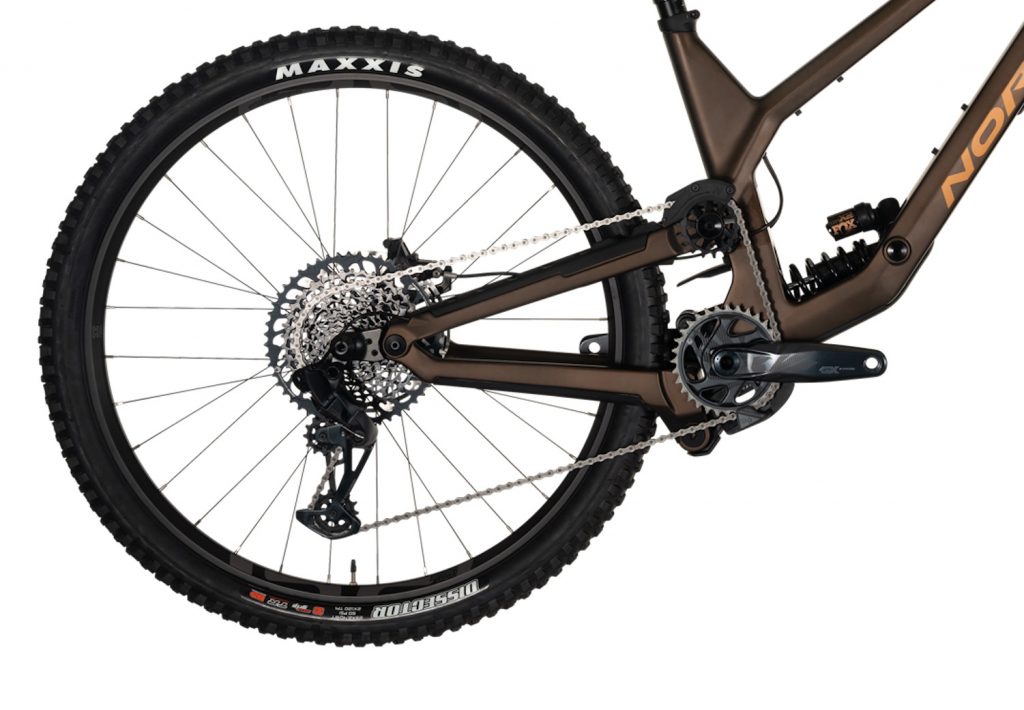 KEY FEATURES
Intended Use: ENDURO & BIG MOUNTAIN
Frame Material: FULL CARBON, 170MM TRAVEL
Frame / Wheel Size: S, M, L, XL / 29"
Suspension Travel F: 170MM R: 170MM
Tire Size 2.35 – 2.5"
WHAT SETS THE NEW RANGE APART FROM PREVIOUS GENERATIONS? AKA: WHAT MAKES THIS BIKE SO DAMN FAST?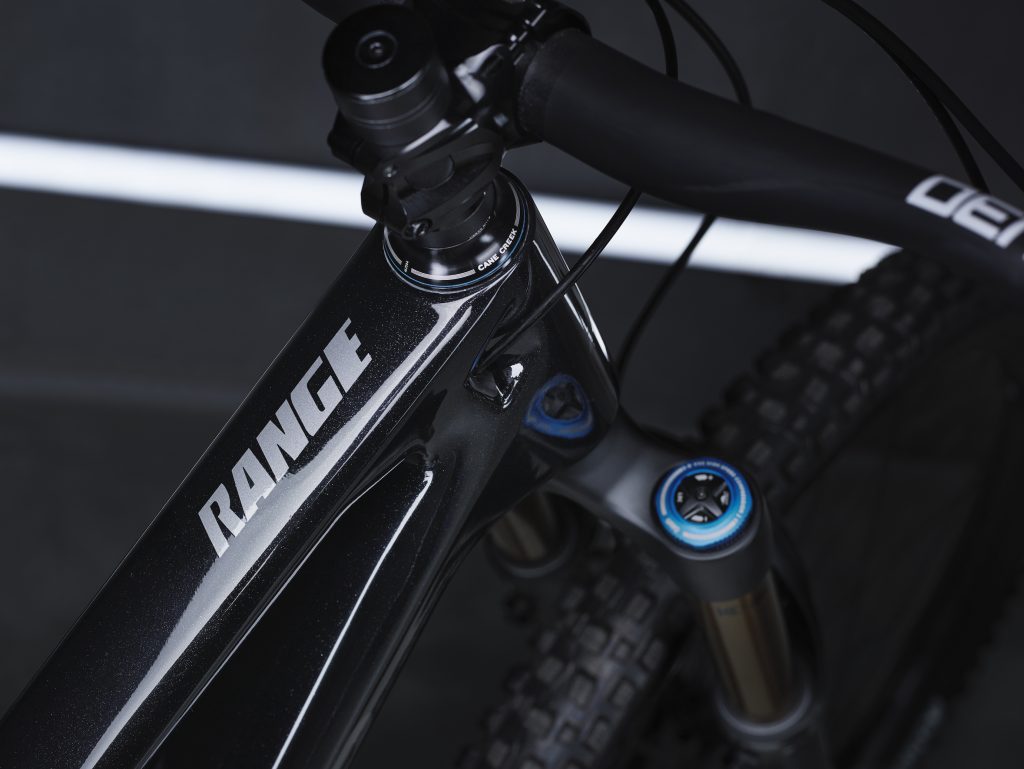 Yes, the new Range looks fast AF, but it's so much more. It's a completely new bike designed from the ground-up for the world's fastest, roughest Enduro courses, and to meet the needs of Big Mountain riders who crave speed on technical trails in the backwoods.
The new design is the result of applying our Ride AlignedTM Design System in a whole new way, specifically to achieve our performance goals for Range, and the meeting the needs of Enduro riders. Also, this proprietary Norco design process determined that, not only does each frame size benefit from different rear-centre lengths and seat tube angles, but the ideal head tube angle (HTA) is different for every frame size. Slack HTAs offer riders a great deal of protection for rough terrain, but they make it tough for smaller riders to keep their weight over the front tire, so riders benefit from successively steeper angles as frame sizes get smaller.
Fractions of degrees and millimeters may seem insignificant on paper, but on-bike testing confirmed that these seemingly small changes made a big difference in how the different frame sizes performed. With a blank slate, we made a list of precisely what we wanted to achieve with the rear suspension performance in terms of axle path, shock tune, anti-squat, and suspension performance while braking.
Geometry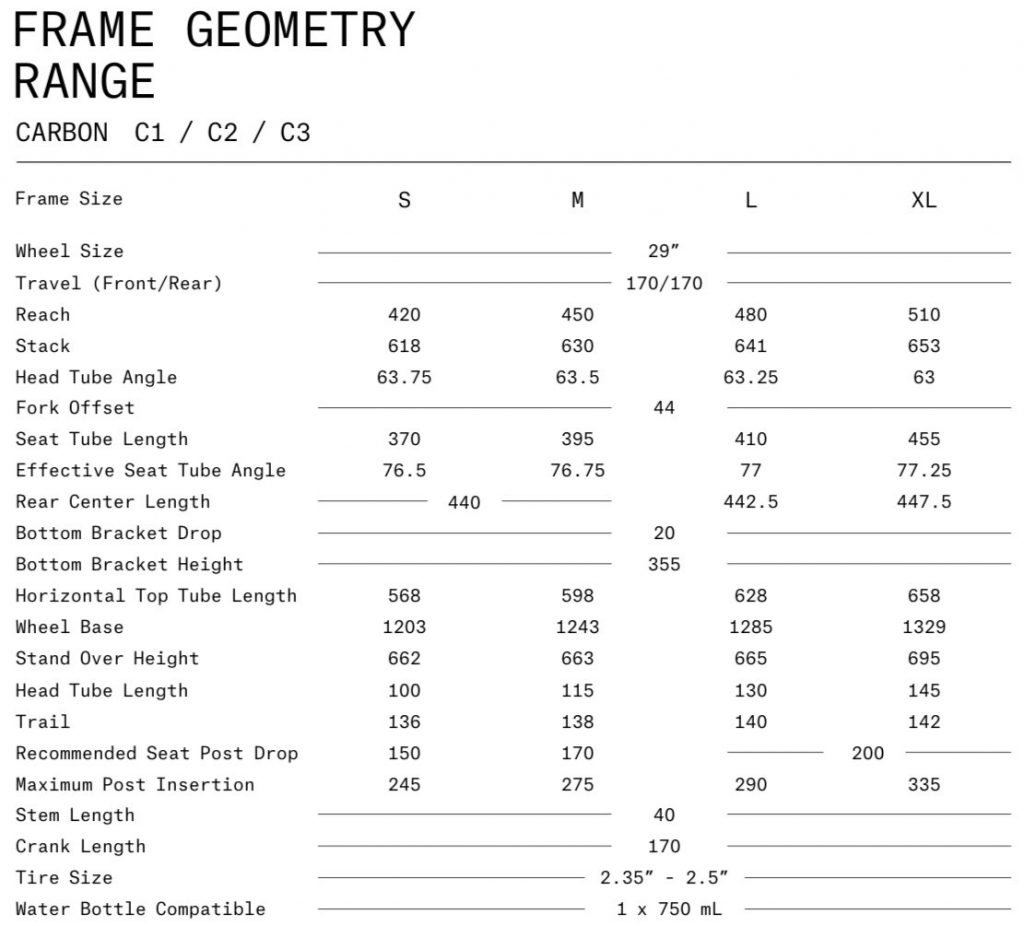 WHAT REAR SHOCKS CAN I RUN IN THE RANGE?
The Range is optimized and tuned to match the linear spring rate of a coil spring, and the frame is optimized to fit the structure of 2021-22 Fox DHX2 and 2021-22 RockShox Super Deluxe Coil shocks. It's possible that other aftermarket shocks simply will not fit on the Range, whether coil or air. Also, because the stock DHX2 shock features a linear spring rate with a custom damping tune, mounting other coil or air sprung shocks will negatively affect the ride quality and precision we've engineered-in.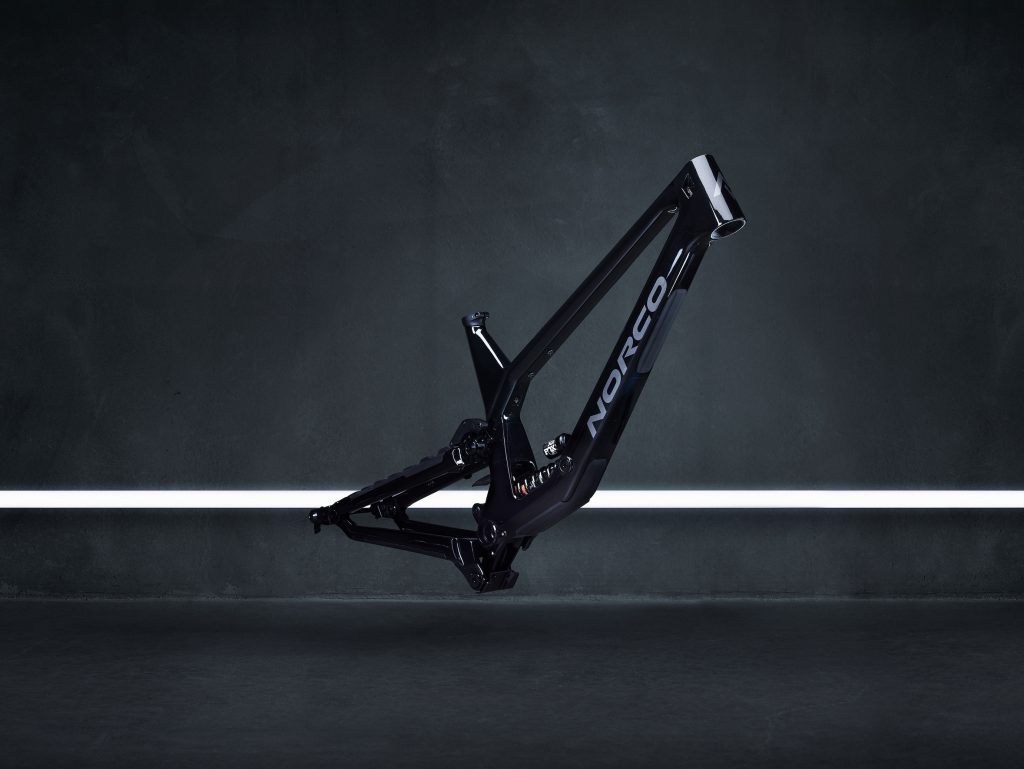 CAN I RUN A DUAL CROWN FORK?
While the Range is optimized for a single crown fork, some riders may want to run a dual crown. We have extensively tested the Range on the trail and in the lab, confirming it can be run with forks up to 180mm in both single crown and dual crown configurations. So, riders have options depending on their terrain and preferences, without voiding warranty.
Pricing
Range C1: $10,999 CAD $8,999 USD
Range C2: $8,399 CAD $6,999 USD
Range C3: $6,799 CAD $5,599 USD
Range C Frame Kit: $4,499 CAD $3,799 USD
Photos / Words Norco (Action Photos Robin O Neill Rider is Lucas Cruz)