If you've ridden an indoor trainer you know that the experience can fall short of a real ride where you're able to feel the dynamics of the ride a bit more. KOM has a solution to help improve the indoor cycling experience with their 3-tier full-motion setup that allows you to feel the ride more. Details below from Simbol and KOM Cycling.
Who wouldn't want to increase comfort, reduce joint strain, and have a more dynamic feel when on their bike trainer? KOM aims to deliver that and more with their new 3-tier system.
KOM Cycling Launches New 3-Tier, Full-Motion Indoor Cycling Rocker Plate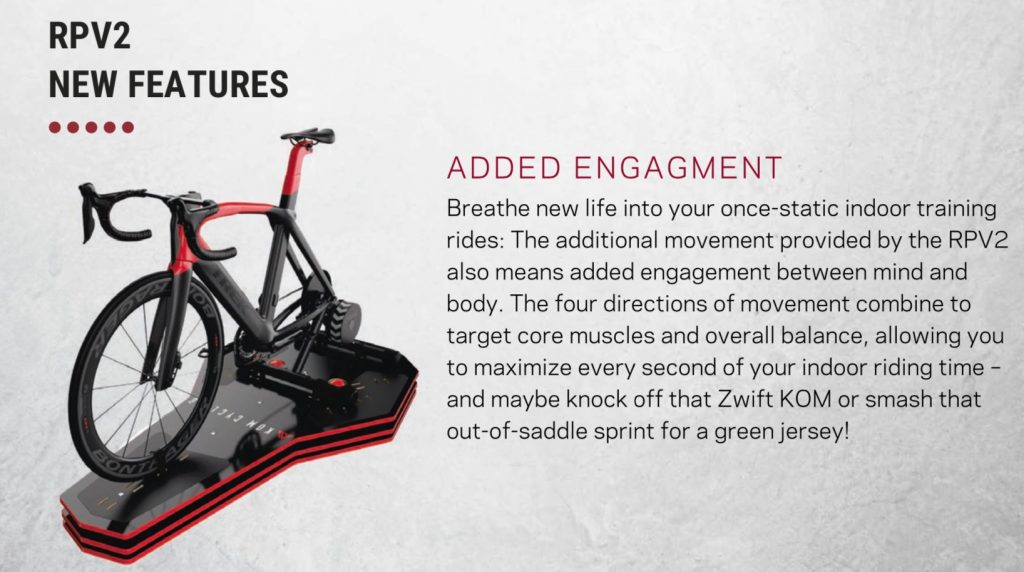 RPV2 improves on original 2-tier model adding fore/aft motion for more dynamic ride; upgrade kit also available for original
East Lansing, Michigan (April 21, 2021) — With record numbers of people riding indoors on stationary trainers, KOM Cycling is hoping to give them the most immersive, dynamic experience possible with the launch of their new Indoor Cycling Rocker Plate RPV2, which allows the bike to move more naturally during stationary riding. The new unit will be available on their website and through select retailers as of April 21.
The new RPV2 brings fore and aft motion to the side-to-side rock in the original model, and in keeping with KOM's reputation for top-quality products and outstanding values, the $799 MSRP is still far lower than other brands' full-motion rockers and offers a greater range of movement. The brand will also offer a conversion kit for owners of the RPV1 which includes everything needed to upgrade to full motion ($449.99).
"During outdoor cycling the bike actually moves quite a bit under the rider which, among other things, engages different muscles and minimizes joint strain. That's what the new Indoor Cycling Rocker Plate is designed to mimic," says Founder Austin Loper.
"In addition to the 13-degree horizontal float on our highly popular RPV1 – provided by inflatable, adjustable balls wedged between the base and middle plates – we've added a third level to the new model which attaches by three roller bearing rails, allowing for up to nine inches total of smooth fore and aft motion.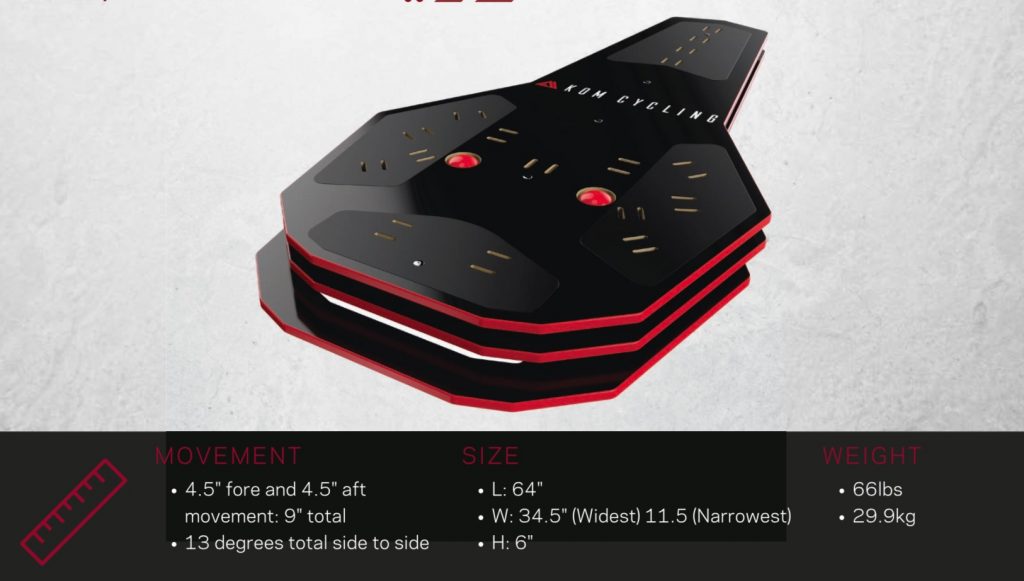 "This helps the rider move WITH the bike rather than against it, decreasing static pressure on joints and allowing you to crank out your hardest sessions yet on most indoor trainers. This is especially critical during the hardest efforts like out-of-saddle sprints and climbs. It also gives indoor riding a much more dynamic feel more reminiscent of outdoor cycling."
The additional fore/aft movement provided by the RPV2 also means added engagement between mind and body, says Loper. "The four directions of movement combine to target core muscles and overall balance, allowing you to maximize every second of your indoor riding time – and maybe knock off that Zwift KOM or smash that out-of-saddle sprint on Rouvy for a green jersey!" he adds, referring to the wildly popular interactive indoor training platforms often used by consumers of the Indoor Cycling Rocker Plate.
The 13 multi-directional mounting slots in the top plate allow for use with almost every indoor trainer out there, including the now-ubiquitous 'smart' trainers from brands like Wahoo, Saris, Tacx, Elite and others. Also improved are the three plates themselves, which KOM has thickened for added durability – the RPV2 can handle a total load up to 425 pounds. The price includes all mounting materials as well as a pump for the rocker balls and bubble level to ensure a perfect position.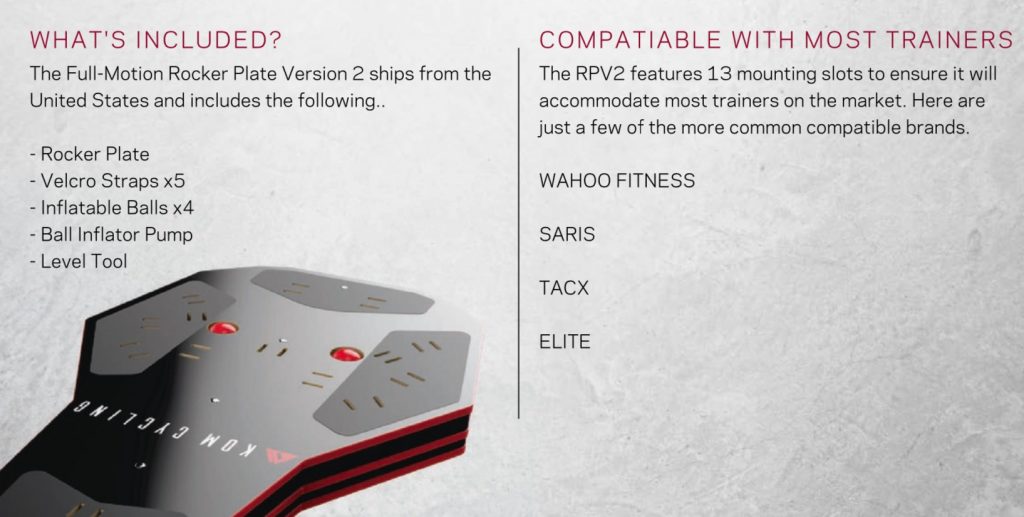 To go along with the RPV2, KOM's popular Indoor Media Display Cycling Desk can conveniently hold a computer, tablet or phone along with a water bottle, TV remotes, or whatever else helps make indoor cycling more fun. They also offer an extensive list of other accessories for cycling, indoor or outside. Here are a few examples: