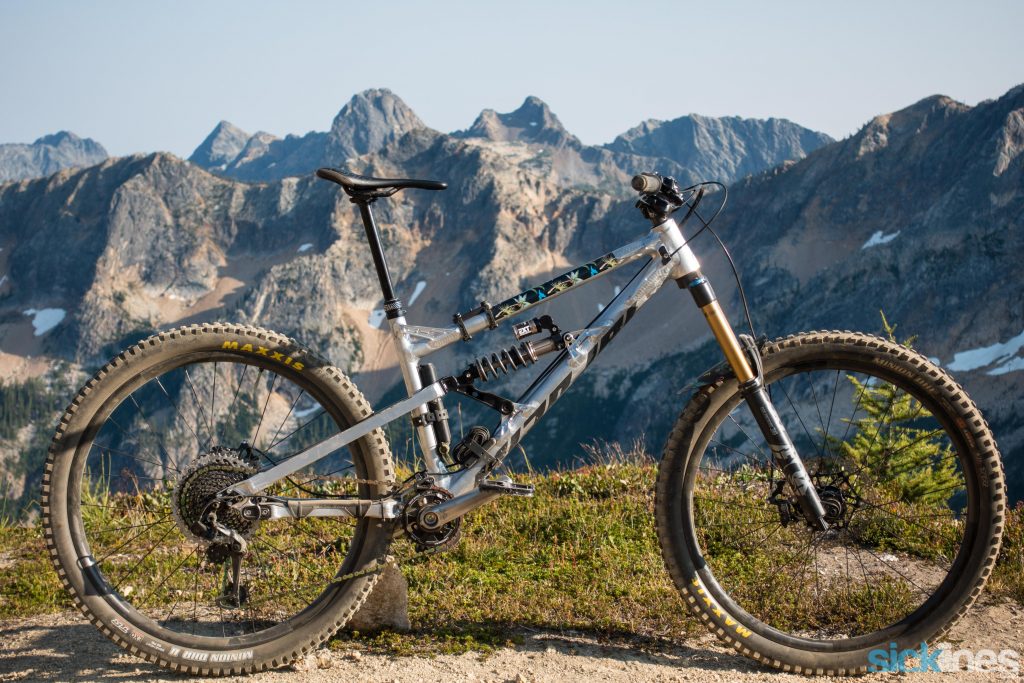 It's not that often that a bike review spans two full years. I suppose it's not that often that any new product is reviewed over such a long time. Maybe that's because there are few bikes that are still news worthy two years after release. Whatever the case may be, here we are and I have just finished two full years riding one of the most progressive frame designs on the market. Almost inconceivably, that statement holds true despite the eternity in bike-industry years that has passed the G1 was first announced way back in 2018. Today, there are a few other options similar in geometry, but not many. By and large the big industry players are still slowly creeping in this direction but have not yet brought something quite so radical to market. Radical designs generate hype. But, when was the last time anyone took the time to really define what it means to own one of these rare beasts over the long term? Is this thing even fun to ride once the novelty wears off? Is it reliable? How many sets of bearings have fallen victim to the PNW's relentless moisture? We aim to answer those questions and more. So buckle up for the anti-hype review, the one that's a couple notches less marketing and a little more aimed at the at the after-purchase experience, when the newness wears off.
Defining the G1-29
Posting a review of a two year old bike is usually near to pointless other than to discuss long-term durability. The rate of change in the mountain bike industry has been at fever pitch for the past few years. Every season, the big brands turn out incrementally lower, longer, slacker geometry relegating last year's model outdated. For the G1, Nicolai teamed up with Chris Porter of Geometron bikes and together they skipped right past years of incremental progress. The finished product is forward looking on paper, and stunning industrial art in the flesh. Together, they have created a machine that remains not only relevant but still ahead of the curve. That is, assuming you define the optimal curve as one that emphasizes carrying speed on the steepest of tracks. Now approaching 3 model years old, the G1 remains at the bleeding edge of modern enduro design.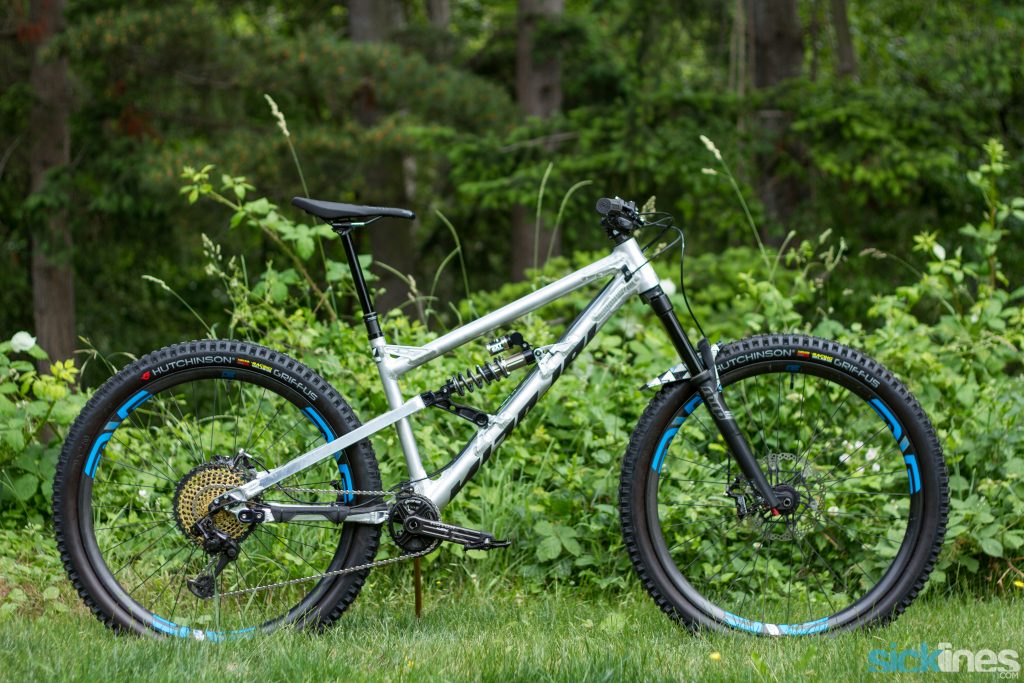 Nicolai builds the G1 from 7020 aluminum tubes, making the G1 the first non-carbon full suspension bike that I've reviewed in quite a while. The G1 is available with 27″ wheels, 29″ wheels, or mullet. Geometry is adjustable using spacers that Nicolai calls "mutators" which are capable of adjusting both the chainstay and seat stay length. The mutators can be employed to tweak geometry, compensate for different wheel sizes, or both. Yes, you can buy a 29″ frame and mutate it to 27.5 or vice versa. I've been riding the 29'er version (G1-29) exclusively but trying out the mullet setup is on my mind. Maybe a follow-up piece. The G1 has two travel settings, 162 mm and 175 mm and designed around 160 to 180 mm of fork travel. I've run no less than 4 forks over the two years including both 160 and 170 mm setups. The options are endless.
Considering the aforementioned adjustability, it should come as no surprise that the geometry matrix for the G1 is unusually complex. The reference geometry for the G1-29 is based on a 160 mm fork (567 mm A-to-C) but I suspect most will run 170 mm. For the size medium I tested, that puts the head angle at 62.5º, the seat angle at 78.5º and chainstay length at 453 mm for an overall wheel base of 1306 mm. The reach on the size medium I tested is a whopping 495 mm. It's obscenely long, darn low, and ridiculously slack. Lets get through a few more numbers and then we'll talk about if and when that's a good thing. There are 3 different chainstay mutators to choose from, 6 different seat stay mutators, 2 different height lower headset cups provided, and ability to run most any fork in the range of 160 mm to 180 mm. This means you can setup the G1 to be a bike park smasher, a long travel trail machine, or anywhere in between. Want a 61º head angle and a super low BB? No problem. Want an extra steep seat tube and a pedal friendly BB height? No problem. There's not much that you can't do to setup the G1 just the way you want. Well, unless you want it short, high, or steep. Geometry enthusiasts are free to gorge themselves on all of the geometry options and approved mutator combinations on the G1-Mutation tab of the G1 Tech Sheet.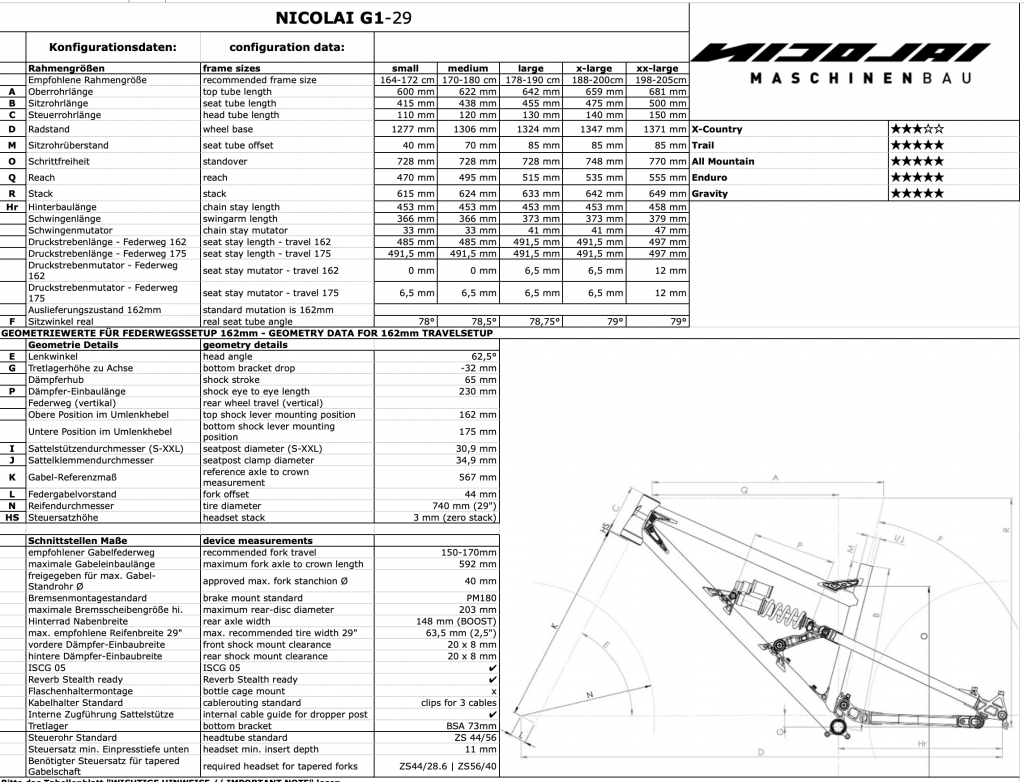 Geometry aside, there are some other really cool details built into the G1's design. Cables are routed externally with the exception of the dropper post remote which is internal only for the seat tube portion of the run. Nicolai has done an outstanding job in creating clean, rattle and rub free cable routing that looks great and is easy to service. No cheap looking zip-ties required, the guides are custom from plastic and alloy and are secured with stainless hardware. One caveat is that routing for the rear brake does necessitate disconnecting the brake line to slide it under the linkage. It's not all unicorns and rainbows but it's a hell of a lot better than fishing cables through even the best internal routing designs. Exposed cables might look out of place on a swoopy carbon future-bike but the machined and anodized aluminum bolt-on guides suit the G1's industrial look.
There is no water bottle mount. Nicolai did not incorporate is any type of traditional water bottle mount. I do not like this. There are no mounts points of any kind available – there is simply not room. I found some statement about compromised down-tube strength keeping us from having and under the down-tube option. I'm not an engineer and can't really say one way or another but I'm no really a fan of drinking out of a shit sprayed bottle anyhow. I'm also not a fan of riding with water on my back. It's hot, awkward and out of style. If my wife finds out I'm out of style, I'm screwed. So, I came up with a solid work-around which we'll cover more in the build. For now, here's a picture of a bike with no water bottle mounts. Thank god it's beautiful and is exceedingly good at everything else it was designed to do so that we can accept its shortcomings and move on.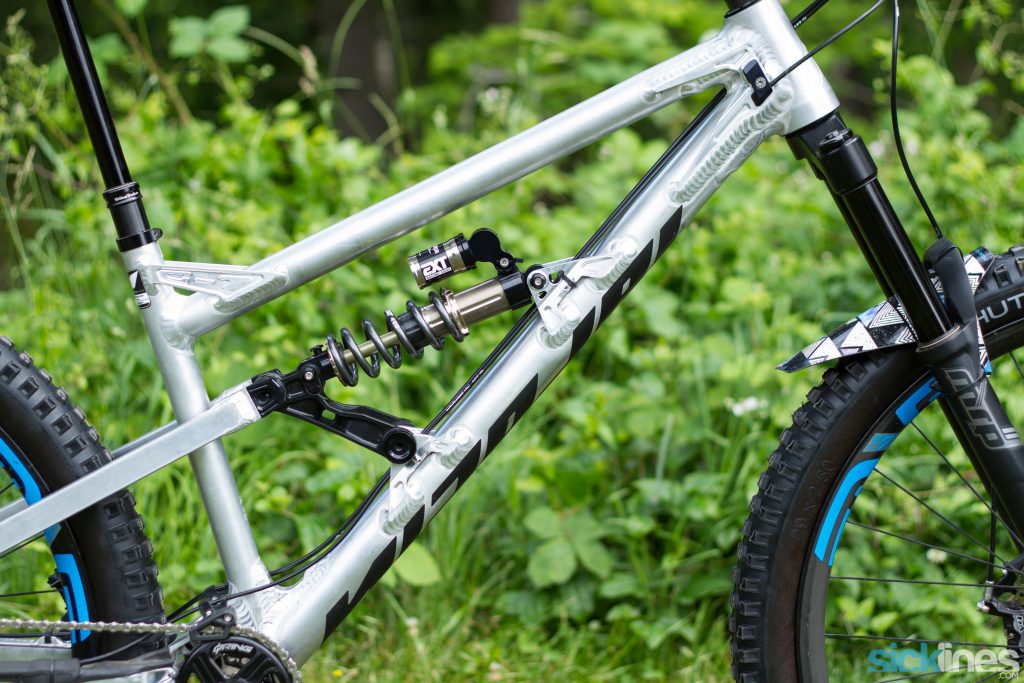 The Build
Over the course of two seasons, I've used the G1 as my primary test platform for a variety of components. Thus, it has been through a few iterations, including 4 forks, several bars, stems and saddles, multiple dropper posts and couple different wheel sets. I have also run the gamut of geometry configurations from ultra slack and low, to slightly less slack and low. After much experimentation, I settled on my favorite configuration running the rear travel set to 175 mm, the stock 33 mm chainstay mutator, and a 6.5 mm seat-stay mutator. Combined with a 170 mm Fox Float 36, this results in great geo for surviving the climbs and mobbing the descents. It's worth noting that the G-1's reference geometry is based on a fork with a 567 mm A-to-C which roughly equates to a 160 mm travel. Over the course of two years I ran an MRP Ribbon at 160 mm and 572 mm A-to-C and a Cane Creek Helm at 160 mm at 573 mm A-to-C in addition to the Float 36 at 170 mm at 577 mm A-to-C. Differences in damper performance and chassis flex aside, I preferred the slightly taller front end that the 170 mm fork afforded and wound't hesitate to run a 180 mm for dedicated bike park duty. This is a situation where the performance of the rear end is unlikely to be matched with anything you spec up front so go ahead and run a big, bad ass fork.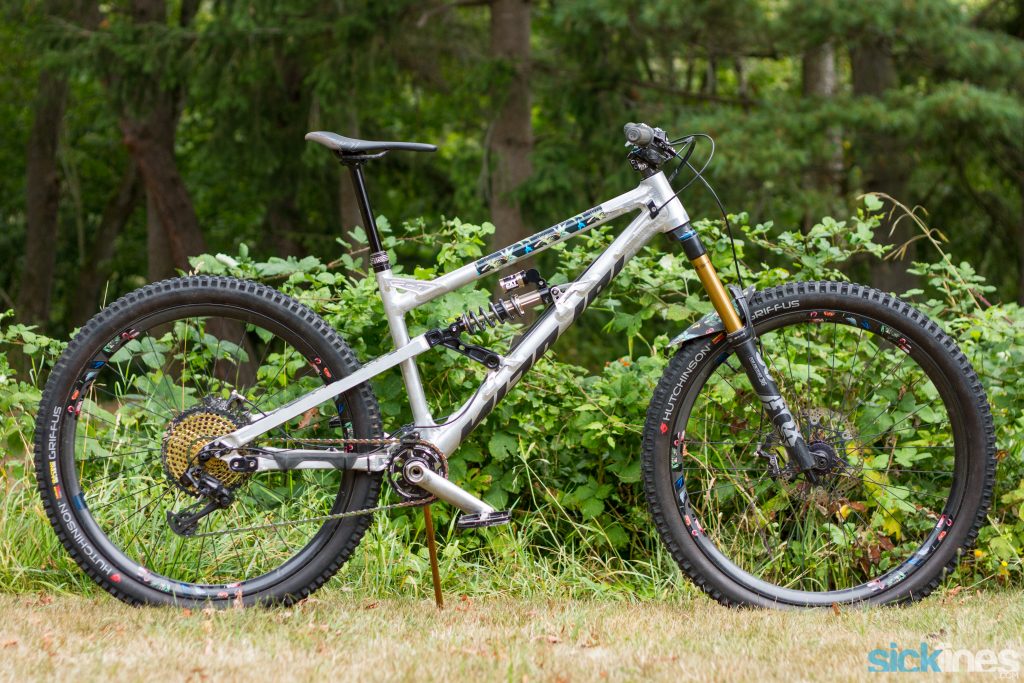 The MRP Ribbon is a great fork for a trail bike. I really enjoy the ramp control and my only qualm is that it gets sticky and requires lubrication therapy more frequently than other options. I ran it for a couple months in early season when I was mostly just trail riding. I wouldn't recommend anything smaller than a 35/36 mm chassis and am currently just getting acquainted with an EXT Era up front at 170 mm. The Enve M70's were part of a long term test I wrote a while back as were the Hutchinson Griffus. That's a Hope floating 203mm rotor supporting the efforts of their benchmark V4 brakes. I've since moved to 220mm rotor and haven't looked back. Ground Keeper fenders provides crud deflection duties with a design by Bex Design.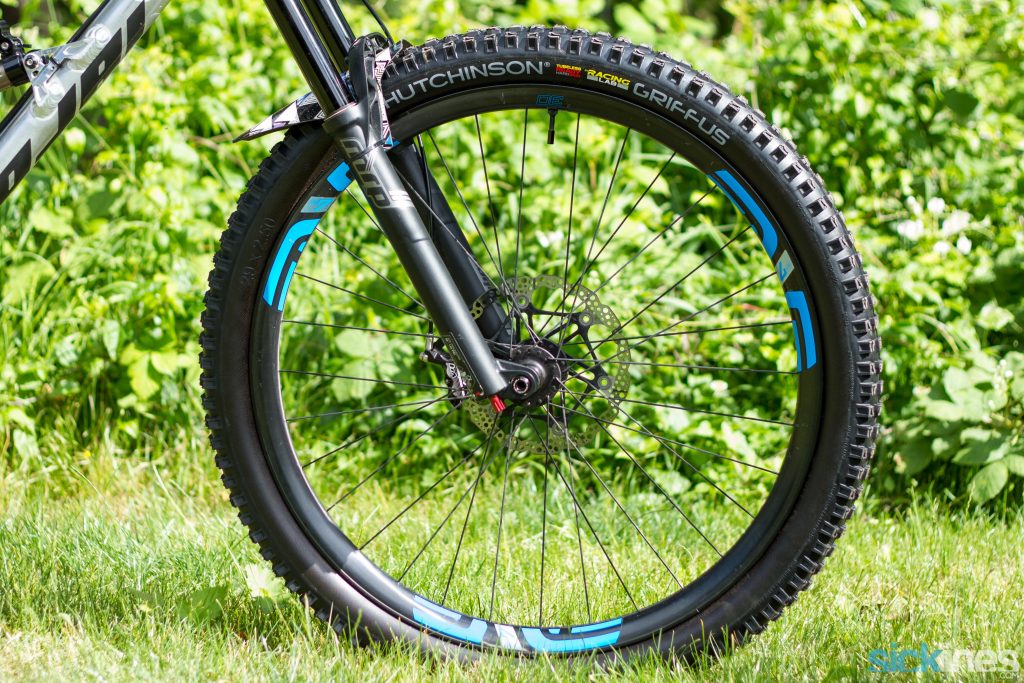 The G1 was my test platform for Rotor's Kapic cranks but after a year of abusing them, I swapped in a set of Cane Creek's lust worthy EE Wings. They retail at $1050 USD and are worth your soul. I can be fairly hard on cranks but the EE Wings have laughed off everything I've thrown at them and are dead sexy to boot. They've been on a year and still look new. For pedals, I've been on Chromag Dagga's since the summer of 2019 and have been blown away by their grip and durability. In just the last two weeks before publishing, I noticed they're due for service. Not bad, I'm also hard on pedals. Luckily Chromag offers reasonably priced maintenance parts and these should go another few years with a little love and care. This may be a two year review but OneUp delivered for a full 3. This bash guide has been taking hits non-stop since 2018 continues to perform flawlessly to keep the rainbow colored XX1 Eagle hollow-pin chain on track.
Out back, I'm still getting mileage out of a 2018 XX1 Eagle cassette and derailleur. While it's hard to justify the cost of XX1, I have noticed that the hard anodizing seems to help with the life of the cassette. While now due to be retired, I have 3 seasons on it and I ride 5+ days a week from spring through fall. In fairness, my pedal time is always split between at least one other bike but I'm still shocked at how long this cassette has endured. I do keep my chainring size small enough that I rarely use the biggest cog, which helps with longevity.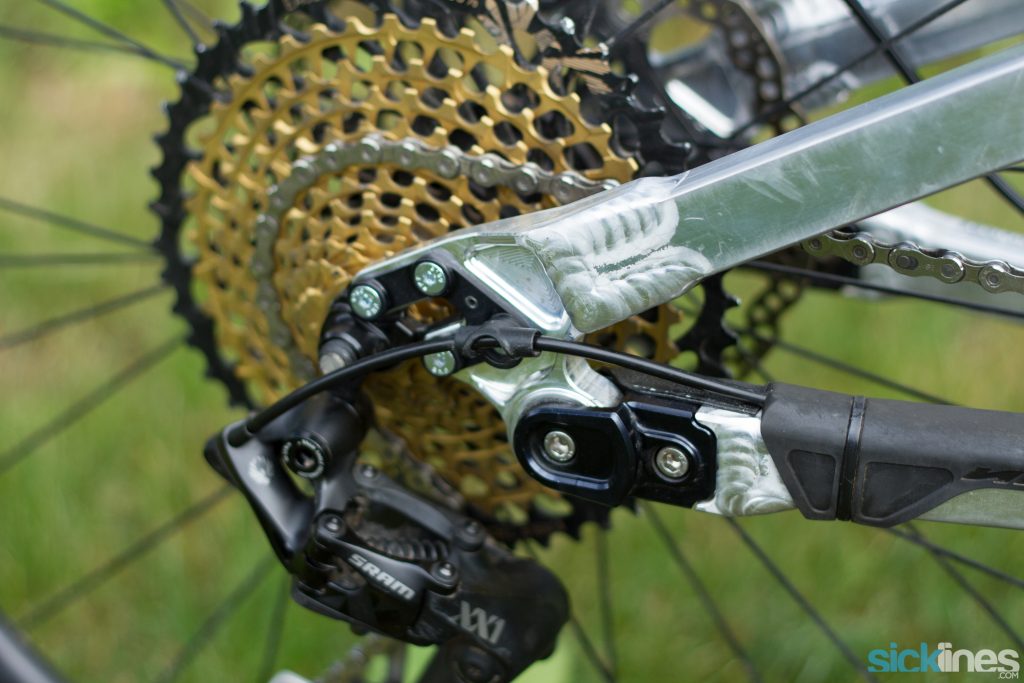 Braking duties are handled via Hope's always impressive V4's. The consistency, modulation, and long-term durability of these stoppers has only been further highlighted over the past 2 years. If anything, the 203mm floating rotors front and rear feel a little down on power in some situations. Recently, I moved to a 220mm rotor up front and that little issue is cured. I get a lot of questions about running Hopes over the big mainstream brands. For me, their modulation, simple setup, and reliability make them a no-brainer. From a durability standpoint, they have been flawless over 2 seasons of riding. No bleeding, no adjusting, just ride.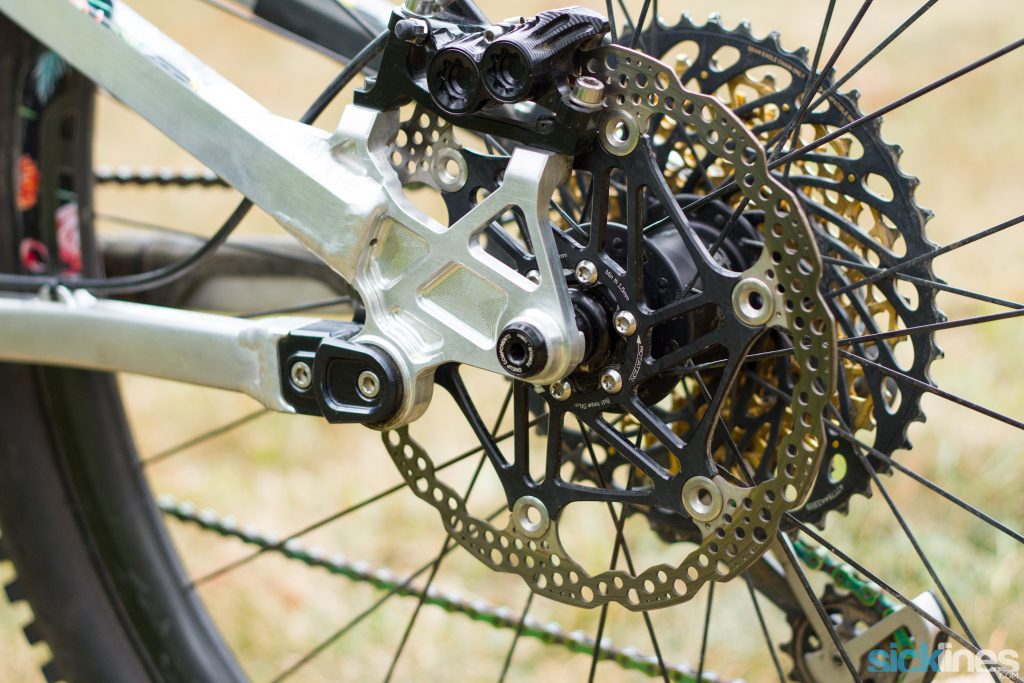 About that water bottle. I know this looks whack as hell but trust me, it works. I'm using a Fidlock Uni-mount paired with a couple 6″ Voile nano straps and a 600ml Fidlock bottle. While unconventional in appearance, it stays put, doesn't get in the way, and is easy to reach while pedaling. Through two seasons, including thousands of miles pedaled and quite a few runs through the Whistler bike park, I've lost only one bottle. This is far better than my average using conventional cages. It's most certainly a hack and I do wish that Nicolai could come up with a bottle mount but for now this does the trick. It's mostly great, but there's always a catch. The Fidock uses a twist-to-release mechanism. If you're off the bike and lean against the bottle, it will twist and will come off. You probably won't loose the bottle in this scenario but it is kind of a pain in the ass. We're all about full disclosure so there you have it, the G1 is great but it would be greater if it had a proper water bottle mount.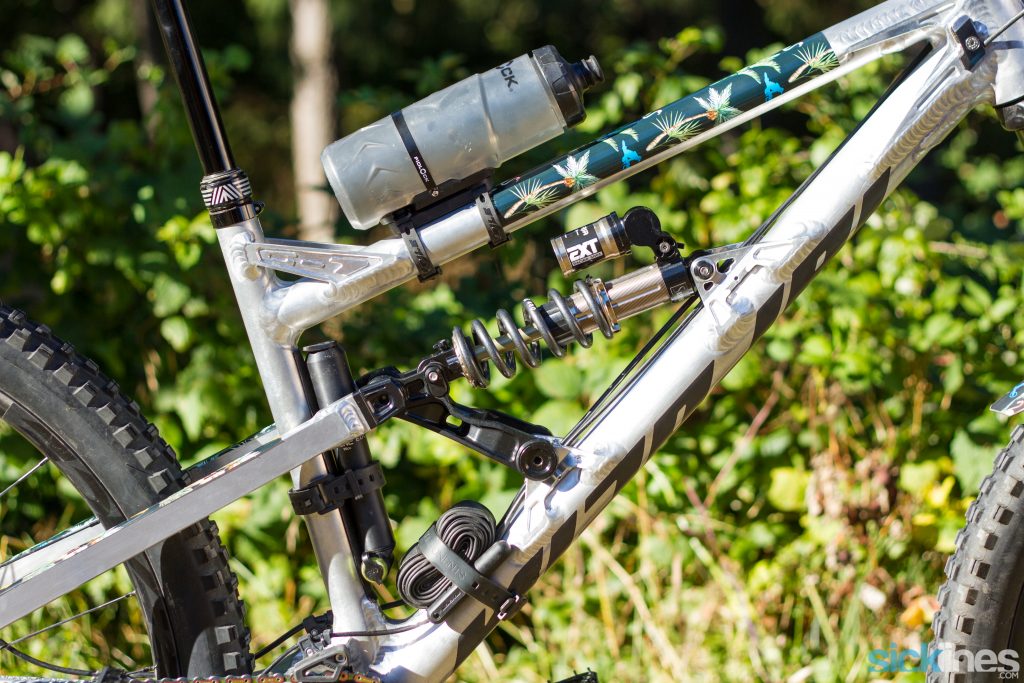 I have run a few different bar/stem combos on the G-1. Starting with Deity's Speedway bars in 30 mm rise and mated to a Copperhead stem at 35 mm length which we reviewed separately last year. Next, I swapped in a set of One-Up's oval carbon bars in 35 mm rise mated to a Chromag BZA stem. This gave me a chance to try slightly higher rise and compare One-Up's oval technology to Deity's well tuned but traditional round construction. I found the One-Up bars to have a bit more compliance than the Deity setup but difference was small. Both of those setups were pretty good but I wanted to try a shorter stem which necessitated going to 31.8 bars. I swapped in a set of Chromag Cutlass bars at 35 mm rise and 780 mm with a Ranger 31 mm stem. The result was a tall and slightly shorter cockpit and slightly faster steering. This latest setup kept the front end tall for maximum confidence in steep terrain and made for quicker direction changes and reduced effort to loft the front end.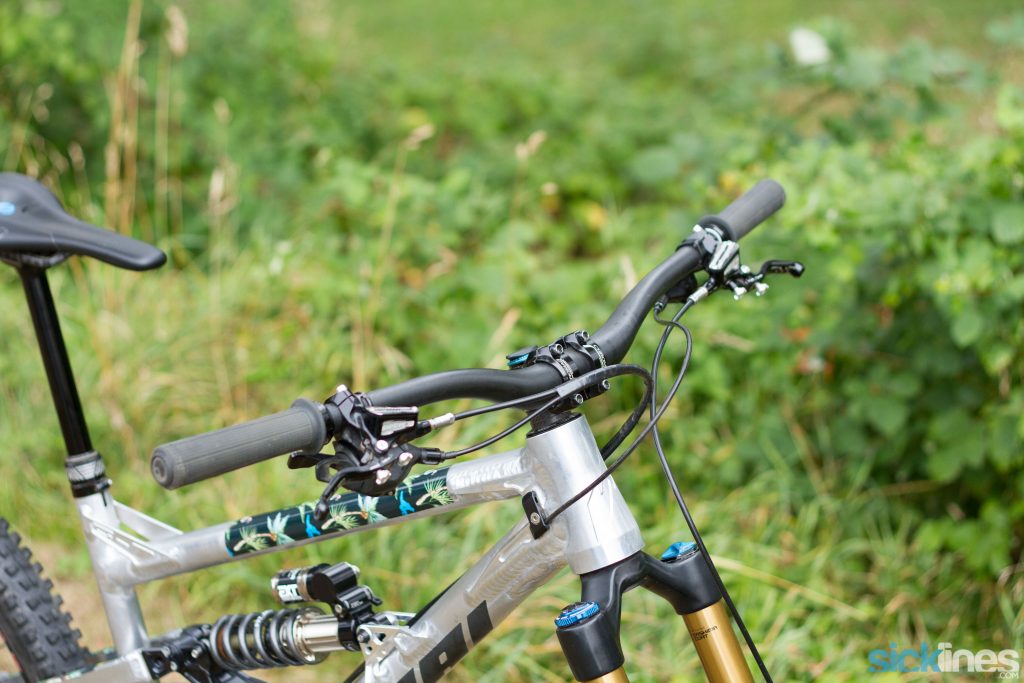 Rounding out the cockpit, I ran an SQLab 611 Ergowave carbon saddle. This is the non-active version and I've got nothing but praise for it. The minimalist padding helps prevent hot spots as you're supported by your sit bones and not by a bunch of foam jammed up into your nether regions rubbing you all the wrong ways. For dropper post duty, the build started with a Bike Yoke Revive that had around but was swapped out for a PNW Components Rainer Gen3. We also reviewed the Rainer last year but in the context of this build, this dropper not only worked perfectly but allowed me to bump up to a full 200 mm of drop. With this setup, I'm able to get the saddle completely out of the way as needed.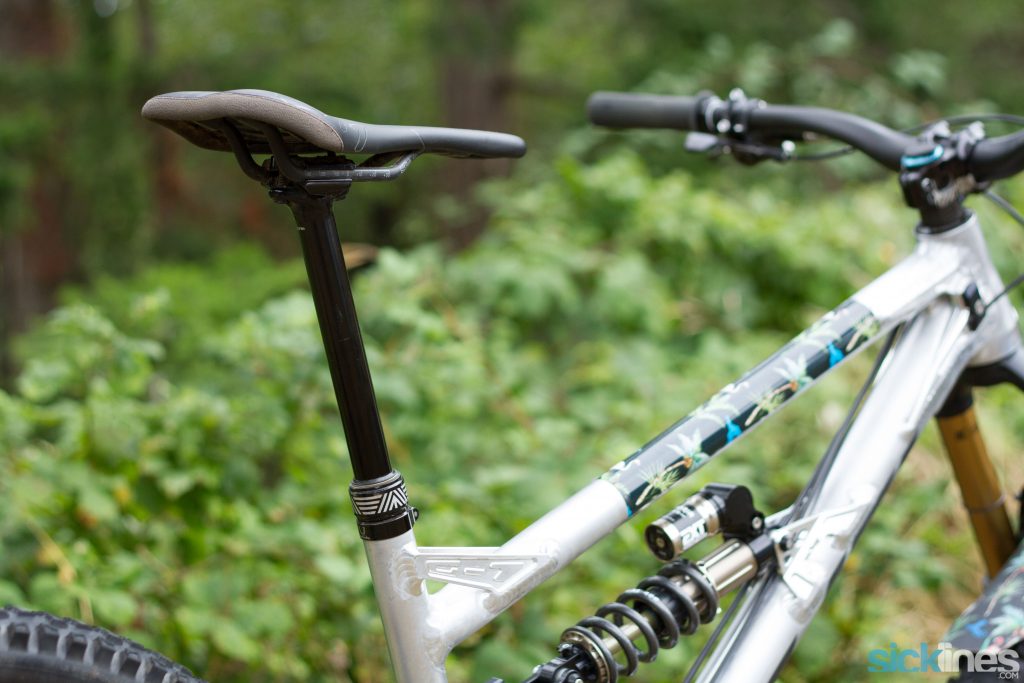 Ride Impressions
Climbing on the G1 is at once fantastic and laborious. The seat angle keeps your weight quite forward and the front wheel planted no matter how steep the trail gets. Long fire road climbs to steep descends are it's happy place and it will do that all day long as long as you are up to hauling it's 34-37lb fully built weight up the hill. Why so heavy? It really comes down to the build. This bike is meant to smash. A coil shock, burly tires, inserts, heavy duty wheels, and big fork, is the only way to roll. I tried running a lighter build, it's pointless. Fortunately the suspension is highly efficient and as long as you sit and spin with some semblance of a smooth cadence, the G1 exhibits no efficiency robbing suspension movement. That addresses fire roads and smooth trails, technical climbing is a little more interesting. With a wheelbase of over 1300 mm on the size medium this is a lot of bike to navigate through tight turns. In late, out early is the only way. The low BB will keep you on your toes as well. Fortunately, traction is high and the rear wheel will hookup on slick rocks and wet roots and continue up genuinely tough climbs. Lower angle climbs and rolling trails bring up another interesting aspect of long-reach, steep seat angle geometry. You'll find a bit more pressure on your wrists. On the up side, this means more pressure on that front wheel to prevent washing. The down side, it can get uncomfortable. My solution was to run my bars a bit higher. 35 mm rise bars instead of 25 mm, and a few extra spacers under my stem did the trick. All day comfort and even better in the steeps. It's not a trail bike for those living beyond access to genuine mountain topography but it does just fine for those inevitable sections of rolling and low-angle terrain.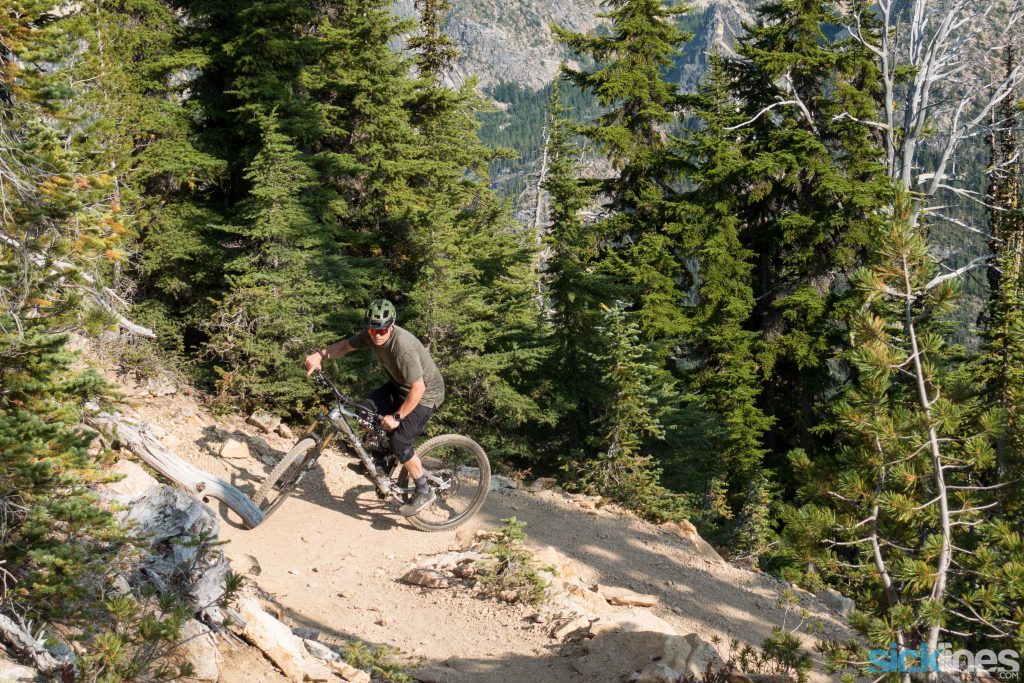 In the steeps. This thing was born and bread for steep lines. This pic below is from one of my first rides on the G1. It's not the gnarliest line ever but it packs a punch. The line starts and ends out of the frame and includes a tricky entrance and exit. The moss was not yet fully cleaned off the face and there was enough moisture to keep traction to a minimum on this day. The point is the confidence this chassis provides. I've never experienced anything quite like it, at least not in a package you can pedal. The EXT Storia Lok V3 keeps the rear absolutely planted. The front wheel is so far out in front that over-the-bars scenarios are preposterous. Point it, get off the brakes, and GO! The steeper the better. The more compressions the better. The more holes, the better. On a 5 star rating scale the G1 is a 6 when it comes to the steeps. This is the best chassis I've ridden in steep technical terrain. Full stop.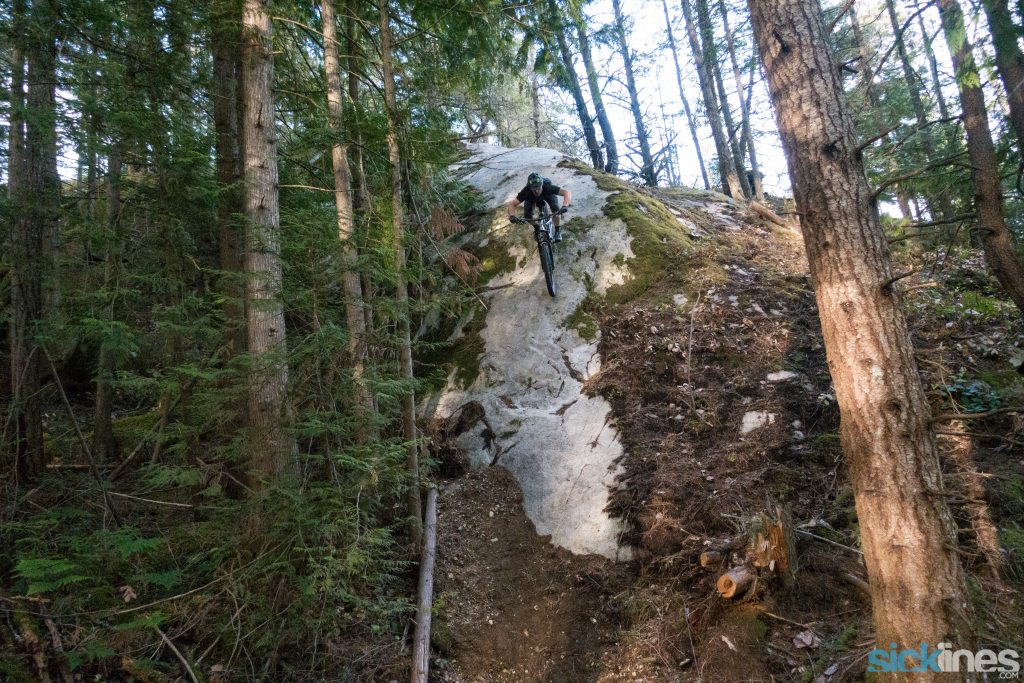 Every super bike has its Kryptonite. For the G1, it's the twisties. On tight, slice 'n dice descents where the fall line is dissected by turn after tight turn I cannot, the G1 simply will not, match the pace of a shorter wheel base bike. There's a lot you can do with technique, there are tricks but there comes a point where it becomes apparent that you're simply working harder than you would with a more reasonable wheel base. By now, I have run countless descents and have tuned and tweaked both the bike and myself. The G1's advantage in steep skidders and through sweeping turns is unmistakable. Unfortunately, so are it's limitations when the trail is a snake turning back on its self over and over. Silver lining, the majority of the trails I have trouble with are more trail-bike oriented anyway. Steeper, more committing trails tend to have corner radiuses that don't bother the G1. Maybe the take-away is that you can ride the G1 almost anywhere but there are times when you'd be better off on a more nimble bike. Fair enough. One bike quivers are boring anyway.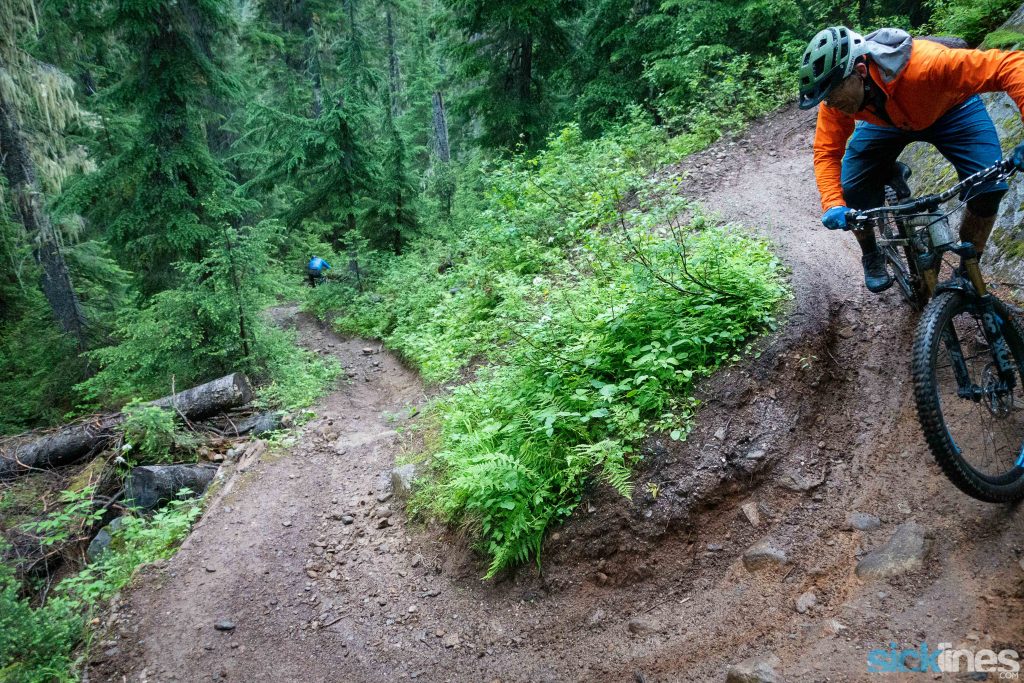 Despite aforementioned limitations, the G1 is not all point and shoot. Jumping, dropping, and generally playing around is a heck of a lot of fun on the G1. It's no jib machine in the traditional sense. I never really managed a convincing rear wheel or front wheel manual. Play time on the G1 is enabled largely through the extreme confidence that such a stable chassis imparts. The G1 emboldens its pilot to try weird natural gaps and creative lines of consequence. It beckons its rider to jump from one seemingly unrelated feature to the next on a wing and prayer. Lines that I would have simply walked away from on a lesser bike seemed completely reasonable on the G1. On less spicy terrain, the G1 leans strong towards a "planted" over "playful" feel. It's a great bike for something like a sketchy rock slab gap but maybe overkill for getting loose on buffed out flow trails.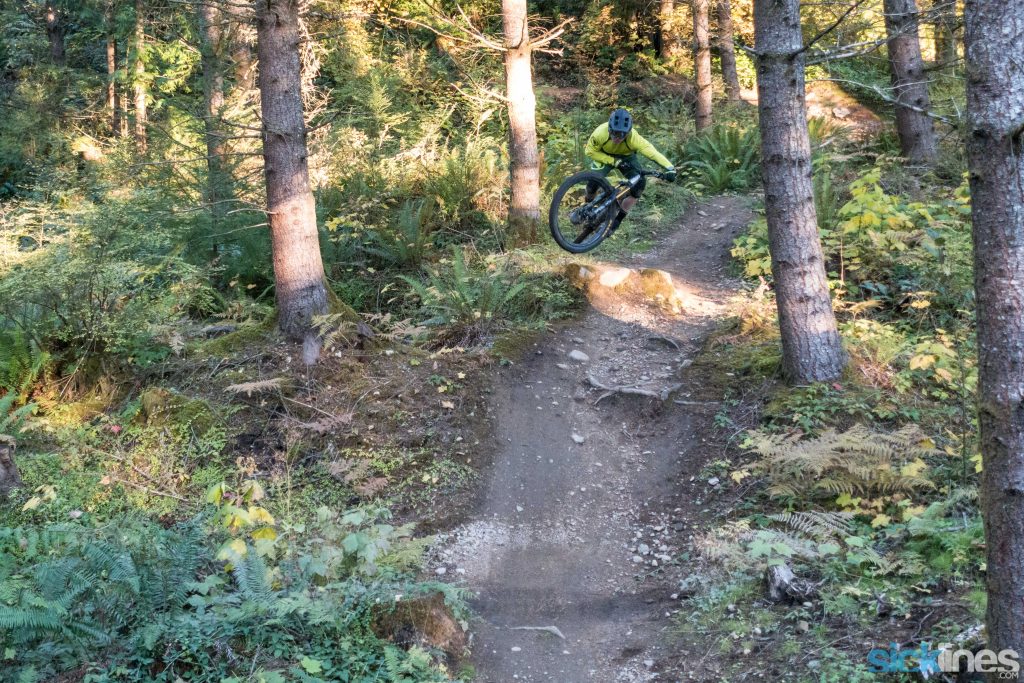 Long Term Durability
After 2 full years, countless miles and many 10's of thousands of vertical there have certainly been a few failures. I killed a rear wheel coming up short on a good sized gap. I also killed a set of cranks, wore out a set of pedal bushings, went through a pile of brake pads and tires, and a couple chains and chainrings. I've had the Storia serviced twice and I'm on my 4th fork but that's not actually due to any failure. Technically, I did have to warranty the front triangle but it didn't fail. My frame shipped without the required seat stay mutators (spacers) installed to ensure clearance for a 29″ wheel and contact ensued. Nicolai was quick to send out a fresh front triangle but the damage was really just cosmetic. I moved the original bearings to the new frame and almost inconceivably, they're still running smooth today with no slop and no creaks. The G1 is silent and free of issues just like it was on day 1 and that's down right remarkable in my opinion. Considering all the Whistler Bike Park days, heli drops, massive shuttle days, and big days of pedaling I would have expected to have at very least installed a set of bearings. Cosmetically, the raw finish is easy to restore to full luster with just a 3M Scotchbrite pad whenever the you feel the alloy is starting to look a little dull. I really can't think of another bike that I've ridden over the past few years that wouldn't have been completely thrashed by the 2 year mark with the kind of riding that I do. Not only has the G1's reliability been a breath for fresh air, it also makes it a pretty good value.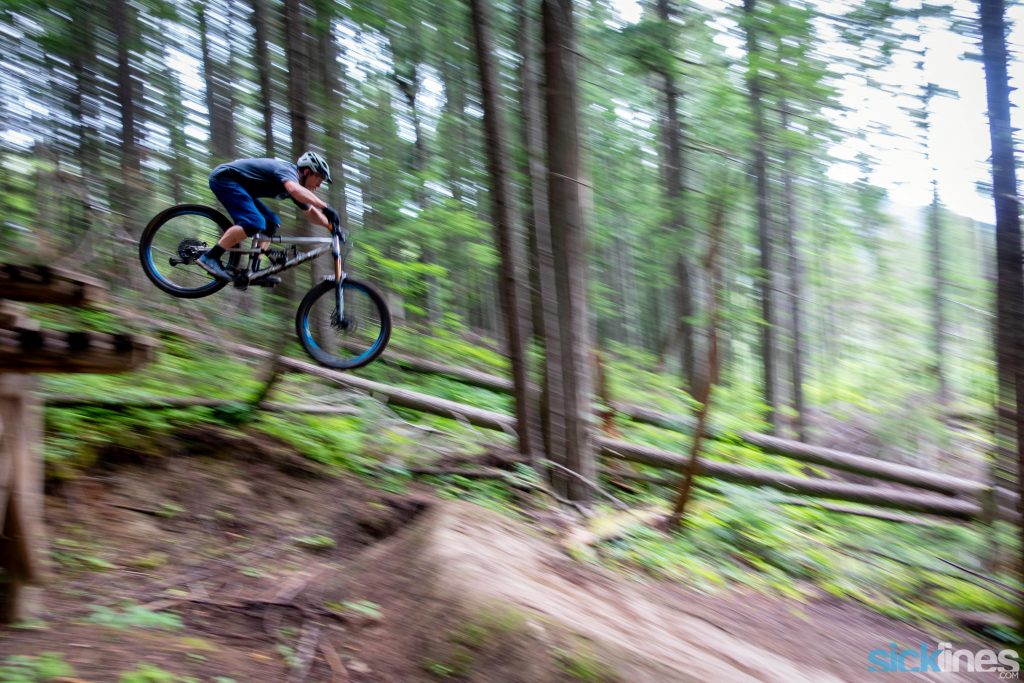 Final Thoughts
Two years in and I'm still thoroughly enjoying the G1. It's capable enough for long days in the saddle involving big vertical gain, will tolerate a mellow trail ride, and is an absolute weapon in the steeps. Expanding on the latter, I can't say I've ridden anything else that delivers near the confidence on the steepest of trails. I have a Pole Stamina in the garage, maybe it's better, we'll see. For now the G1 is king. It will most likely make your fork feel inadequate. Not any fork I've tested up through the Fox 36 felt like it could keep up with the rear end. I've recently fitted an EXT Era up front and initial impressions are promising but it's too soon to say for certain. Perhaps a Fox 38 or a Zeb would also make for good options. My only real complaint with the frame its self is the lack of water bottle mounts. My Fidlock bottle hack works well enough but I'd prefer something a bit less hack-y. In terms of value, current pricing starts at about 6000 Euro for a complete bike or 2700 Euro for a frame. Considering where mountain bike prices have gone in the past few years, both of those options represent solid investments. More importantly, this is a bike that tolerates the ups and lives for the downs. If you live out on in the flat lands only occasionally make it to big terrain, I'd look else where. If you do live in near real mountains and are looking for confidence in the nastiest conditions, this could be your ride.
MSRP Frame-only: 2700 Euro
Sizes: Small, Medium, Large, XL
Finishes: Raw, anodized, powder coat
Travel: adjustable – 162 or 175 mm
Recommended fork travel: 160 to 180 mm
Wheel sizes: 29, 27.5, or mixed
Custom Geometry available
Warranty: 5 years – 10 year parts availability