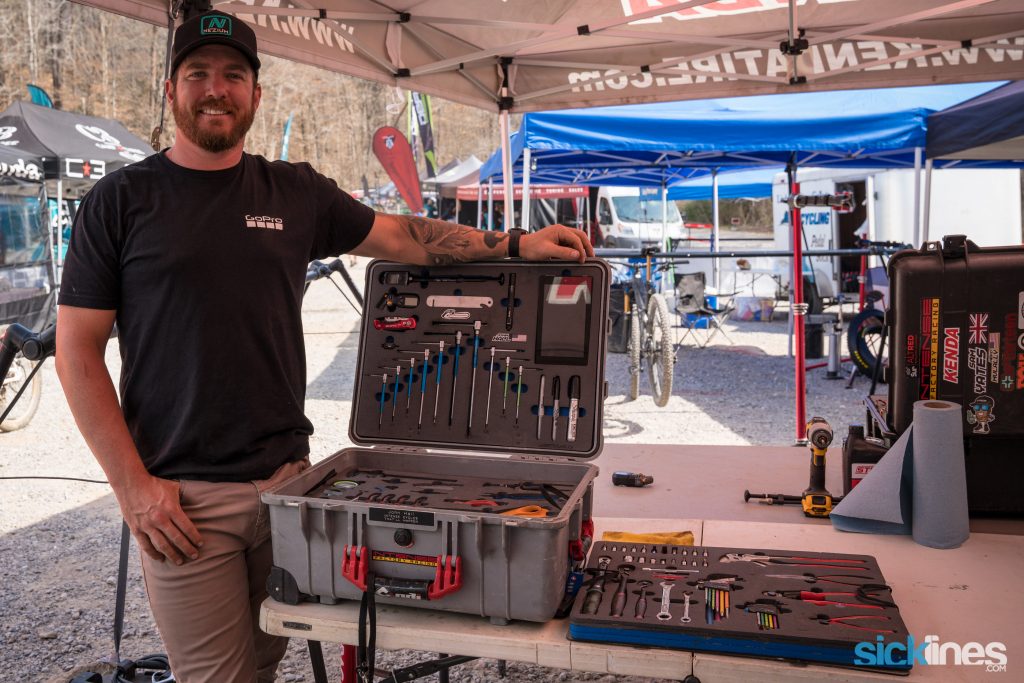 Intense Factory Racing Toolbox Tour
Who doesn't love a good toolbox tour? Intense Factory Racing's riders Aaron Gwin and Neko Mulally attended the first U.S. National at the Tennessee National and we took the chance to take a peek at thier setup. Check out John Hall's Intense Factory Racing toolbox. He is Aaron Gwin's World Cup mechanic.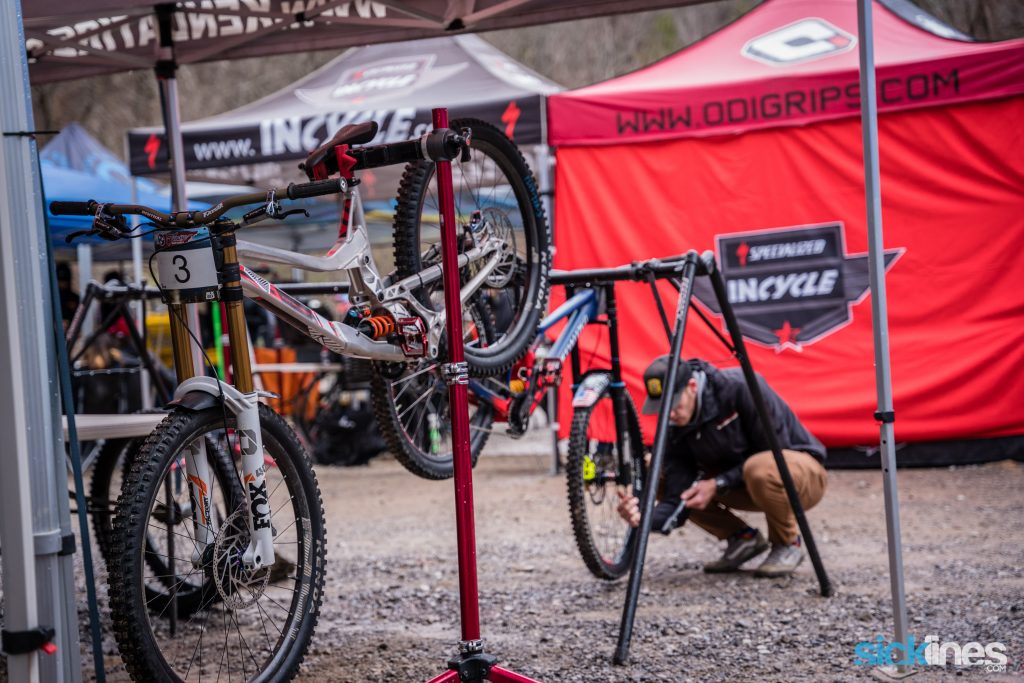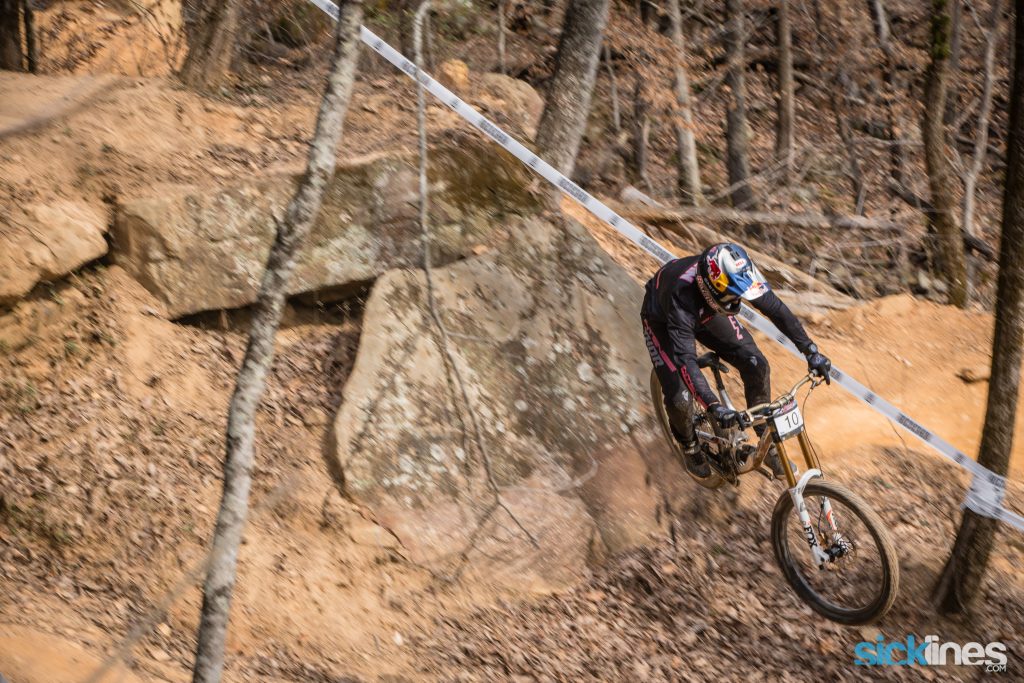 It's a tough job being a World Cup mechanic and John Hall makes it all look easy. He's been the mechanic for Aaron Gwin for some time now and he's been instrumental in a lot of development with the TRP Hall Lock on the TRP derailleur and more. You can never have too much knowledge and John is dedicated to honing his craft.
What's in the Toolbox
His toolbox starts off with a Pelican case with his nameplate and he has his tools organized in a few custom layers of foam. The cutouts are from lazertooling.ca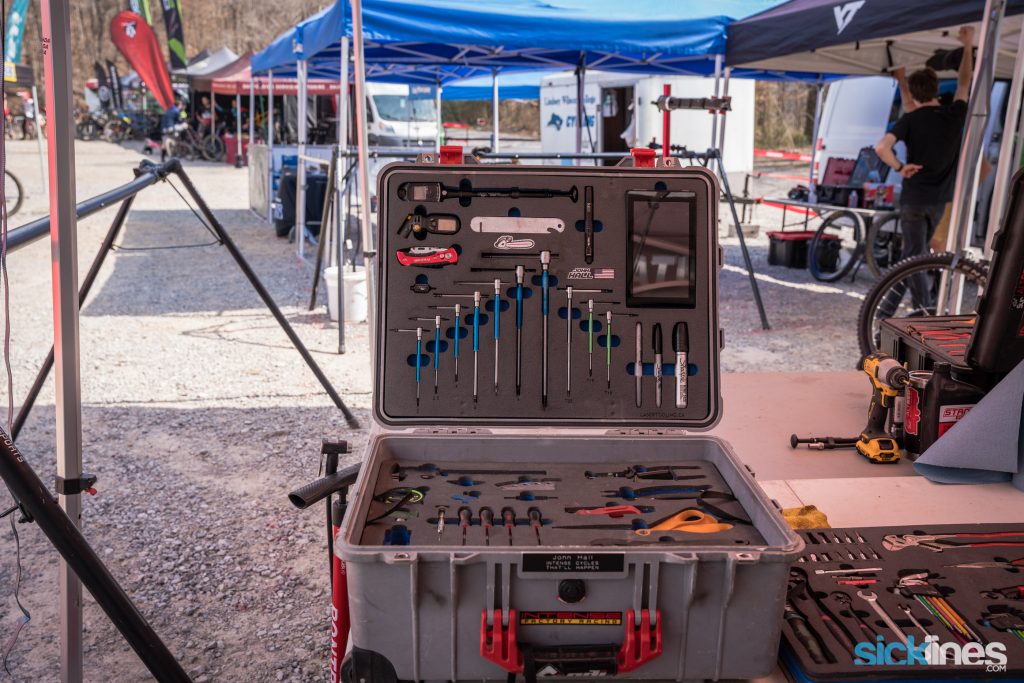 The top foam section has a lot of quick tools John often uses such as a shock pump, light, Topeak tire pressure gauge, knife, T handle hex/allen and torx wrenches (PowerBuilt), and sharpies. A little impact wrench can also come in handy to quickly remove disc brake rotor bolts.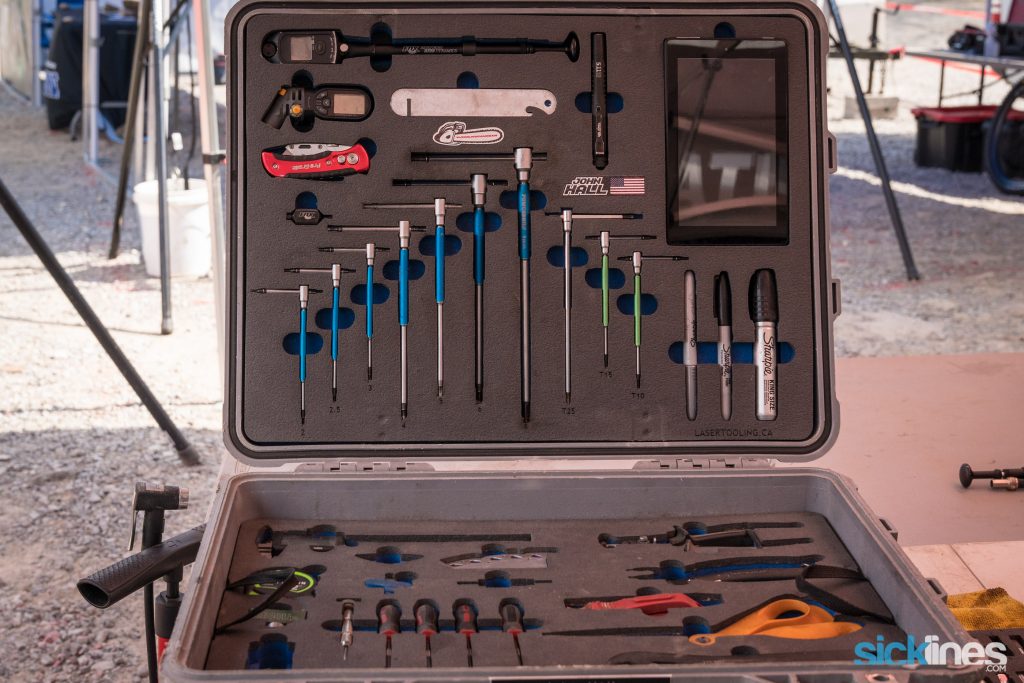 The top layer has a lot of other commonly accessible tools like a Wera torque wrench, Pittsburg 1/4 and 3/8 ratchets, extensions, valve core tool, Wera Allen wrenches, Wera Torx wrenches, common 1/4″ drive bits and hex adapters. Additionally the Knipex pliers wrench (87 03 300) are some of our favorite along with the needle nose, cable cutters, and Knipex flush cut pliers to make for some really clean cut zip ties.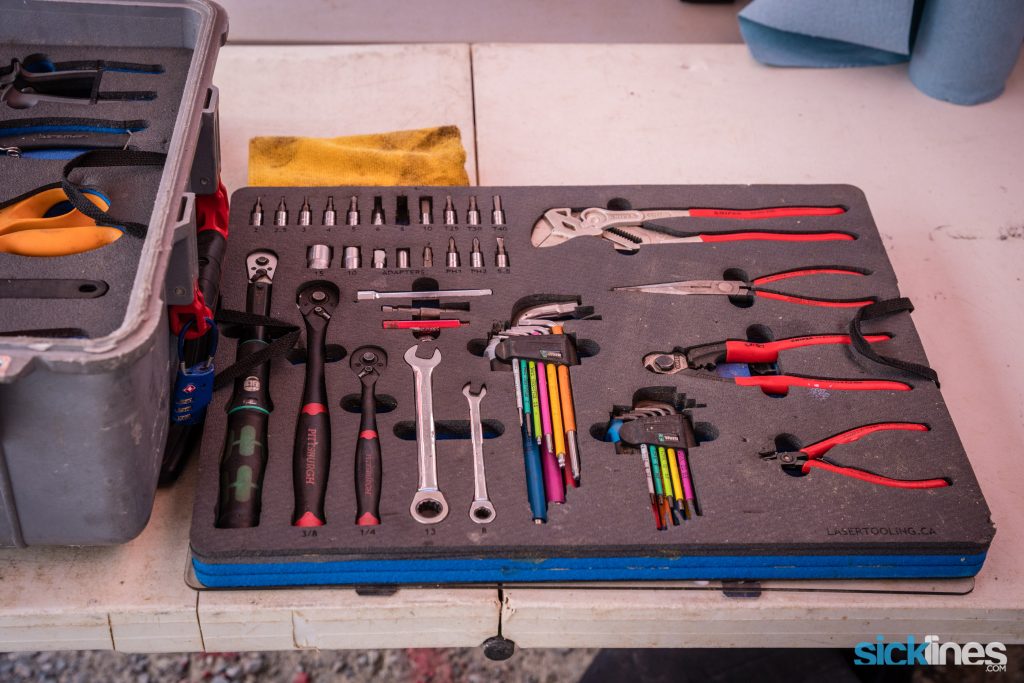 The next layer includes a caliper for measuring, a measuring tape, a variety of picks, disc pad spacers, disc brake dummy pad spacer, Unior tire levers, fiskar scissiors, birzman masterlink pliers, and some Schwalbe tire cutting pliers to name a few.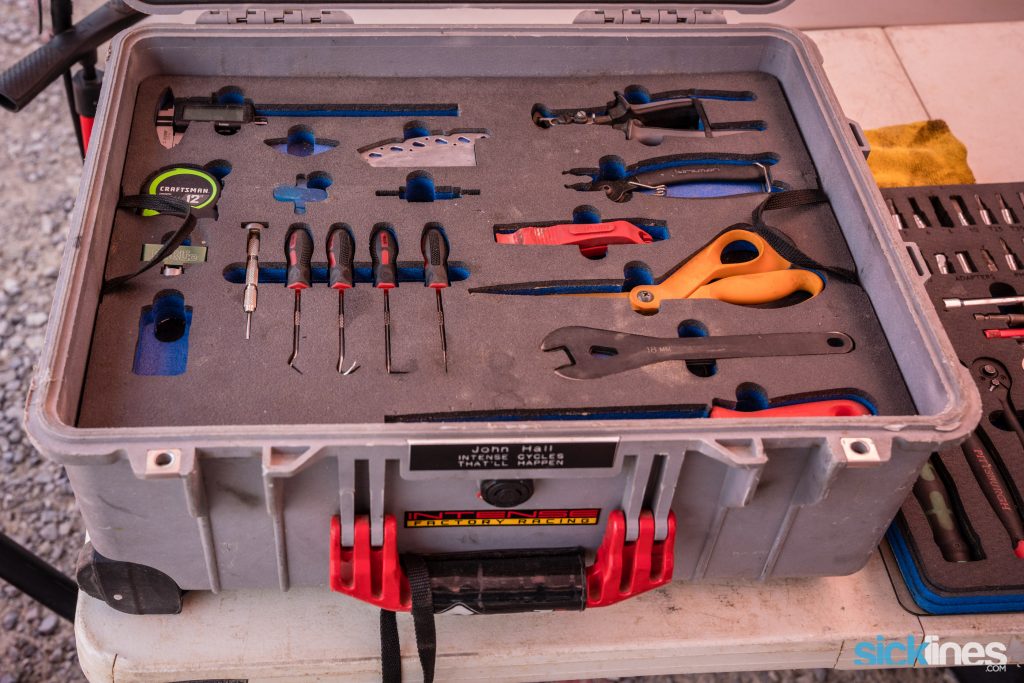 The bottom layer of tools includes a lot of Abbey bike tools like their H.A.G. derailleur hanger alignment tool (not pictured), Abbey ti hammer, chain tool, bottom bracket, a pipe cutting tool for handlebars, Abbey bearing press kit (not pictured), Abbey fork seal presses (not pictured), and more.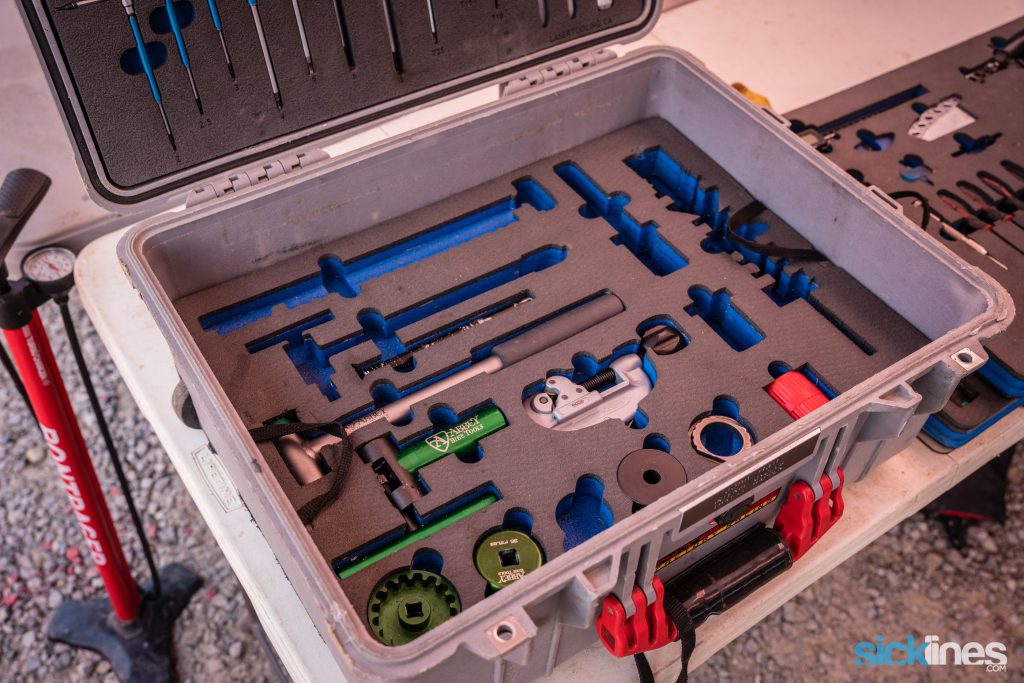 John has also been the highlight in a fireside chat with John Hall and he has a wealth of knowledge when it comes to maintaining a race bike. You can learn a lot from listening with all the experience he has
If you're wondering what the #longlivechainsaw sticker is in the top of his box, it is a reminder of Stevie Smith who passed away on May 10th, 2016
More John Hall Videos
If you like the fireside chat video be sure to also watch the other videos with John Hall
Note: As an Amazon Associate I earn from qualifying purchases. Some of the links embedded in this article will guide you to Amazon on items for which we may receive a commission on your purchase.