The e.thirteen HELIX R 11 and 12-speed cassette works with SRAM™ Eagle™ or Shimano™ drivetrain, with more range than any other cassette on the market. Check out the details inside from e.thirteen.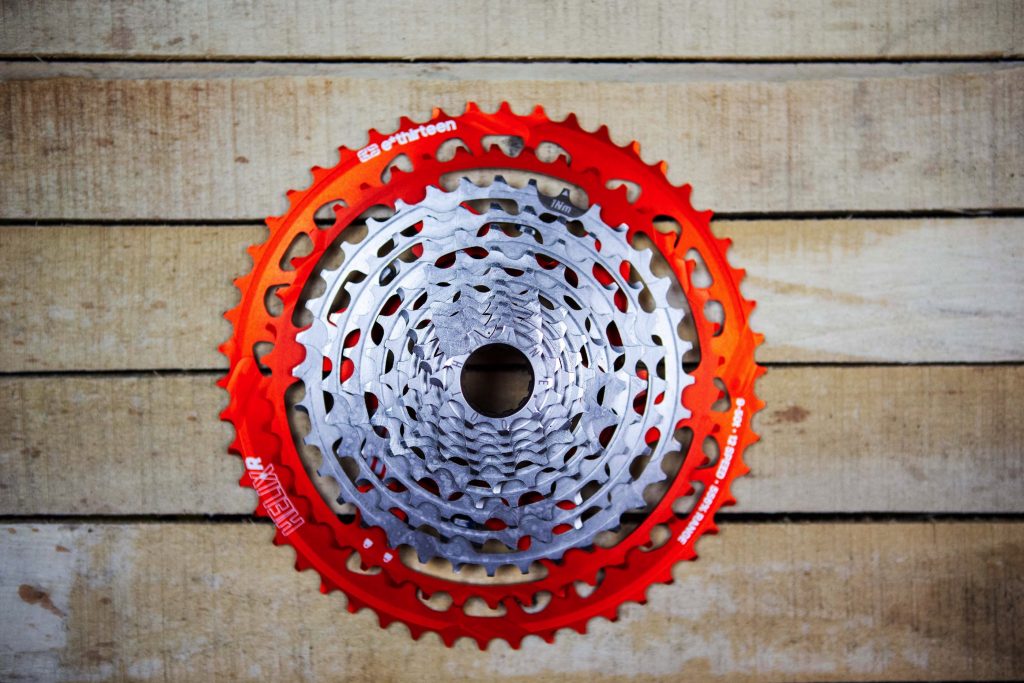 The 9 tooth e.thirteen cog lets you step down one chainring size while keeping the same top end gearing and provides not only better ground clearance, but an overall lighter drivetrain.
The Helix-R only works with SRAM freehub carriers (XD/XDR freehub drivers) so it's not compatible with a microspline hub.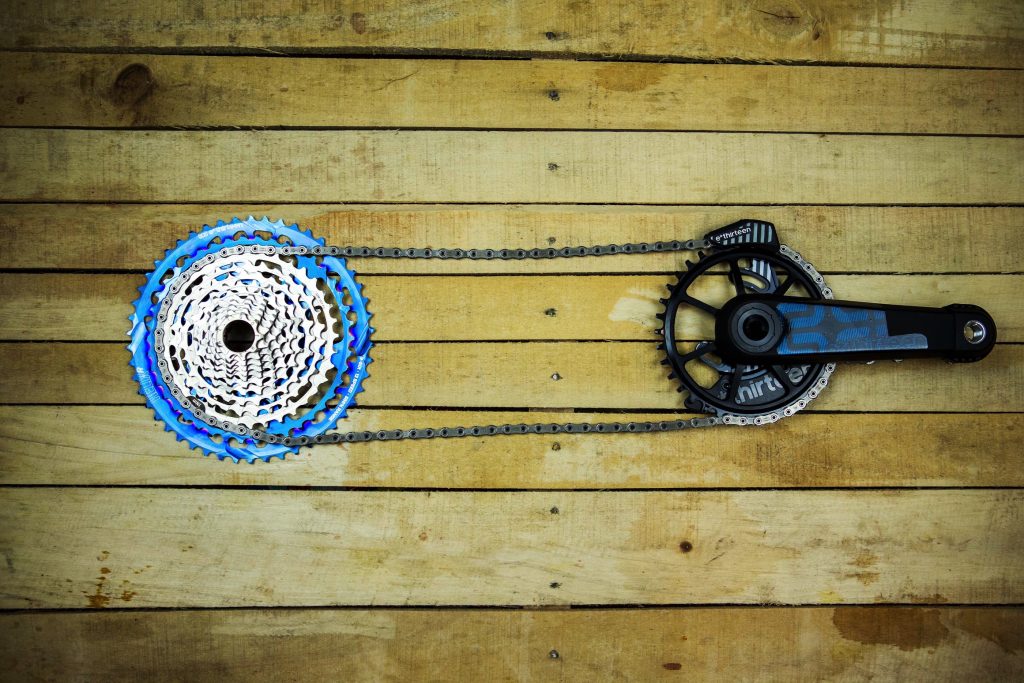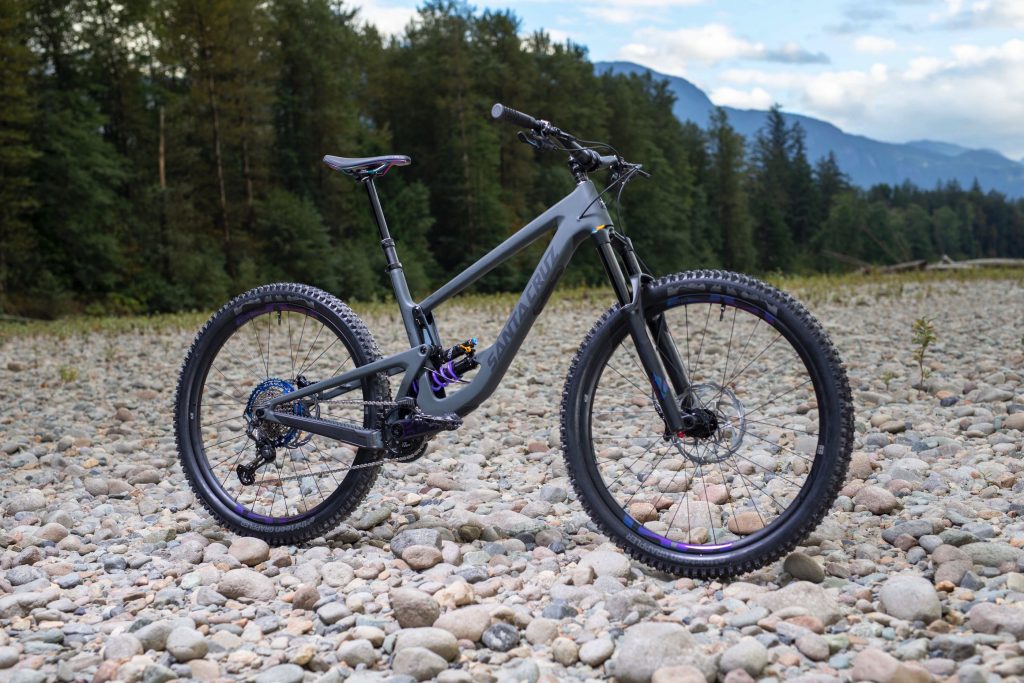 HELIX R cassette onboard the new Santa Cruz Hightower with Formula Mod Shock Suspension
345g 9-50t 12 SPEED HELIX R MSRP starting at $289.00
556% More range than any other cassette on the market 9-50T: 9,11,13,15,17,20,23,27,31,36,42,50 Replaceable steel and 42/50 tooth clusters 345g
325g 9-46t 11 SPEED HELIX R
511% Range 9-46T: 9,11,13,15,17,20,24,28,33,39,46 Replaceable steel cluster and 46 tooth cog 325g
Improvements from the TRS+ 950 / 9-46
Helix R 12 is 60g Lighter than the TRS+ 9-50t 12 speed, and the Helix R 11 is 80g lighter than the TRS+ 9-46t 11 speed.

Available in colors: Grey, Naranja, Bronze, and Eggplant, and Intergalactic (uses 'PVD Film' to double the durability compared to anodize)
Compatible with SRAM and Shimano 12speed drivetrains

Improved shifting performance including ShimanoTM 12 speed compatibility
Improved interface between steel and aluminum clusters
If you happen to wear out the aluminum portion or steel portion, you can replace just the worn part since they're also sold separately.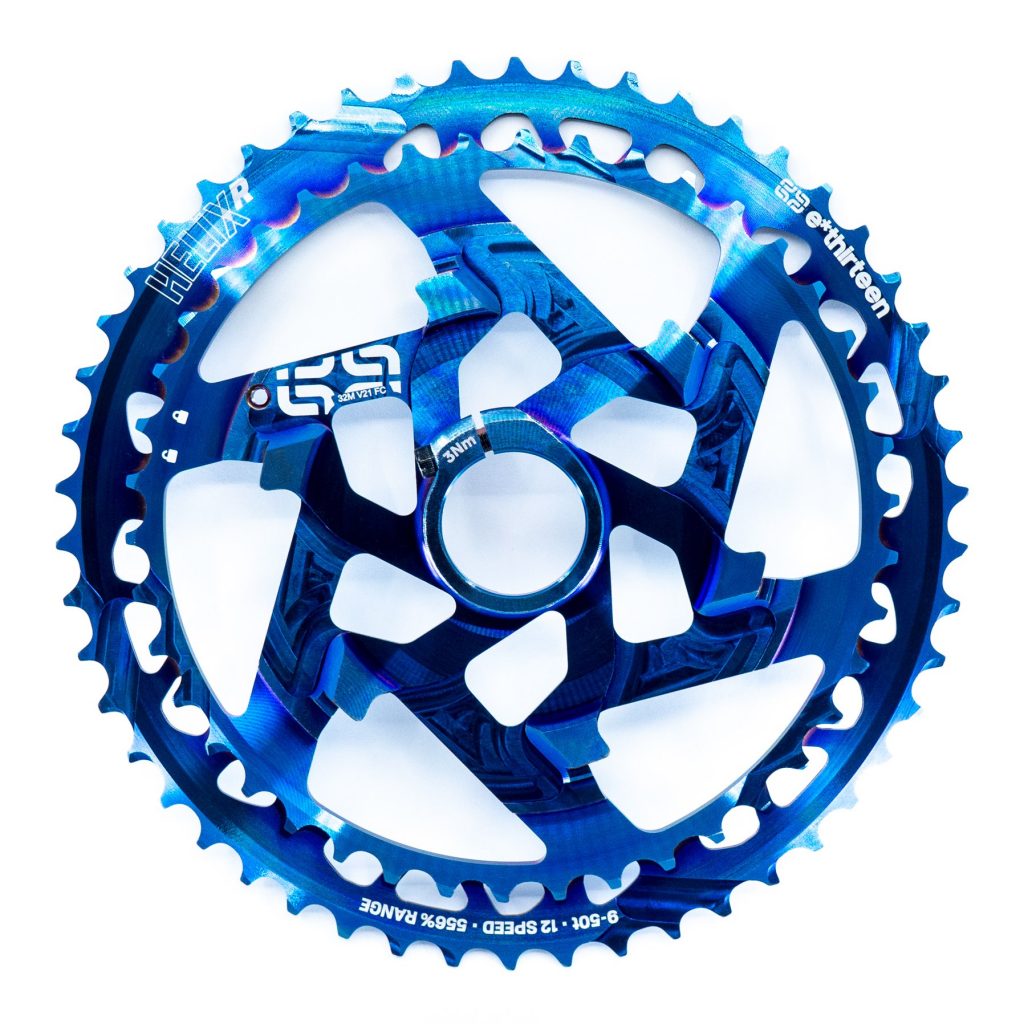 Compatibility
Works flawlessly with Shimano and SRAM 12s drivetrains despite the challenges in designing for the different cog spacing and chain behavior. Additionally, if your wheel has a SRAM XD Driver and you want to upgrade to Shimano 12s, you not only save money on the cassette, you don't have to spend the extra on a new hub driver either. -e.thirteen
Learn more at www.ethriteen.com