Zeal Pro is a Mountain Bike cover that is a weatherproof bike bag that helps ensure your bike doesn't get damaged on your car SUV or Truck during transportation.
Why is a Mountain Bike Transportation Cover Handy?
It's devastating to have your bike get damaged during transportation. Zeal Pro steps in to help solve bike rack transportation damage from other bikes, weather, and more.
In addition to helping your bike arrive without transportation damage, Zeal Pro also gives your bike protection from salt, drivetrain wear, road debris, rain, and even prying eyes.
Preparing a bike for a race or event can take time and we like that the Zeal Pro helps to make sure your bike makes it in the condition you prepared it for ahead of travel. This will save time!
If you've ever had a hitch style bike rack, you know it can be hard sometimes to keep them from touching each other.
Are you sold? Want to grab one for a $100 discount? Check out their kickstarter page to pre-order one for $250.
The ZEAL® Pro bike cover is the only cover designed to truly protect your bike while it's on the vehicle-based bike rack. When you buy a ZEAL® Pro bike cover for your bike, it works on all the standard rack types, allowing the traditional rack securing mechanisms to still secure your bike while also protecting your bike. With a water resistant cover, non-abrasive interior, openings for straps, and an optional full functioning light kit, your bike will be as clean and ready to perform when you arrive as it was when you left.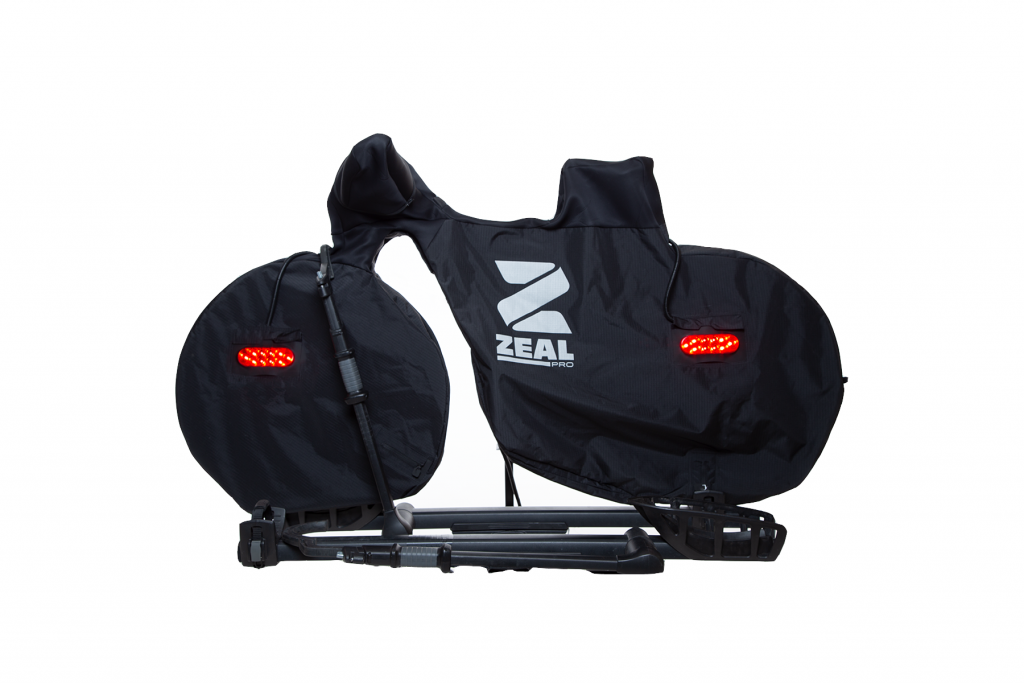 In addition to giving you peace of mind from damage during transportation, there is also an available light kit to locate your vehicle's brake lights to a trailer hitch to help make sure people can see your vehicle stopping. If you've ever been behind a vehicle that has bikes on a hitch rack I'm sure you have appreciated being able to easily see their tail lights.
Learn more about the Zeal Pro at
https://www.kickstarter.com/projects/zealpro/zeal-pro-protection-for-your-mountain-and-fat-tire-bikes