Shimano Introduces its Most Advanced E-Bike System for Mountain Bikes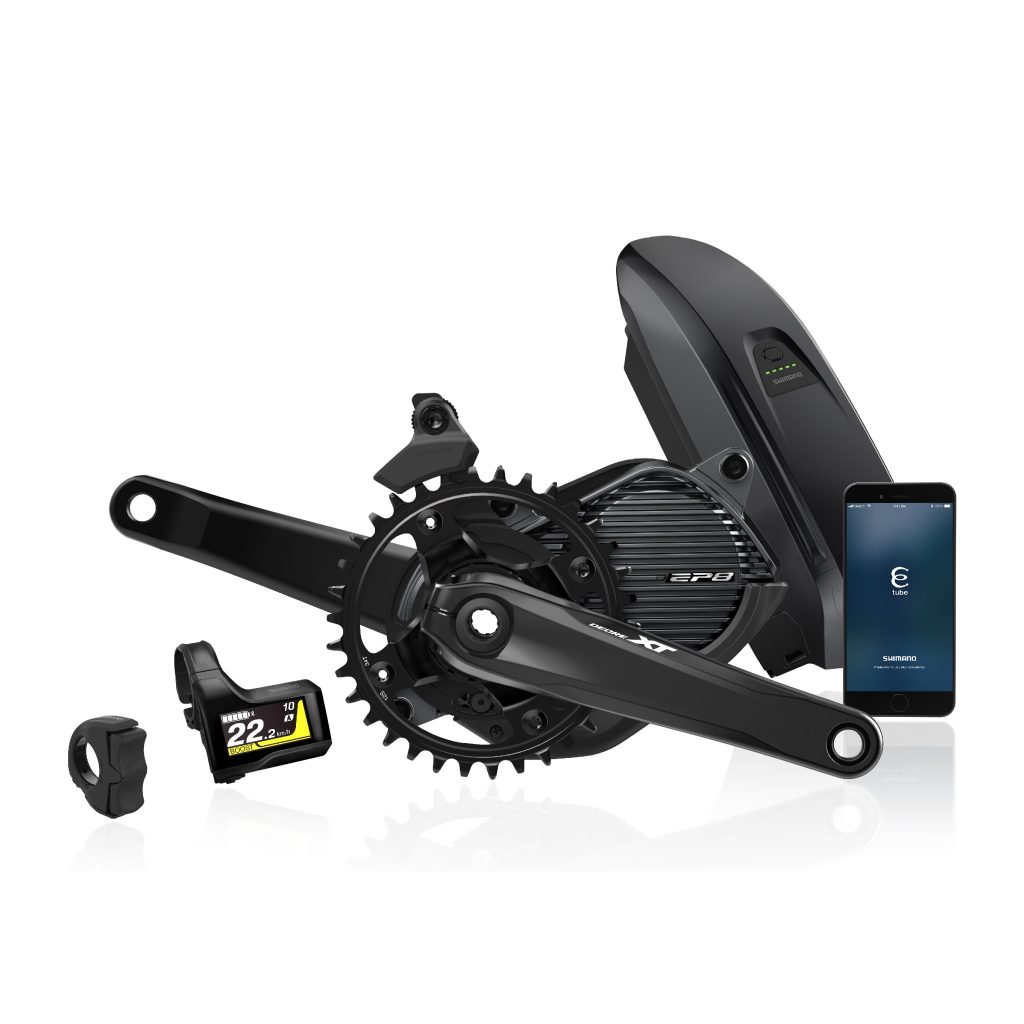 New STEPS EP8 Motor Platform, e-Tube Project Technology Comprehensively Enhance the Riding Experience
OSAKA, Japan (August 31, 2020) – Its first mountain bike specific drive unit, SHIMANO STEPS DU- E8000 set the standard for real off road performance by preserving the chainstay length and Q-factor used on traditional mountain bikes and using an intelligent assist algorithm that prioritized a natural off-road riding experience. With the introduction of the new Shimano EP8 platform, the bar has been raised again with significant gains in the areas that matter to e-mountain bikers the most:
Ø Leading power-to-weight ratio, with 21-percent more torque (85 Nm) available in both TRAIL and BOOST modes in a smaller and lighter package featuring a magnesium drive unit case
Ø Breakthrough assist algorithm that delivers the right power at the right time, organically matching the rider's efforts allowing them to tackle the toughest terrain with full support while also extending range
Ø Designed with customization in mind allowing riders to personalize the character of their bike in new ways Shimano couples this introduction with an updated E-TUBE PROJECT system. The totally revamped E-TUBE PROJECT app provides new customization options in a more user-friendly layout that's easy to access for quick and easy changes. The E-TUBE RIDE app, which turns a smart phone into a cycling computer, provides expanded information and adds ride recording and mapping features. Next generation e-tube wires have increased speed and bandwidth in a smaller and lighter package.
EP8 Hardware
EP8 Drive Unit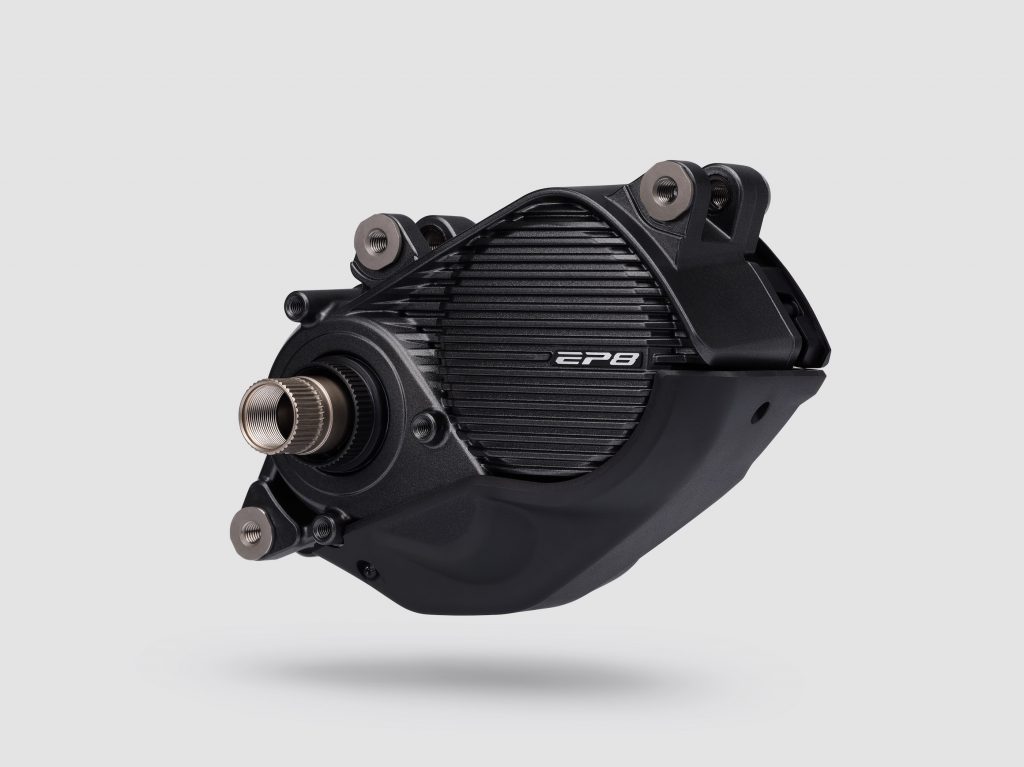 The EP8 drive unit (DU-EP800) benefits the overall bicycle design and ride feel through a more natural and refined power delivery thanks to the lighter, quieter, more compact and powerful motor with increased range.
EP8 delivers up to 85 Nm of torque, a 21-percent increase over the STEPS E8000 motor platform. The new magnesium drive unit casing design delivers a 300g weight loss in a 10-percent smaller form factor. The EP8 drive unit shape more smoothly integrates with new e-bike frames for improved ground clearance and a more compact overall package.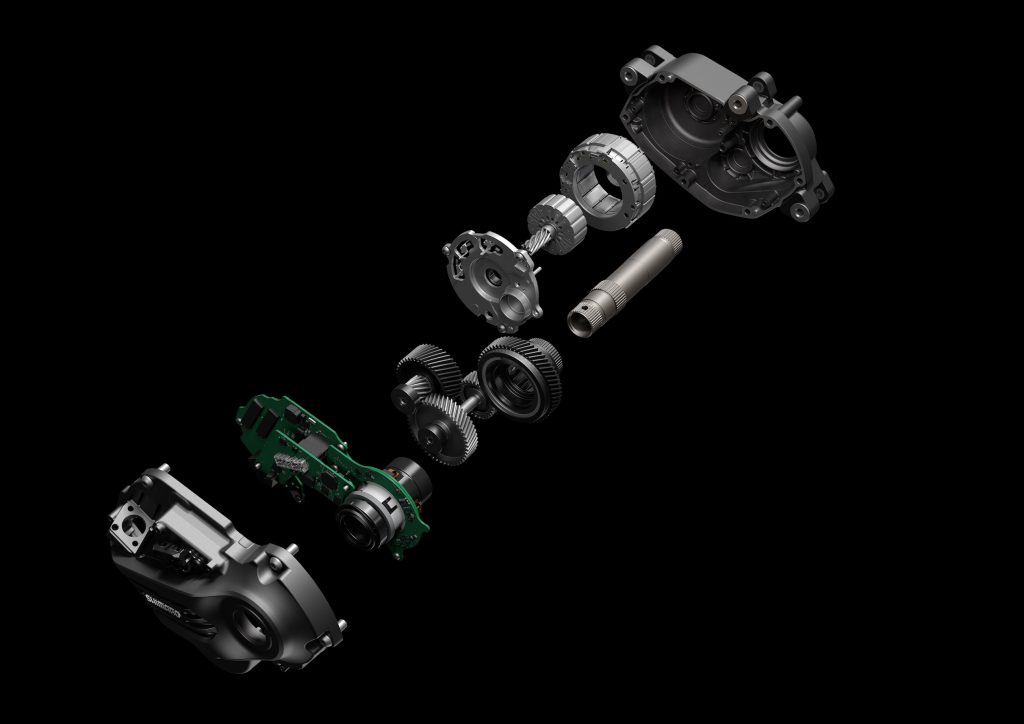 Heat dissipating materials, increased surface area in the case, and a refined heat management algorithm improve heat resistance, allowing more torque to be applied even as the conditions become more challenging. Thanks to a new seal structure and gear design, drag is reduced by 36- percent, getting much closer to the normal pedaling feeling of a traditional bike. Riders will feel a smoother cut off as they reach the maximum assist speed and then benefit from lighter pedaling without assistance.
Display and controls
The new EP8 computer display (SC-EM800) shares many external similarities with the SC-E8000 display, but with new features including a more capable chipset, expanded compatibility with third party computers, and the ability to select two different custom ride profiles.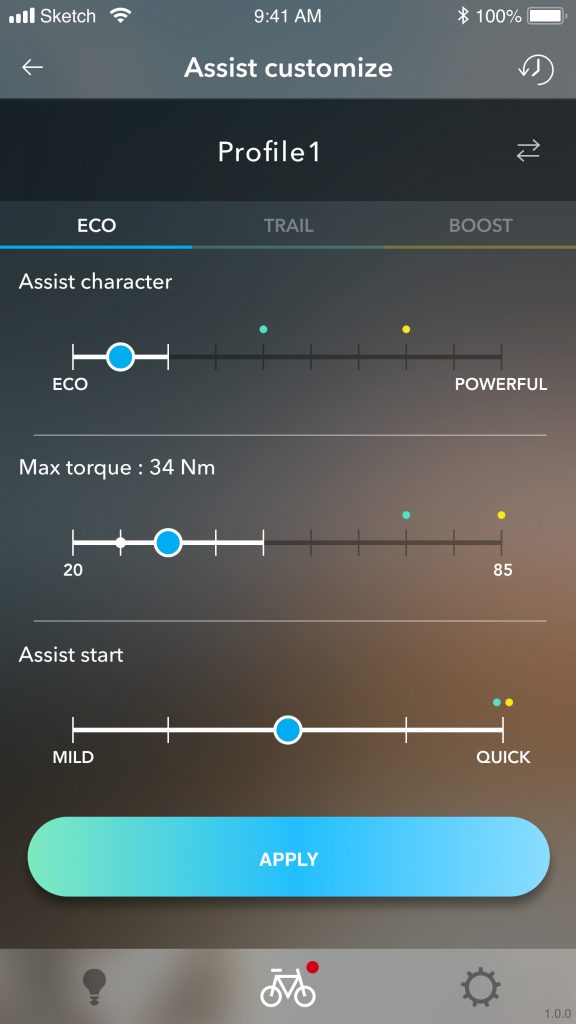 The SC-EM800 computer communicates wirelessly with Shimano's E-TUBE PROJECT app via Bluetooth, allowing riders to instantly customize power characteristics on demand. The SC-EM800 can also communicate with third party cycle computers through the ANT wireless protocol to display more detailed battery capacity and power output info in addition to ride mode, speed, gear position, range and odometer.
New batteries
New batteries recently released by Shimano are available for EP8, including two 630Wh battery options, the external BT-E8016 and internal BT-E8036 battery. Like their predecessors, all Shimano STEPS batteries are extremely long-lasting, taking up to 1000 full charge cycles while maintaining 60-percent of their original capacity, double the charge cycle capacity of other batteries, often outlasting the average e-mountain bike ownership.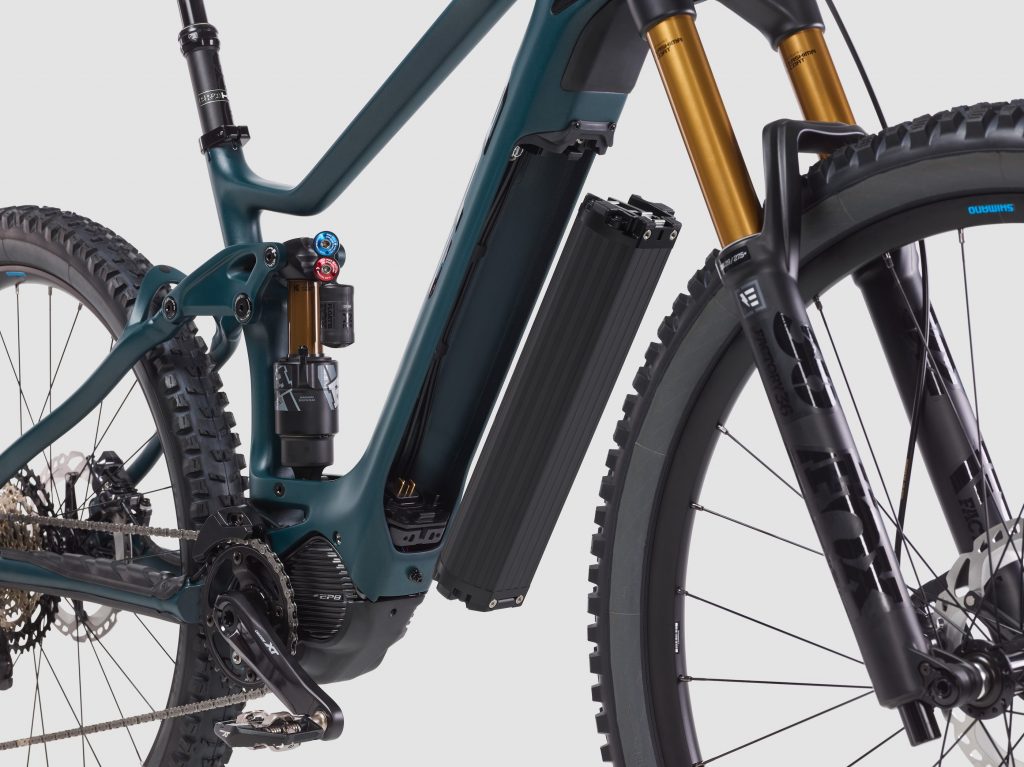 Software and Firmware
New assist algorithm maximizes control
Shimano's experienced global mountain bike product development team made a ride-changing breakthrough with the new assist algorithm. Instead of a single assist ratio for each riding mode, the new algorithm constantly calculates the ideal assist ratio for the situation. This simple concept improves the ride quality in all situations, eliminating the lurch forward and wasted energy as the bike accelerates while also continuing to provide additional assistance when the trail gets tougher and the rider works harder. The rider feels more connected to their bike as they naturally modulate their own power to navigate slippery roots and urge the bike over large boulders while the EP8 drive unit matches their intuitive power application instantly and seamlessly leading to better traction and effortless steering.
The new assist algorithm is so effective that riders will find that they no longer need to rely on BOOST mode to clear the most difficult sections of the trails they ride. With all 85 Nm of torque being available in TRAIL mode and the algorithm continually increasing the assist ratio, it's possible to ride all but the most demanding terrain without changing modes. At the same time, riders will notice an increase in range simply because the new assist algorithm doesn't waste energy when it isn't needed. If riders prefer the additional support provided by boost mode or they plan to tackle next to impossible climbs, they will appreciate the greater bike control even with maximum power delivery in boost thanks to the new algorithm. ECO mode has also gotten much more economical thanks to the new algorithm as well. It can now double the range compared to trail mode, becoming a very useful tool for maximizing ride time.
Enhanced E-Tube technology furthers customization
Shimano E-Tube technology has undergone a complete overhaul to improve the user experience. Riders can customize multiple settings through the E-TUBE PROJECT app, giving greater control over how they want their bike to ride. With EP8, the BOOST, TRAIL and ECO modes can be customized with ten different assist curves which control how quickly the power ramps up to match their effort. Additionally, the maximum torque limit can be set anywhere between 20-85Nm allowing riders to increase their riding range in TRAIL or BOOST modes or increase the off-road capabilities of ECO mode. There are five levels of startup assistance available that can further tame the acceleration from a stop for relaxed city riding or apply more power from the get go when starting on steep mountain bike trails. Riders can save all of their settings as a profile in the E-TUBE PROJECT app and choose two of their favorite profiles to load onto the bike for easy access on the fly through the handlebar mounted display. This can allow an easy transition between two different riders with different preferences, or it can be used to build a commuting mode and a mountain biking mode.
The updated E-TUBE RIDE app can be used by e-bike riders to monitor all their key riding information in their smart phone as a real-time display. Screen display options show detailed riding metrics in ECO, TRAIL and BOOST modes plus new functions including ride history, live maps, and user-friendly graphical updates. Like the SC-EM800 display, the E- TUBE PROJECT app can also provide maintenance reminders.
Both the E-TUBE PROJECT app and the E-TUBE RIDE app are now available to download from iPhone or Android app stores and are fully compatible with Shimano EP8.
EP8 Technical Features
Drive unit weight: 2.6 kg compared to 2.9 kg for DU-E8000
Case material: Magnesium
10-percent less volume compared to DU-E8000
Maximum torque output: 85 Nm
Maximum power output: 500 W
36-percent reduction in drag
Greatly reduced driving noise, quieter than DU-E7000
Improved heat management system provides more torque even in tough conditions
177 mm Q-factor is centered in the frame for a normal MTB ride feel
Three different crank arm options are available to match various Shimano drivetrains, each available in a new 160mm length in addition to 165, 170, 175.
Compatible with all Shimano drivetrains whether Di2 or mechanical, derailleur or internally geared hub
Chain rings and spider are common with other STEPS systems and support chain lines of 50, 53, and 56.5mm for 9, 10, 11, and 12 speeds
A new assist switch (SW-EM800) features larger buttons with greater tactile feedback
A new chain guide (CD-EM800) matches the design of the simple and compact CD-MT800 in a drive unit mounted version
New EW-SD300 e-tube wires are faster due to increased bandwidth and provide greater opportunities for new features in the future while reducing component and wire weight
Mounting bolts are located in the same position as other STEPS drive units allowing bike manufacturers the ability to design a common frame platform for multiple price points Availability Shimano EP8 bikes will be available from an increasing number of brands beginning in Fall 2020. Please contact your nearest SHIMANO dealer, distributor or sales office for further information about availability. For photos, please click here. About Shimano North American Bicycle, Inc. Shimano North American Bicycle, Inc., a member of Shimano North America Holdings, Inc., along with its world-renowned subsidiaries, offers consumers outstanding sport-related products and apparel. Shimano is proud of its staff, diversity in talent, interests and backgrounds. The company is an ISO14001 certified business where environmental compliance and continued improvements are part of the business philosophy and operations.