Alchemy has a new carbon bike they've been developing called the Arktos that will be built in the USA. Industry Nine has a new axle they've designed that cleanly adds chain breaking functionality and mutli-tools inside. Be sure to check these out.
Alchemy
Alchemy makes some impressive hand crafted bikes and we spotted a new 150mm Enduro bike called the Arktos while perusing the show. At first glance, the bike reminded us of the Yeti SB style bikes and after talking with Alchemy it made even more sense why this was the case. Dave Earle designed the Yeti suspension system and also came up with this unique bike for Alchemy.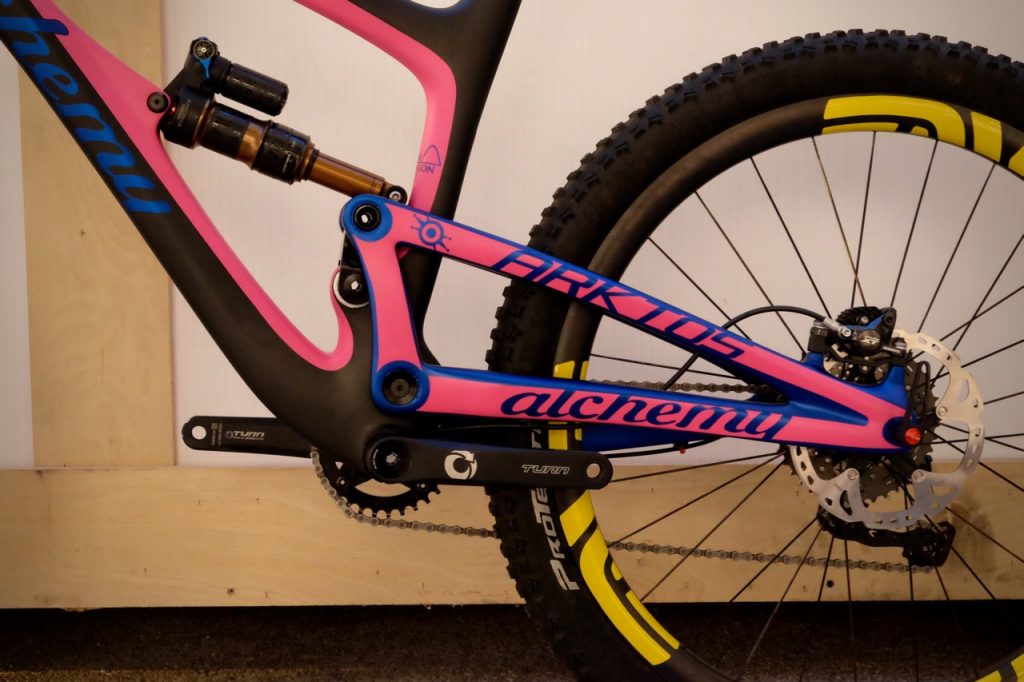 Arktos featuresEarle's Sine Suspension™. Named for its unique shock ratio curve, Sine's shock rate changes from regressive to progressive prior to switching back to a regressive rate at the end of its travel.
Arktos Sine Suspension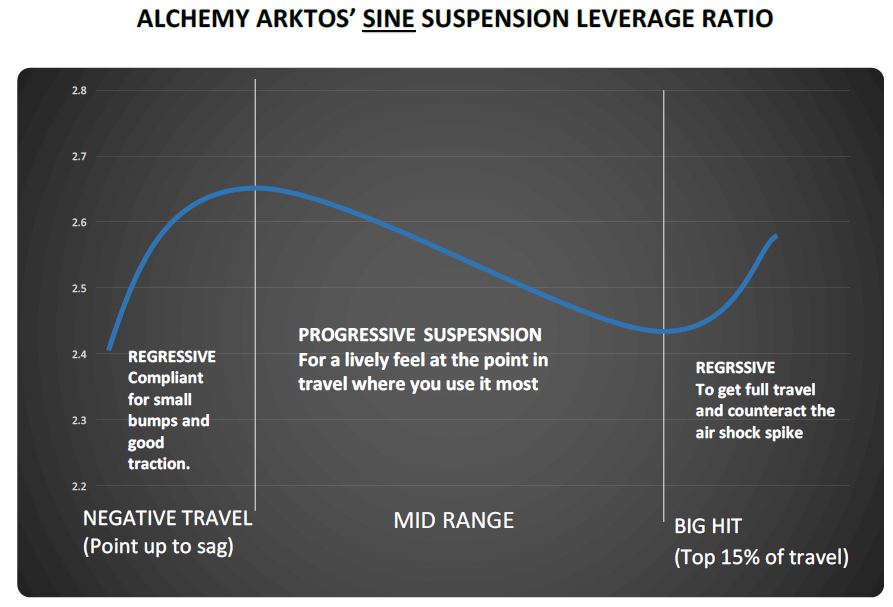 This provides the Arktos with a truly bottomless feel, especially compared to the ramp up common on other air shock platforms. The Sine Suspension design is a hybrid of dual pivot short link suspensions, a design that accentuates Earle's experience and knowledge in the suspension world. "On a mountain bike, using regressive suspension in the negative travel gives the bike a much softer feel and incredible traction over small bumps, where other bikes Would just skip across them. "The Sine change from positive to negative and back to positive is what separates Sine from conventional dual pivot suspension."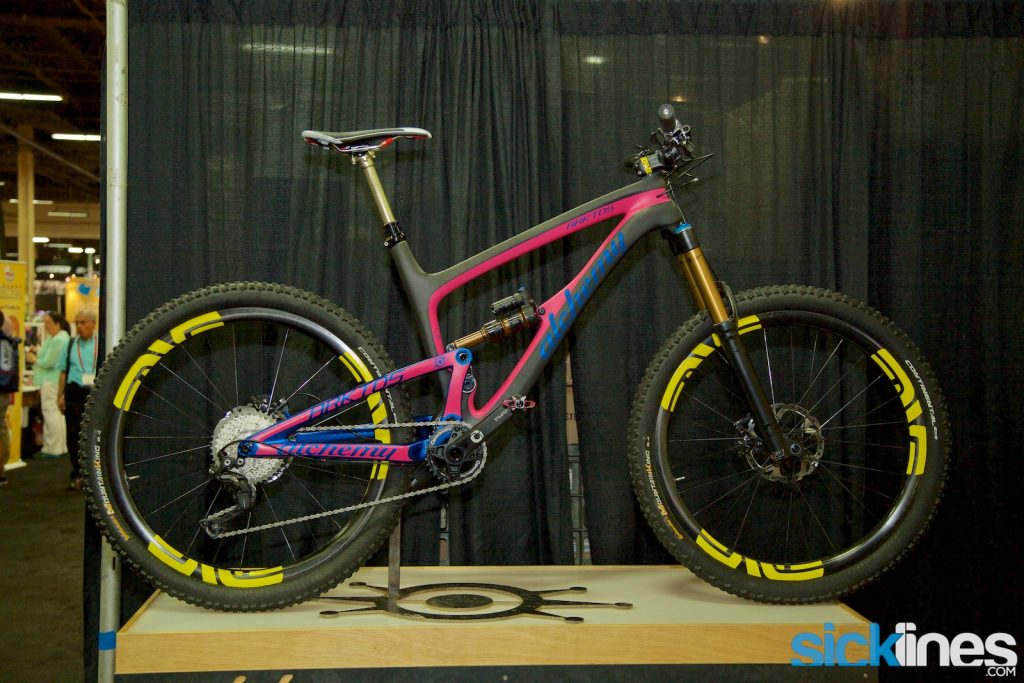 Alchemy Arktos Geometry Chart: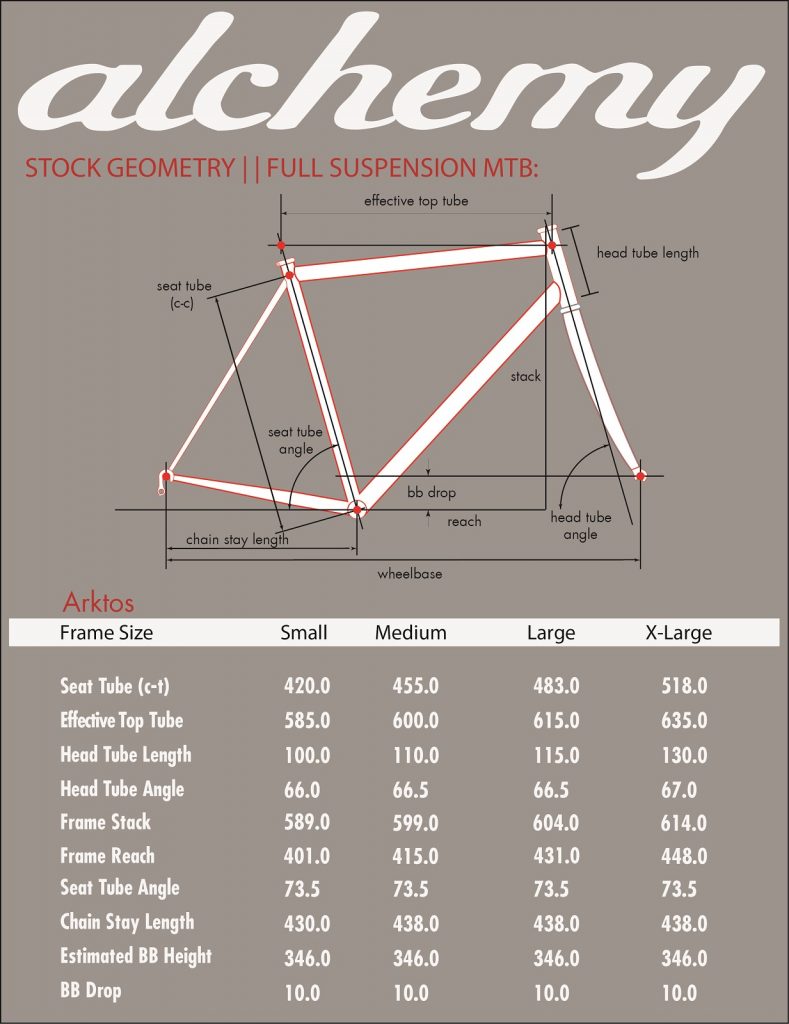 Arktos' carbon front triangle is made in house (Denver, Colorado) while the carbon rear triangle is co designed by Alchemy and Earle, who will manage the production exclusively for Alchemy. The Artkos will be hand painted at the Ethic Paint Works studio in Alchemy's Denver headquarters.
27.5" wheels
6"/ 150mm Sine Suspension
$3,750 — frame, shock
Two stock colors (custom paint option available)
Boost 148 rear hub spacing
Internal cable routing
Four stock sizes — S–?XL
Available Q1, 2016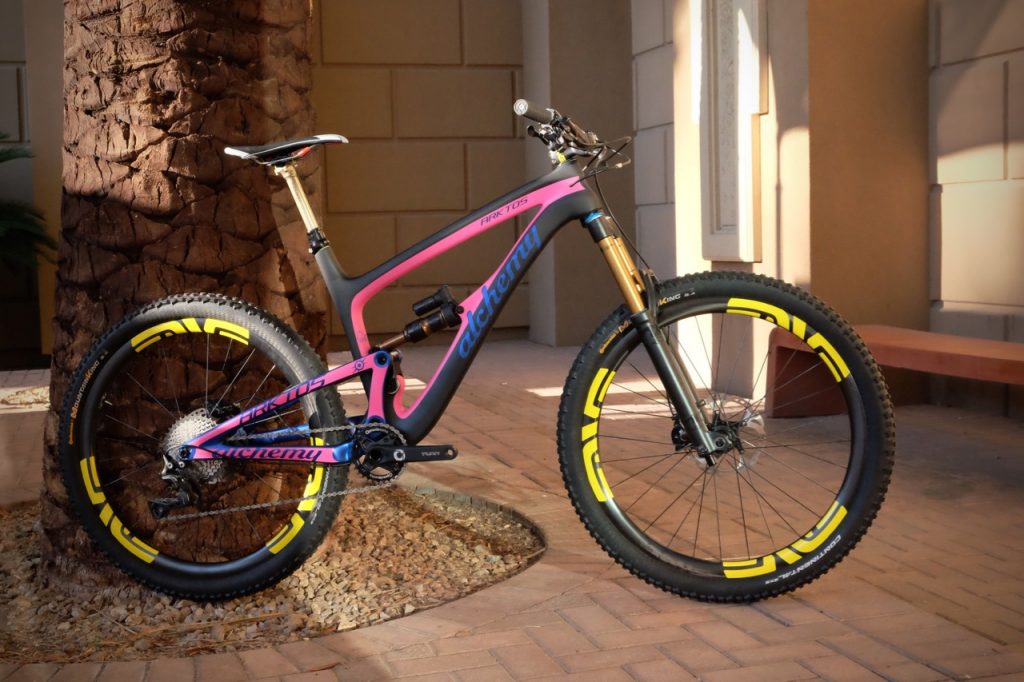 See more shots of the Arktos in the gallery below and visit http://www.alchemybicycles.com/
Industry Nine
Industry Nine was showing off their Matchstick axles. These unique axles allow you to store common tools as well as a spare chain link and up to 10 multitools within the axle itself that is less than 100grams.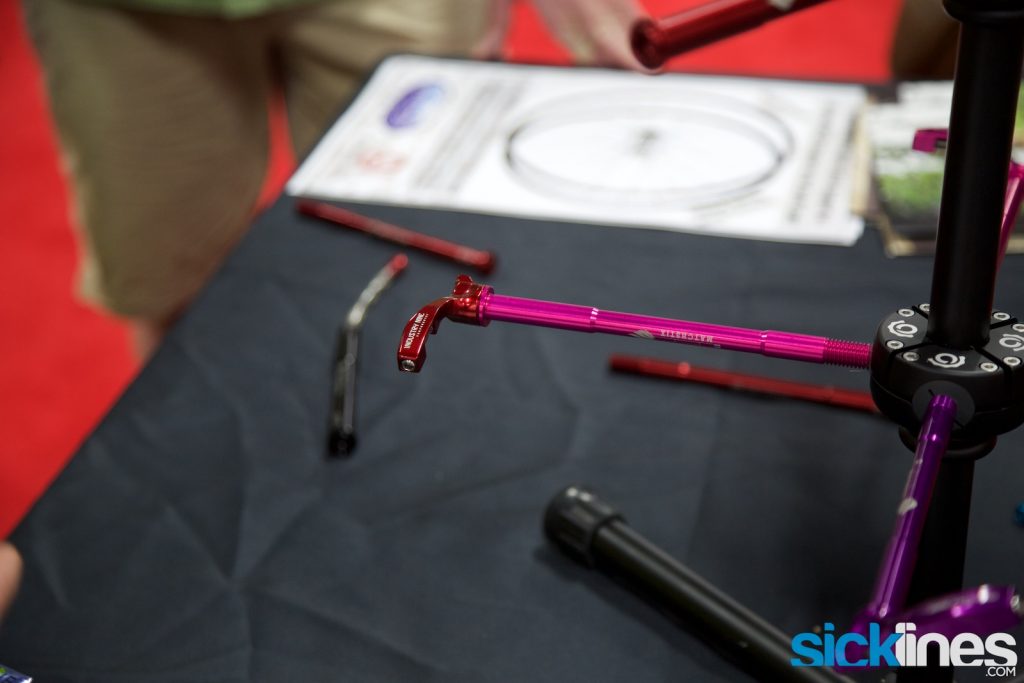 The end of the axle is removable and hoses the chain breaking tool as well as a built in allen tool.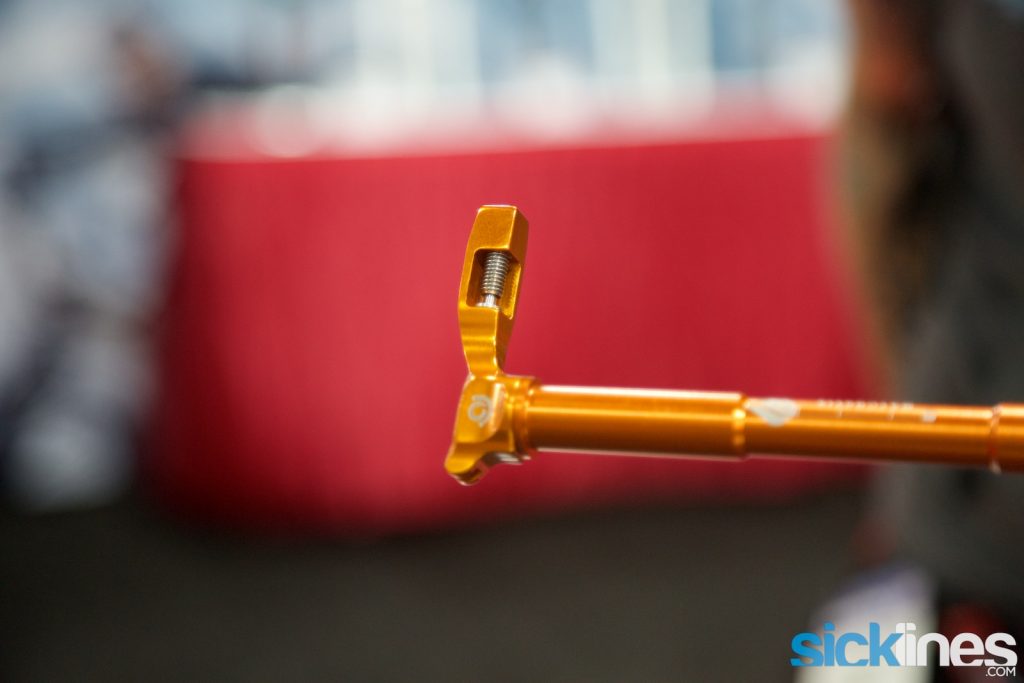 The axle can then be used as the lever to turn the chain breaking tool as you can see below.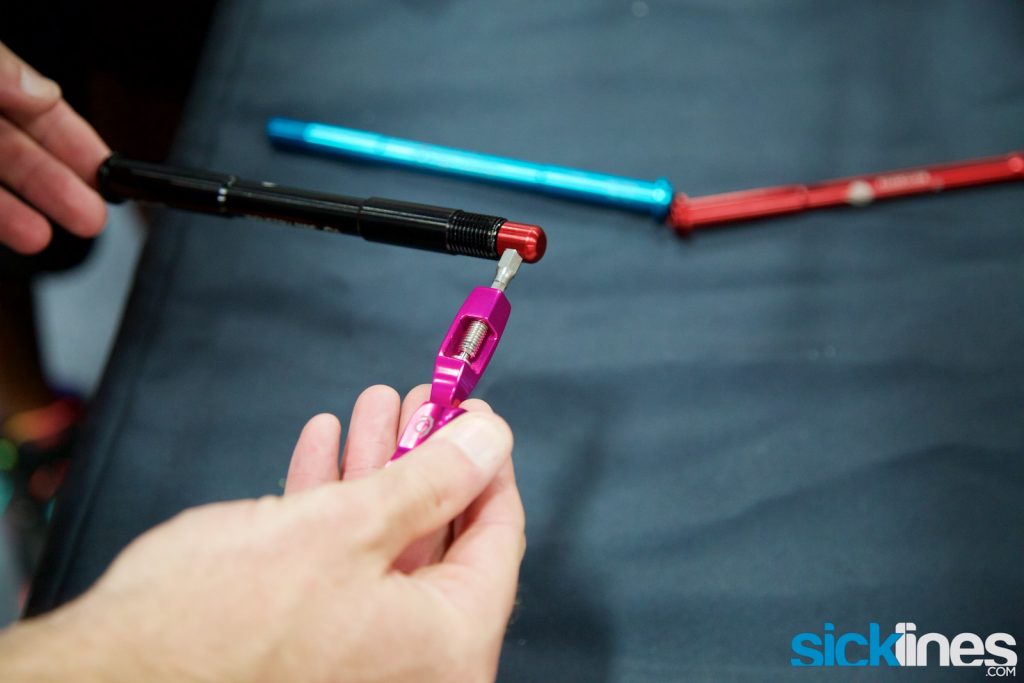 Various multitools slip into the axle as well and are protected by a sheath to keep things quiet and organized.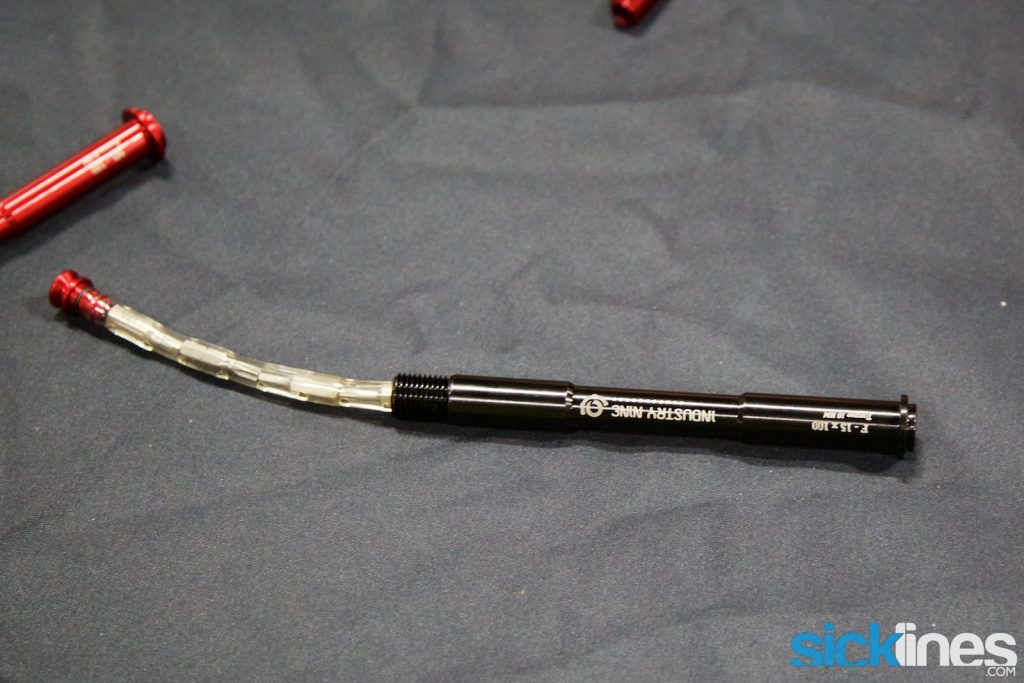 The axle will be available for front and rear axles
Front: 15×100, FOX boost 15×110, RockShox 15×100, RockShox Boost 15×110
Rear: Maxle (12×142,148,150, 12×157,ABP 12×142/148/150), Syntace X12
MSRP is $55 front and $65 for a rear axle.
Industry Nine also has a wide range of hubs and wheels to suit just about every application. They've also got some wide rims Back Country (BC 450) for those of you looking to run Plus sized (27.5 Plus / 29 Plus).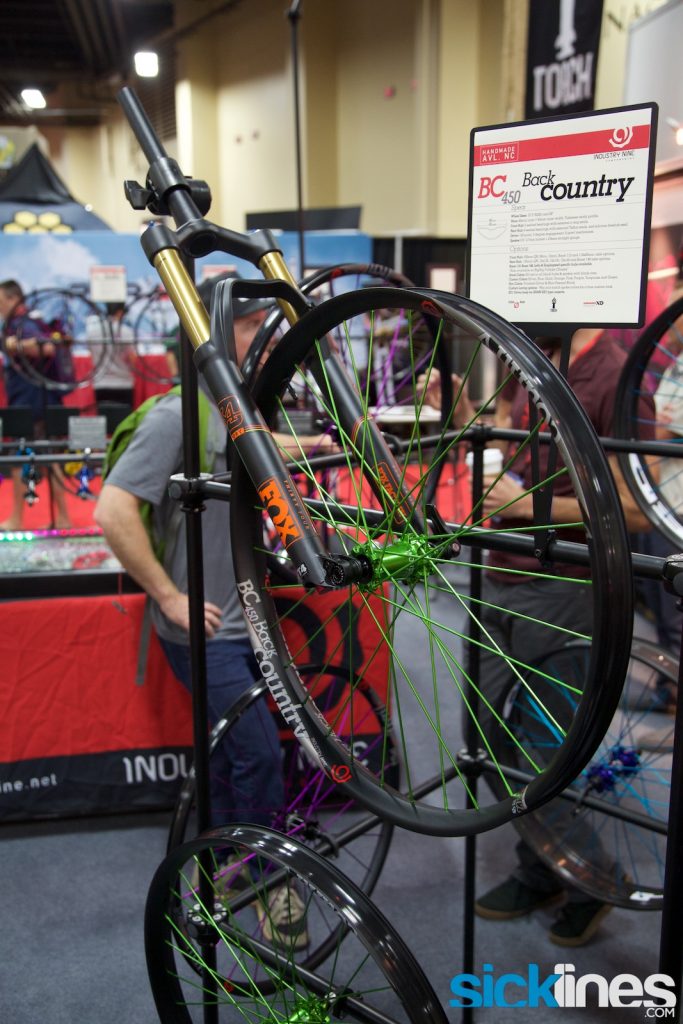 Read additional details about Industry Nine at www.industrynine.net