For 2012, FOX set out to make some big improvements in the performance of thier products. New lower friction seals, some damper updates, and darker Kashima coating on forks and shocks as well. Check inside for a video on the updates and more details.
Want a quick rundown? Watch the video below.
Video:

As mentioned earlier Kashima coating is now available on not only Factory forks from Fox but also their Factory shocks. Below is a list of the available models with Kashima coating.
32 Kashima forks
FLOAT Ti FIT Terralogic
FLOAT Ti FIT Remote
FLOAT Ti FIT RLC
FLOAT FIT Terralogic
FLOAT FIT Remote
FLOAT FIT RLC
TALAS FIT Terralogic
TALAS FIT RLC
FLOAT 29 FIT Terralogic
FLOAT 29 FIT RLC
TALAS 29 FIT Terralogic
TALAS 29 FIT RLC
831 FIT RLC
34, 36 and 40 Kashima forks
34 FLOAT 29 FIT RLC
34 TALAS 29 FIT RLC
36 160 FLOAT FIT RLC
36 160 TALAS FIT RLC
36 160 VAN FIT RC2
36 180 FLOAT FIT RC2
36 180 TALAS FIT RC2
36 180 VAN FIT RC2
40 FIT RC2
Kashima rear shocks
FLOAT RP23
FLOAT RP2
DHX Air 5.0
DHX RC4
SKF Fork Seals
FOX has been working with SKF in Italy to develop new fork seals that are smoother and offer less friction. FOX wanted to improve the feel and performance of their products even more (much like what they did with Kashima coating last year). Lower friction for better performance and response. This new partnership has led to some great developments for FOX in their seal technology. These new SKF seals will be on all the 2012 forks from FOX all the way down to even their Evolution line. The seals are also able to be installed on any of FOX's previous forks if you want some of the benefits of the 2012 line.
We were able to feel first hand how much of a difference the new seals make. We were presented with a fork that had the old seal in one leg and a new SKF seal in another. The fork leg with the SKF seal was certainly smoother and offered dramatically less force to move that than the old seal. First hand experience tells us that you can tell how much less friction this product offered. This should translate to a better feeling on the trail as well. Combine these new seals with Kashima coat and we feel riders should be able to tell an easy difference in how supple and smooth the fork feels.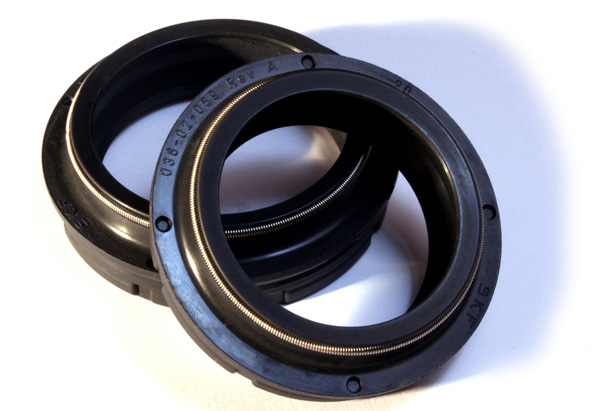 FOX is now featuring their products in series. The series are Factory, Performance, and Evolution.
Factory Line

""Factory" says it all. The best-of-the-best technology we have to offer is available in our Factory Series forks and shocks, with or without our buttery-smooth, Genuine Kashima Coat. These products are World Cup proven to evolve your performance." – FOX Racing Shox
Factory Forks
FIT Terralogic
FIT Remote
FIT RLC
FIT RC2
Factory Shocks
FLOAT RP23
FLOAT RP2
DHX Air 5.0
DHX RC4
Performance Line
"It made perfect sense to call our Performance Series forks and shocks exactly what they're designed for: to provide the performance you expect from FOX Racing Shox." – FOX Racing Shox
Performance Forks
Performance Shocks
Evolution Line
"Where others' high-end products top out, FOX Racing Shox begins. Evolution Series is perfect for someone just getting into the sport, to the accomplished athlete — and everything in between." – FOX Racing Shox
Forks
Shocks
FOX has more up there sleeve as well. Be sure to check it out in the rest of our [2011 Sea Otter Classic] coverage.