crankbrothers Opium wheelset
When crankbrothers set out to create a new wheelset some may have been skeptical, as crankbrothers wasn't known for producing wheels. Inside we take a look at the details of their downhill wheelset offering, the Opium.
Wheelset details:
The Opium DH disc only wheelset is currently only available in a 150mm x 12mm rear wheel and 20mm front.
front 20mm (click to enlarge)
rear 150mm x 12mm (click to enlarge)
The Opium is UST / Tubeless compatible right out of the box. The 6061-T6 rims have no holes in the rim bed and come with removable tubeless valves, should you want to run the wheelset tubeless. If tubes are more your thing, these rims can be run with tubes as well. The rims are 24mm wide internally giving a nice moderate tire profile that isn't too skinny or too broad.
(click to enlarge)
The Opium wheelset uses crankbrothers twinpair spoke technology. There are 24 spokes in each wheel and each pair is attached to the rim itself directly through a vertical rib and the rim itself has no holes drilled into the rim bed itself.
(click to enlarge)
The crank brothers spoke is a two piece design. The spokes use elongated aluminum nipples and stainless 2.0 steel straight gauge spoke to create a stiff wheel.
(click to enlarge)
The 12 spoke connections on each wheel offer equal tension and equal length at each interface, as none of them are offset or require varying lengths. This helps crankbrothers create a wheelset that is easy to maintain and build because each spoke is essentially equally tensioned. When you build a conventional wheelset you often have varying lengths of spokes. This can affect the overall tension of each spoke due to them not all being equally tensioned.
Jason First at crankbrothers expounds
"We wanted to make a wheel with no spoke holes. The concept with this idea is simple – if you drill holes in anything you're going to weaken the structure. The rims are super strong here, which allows us to use the twin-pair spoking pattern. The benefit here is that all the spokes are the same length, making the entire wheel balanced and symmetrical – rather than having spokes that are offset, overlapping, different lengths, different tensions – which can all lead to weaknesses. "
Moving on to the hubs themselves, the rear hub uses an oversized 25mm axle that houses the 12mm thru axle. The rear hub is six pawl system and offers 48 points of engagement (or every 7.5º). Unlike a lot of hubs, crankbrothers took the approach of not using external user adjustability.
(click to enlarge)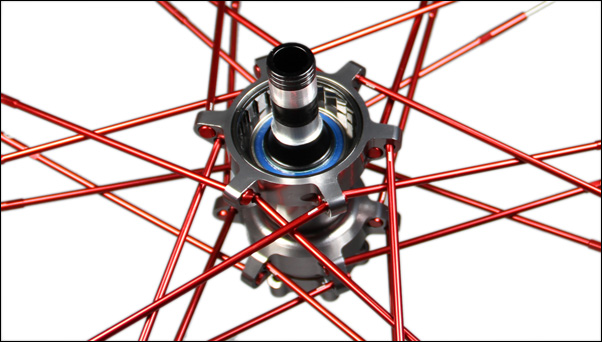 internal detail (click to enlarge)
free hub and pawl detail (click to enlarge)
The front hub is simple in design. The 20mm axle has two end caps on the respective ends. It uses 2 sealed 17 x 28 x 7 cartridge bearings.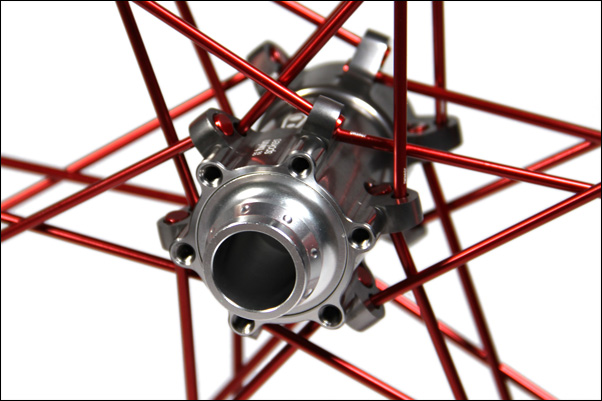 (click to enlarge)
bearing detail (click to enlarge)
end cap detail (click to enlarge)
crankbrother's Jason First explained the lack of adjustable bearing preload as:
"…regarding the preload adjusters for hub bearings, this is not included in the design mostly out of simplicity. Our design simply relies on the tension from the qr/thru axle to preload the bearings. You'll notice the end caps and the inner axle sleeve contact the inner/outer races of the hub bearings – so that makes the preload automatically… which makes for better wear and rolling while allowing for longer lasting bearings"
Their belief is that consumers can often tend to over-tighten their hub bearings when given the adjustment option, so with their design they have eliminated this opportunity.
Warranty
2 years on any manufacture defect
Weights
MSRP
Should you need to order spare parts, they can be ordered through crankbrothers directly at the following prices.
spoke – $2 ea
nipple – $4.50 ea
rim – $95 ea
The crankbrothers Opium wheelset is stunning to look at and we'll be trying them out for the remainder of the summer to see how they perform in the field.
[crankbrothers Opium Wheelset Gallery] [crankbrothers Website]