Last year Mavic went back to the drawing board and came up with some new techniques that they applied to their Deemax wheelset. It already came in at a respectable weight and performed quite well. For 2010 Mavic has taken the Deemax to another level with the Deemax Ultimate. They've used their experience gained from their past products and integrated them into this new Deemax Ultimate wheelset that shows a good understanding of product evolution. Check inside for more details.
(click to enlarge)
The Deemax Ultimate is Mavic's lightest downhill racing wheelset they've ever offered. The Deemax Ultimate is designed to not only be lightweight but also strong, allowing riders to know their wheelset will be durable throughout the season. Having a lightweight wheelset like the Deemax Ultimate helps the rider accelerate and decelerate the bike quicker as well as helping to maneuver the bike with much less effort. We find that riding a lighter weight wheelset is one of the most easily noticed improvements you can make to your bike. It makes the bike feel like it weighs much lighter (vs losing weight in other areas of the bike) and is able to react quicker in all situations.
(click to enlarge)
Below are some of the features of Mavic's Deemax wheelset.
Rims:
21mm internal width rim – This sets up a nice tire profile for downhill tires as many racers run Mavic 721 or similar width rims on their bikes. The internal rim width on the standard Deemax's is 23mm which creates a bit broader tire profile but also weighs a bit more.
Inter Spoke Milling (ISM) – Each rim has the space between each spoke hole milled out to reduce weight while retaining the same rigidity. This allows the rim to have less inertia for easier acceleration, deceleration, and general mobility. Another side benefit from this machining is that it gives the rim a slight little bit of vertical compliance that Mavic says helps reduce the chances of a pinch flat than previous offerings.
notice the ISM machining indentions (click to enlarge)
FORE Drilling – The rims are drilled in such a way that only the inner wall is penetrated. This works well for tubeless mounting because it allows for a smooth rim bed with no imperfections. The Fore drilling method makes the rim 4 times more resistant to fatigue stress as well as increases rim rigidity by 20%.
Advanced Materials and Construction – The rims are made out of Mavic's exclusive Maxtal aluminum alloy. It is an alloy that is used to create a lighter and stronger rim. The rim is constructed using Mavic's SUP process. The rim is welded and milled at the joint to create a extremely strong bond. The construction technique also helps in making sure the rims are created with more precise overall balance.
Tubeless compatible – The wheelset can be easily set up for tubeless (UST valves included with the wheelet) or traditional tubes.
Spokes:
Count – 28 spoke front wheel | 32 spoke rear wheel
Lacing – 3 cross front and rear
Design – straight pull bladed double butted spokes 2.0-1.6 (vs 2.0-1.8 in the standard Deemax)
Nipples – Black M7 aluminum
Hubs:
ITS-4 Freewheel – Instant Transfer System 4, this system was designed for faster engagement using 4 pawls, working 2 by 2, giving the wheelset 48 points of engagement. The ITS-4 system has worked well for Mavic and the cassette is securely held in place and offers more engagement than previous Deemax wheelsets, and gives them the capability to offer various axle options much easier.
(click to enlarge)
(click to enlarge)
SRS – Spoke Retention System, special machining to avoid spoke ejection.
Axle – 20mm front axle | 12mm x 150mm rear
(click to enlarge)
QRM+ Cartridge Bearings – These cartridge bearings are double sealed with C3 internal clearance and topped with a micro-adjustability system. This system allows you to quickly adjust your wheels according to the feel and performance you're after. The wheels can be set up tighter for to keep out the elements and add more precision or ran more loose for the least amount of drag.
Disc brake – International standard6 bolt
In the box:
Bearing adjustment tool
Spoke wrench
User guide
Warranty card
UST valve and accessories
MP3 warranty:
You can purchase the MP3 'crash replacement' program for your Mavic product so that it is covered for any involuntary accident for 2 years. For more information check – http://www.mp3-mavic.com/
Additional thoughts:
The Mavic Deemax Ultimate wheelset is not cheap by any means. Mavic has however brought many improvements that racers wanted with the Deemax to this wheelset. The rims are not as stiff as the 823 or the normal Deemax's and this means there is less of a chance of pinch flatting a tube or tire with these wheels. Mavic reduced the rim bed width to 21mm compared to the 23mm of the EX823 or standard Deemax wheels. This helps gives the tire a narrower profile.
The aluminum freehub body works best with clustered cassettes as single toothed cassette rings can dig into the aluminum body. A Ti or steel freehub option would be a nice option with this wheelset.
Sourcing replacement spokes/nipples may not be quite as easy as a conventional wheel. Ordering spares when you order the wheelset is a good idea in the event you need spare parts.
Overall we've had good success with these wheels. They're not as stiff as an 823 so they aren't quite as ding/dent free but they are much more compliant when it comes to absorbing a hit instead of leaving you with a pinch flatted tube or tire. Additionally, they've cut some substantial weight off and weigh in quite light (1956g). If you look after your parts, they'll cause you less headaches down the road and this is especially true for wheels. Keep these wheels in mind if you're after a high end wheelset, as the Deemax Ultimates are some sweet wheels.
Be sure to check out these wheels mounted up on our Transition TR450 project
MSRP
Weight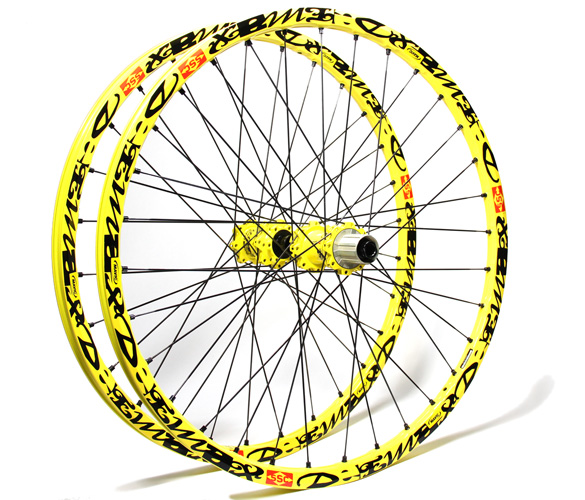 (click to enlarge)