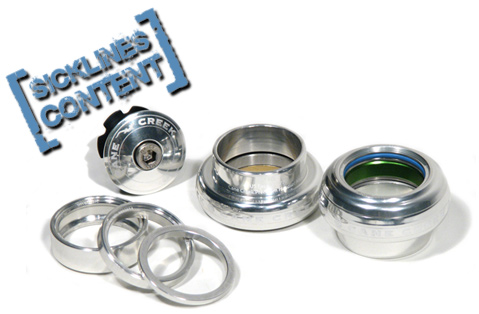 Cane Creek 110 Headset
Headsets may not be the most exciting part of a bike build but it is important that they function correctly. We were after the best 1 1/8 headset for one of our recent builds and we picked the Cane Creek 110 headset for a variety of reasons. The 110 year warranty they offer with the 110 headset didn't hurt its appeal either. If you've ever had a loose, creaky, or otherwise problematic headset you understand how much of a pain they can be. Check inside to find out what makes the 110 different from other headset offerings available.
Cane Creek's 110 headset is their flagship model. It is available in several different configurations to fit just about every head tube on the market today. Cane Creek machines their 110 headsets in house at their Fletcher, North Carolina facility. This allows them to keep tighter control over quality and design specifications.
(click to enlarge)
Cane Creek headsets have some unique features that other headsets on the market do not offer. Below is a list of the features of the 110:
(click to enlarge)
Captured Compression Ring – The compression ring is captured inside of the top bearing cover. It helps keep the headset properly secured day in and out. While the compression ring is a small piece, it is an important one. Other designs we've used previously on gravity bikes that don't have the compression ring tend to not work as well in our experience on long travel fork applications. Some use different styles of compression rings which tend to not hold as securely, have issues with centering, and tend to wear out as a result which can cause the headset to loosen. The tapered wedge design of the Cane Creek compression ring offers a solid interface between the steerer and the bearing. For a gravity rider this translates into a headset that doesn't come loose after only a few runs down the hill.
Cane Creek utilize 7075 T-6 aluminum construction. 7075 T-6 aluminum is used due to its high strength properties over lower grade aluminum which is cheaper but typically weaker.
Split Lip Bearing – The bearing seals have a dual lip design which offers more protection from dirt and grime getting inside the bearing while minimizing bearing friction. One lip faces outward while the other faces inward to thwart off outside contaminates and retain the grease lubrication inside. Our headset is still running as smooth as the day it was installed and that says a lot considering the grime and dirt that it has been subjected to.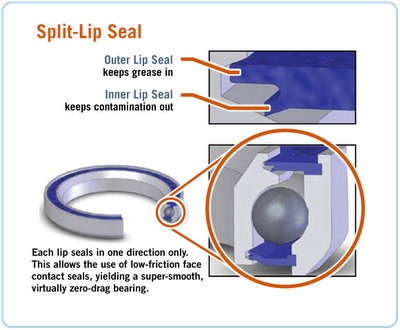 Stainless Steel Angular Contact Bearings – The headset bearings are user replaceable by removing the seal and have the option of using ceramic balls purchased from Cane Creek. Our 110 headset has given us smooth reliable action day in and out. The bearings played a vital role in this and the user replaceable option is great.
Interloc Spacers – The headset spacers provided with the headset interlock with each other to form a solid interface with the top cap as well as come in at a light weight due to the scalloped design. It also helps keep grime out as the interloc spacers are keyed to the headset that help keep any contaminants out.
Configurations – Traditional, Zero Stack, Integrated, One Point Five
Stack height – 28.4mm (top – 16.35mm | bottom – 12.05mm)
Warranty – Cane Creek warranties the 110 for 110 years.
Cane Creek 110 exploded diagram
The 110 top cap securely holds the compression ring by snapping in place. This helps hold any shims in place if needed as well aiding in easy installation or removal as the compression ring snaps securely into the top bearing cover.
Colors:
Each headset is hand polished and available in Black, Red, Silver, Blue, Purple, and Turquoise
Weight:
Manufacturer
Model
Year
Real(g)
Desc.
Pic.
Cane Creek
110 1 1/8 Headset (excluding star / cap bolt)

2009

97

Cane Creek
Top cap + bolt

2009

16

Cane Creek
interlock spacers

2009

13
Price: $150 MSRP
The 110 headset was designed to excel in all areas of cycling. It's made from strong materials, offers good bearing protection, a secure fit, great looks, and life time warranty support. If you're in the market for a top of the line headset that is designed to be set and forget the Cane Creek 110 headset should be on your list. Cane Creek also offers the 100 that also has a lot of similar features as the 110 that is worth taking a look at if you're looking to save a little bit of money. You can purchase a 110 at any good bike shop like Red Barn Bicycles or check Cane Creek's website for dealer locations near you.