Antidote LifeLine Prototype
Jan Putniorz sent us an email detailing a new bike, the Antidote LifeLine, that they've been working on out of Poland that looks impressive. See the details inside along with a video.
How long have you been working on the project?
We spend over 16 months on this project (many hours that we don't even want to think about it). Additionally, we've spent even more time on previous incarnations.
(click to enlarge)
What is your suspension system called and what did you want to achieve?
FDS (floating damping system) suspension
We wanted to achieve great sensitivity on small bumps to improve traction, even with an air shock. The shock is compressed from both sides to help increase the sensitivity. The leverage ratio at the beginning of the stroke is higher to overcame seal stiction.
(click to enlarge)
Leverage ratios are designed to prevent mid-stroke wallowing, providing firm support during hard cornering. The suspension becomes progressive (rising-rate) from the sag point (at around 30%). It remains active, but still can handle big impacts without bottoming out.
Create suspension action that is isolated from pedaling and braking forces.
What else have you done to refine the system?
To achieve low weight and maximal stiffness, we made the links as short as possible. The lower link rotates around bottom bracket shell. This shaves a bit of weight, and adds stiffness (large diameter bearings in wide spacing). We have eliminated direct shock mounts in the front triangle which also reduces mass even further. It also allows as to make an almost classic, open front triangle with full seat tube (comes in handy on the uphills, or when you need to shoulder the bike).
(click to enlarge)
We wanted to achieve low center of gravity – so the shock is placed as low as possible, and the swing arm is low-profile.
Can the shock be mounted with the dhx adjustments facing the other way?
Currently it has to go in the orientation that you see in the pictures.
It looks like you have a custom chainguide, what can you say about it?
(click to enlarge)
We designed our own integrated chainguide for this frame. It reduces unnecessary friction and drag by eliminating the lower roller completely. The guide is mounted on the lower link, so it's always in proper orientation during suspension action. The prototype guide weighs around ~100g.
(click to enlarge)
What kind of specifications do you have on the frame right now?
(click to enlarge)
travel 220mm
shock length 241mm/240mm (depend from links)
weight 3120 grams *(Medium frame without shock)
BB 73mm
150mm rear end
size S ; M and custom geometry available
Frame will be built with titanium bolts and rear axle
The frame is made from alloy 7020 and links from 7075
What kind of stock geometry are you offering in addition to the custom option?
BB height – 350-358mm
Chainstay length – 438mm (no change possible)
Wheel base – Small 1140mm, Medium 1160 or custom
Head angle – 64 65 66 (available even .5 angles)
Seat tube length – 375mm
Seat Tube angle – 62.5 (no change possible)
We can work with customers if they need specific custom requirements.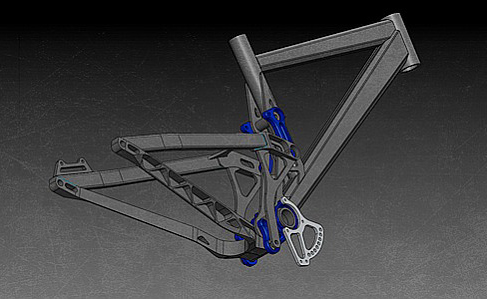 Will you be making any other changes?
The chainstay will be cnc'ed and there will be a few other refinements.
Who is responsible for this bike?
George Dabrowski, founder and designer – Foride
Paul Marczak, founder and engineer – Antidote
Do you have a price set yet on it?
It's about 2150 euro. During ordering, we offer custom geometry to user requirements / needs. The frame includes the integrated chain guide and a carbon fiber fender for rear shock.
(click to enlarge)
Where can someone looking for more information (or people looking to purchase)?