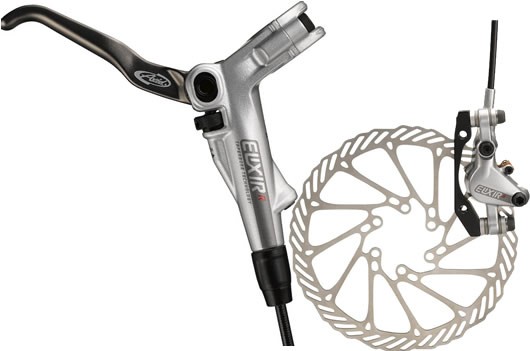 Sram unveiled a new brake for 2009 at Sea Otter this year. Aimed at the gravity enthused, its meant to be a brake in between the Juicy and the Code. The brake is also lighter than a Juicy by just a little bit. Avid's goal with this brake was to create the perfect mix of power and control. More details inside.
Less initial power and a deep stroke modulation allows a rider to better manage and use the increased overall power. The power gain comes from Elixir's larger caliper pistons making the power sit halfway between Juicy and Code but in a more controllable fashion to improve the ride quality. To do this, Sram has created a taperbore cylinder that closes off the system without a traditional timing port but uses an o-ring that presses into the tapered bore to achieve their goals with this brake in terms of feel and power.
Main Features:
Improved Modulation
Increased Power (bigger pistons in the caliper over the Juicy line)
Reduced Weight (~20g lighter than Juicy)
Taperbore Lever with Integrated Reservoir
Tool-Free Reach Adjust (that's what the dial on the lever does)
Two-Piece Caliper
Top Loading Pads (as well as a security clip to secure them to the caliper)
Drip-Free Bleeding
MatchMaker Compatible
Power Reserve Geometry
Caliper Positioning System
A new Lighter Rotor (G3)
$129 per brake w/160mm rotor ($133 w/180mm rotor)
Post mount 160mm claimed weight of 375g (~275g for lever/hose/caliper)
The main feature of the brake is that it has a tapered bore in the inline setup in additon to the features listed above. Singletrack world has a nice picture showing how it all assembles together and you can see the taper bore clearly through the plexi model.
The adjuster you see on the lever itself doesn't adjust the bite point, but adjusts the lever position. No longer do you have to mess with trying to finagle a small allen to adjust the lever position. There will be two versions of the brake, the non R version doesn't include this tool free reach adjuster but an allen instead.

The caliper also is redesigned and new. Bigger pistons, top loading pads, bigger pads (same compounds though), security clip to make sure the pads don't come out, and more.
Mtbr posted a video up as well of the media information session on this new brake that is pretty informative.